Posted in Travel on Monday 2nd July 2018 at 9:07pm
---
We are heading out to Germany for a few days to meet friends and see a little of Europe before it gets more complicated to do so. On some of the hottest days of an already warm World Cup summer, travel would present a number of challenges - but today, as ever it seems, French Air Traffic Controllers had decided to strike. The knock-on effects of this were minimal in many ways - a bit of a wait for take-off and a slightly irritated Captain - but there were benefits too... With slots over France in short supply, we took off on the eastern runway, heading directly over Central London and out along the estuary. Even at around 20,000 feet, the view was clear enough to see the city unfolding before me along the glimmering ribbon of the Thames. Seeing the territory I've walked and rewalked mapped out below was a rare and privileged sight for me.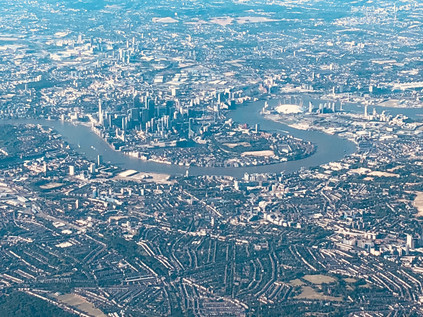 As the contorted city river gave way to the broadening maw of the estuary I thought of the connection between the Thames and the Rhine, once a great river through a united continent which was soon to be artificially separated once again. Beneath me the Dartford Crossing signalled a passing into Kent, and soon the tiny towers of Reculver could be seen below. Beyond this, a sweep of blue showed the channels which boats eager sought between the off-shore wind farms and the ominous heads of the forts at Shivering Sands. Soon there was nothing but water, and then almost imperceptibly the countryside below was Belgium. It didn't look so hugely different from up here, but culturally and politically it could be a world away just now.
Posted in Travel on Tuesday 15th May 2018 at 5:05pm
---
Despite heading into London by train on a fairly regular basis these days, I'm much less likely to find myself patrolling the network with anything like my former frequency. In particular, trips to points north are far less common and my familiarity with some places where I'd once have popped-up frequently has long since diminished. Some things though, never change - and so my first port of call on arriving at Bristol Temple Meads on the first leg of our journey to Manchester was the Customer Services desk. We'd been sold an empty promise - an 09:41 to Gloucester which simply didn't exist. The Filton Four-Tracking works were clearly going to cause us to have a long and fairly convoluted trip today - but I was surprised that it was going to be quite this tricky. As it happened, Great Western's staff sorted things swiftly by passing us on the 09:45 Crosscountry service to Birmingham New Street which took a long, lazy wander out to Swindon then reversed to amble up the Golden Valley Line via Kemble and Stroud before regaining its regular route at Standish Junction. At New Street of course we were left at the mercy of the Train Manager on the next service north - but a friendly and understanding railwayman let us travel in First Class for our troubles. I lazily dozed as we sped north on a route which I'd not travelled for a good few years. We arrived in Manchester a little late but relaxed and relieved to not have been too troubled by the awkward beginning to our trip. A swift tram ride through the busy city centre, basking in unusual bright sunshine, and we were at our hotel for the next two nights. It was good to be back.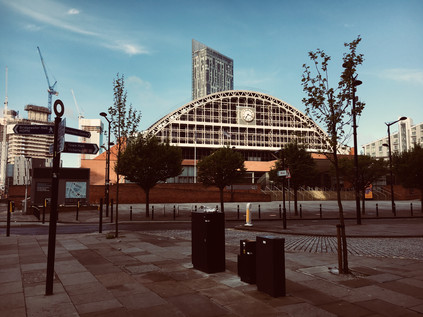 Our last visit to Manchester had been on the hottest day of the summer, in a hotel which decided not to air-condition its upper floors. Predictably it hadn't created positive memories and much of the visit passed in a frustrating haze of heat. This weekend was predicted to be warm too but less intensely so, and we were able to get out and explore the city a little. During our stay I took my customary, early morning strolls and found myself approaching familiar streets from a different angle. All of my previous visits had focused on the narrow, north-south axis between Piccadilly and Victoria. This time I found myself crossing my own path and happening upon corners which I'd passed often but never turned. Manchester now, of course is a much changed city - vibrant, busy and cosmopolitan in comparison to my earliest visits. I negotiated the relatively recent Second City Crossing with some confusion, finding trams where I didn't expect them. Finally, and rather remarkably on the anniversary of the last time I stayed, I happened upon the Merchant's Hotel - a grim reminder that things had changed for me, if not for this forsaken hovel which was remarakbly still in business! On Sunday afternoon we wandered the Northern Quarter's busy market which I confess to finding a little dizzyingly busy, but the walk was rewarded with good coffee - first with indifferent service in Foundation Coffee and then in the much more welcoming Takk. We zig-zagged back to the hotel via Piccadilly Gardens, busy in the bright afternoon.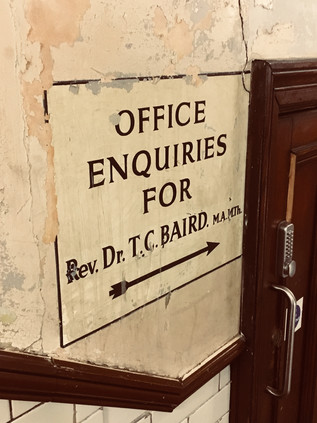 The main event though, and the reason for this trek up north, was the live My Favorite Murder. This has been a frequently heard podcast here for some time, and when tickets were announced earlier in the year, I knew I had to ensure they were secured! A VIP package meant some merchandise, priority entry and seating, and perhaps more nervewracking for both of us, a chance to meet Karen Kilgariff and Georgia Hardstark. I'm not great with celebrity - projecting my own thoughts onto them by imagining that they really just want us to leave them alone - but for others, it was the thrill of meeting people who've become heroes of a sort. Their irreverently funny but touching and sensitive forays into true crime have become a defence against homesickness - a little slice of the saner and calmer America delivered via the airwaves. We ate a swift dinner before heading to the Albert Hall - a former church turned concert hall which appeared to be crumbling from within, paint peeling and fixtures wobbling with little concern for modern health and safety rules. The bright sunshine illuminated the art-nouveau style stained glass from outside, giving the whole place a strange glow. While the performers found their 'daytime' show a little odd at first, the venue couldn't have been more perfect. I surveyed the crowd - predominantly female and a defiant mix of geeky types which it was a delight to be part of. I made conversation with a young gent sat next to me accompanying his girlfriend as a birthday gift. We speculated on the murders which might feature - what might be 'too soon' or 'too local' to land well. We played the reluctantly dragged spouses at first, but soon gave in to the admission we were looking forward to this too.
A couple of hours later we stumbled out into the dark of Peter Street, having met the perfectly delightful pair of presenters for a few short minutes. A little starstruck, still laughing at the show we stopped in for a beer before heading back to the hotel where yet again the ever declining Premier Inn brand let us down on customer service yet again. It wasn't going to spoil the day though - and consoled ourselves in knowing that the final night of our trip was being paid for by my talent for complaining. The next morning after a fine breakfast at Friska, a nearby eatery which appears to have made the leap from Bristol to Manchester, we headed for the station to cross the Pennines to York. On our last trip, a genuinely bizarre performance by the staff of Hotel Indigo had resulted in a full refund, an apology and an offer of dinner, bed and breakfast on the hotel in order that we could experience their normal level of service. The trip from Piccadilly brought back memories of long-ago excursions: craning my neck to see what was lurking on Guide Bridge Yard, secretly wishing I could stop off at the fine Station Buffet at Stalybridge and marvelling at the sudden burst into Yorkshire at the end of Standedge Tunnel. We soon found ourselves approaching York in wonderful sunshine, the station gleaming golden in the afternoon light. It was good to be back in a favourite spot.
After checking in - a much less irritating experience this time I'm glad to say - we headed out to catch up with friends at the York Tap. It was good to meet old friends and new, and to see some happy faces too. All too soon it was time to head back for our complimentary dinner. It was - well, better than last time - but still a long, drawn out and rather odd experience. As the restaurant closed around us while we waited for our dessert we speculated that this would probably have generated a complaint if we were paying. After this, we were a little wary of breakfast - but were greeted by one of the best spreads I've ever enjoyed at a hotel. The service was swift and friendly, and the food was frankly amazing. If we'd booked just the excellent room and this wonderful breakfast we'd probably have happily skipped the weird dinner experience. As we boarded the slightly overheated 10:45 back to Bristol I composed my response to the manager of the hotel. We'd had a much better time and a great welcome - but the restaurant was still strange and slow.
We stepped off the train into the usual mess of afternoon delays at Bristol, but feeling remarkably relaxed after the warm trip home. I've known for a long time that travel is good for me - but I'd underestimated how much I needed to escape on the rails like this. The next months - indeed the next week - will be busy and challenging. It's unusual to think of Manchester as an oasis of calm, but that's certainly what it's been for us this weekend.
Posted in Travel on Monday 8th January 2018 at 11:01pm
---
The last few weeks of the year felt like a bit of an epic slog, and only the prospect of the long break we'd planned over the festive season kept things on an even keel. In recent times, we've fallen into a very pleasant pattern at this time of year - a quiet Christmas, a small gathering at home for New Year, then away on a road trip on the first day of the new year - a week when everyone else is unwillingly slogging back to work. It has worked remarkably well - hotels offer up rooms at ridiculously low rates in the post-festive slump, and if you don't mind short days and sometimes unpredictable weather, then it's a good time to be away - a brave attempt to stave off reality for another week perhaps?
Our trips also have a familiar pattern - up the west coast, the long straight arm of the M6 stretching into northern regions which still feel oddly exciting and wild to me, just like my earliest rail journeys along the remote and sometimes otherworldy main line. We pause on the journey north for a night - often somewhere in Lancashire - to maximise daylight driving, and to rest on what sometimes feels like an epic northern journey. This time our staging post was Liverpool - a city we've visited before, but this time we headed north out of the city in a sudden downpour, towards Stanley Dock. The grid of streets here hasn't seen much redevelopment - the sounds of the much diminished but still busy docks at Bootle shudder through the high walls which surround former smaller basins along the Mersey shore. The landscape is predominantly decaying industry with the occasional tile warehouse or shabby dockers' pub crumbling into the stones. Amidst all this is the Titanic Hotel - a vast, converted warehouse which squats on the northern edge of Stanley Dock. Inside the warm and spacious building a beautiful refurbishment built around the maritime history of the City had transformed the huge space into a comfortable and welcoming hotel. We were almost sorry to just be spending one night in the huge room with a view north across the docks to the mouth of the Mersey.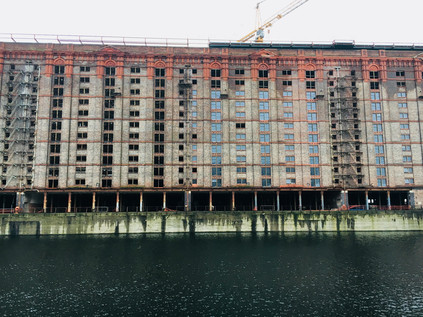 We set off in the morning and headed back onto the M6 for the journey north to Glasgow, breaking our trip at Abington where the flock of crows which has stalked the service area on two prior visits wasn't to be seen. We were staying for two nights - testament to the success of my gradual reintroduction to Glasgow following a despair-filled visit two years ago. Cruising into the city on the elevated carriageway of the M74 as it curved towards the Clyde, it was impossible not to feel lifted by a return to this place which has long served as a second, northern home to me. The glass towers sparkled in the damp afternoon and the trains shuttled along the bridge high above the river. It was good to be back, and after some confusing changes of room - handled impeccably by the hotel - we found ourselves in a wonderful spot overlooking the roof of Central Station, which reminded me of a visit long ago when the hotel was still a creaking, tired and menacing place with its long corridors stretching endlessly along the wings of the station. A return to Glasgow meant a chance to become tourists again, and we visited the People's Palace - a grave omission from my previous trips when I'd only stepped into the building to use the public facilities. The museum remains in the ownership of the city - an honest and frank appraisal of the rapid rise of the city and the problems that brought, and a celebration of the language, culture and political activism which are never far from any discussion of Glasgow. Afterwards we stepped into an old haunt, The 13th Note - but our quiet drink was disrupted by an ultimately harmless but persistent local who had turned up and seemed to be working the bar for a chat. His prodigious drunkeness though, lost it's charm and shortly after he was moved on - so did we. It was tough to leave the place again, especially in such strange circumstances.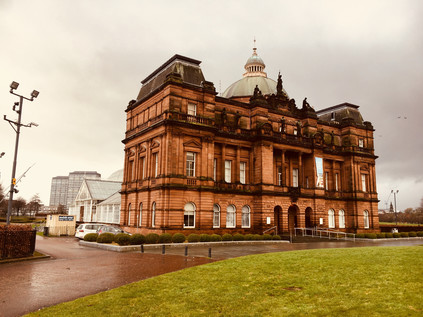 Still repeating our itinerary from previous trips, we next headed through to Edinburgh using the finally completed M8 to swiftly cross from city to city. We'd changed our routine a little for this visit by staying in the New Town opposite North Bridge, with views over Waverley Station and the Castle to the south. It seemed a little strange to abandon the Grassmarket and not to experience the bracing climb up to the Royal Mile each morning, but the new location was a surprising win - affordable and decent accommodation which looked directly into the unattainable windows of The Balmoral across the street! A persistent rain set in a little after we arrived and stuck around for much of our stay - but it was still good to be back in Edinburgh. We headed out to our favourite restaurants and wandered Princes Street, along with a trip to the Scottish National Portrait Gallery housed in a remarkable building and home to a surprisingly varied collection. Edinburgh once again proved to be a relaxing and interesting spot, my old prejudices challenged once again by the city as it sparkled in a light dusting of snow spied from our window over Princes Street. It wasn't easy to leave at all.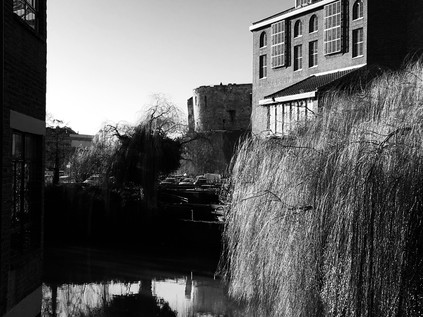 Our final destination, after a long haul down the coast on the A1, was York - and again while a favourite location, a new prospect for our accomodation. However, it was to prove an odd and frustrating place. It's fair to say that Hotel Indigo's rooms were beautiful, but getting into the room was a painful process. A parking set-up that defied logic and seemed to require quantum physics to obtain a spot, followed by a check-in process operated by a corporate robot which had less charm and more inflexibility than an automatic check-in terminal was our introduction. The restaurant was even more of a challenge - the concept of Yorkshire Tapas essentially meaning that it was impossible to tell what was a main course, what was a starter and when the dishes would arrive. The staff, young and inexperienced, dashed from one calamity to the next - finally presenting me with a blank sheet of paper to sign when the till crashed.
And so our trip ended on something of an odd note - a fine week of travel, of old haunts revisited and new ones discovered - but with something of a flat last day dealing with the hotel. At the very least we came away with a stock of anecdotes, and the room was truly very comfortable. We've been exceptionally lucky on our trips so this is to be perhaps marked up as a minor irritation and an opportunity to vent on Tripadvisor. We head into the new year, and hopefully new travels, thankful for this all too brief interlude. For a few days at least, when I close my eyes to sleep I see the white lines of the road stretching ahead. I always dreamed of road trips as a child, imagining cruising the idiosyncrasies of the British Motorway System. I'm finally getting to do just that.
There are a few pictures from the trip here.
Posted in Travel on Sunday 6th August 2017 at 8:08pm
---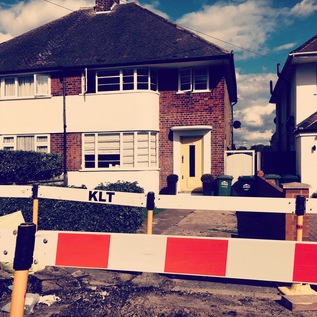 I'd never seen traffic like it - every road out of town was an unmoving snake of vehicles. Whichever instantly updated traffic map you referred to was a tangle of red ribbons centring on the motorway junction. Meanwhile, out on the road, an army of orange-jacketed men laboured on the removal and replacement of a road surface corroded by an oil-spill. As we crept home, inch by tiny inch, a man in a 'Thirst Patrol' t-shirt and his son walked along the queue, offering a kindness of bottled water through car windows. Some cars had been stuck for hours - and some would sit for longer than us as they edged out of town. Meanwhile, thousands of tiny aggressions exacerbated the fouled-up estate roads: drivers surged into chicanes designed to slow traffic, effectively blocking both lanes and causing even longer delays. In the midst of this I thought of the irony - we were going to take a road trip to Shepperton, the suburban home of J.G.Ballard. This kind of tyranny of the roads, this weaponisation of the motorcar, would have been entirely up his street - and so, soon would we.
A day later, an a world away from the scenes of a tense Friday night traffic snarl, we cruised easily along the motorway. It was busy for spells with holiday traffic heading west, but mostly we were able to progress effortlessly towards London. As we approached the nexus of Heathrow, the Ballardian reference points were directly evident: the huge metal and glass swoop of Terminal 5, the stacked access roads, the infrastructure of landing lights peppering the otherwise empty fields around the airport. We entered Shepperton via an unlikely rural route, the town suddenly appearing at a crossroads ahead of us. Left at the lights, and into an unremarkable development of 1930s homes ranged along a long, straight, dead-end street. Amidst this, at No.36, a familiar badly-repaired yellow door and the curve of a fine set of windows - this had been Ballard's home for forty years until his death in 2009. A place where this extraordinary man had led a deeply, almost deliberately ordinary life: raising his three children alone after the far-too-early death of his wife, writing on the clock between preparing meals and ironing school uniforms. Iain Sinclair writes about his encounters with Ballard here - and speculates that the suburbs fuelled his abstract urban dystopia, rather than distancing him from the city. Perhaps in fact his failure to engage personally with the modern city made him an almost weirdly accurate predictor of its function and dysfunction?
While the significance of place figures strongly in my own thinking and writing, I've never been given to personal pilgrimages. I'll track the route of a road or a river, seek out a deleted suburb or station, but rarely have I tried to deliberately locate the homes of writers I admire. It seems an intrusion too far, a breaking of the spell perhaps? But with Ballard it's different - his disconnection from the cities he documented and his oddly perceptive way of writing shopping malls, airport terminals and motorways mean that he is everywhere and everywhen in modern Britain. We knocked the door and met the happy soon-to-be-family who now inhabit Ballard's former home. They were charming, accommodating and keen to show us their new home. Much will change - but much will remain the same. The house will receive the updating which Ballard never quite got around to in his lifetime - it will be fitted to nurture a new generation. The new inhabitants know the history, and have gleaned a little knowledge of the former occupant, but they're not fans. They've seen people occasionally snapping pictures outside and they've been amazed at the interest. They've also oriented pictures of Ballard at work within the house and can place him in their new world. Ballard was by no means reclusive - but his life didn't permit great excursions away from Shepperton. Thus, many interviews and photo-shoots took place here. Those oft-seen jacket shots offering a glimpse of garden through a nearby window seem strangely familiar as we sip tea at a table in the room where he wrote and talk about holidays and plans for the house.
Soon we're doing business - lugging out the beautiful, tiled fireplace which has been removed from its original moorings on the wall upstairs. It takes three of us to manhandle it around the roadworks which line Old Charlton Road and into the back of our car. We bid our hosts, and Ballard's home goodbye and carefully reverse onto the quiet road in preparation for our return trip. The tiled mantle rests heavily in the car, a solid reminder of a curiously transient trip. A brief passage into the personal world of a much loved author, a view into a life lived on the periphery of the city. As I walked the edges of the docks and the quiet southern suburbs just a day before this trip, I'd thought often of Ballard - of his influence on me and on a generation of writers which I try desperately hard not to plagiarise. It's not easy - as Iain Sinclair once said:
When in doubt, quote Ballard

Iain Sinclair - Dining On Stones - 2004
The inevitable conversations about our weekends will occur in the office tomorrow. I'll tell people I went to Shepperton to buy J.G.Ballard's fireplace. I suspect most of my colleagues won't bat an eyelid...