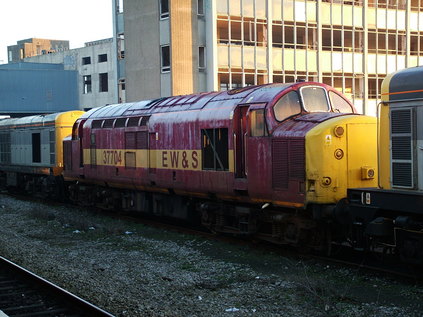 Posted in Railways on Saturday 9th February 2008 at 10:36pm
---
I've been looking forward to a trip to Ebbw Vale for a long time. I've considered a number of tours over the years which took in the branch during its time as a freight-only line, but they never seemed worthwhile, since the destination was fairly local. In any event, the long-standing Welsh Assembly aim of reopening the line has been on the cards for years. Sure enough, at the end of 2007 publicity started, and the line's reopening - albeit to Cardiff only despite it's proximity to Newport - was scheduled for the end of the year. Then it wasn't. Then no-one knew quite when it would open.
So it was something of a surprise to hear it would open on Wednesday 6th January 2008, with little fanfare and a couple of the initial set of stations still incomplete. It may have been because of the major Wales rugby match at the Millenium Stadium today, or perhaps it genuinely was the earliest that the remaining concerns and temporary speed restrictions could be resolved in order to run the hourly timetable. The important thing was the branch was open, and that necessitated a rather unexpected trip today. Things started in a rather unlikely fashion too - much had been written about a pair of Class 20s lingering at Temple Meads for a while, but they'd been seen disappearing yesterday. Not having checked my mail much before this morning, we were pleased to see they'd returned - even more so when we saw what they'd extracted from Margam in the process of their jaunt to South Wales!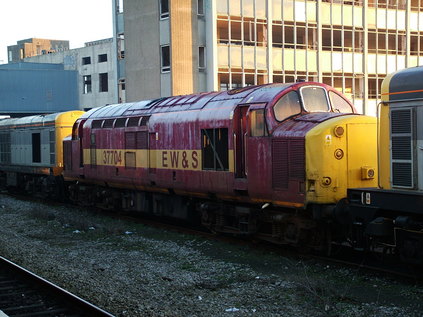 Onward to Cardiff on a busy diverted Swansea service, reversing at Bristol Parkway before arriving at a packed Cardiff complete with crowd control provided by a throng of attractive young women - presumably because they had more chance of actually convincing the rugby fans to head in the right direction! Noted the delayed 0935 service to Ebbw Vale Parkway still on the board and proceeded to the platform expectantly.
Here things started to go wrong. The 0935 was simply 'Delayed'. A couple of platform switches followed, including a move to Platform 0, inaccessible at the best of times but exceptionally so with barrier checks, crowd control and masses of people to negotiate. Eventually Arriva owned up and sent us to catch the 1035 instead, which was promptly platformed behind the 1100 Taunton! Much consternation followed among platform staff, and another change finally saw us onboard a pair of Class 150s and heading out along the mainline to Ebbw Junction. The guard indicated there had been a fatality earlier, but it was anyone's guess as to why the Ebbw line was so badly affected much later.
At Ebbw Junction we took the long curve to Park Junction, joining the single line to Newport trailing in from Gaer Junction. Looked longingly back, before concentrating on watching the Machen Quarry branch diverge to the west. Wonderful sunshine and warm weather made for a pleasant, rather drowsy trip up the branch enjoying the tight curves and challenging gradients. Couldn't help wishing I'd taken advantage of a loco up here on a tour now I'd seen the branch for myself. Soon ground to a halt at the site of Cross Keys station. In the unseasonable warmth three workers were apparently ineptly laying concrete. We waited. Finally heard that the 0935 had been sent up empty to ensure it collected the crowds of rugby fans which we'd seen waiting at Rogerstone and Risca on the way up. The unit finally passed us, and we pressed on up the valley. Rather unexpectedly after the long slow climb, we soon reached Ebbw Vale Parkway. A mile or two shy of the town (but with an extension tentatively planned) we arrived at a simple single platform roughly on the site of the town's former Victoria Station. Any plans for a wander around were scotched by the waiting crowds. We kept our seats and headed back to Cardiff, even sleepier than on the way out.
Arrived back at Cardiff having missed all the Rugby Special action due to the delay in getting up the branch. No sign of locos or coaches so we headed to Newport for a quick wander into town, before meeting a couple of other local reprobates and heading back to Bristol for more photos of 37704 which seemed to be attracting a fair bit of attention from staff and spotters alike. An interesting trip out - the first for ages, with some surprises and some new track. Looking forward to next week's exploits now...