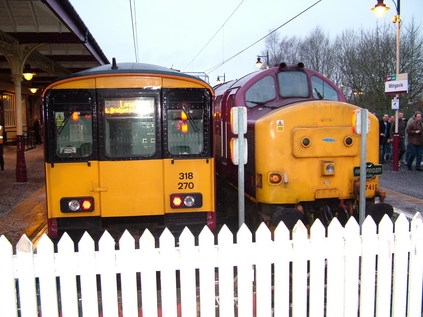 Posted in Railways on Saturday 10th February 2007 at 10:54pm
---
As far as this trip was concerned, today was the main event. A pair of Class 37s visiting a bunch of suburban Glasgow termini and covering a fair bit of 'red' track in the Baker at the same time. I couldn't think of a better way to explore one of my favourite cities, and booked this tour within seconds of it appearing on Pathfinder's site. And so I found myself on the concourse at Central Station far too early once again. Got coffee and breakfast and noted a fair few familiar faces among the crowds, many like me having made the journey northwards. The crowd seemed fairly evenly divided between the Branch Line Society crowd and the usual 37 bashing faces. With a foot in each camp I was in good company! The stock arrived with 37406 at the buffers, meaning 37410 was to lead us out of Central. Found my seat and settled in for the day's entertainment. Chatted with a few regulars as we waited for departure - which was bang on time. An announcement about being promptly back on board to ensure we kept our tight paths between First Scotrail services gave the first hint of a slight resentment for enthusiasts which we were to experience from the local operator during the day! Once out of Central, we took the mainline to the rather mournful industrial wasteland of Rutherglen, using the rare west to north curve to double back on ourselves and head through Central Low Level to the first terminus of the day at the attractive little town of Milngavie.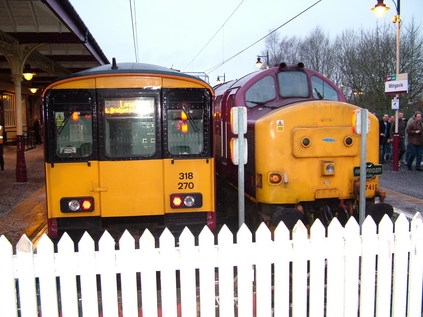 Off a little early with 37406 leading via the rare Hyndland West curve to gain the Yoker line and head for Helensburgh Central. There was some confusion on board due to this line being entirely missing from the Baker Atlas, although it appears correctly in the 4th Edition Quail map. Surprise celebrity visitor at Dumbarton Central was 37248 which had worked up from Bristol on route to Fort William. A brief stop allowed some brave souls to head to the end of the platform in freezing conditions to get a shot. Back on board, and some nice quick running along the Firth of Clyde to Helensburgh, and what we didn't realise would be the only practical and sensible refreshment stop of the day!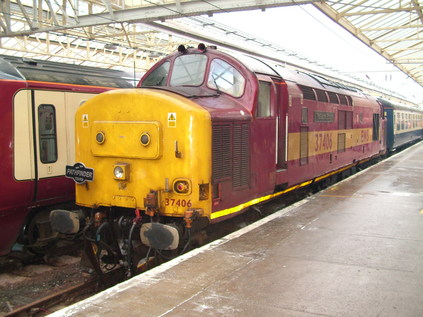 With 37410 once again in the lead, we headed back towards civilisation via Dalmuir and the Singer line, joining the Northern Suburban Line at Knightswood North Junction and taking the North to West curve at Cowlairs to arrive earlier than planned at Springburn for our reversal via the Cowlairs Chord. Here we learned that First Scotrail were less than pleased at our impending arrival at Queen Street. With additional services and crowd control in place due to the rugby match at Murrayfield, they felt less than able to cope with a trainful of enthusiasts descending on the concourse. For some, this meant no lunch as they'd planned to descend on the concessions at the station or the shops nearby. We were warned of dire consequences for anyone who dared to pass the barrier, and I've yet to hear if anyone did brave the lift down to Low Level and up the stairs route! Lots of conspiracy theories flying around too about our containment - some plausible, some not so. The only certainty was that we needed to be out of Queen Street pretty much on the button, which we happily were. The noise of 37410 thundering up the bank out of Queen Street station was memorable, and I'd love to find some footage from the many video cameras which were recording our ascent.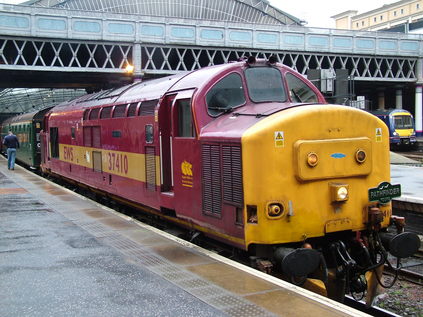 Having reversed again at Eastfield Passenger Loop, 37406 led us as we retraced our steps via Springburn and then on to High Street Junction where we took the City Union Line across the eastern edge of the city. I'd often looked across at this line from my vantage point in The 13th Note, as it is carried high on arches still advertising Poll Tax protests and Militant meetings, across the bottom of King Street before crossing the river into the Gorbals. Quite something to finally be traversing this bit of track which has featured in my personal views of Glasgow for so long. Once under the tangle of lines south of the Clyde we rejoined the route to Paisley Gilmour Street at Shields Junction and headed for the coast at Gourock where I braved the high winds for a quick photograph. Others made a mercy dash to local chip shops, and some only just made it back in time. Glad I managed to pack lunch in advance last night!
Once again in the warm of our train, we set off eastwards, retracing our steps to Shields Junction, but then swinging south at the end of the loop, under the main lines to Terminus Junction using the so-called 'Burma Road'. I need to do a little research as to why this strange little link of track received this unusual name. Once we'd surfaced at Muirhouse South, we made good time via Busby Junction to East Kilbride. A very quick turnaround here, but some still tried for the picture from what seemed a very good vantage point. I didn't want to rely on my ability to make it to the end of the train and back in time, so contented myself with a leg stretch in the gloom and chill. Soon back on board and retracing our steps once again, this time taking the Larkfield Curve to join the West Coast Mainline for a quick dash down to Lanark via Wishaw. There were concerns about our timings on this stretch as 37406 seemed to be performing poorly. Arrived around 8 minutes down, having slightly delayed an Argyle Line service. No major problems though, apart from a shorter than expected reversal. Soon on our way and making good time with 37410 back on the front. Again over familiar ground back to Shields Junction with a diversion via Mossend and Whifflet via more unusual track, then via Paisley Gilmour Street and this time taking the southern fork at Weymss Bay Junction, making the steep climb away from Bogston. Arrived only a couple of minutes down at a very wet and windy Weymss Bay, where rumour had it that a 'tired and emotional' passenger was removed from the train following a disagreement with a steward. Not a night to be stuck out here on the coast!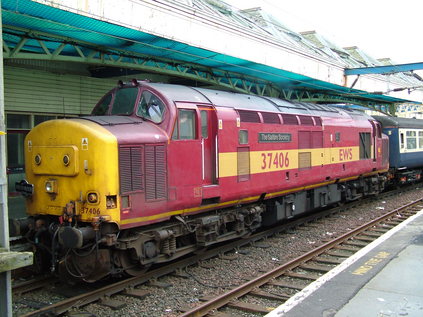 So, onto our final leg - returning to Shields and taking the line to Muirhouse Central Junction for an anti-clockwise spin around the Cathcart Circle before presenting ourselves outside Glasgow Central two minutes early! It wasn't to be however, and we were held awaiting platform 1 until we were in fact two minutes late. Arrival meant a rush for photographs, which seemed to rile the Network Rail staff on duty. The BTP escorted at least one apparently innocent gent away as he was 'preventing people from doing their job'. I don't think there was any serious concern, beyond some staff who'd had a long day meeting some enthusiastic and exhilarated railtour customers! Despite this inauspicious ending, I think this is perhaps one of my favourite tours yet, with the combination of a place that fascinates me, lots of rare track and some fine traction. Stuck around at Central for a little while, keeping well away from the action and just watching and listening, before heading for the hotel and a much needed night of sleep!