Posted in Railways on Sunday 11th February 2007 at 10:24pm
---
I'm not used to having much of a Sunday transport service, living in the sleepy South West. There were a few bits of track left uncovered over the past couple of days in Glasgow which I hoped to be able to pick up today despite a fair bit of engineering work affecting service - particularly early this morning.
Started out with another run out to Newton, in daylight this time. The object of this run was to cover the line from Cathcart North to East Junctions and position myself for a run over the remainder of the Hamilton Circle to Motherwell. Despite being a damp morning, there was a promise of sunshine lurking behind the clouds, and it was good to be out with an objective in mind. Arrived at Newton, realising just how bleak the surroundings of the station are. The unit crossed over to the wrong line prior to arrival rather than using the reversing siding beyond the station, and this meant a wet trudge down the deep subway to regain the platform for the Motherwell train. With the shelter being occupied by an amorous couple, wasn't sorry to see a warm and dry 334019 arrive.
Arrived at Motherwell, and realised what a substantial station it is, with a complicated building with lots of stairs to negotiate to get from one side to the other! Realised that my terminating unit would now form an onward train to Bellshill and then back to Glasgow. Noted that bailing here meant missing the crossovers back onto the mainline, but I had a plan to follow. Firstly, this meant retracing my steps to Newton and changing again to head back to Cathcart East, covering the dive-under to Cathcart North and thus completing my exploration of this little complex of lines. Realised the extent of the closure at Glasgow Central when we arrived back into the station, with only platforms 8 to 13 in obvious use. Predictably, we arrived on 11A which meant a long walk into the station.
On passing the end of Platform 12, noted a few Pathfinder staff boarding the unit there, and out of pure curiosity checked where it was headed. Amazed to find it was the 11:15 to Ardrossan Harbour which I'd assumed was going to be a bus like earlier trains via Paisley. Quickly boarded and settled in for the ride. A sudden burst of sunshine at Shields Junction made for a really pleasant run out to the coast, and a chance to cover the short branch from Holm Junction to lines end at the harbour. With a few minutes to spare, wandered into the Ferry Terminal for a coffee and took some photographs.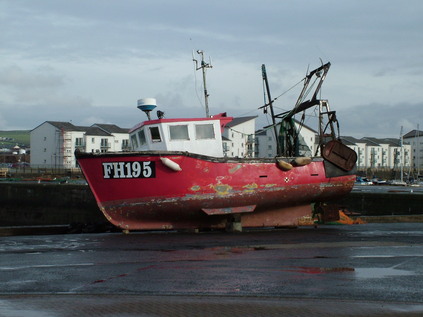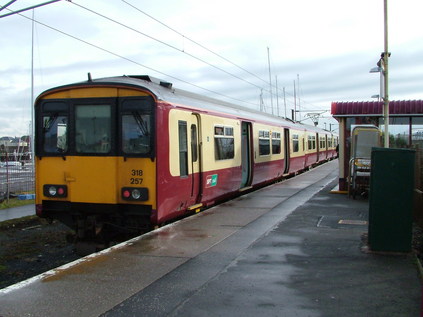 The train back to Central was fairly busy, and it was interesting to see First Group staff north of the border not selling discounted tickets where there were staffed stations - but then the PTE clearly invests in staffing and ticketing facilities, which makes this an easier proposition for the guards. On arrival back in Glasgow I had one last mission - to finally catch a train from the Low Level station. Again, I've always avoided this because of the escalator concerns, but I noted a lift from platform 12 down to the station, and with this and the judicious use of some convenient stairs, I got down into the dark tunnel in time for a train to Garscadden. I only needed to do the tiny stretch of track between Hyndland East and West Junctions which the tour had avoided yesterday. I should probably in fact have pressed onto Dalmuir to cover the whole line in both directions, but I was eager to get off the train and into the city!
I realise that much of what I've written about this trip has focused on the railways. This isn't of course the whole picture by any means. I've loved visiting Glasgow now for years, and despite the need to make early starts each evening has been spent visiting old haunts and in my favourite spots. There is always something new to discover here, and having not often stayed more than a night in recent years I wanted to get out west to see how things had changed. So, hopped on a bus outside the station using my Daytripper ticket and headed along Bath Street and Sauciehall Street towards Kelvin Hall and over the river. A right turn by the Western Infirmary and off at a stop somewhere in the maelstrom of traffic which is Byres Road - even on a Sunday. Fantastic to be back, and amazed how much was open today. Browsed the excellent Oxfam Bookshop, finding an aposite quote from John Clare which will eventually adorn the header of this site. Time for a coffee, though not from the interestingly converted 'tardis' on Great Western Road!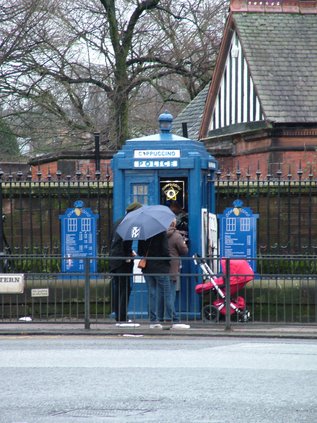 Strolled around Ruthven Lane and Ashton Lane too, remembering previous visits and some very good times had hereabouts. Spent quite a bit of time wandering in a fugue before catching a bus which took me a different route back to the city, via Great Western Road, Cowcaddens and Garnethill. Time for more coffee and a chance for the first time to watch the world go by, which is always a pleasant prospect here. After popping back to the hotel, out again and time to visit more old haunts, including the Horseshoe Bar before popping into The 13th Note for the last pint of my visit.
Back home tomorrow, and it's always a bit of a wrench leaving Glasgow. I've never quite managed to explain it to anyone. Still, I have 400 miles or so of rail travel to look forward too, and since the mileage has been a little lean this year so far, that's a bonus!