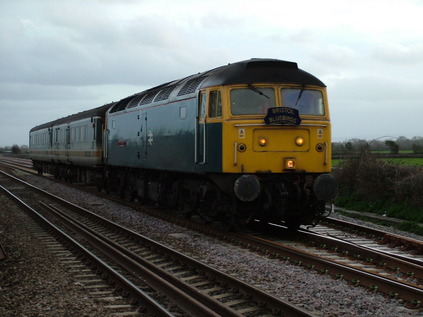 Posted in Railways on Saturday 17th March 2007 at 5:50pm
---
There was a fair amount of railway activity happening today, but with a big trip next week and the prospect of a rather uncertain time afterwards, I decided to stay local. By far the closest, and perhaps most unusual event today was the use of a Virgin Voyager on the shuttle service to the West Somerset Railway at Bishops Lydeard for their Spring Steam Gala! Unlike the First Great Western offering in October, the Voyager was to work down from Bristol as a passenger service, and thus I found myself heading for the 0633 from Highbridge to get there in time to retrace my steps completely!
Off platform 4 at Temple Meads on time, 220024 had ample time to make Weston-super-Mare with around 15 minutes to spare before departure. Not a huge contingent on board, and none of the local suspects it seemed. Away from Weston a minute or so down to let an up service arrive, and off to Taunton through a hazy and rather warm springlike morning. A few more boarded at Taunton, but it still wasn't jammed. Perhaps a good argument for using a longer set for this sort of event! Some locals on board meant enterainment as far as Bishops Lydeard. Noted Virgin's top brass on board too, in the form of Chris Gibb and family. After crawling across the line at Norton Fitzwaren, made good time to Bishops Lydeard where the 0920 service to Minehead was waiting for passengers.
Elected to stay on for the journey back, then a change at Taunton for a service back to Highbridge to meet my nephew and uncle on the platform. Despite positive messages about both the rugby specials and the gala, was content to lounge around fixing things here for much of the day. However, took a call a little after 1700 to say North Star had been seen passing Norton Fitzwarren on it's return from Laira. Chanced it was coming this way, and headed to the station with only a few minutes to spare before it thundered by with a pair of barrier wagons in tow.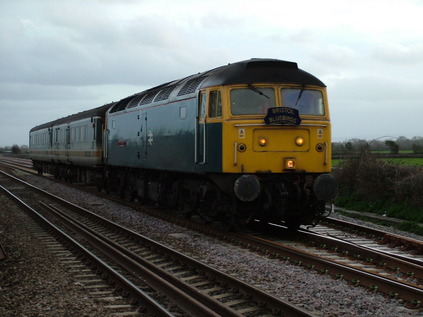 I can't help but think it will be a terrible shame when this fine locomotive ends up rusting away on the rather anti-diesel WSR. Still, it was very good to see it performing on the mainline once again.
Lost::MikeGTN
I've had a home on the web for more years than I care to remember, and a few kind souls persuade me it's worth persisting with keeping it updated. This current incarnation of the site is centred around the blog posts which began back in 1999 as 'the daylog' and continued through my travels and tribulations during the following years.
I don't get out and about nearly as much these days, but I do try to record significant events and trips for posterity. You may also have arrived here by following the trail to my former music blog Songs Heard On Fast Trains. That content is preserved here too.
Navigate Lost::MikeGTN Find articles by category
Search Lost::MikeGTN
Other Places...