Posted in Railways on Saturday 24th March 2007 at 11:55pm
---
It wasn't easy coaxing my creaking joints to leave my nice warm hotel room in Ealing Common for an 06:11 start this morning. The official last day of Winter looked a bit grey and misty as I trudged over to Ealing Broadway, and happily found the little coffee shop open for business already. Waited on the platform with a growing crowd of what were very obviously Branch Line Scoeity members. It's hard to explain, but there is a look - and we're not talking anorak stereotypes or NHS spectacles secured with elastoplast - this is more of a hungry, desperate stare. Something that says "I'm going to get that stub of a siding if it kills me". BLS members are far from the usual image of inarticulate and socially inept platform-enders too. They appear to be frighteningly sharp - almost accountant-like in their grasp of complexity and happy to discuss it with you in exhaustive detail. The stock, headed by 66093, was predictably late arriving from Old Oak Common after some signalling confusion. However, some very slack timings between Acton Wells and Dudding Hill Junctions, and spending much of the journey to our pick-up stops at St Albans and Kettering on the Down Fast saw us on-time as we took the Corby line. Amazingly, this bit of track was once an almost unattainable holy grail to me - now it seems to crop up in every other railtour! From Corby to Derby via Syston East to North - another location where they should be issuing me with frequent flyer points. At Derby we gained our last few passengers for the day, along with an additional loco, 66009 on the rear of the train.
With our full contingent on board, it was time to take stock of the differences between a BLS tour and others I've been on. Essentially there wasn't much - many of the same faces, a couple of real ales on offer and a day of interesting locations you wouldn't normally get to. The difference was perhaps the obscurity of these locations. Once out of Derby we headed towards Sheffield, waiting time in platform 1 before heading off towards the east via Woodhouse Junction and taking the short stretch of line to Beighton Junction on the 'Old Road'. Here we passed over the former mainline and into the day's first destination - Westthorpe Run Round. Essentially just a stub of a former colliery line, we crawled up a bank beside the line to Tapton Junction until we could go no further. Suddenly, and rather unexpectedly there was a stampede for the front of the train - which happened to be just a couple of seats behind me. Somewhere at the head of this crush, headed by none other than the indomitable BLS Hon. Sec. Mr 'Gas' Hill people were jostling to get as close as possible to the end of the line, whilst others poked cameras out of the droplights clicking wildly to get a shot of the buffer stops. I don't mean to sound disparaging - new track is new track, and it's why I was here too. I was just a little overwhelmed by the sudden surge!
After just a short wait we reversed back along the siding and retraced our route to Sheffield. From here we headed south to Dore Station Junction, and along the wonderfully scenic Hope Valley. A little spring sunshine had been threatening it's presence throughout the Midlands and here it blossomed into a splendid hazy morning - ideal for railtouring. Climbing away from the Hope Valley line at Hazel Grove High Level Junction saw further new track for me, as we made fairly swift progress as far as Northenden Junction where we paused for some time to allow service trains on the Chester to Manchester route to pass. From here we crept cautiously over Skelton Junction and onto the stub of the Partington Branch. And a stub it truly was. The atlas shows a substantial run of line out towards Glazebrook, falling short of the River Mersey and turning north to it's terminus. However, a little beyond the bridge carrying the Metrolink (formerly the electrified line to Altrincham) beneath us, the train crept to a halt. A glance out of the window saw gates and an unlit signal ahead. We'd gone as far as we could, and our driver - apparently of a similar mind to the passengers - had pushed the loco as far as he dared. Curiously, I found this thwarted attempt at Partington oddly compelling, and it reminded me of the attraction of line collecting - particularly in this cost-reducing age of aggressively mothballing unused track at a furious rate. Would anyone ever come back here? Would the track be gone next week, next month, next year?
Another reversal, back to Northenden and then to Stockport. Over the always impressive viaduct, we snaked across the West Coast Mainline at Heaton Norris onto the route of the 'ghost train' to Guide Bridge via Denton and Reddish South. At Guide Bridge we headed back east, then southwards at Hyde Junction. Our next destination was the short branch to the Greater Manchester Waste Disposal Authority's refuse transfer station at Bredbury. Once over Woodley Junction and onto the freight-only line, we slowed to a crawl. Finally we crept forward, to much consternation leaving the GMWDA line to our left as we crawled along the Tilcon Stone terminal line. It has to be said that I now saw the ugly side of line collecting - there was some unashamedly boisterous behaviour and frothing going on. Someone claimed to have done the entire tour for the GMWDA branch and demanded a refund. The never cowed 'Gas' Hill was forced to make an announcement explaining the tricky decision he'd had to make to switch branches at the last moment. As a bonus Network Rail had allowed us as far along the line as possible, almost as far as the loading hopper. 'Gas' invited any dissatisfied customers to 'discuss it further' with a vaguely challenging air. I'm not certain anyone did. For me at least, this was incredibly rare track, and Mr Hill's notorious knowledge of the system along with his capacity for copious rhetoric would have easily defeated me.
With various oddities of the system visited, it was time to head for our ultimate destination. First we negotiated the line via Ashburys and Philips Park Junctions into Victoria. Again new for me, and originally due to be covered in two ways gaining the rare south to east curve too. However this was shelved when the timings were published, and I was content to get the bulk of the line then to storm over Miles Platting and into Victoria practically on time. Here we lost our original locomotive, and after a short delay set off via Bolton for Preston. Finally, just a little south of the station we slewed onto the goods lines and disappeared down a terribly steep bank into a brick-lined cutting. Having never visited the Preston Docks branch before, I didn't know what to expect as we plunged downwards seemingly forever, finally heading into Fishergate Tunnel before arriving on the flat between the River Ribble and some very expensive looking dockside developments. Next, some highlights of the tour - first, the acutely diagonal crossing of the busy Strand Road with a huge queue of normals backed up as we crawled along the street. Then, the swing-bridge over the docks, where rail and road share the same span with some Weymouth-style on street running arrangements. Crept into the Ribble Steam Railway site at the docks a few minutes late. I'm sure there are some great pictures of our multimodal trip to the docks out there online, but I've lost the location just now.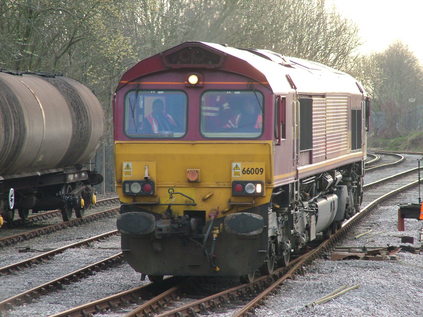 After a pleasant hour poking around the museum in the fading light, we boarded for the long hike back to Ealing. Again booked via the Hope Valley but avoiding Belle Vue, I scored a little new (but fairly standard) track between Woodley and Romiley, and also the uncommonly used curve between Dore West and South which took us back onto the Midland Mainline and on our way to Derby once more for our first set-down. A fairly sleepy and uneventful journey back, broken only by a mindless act of vandalism in the southern suburbs of Manchester which saw us come under attack from stone-wielding chavs. One broken window and some very distressed passengers, but thankfully no injuries or delays. After a quick run back to Kettering and St. Albans we finally took the curve back into the maze of lines at Acton. As we passed, signal boxes shut for the night and contractors took possession of the line for engineering. We were literally the last train of the Winter.
I truly enjoyed this tour, despite its great length, early start and late finish. Creeping into my warm hotel bed just a few moments before midnight, I though how the BLS were a fine and much misunderstood bunch of folk. Even if they spend a lot of time visiting rubbish terminals. I'm proud to reckon myself among their ranks.
Here's to the next one...