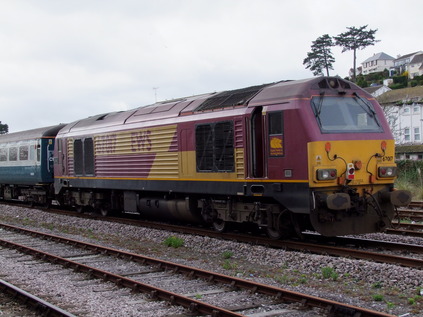 Posted in Railways on Monday 5th April 2010 at 5:22pm
---
Since the timetable change last winter, I've been meaning to take a day off mid-week to cover the interesting locomotive-hauled diagram which was designed to fill some of the gaps left by South West Trains discontinuing services west of Exeter. It's been a while since it was possible to pick up a reasonably timed service beyond Taunton from my home shack - not since Alphaline days in fact, when this was one of my regular wanders when things were perhaps a little stressful or strange. Moving forward, the resort has seen me visit chasing locos too - the Class 47 hauled Manchester-Paigntons during the late 1990s, then the Class 67 powered Virgin Holidaymaker additionals back in 2004.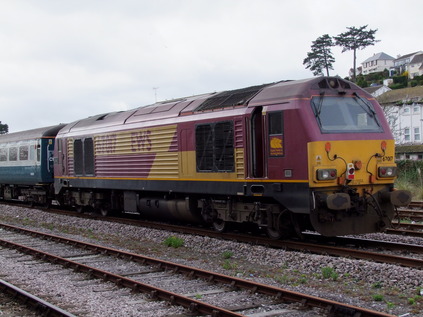 Today it was just a familiar pair of 67s as used on the local service for a while, but the walk out to Goodrington Sidings took me back to happier - and indeed some rather bleaker times. Not much has changed - a few more shops are closed, a few less people around perhaps. But the sight of a train on the level crossing in town still draws waves from the youngsters and creates something of a spectacle among the Bank Holiday crowds.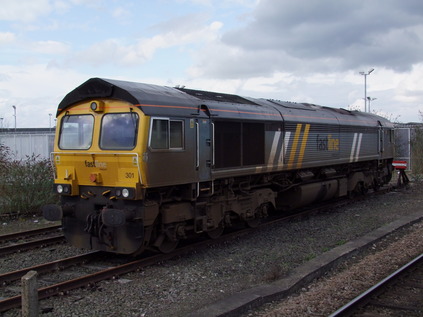 Posted in Railways on Saturday 3rd April 2010 at 10:19pm
---
Sometimes, I don't realise how much I need to relax until I'm finally unwinding - and today was one of those occasions. Easter had crept up on me, so fast in fact that I'd neglected to do any of the traditional panic-buying that is expected of one prior to the shops closing for 24 hours. The problem being of course, that I normally shop on Sundays. In any case, it had been a long and rather eventful week - so the all too rare chance to visit my local last night, followed by a good long trip today was just what was needed. I set out early, with the aforementioned visit to the pub not causing too much difficulty in getting up on time I'm pleased to note. Onto the first train to Bristol, finding most of the concessions at the station not open until later due to it being a holiday weekend. Contented myself with coffee, beefed up with extra espresso shots, and headed for the 07:00 which was already ticking over on the platform. Despite being very quiet so far, the train was heavily reserved. There is always a vague worry at this time of year that things will get wedged and that a Voyager vestibule will be home for a couple of hours! Settled into my booked seat and enjoyed a relaxing, quiet journey north while catching up on podcasts and enjoying seeing the familiar scenery in daylight for the first time in months. The weather varied wildly, from rain and hail to bright spring sunshine as we sped north through the Midlands. Unexpectedly diverted at Soho South Junction to take the line via Bescot before getting back on track at Wolverhampton, which cost us around a 15 minute delay. Realised with some concern that the same thing next week could scupper my plans entirely! Otherwise, an uneventful and pleasant run up to Manchester Piccadilly on the ever-useful 1M21.
Despite being about 10 minutes late, had some time here to pop out to the Ian Allan shop and to find a late breakfast and more coffee. The station was busy with Chelsea and Manchester United fans here for a 12:45 kick-off. As a member of staff wryly observed this meant them arriving and leaving during the same shift - "double the fun" indeed! Despite always enjoying a bit of a wander in Manchester when the football isn't on, not unhappy today to get onto a 185 which would complete the journey to Scarborough. It's always good to do the route via Guide Bridge and under the Pennines - despite leaving Standedge Tunnel under wet and gloomy skies, with Huddersfield and Leeds blanketed by drizzle. With the train strangely quiet from Leeds, headed back out into the sunshine at Colton Junction. Noted 66412 and 301 in the Royal Mail sidings at York. Seemed odd that 66301 hadn't gone with it's sister engines to Crewe following Jarvis Fastline entering administration earlier in the week. Made a note to get some pictures on the way back through York, as we set off for the final leg of the journey to Scarborough.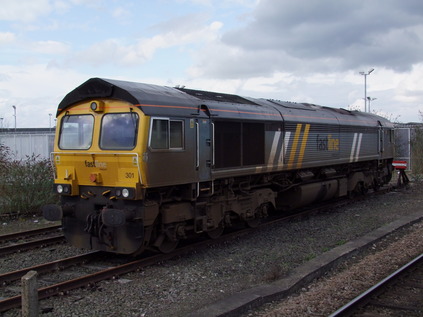 I hadn't been this way for a few years, and I'd forgotten just how winding and tight some of the curves were along this line. Somewhere along the way the sun appeared again, and the last part of the journey was conducted in fine weather. We snaked into the long, curved platform 1 at Scarborough on time, leaving me with around an hour to explore the town. Set off down the main street, poking my head into the rather busy Wetherspoons to see if any of the characters from my last visit were in evidence, but it's a very different place on a busy holiday Saturday it seems! Wandered through the town to the Cliff Lift which takes people down to the beach in rather precarious-looking wooden cars down an inclined railway. Thought about doing it for the track, but given how busy it was I flagged the lift and settled for enjoying views over the see and some pictures instead. The fact I was desperate enough to consider it left a niggling worry that perhaps I should have gone with my instincts - but while Pwllheli remains undone, there is no excuse to be chasing these little bits of track! The town was certainly busy, and I noticed again how irritated I get these days with people walking aimlessly and slowly around. Negotiated the half-speed holidaymakers and made my way back to the station with the intention of getting some pictures and a decent coffee before the run back. However, as I arrived a Charter Train from Bedford which I'd completely failed to read the gen about crept quietly into platform 1 with 47787 at the helm. Just time to get some pictures before a rather sudden hailstorm swept across the platforms. Found cover and waited for the train back to York to be called, this time leaving from platform 4 under the roof of the trainshed which gives Scarborough it's 'proper railway station' feel.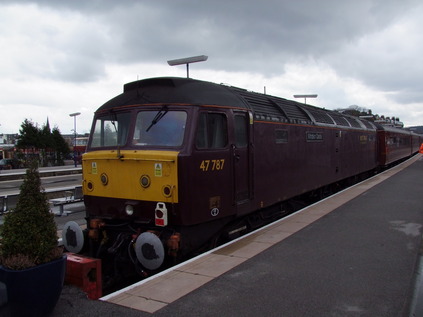 A smooth ride back to York in pleasantly hail-free conditions, although it was raining when we arrived despite being wonderfully sunny once again! 66412 had disappeared from the sidings apparently to rescue the tour at Scarborough, which explained the large noisy thing which had zipped by our train unexpectedly around Malton. Calculated that disappointingly I wouldn't have time to wait and see the return working before my train home. In any case spent a fine hour at York chatting with the platform-enders, getting some pictures and finding another good cup of coffee before the long catering desert which is CrossCountry these days. My train back to Bristol arrived in good time, and again was heavily reserved - but I note not many of the reserved seats got taken this time. Perhaps the will-they won't-they strike had put people off travelling? I had a quiet ride back south, with an absolutely stunning sunset over the Malvern Hills which reminded me of my very earliest rail journeys. A fine ending to a long, interesting and ultimately very relaxing day out on the rails. Next week's equally opportunistic trip will, I hope, provide more of the same...