Posted in SHOFT on Tuesday 24th May 2011 at 7:05am
---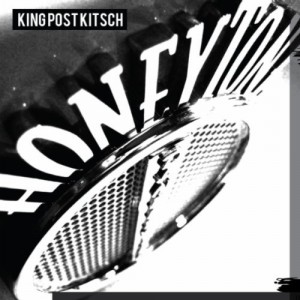 One of the most thrilling things about listening to emerging new music is the sense that you could probably, given the time and the opportunity, do something very similar yourself. There is something liberating and exciting about the way the DIY ethic lowers the barrier to entry. Granted, given this easy access quality control is sometimes an issue too, but that doesn't detract from the sense that this is all about what's possible here and now with the tools at hand. In my case at least sadly, this liberating thought is usually followed by the humbling realisation that I couldn't in fact do this at all because I simply don't have the imagination or the ability. It's an age-old adage of course - it's nothing to do with the equipment you use, and everything about with what you manage to do with it.
Pressed on splendid white vinyl and folded into a beautifully retro black and white poster sleeve contained in one of those polythene bags which all the best 7" singles used to arrive in, this EP is in itself a minor work of art. However, the music is a world away from this conscious sense of good, clean design. Let's be brutally honest - it's filthy and rough, sounding like it was recorded in the room next door with a cheap microphone. In short then, it's pretty fantastic in a way that much of today's squeaky clean output doesn't dare to be. Opening "Don't You Touch My Fucking Honeytone" swaggers in, sounding like something from the long lost 'Pebbles' LPs - all wailing guitar notes and urgent drums in the introduction, before a swirl of distorted organ appears to shore up the closest thing this urgent tirade of a song gets to a chorus. Throw in one of the most fantastic one-string guitar solos committed to record for many a year, and an ending which feels like that heart-stopping moment when you unexpectedly run out of road, and you have this stomping, churning beast of a track. Somewhere along the line the nagging vocals insist "..it's not easy being honest". However, this is pretty primal stuff and probably couldn't be more honest if King Post Kitsch turned up to play it in your living room.
"Penny Red" offers more of the same, but opts for a slower and sleazier take on the same formula. In one of those magic moments, mid-way through the track, we're left with just brittle, distant drums and an oddly unhinged jangling guitar melody before the scratchy rhythm guitar returns. The mood shifts a little with "Alaska" which enters with an organ sound which appears to have drifted in directly from the Beatles back catalogue. A distant, distorted vocal rants in the background while a snippet of film dialogue and strange backwards guitar line arrive. This could so easily be an out-take from "The White Album" - where outright weirdness competed with some concise, clever and rather malevolent pop tunes. This would fit right in alongside the latter. The organ returns to star on "Monomaniac" - a tune rescued from the obscurity of an earlier, online only release - where it dominates proceedings entirely. Almost whispered vocals croon lazily, once again hidden deep in the mix beneath the layers of loud, churning organ. The voice begins dueting with itself on a repeated "Hey how's the weather?" - and I'm oddly conscious that there's something strangely like The Jesus and Mary Chain's slower, blissed-out moments here - which is no bad thing at all.
It's rare I devote this many words to an EP lately, but there is something pretty special about this one - and while I'm sure every reviewer will have their own reference points just like the lazy retrospective name-checks I've adopted, its important to note the originality here. King Post Kitsch have already offered more variety of approaches in a short recording career than many bands manage throughout their working lives. This EP covers a surprising amount of this ground and offers a perfect snapshot of these approaches while raising the stakes for the forthcoming album. As for King Post Kitsch - known almost universally in interviews only as "the mysterious Charlie..." - it's pretty certain he's one of those people whose record collection you'd love to spend a few hours trawling through.
You can buy the rather beautiful vinyl EP, and the forthcoming King Post Kitsch album from Song, By Toad Records. You can also download the EP from iTunes and Amazon - but that's really not in the spirit of this at all, is it? And lets not even get started on Spotify...