Posted in Reading on Tuesday 26th June 2012 at 6:45am
---
It's a long time since I felt the need to write about a book I'd read on here, at least as directly as this - but perhaps it's something I should do more often. The irony of reading "Scarp" in the middle of Glasgow, while the city moved quickly to take advantage of unexpected sunshine wasn't lost on me. George Square glistened in the light, pale skinned, blinking office workers emerging for their lunch break. Spending it with trouser legs and skirts rolled up, shades on while feet away, propped against a huge marble monument and just a little way from the huge metallic Olympic symbol erected for the summer, I sat devouring this curious book. In some ways, it's the book I wish I could write - part personal reverie, part hymn to the places around me. It delves deep into the landscape, and where current descriptions won't suffice creates a new map - you won't find "Scarp" identified anywhere I'm certain. But that's where this book plays its master stroke - we all invent our own maps and landscapes, but some of us do so more consciously than others. So "Scarp" is Papadimitriou's name for a mass of high-seated land which joins Chiltern Ridge to Lea Valley in a broad sweep across his beloved Middlesex. Buried in it are streams, lanes and byways which he has walked - often in dark times with all the associations they carry - to make sense of his county and his world.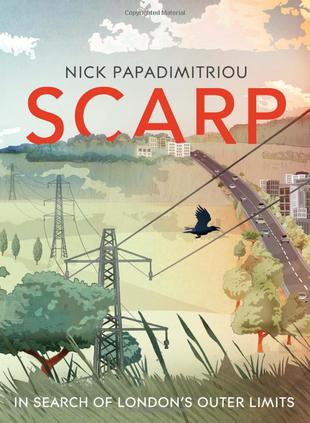 Papadimitriou describes his work as deep topography and sets himself a little apart from the Psychogeographer. I was sceptical about the need to do so at first, but now I think I accept it a little more. He takes a sort of amalgam of old Ordnance Survey atlas, decommissioned guide book prose and personal recollection, and rewalks the landscape with no preconception. He accepts its stories, often it's casualties without judgement and most importantly without recourse to human sciences or politics to justify the links he makes. The prose is sometimes edgy, fast-paced and visceral - but is equally prone to longer passages of lush descriptive work - not least when Papadimitriou strays from a well-worn personal path and finds a new vista just feet from his more routine walks. The thrill of this is palpable in his writing, and having felt this same heart-leap at a sudden turn of a corner and never quite expressed it, it gave me huge pleasure to see it described in print.
Ultimately, "Scarp" is unresolved. We never get the end of the autobiographical thread which winds through the book, explaining perhaps why the author took to the edgelands and the streambeds - nor do we get to achieve the idea of "Scarp" as a whole. But that's because Papadimitriou hasn't yet managed that either. And it's likely he never will. There is both a luxury and a a risk in writing about such a specific and rarely trodden area. The post-cultural tourists who follow in the footsteps of the more famous psychogeographers probably won't stray this far up the Piccadilly Line, and this is perhaps a bit too redolent of the pylon, sewer outfall and business park to get the semi-professional walking set interested. But "Scarp" is a life's work, a labour of intense love for the landscape and a tribute to the land which sustains us, which we walk in difficult times, which links up homes, prisons, hospitals and bus stops. This is the landscape challenged and personified, but described in the loving detail of a botanist's catalogue. It's nothing short of a remarkable piece of work in that respect.
Posted in Railways on Saturday 26th June 2010 at 11:55pm
---
I've always enjoyed wandering around Gloucester, and it was one of the first places I decided to visit when I started using trains to explore my independence many years ago. However, I was amazed to find how early everything seemed to shut up shop last night, leaving the city centre deserted and very quiet aside from the odd pub or club where people spilled out onto the pavement to smoke or enjoy the warm evening. I was in Gloucester because the last trip of my now near-infamous 'UK tour' started, rather unusually, here - perhaps because it was originally designed to be hauled by slower locomotives which prevented a start further north? In any case this meant a night in the rather tiny and very warm Station Hotel before creaking and hobbling the few feet to the station this morning. As I arrived, 37259 and 37218 were running around the stock in already very hot sunshine. Met some friends and found our seats before settling in for the leisurely trip down to Bristol, enjoying breakfast and coffee on route. I was determined that this fairly local trip by recent standards, was going to be a relaxed and enjoyable affair.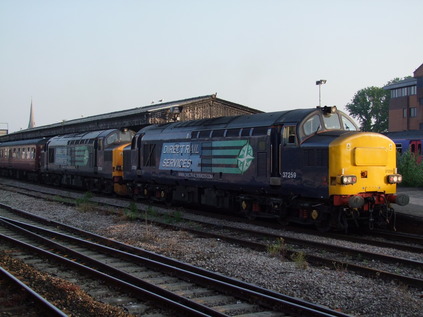 As we headed south, noted a number of local folks boarding, and was soon presented with a glass of bucks fizz by one of the patrons of my former local pub! This set the ball rolling on the real ale consumption, and I confess a fair few different brews were sampled on the journey down through Devon and Cornwall. The seawall at Dawlish was teeming with people out in the sun, and we sped past making a fair racket and causing quite a spectacle. As we crossed the Royal Albert Bridge I realised that this was probably the first time I'd crossed both the Forth and the Tamar in less than a week for many years! The party atmosphere on board continued as Mr Spinks changed into a lurid Hawaiian shirt for the festivities in Penzance! It seemed very soon that we were passing Long Rock Depot where a bunch of orange jackets were scratching their heads in genuine bewilderment at the sight of a derailed HST power car. Managed a snap at the depot shunter, rarely seen out and about, but patiently sitting at the end of a rake of stock today, likely trapped by the stricken power car.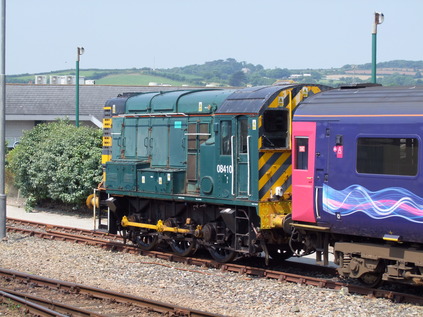 Once into Penzance a few moments after time, we followed a plan devised by our resident Head Brewer, and visited a number of pubs. This took us right through the heart of the apparently good natured but clearly totally unhinged Mazey Day festivities. The highlight has to be when a large group of men crashed noisily into Wetherspoons wearing the uniform of the Life Guards and singing songs about Cornish independence. A surreal moment, topped only by standing in Chapel Street listening to a very loud Methodist Band whilst enjoying a pint of Sharps Own. Wandered back to the station much later than planned, with the first of the three railtours which had made the journey down to Cornwall today having already left. However, it hadn't managed to get far as a lineside fire near Camborne was holding up all services. Our own train had yet to make it back into the station from Long Rock. A long, but good natured wait followed from the mostly merry and tired crowd. Eventually our stock reversed in, squeezed between a string of late arrivals, and we boarded for home. Despite some fine effort by the driver, who was suffering with some power issues from 37259 too, we were very late and onward connections were in disarray. Made some calls to sort a fast car from Taunton and tried to help out where I could by offering the single spare seat. Everyone seemed eventually to find a way of getting home, so settled in and relaxed for the last bit of the journey to Taunton.
So my seven-week railtour odyssey is over, having run almost faultlessly despite the new computer system at Network Rail, some incredibly complex trips and the rule that railtours never really run to plan. I've travelled the length, and a fair bit of the breadth of the UK in the past few weeks, and not encountered too much delay - despite today's unavoidable snarl-up. Next week it's back to pottering around the network under my own steam for a while, and with the work and financial situation brewing into a storm, this might in itself end up curtailed. This last few weeks will be remembered for a long while though. Even the weather worked pretty well!
Posted in Railways on Saturday 26th June 2004 at 11:32pm
---
Resolved to go somewhere reasonably distant, following a long and trying week and a few weeks of mainly local wanderings. Had been at a loss however, as to where to go. Spent hours last night playing with times, but found myself hampered by absurdly inflated ticket prices (mainly around Virgin services I note) or the very Filton blockade which provided last weeks points of interest.

Finally settled on a run on South West Trains Reading to Brighton service, travelling via Basingstoke and Winchester to the south coast. Set out on the 0809 - allowing me the luxury of getting up at my usual time, and happily found the staff at Weston able and willing to sell the combination of Cheap Day Returns, which made a quick change at Reading possible. Tried to get breakfast on the train, but the absence of a "Travelling Chef" until after Bristol and the lack of announcements led to just having a coffee. Quick change at Reading with time to purchase refreshments before boarding an SWT 170 on Platform 1. I fully understand that the 170/3 units are newer than Central's but at least SWT seem to clean these. Comfortable trip to Brighton, if a little crowded at times in the 2 car unit. Notice I was travelling with a poet too, and was proud to notice that she took interest and noted down the name of my chosen reading matter.

On arrival, decided that being this close to new track, without a purpose demanded a trip to Lewes via London Road. I've almost always been going somewhere when I'm in Brighton - visiting Russell Hill or heading for the UNISON conference - so I've never had time to scratch the short bit of track between here and Lewes. Grabbed a ticket from the machine and hopped on a 377 waiting on Platform 1. A short but pleasant trip - the views from the viaduct over Brighton being particularly interesting. Interesting to see how Lover's Walk is dominated by 377 EMUs now, in comparison to my last visit some years ago when slammers populated the depot. I must confess I find the 377s both comfortable and quick - and whilst they are soulless plastic, they are pretty good units.

Headed into Brighton. Previous visits have given me a good navigational start on the place, and I was amazed to remember most of my way around the shopping areas. Headed straight for the shops, homing in on HMV where I bought Belle and Sebastian's "Dog on Wheels EP" many years ago (eight maybe?). Commemorated by buying their newly released "Books EP" from the same shop. Also got a USB hub and cable to get the printer going. Back to the station in record time, wishing I had more time to wander in fact, despite crowded streets and low-flying birds!

Spotted a 450 waiting to return to Basingstoke, so changed my vague plan to go via Gatwick and Guildford and decided to take my first trip on a 450. As reported, a pretty basic unit. Some confusion with the computerised announcments too, which announced a station just as we left it! All-in-all, a fine suburban unit akin to the 458s in use between Reading and Waterloo. Doesn't feel nearly comfortable enough for the Portsmouth services they find use on, or indeed this rather long run. Almost relieved to transfer onto a 165 for the run back into Reading!

Long, wet journey back to Weston. Hampered by more trespassers near Parson Street station. New track, new units and a bit of shopping thrown in. Can't complain at all.
Posted in Updates on Monday 26th June 2000 at 12:00am
---
Still not getting these libraries installed. Looks like work will be a long hard slog for the next couple of weeks. Still, the day screams by...Mid-morning call from a representative of Vulcan (a Microsoft-owned VC outfit) requesting my CV. A wind up? Possibly - with my disparaging of Redmond so oft stated. Anyway, one look at my pitiful CV will be enough to send anyone running in the opposite direction, clutching their vast salary to their chest!