Posted in SHOFT on Monday 18th June 2012 at 11:06pm
---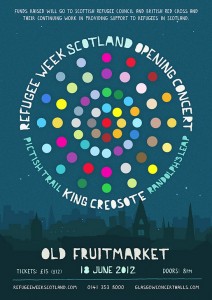 The Old Fruitmarket is a bit of a revelation. Entry is through the overbearing civic frontage of the City Halls, and then via a fairly anodyne, typically minimalist 'arts centre' type space. But buried within is an impressively cavernous, high-vaulted hall. There is a sense of the old times here - all uneven flagstone floors and curious dark corners, with fading names of fruit traders around the walls. A balcony runs high around the building, and weirdly my first thought is of the secret synagogue buried behind 19 Princelet Street. Tonight, the hall is laid out cabaret style - an odd touch perhaps but I always get the sense that organisers don't quite know what to make of Fence events - beard-stroking folkniks, or spirited outbursts of dancing? In the event tonight we were going to get a little of both. But it's important to remember that tonight had a purpose - namely in kicking off Scottish Refugee Week - and to this end the show was interspersed with short films on the themes of 'Spirit' and 'Courage'. These were understated and affecting, and managed to convey the reason that we were all, in fact, here without damaging the celebratory atmosphere. Aside from the unusual surroundings and these more down-to-earth concerns, this was a rare chance to see some of the gems of the East Neuk here in the city, alongside one of Glasgow's own finest exports. It promised to be an interesting night...
It's going to be very difficult to add to the almost fawningly fulsome praise I've already heaped on Randolph's Leap in these pages, but once again they pulled off that difficult trick of opening the show while still stamping an impression on all those present. They appear to do this by launching full tilt into a set of riotous, stomping gleeful pop which gets better with every chance to see them. Airing a number of tracks from "The Curse of the Haunted Headphones" along with some welcome new pieces, perhaps the winning bit of the formula for me tonight is their two-piece brass section, which given the space and opportunity to really belt out their accompaniment to Adam Ross' compositions has transformed the band the last couple of times I've seen them. As ever, the sporadic outbursts of irrepressible on-stage dancing and collective sing-alongs get the audience irresistibly involved in the tiny but affecting dramas at the heart of Ross' songs. During the set Adam announces that there will be a Randolph's Leap EP on Fence soon, which makes a sizeable contingent in the audience sigh with relief that they snapped up their subscription to the forthcoming "Buff Tracks" series. The band leave the stage all too soon, to a warm reaction from the audience. From the closing notes of the now traditional final tune "Crisps", it's clear some hearts have been won here tonight.
It's my first opportunity to see The Pictish Trail performing with his band tonight, and it's something of a surprise to hear how they manage to mutate Johnny Lynch's often plaintive and fragile solo efforts into hulking rock anthems. Some of the new material which will form an EP and album release later in the year is aired, not least "The Handstand Crowd" which has turned from a wistful stream of memories in St. Andrews to a chugging pop-rock epic here tonight. There's a brief electronic interlude where Johnny presses buttons and operates machinery through a cloud of dry-ice while live drums are expertly combined with the beats remarkably effectively. But ultimately there's no shying away from the big solos and crashing powerchords here as Alex Supergun and Bart Eagleowl hammer away on guitar and bass respectively on the closing pair of tracks - a punky storm through personal favourite "Ribbon" and a soaring, stop-start grind through the previously delicate "Words Fail Me Now". Overall the set feels like a success, and the band appear to have thoroughly enjoyed the experience. Johnny's stage chit-chat didn't quite land right tonight - and what would have been a two-way conversation between performer and audience in Anstruther Town Hall felt a bit more one-sided here in The Old Fruitmarket. But, musically at least, The Pictish Trail unmistakably connected with the audience via their punished eardrums and plucked heartstrings.
I'd been excited about seeing King Creosote playing something other than "Diamond Mine" for a while - despite an enduring love for that forlorn paean to East Fife. Mostly, its the thought that Kenny Anderson's vast, untapped back catalogue and the stash of new songs which surfaced on "That Might Be It, Darling" hadn't had a fair crack of the whip for a long time. Tonight, the band numbers eight - including stalwarts like Gummi Bako on guitar, Uncle Beesley on bass and rakish headgear, and Captain Geeko The Dead Aviator thumping frantically on his djembe mid stage. Add to this the additional vocals provided by the almost impossibly lovely Bam Bam and as he surveys the stage it's clear the King is in his element. The set spans his recent career, from the very recent big band reworking of "Doubles Underneath" - an irresistibly catchy, stomping affair which gets the audience shuffling in their chairs, to a spirited and acid-tongued "You've No Clue Do You?" - a much darker affair than the polished recorded version.
Somewhere in the middle of Kenny's set, something strange happens. Up to now there have been sporadic outbursts of dancing, not least from the now dangerously inebriated Edinburgh Bill who gesticulates and throws wine over himself in evident awestruck delight in the bands. But suddenly, a couple of youngsters who are hear with the Refugee Council break through the shyness barrier and start to career wildly in front of the stage. The floodgates open, and suddenly there is a miniature moshpit. True, these kids don't seem to know all the words like some of us old stalwarts do, and they haven't quite grasped the rhythm of the much more delicate "John Taylor's Month Away" as they clap along, but they're loving every single second of this. And so is the band - smiles are exchanged, lyrics are subtly changed to pay tribute to the dancers, and now even Bill is somewhere in the mess of bodies swaying dangerously around and incurring the interest of the security guy who thought he was up for a quiet night until a few minutes ago. We're treated to energetic versions of the defiant "Coast On By" and a gleeful dash through "Single Cheep" with its reportedly "unforgivable" guitar solo delivered intact. Finally, the reins are handed to Gummi Bako as the sprawling, rocking "Little Man" is given a thunderous and triumphant airing.
Perhaps the most amazing thing about King Creosote and friends is how they can take that atmosphere and spirit which starts in a tiny hall in a coastal town or around a beach bonfire, and transport it here to the middle of Glasgow on a Tuesday night. The warm, open-hearted and conspiratorial nature of the Fence Collective is a welcome opposite to the usual closed-shops of music scenes and arts movements. If there is one theme which runs through tonight's proceedings and ties it to the underlying purpose of this event it's perhaps exactly that - no matter where you end up, how you got there or why you made the journey, there's a welcome in this music which is hard to resist.
Posted in SHOFT on Monday 18th June 2012 at 10:06am
---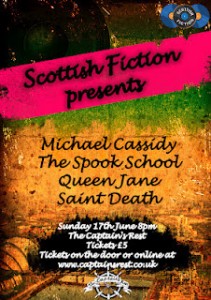 Regular readers will know that I make this trip on a near regular basis, which accounts for the disproportionate amount of Scottish music featured here. However, this time around things felt a little different - with the switch from England to Scotland much more marked as we crossed the border. No trace of the Olympics, of the Jubilee, no tattered bunting flapping from the buildings or grubby flags attached to car-bonnets. Nationalism here is a much more serious business, in the face of which the cartoon image of face-painting and "God Save The Queen" is just a bit silly really! In the midst of this the vibrant cultural scene continues to churn out surprising amounts of new, interesting music which is ably chronicled by the likes of Scottish Fiction - a blog and podcast which displays far tighter quality control and dedication than this one, and which is branching out here into promoting gigs with the first Scottish Fiction Presents... night, sitting neatly in the middle of the West End Festival and dovetailing perfectly with the Gibson Street Gala earlier today.
Descending into the bowels of Great Western Road once again, Barrhead six-piece Saint Death cram three guitarists on the Captains' tiny stage, standing at a diagonal tilt to the audience, rather like a modern day Shadows, just to squeeze in. But that's where any comparison with sixties instrumental groups most definitely ends. Initially discordant and brittle, the opening and somewhat epic piece ramps up into a sort of spaghetti-western-meets-horror film soundtrack. The doom-laden drums and portentous bass are overlaid with a rather lovely twanging solo. Its almost unclear if there is a break here, or whether this is a second coming of the initial song, but the punishingly loud piece throbs and pounds dangerously. There are vocals here but they're buried, like a distant howl. Submerged melodies and ear-splitting layers of noise are piled onto each other. It's full of false crescendos and heart-in-mouth crashes. Next up is a more traditionally constructed post-rock track which benefits from melodic keyboard interludes and which spirals into something beautifully noisy and shamelessly indulgent. It eventually collapses into itself gracefully enough, the keyboard returning to see it off with dignity. Finally "100 Times" shimmers in, an initially shoegazey drift with confident, if rather sombre vocals. There's a final, truly sinister vocal interlude before an apocalyptically chugging sludge-rock ending. Saint Death have been something of an eye- and ear-opener tonight and remain a highlight for me. Surely no band needs three guitars? But if you've got them, this is very clearly how to use them.
I've heard quite a bit of praise for Queen Jane in recent times, and exactly as predicted they managed to take up the baton of good, old fashioned Glasgow guitar pop and carry it forward into a new generation. It's angular, gleefully urgent stuff which explodes with melodies and ideas. Scratchy, complex guitar work and an almost furtively slick rhythm section keep everything tight - when the band pauses, they stop on a sixpence and the dramatic tempo changes kick in effortlessly. Meanwhile the staccato vocal delivery harks back three decades to another era of Scottish music entirely. The lyrics though are wistful, and seem to ache for a not-so-distant past where things were just, well....better somehow. Within the space of just their first track Queen Jane are brave enough to throw in a drum solo, a little calypso interlude then a searing burst of noise to end things. "Romance" sets off on a post-Postcard jangle, jittering and careering through frenetic choruses towards an all-hands-on-deck chanted break in the onslaught. When they set their minds to it, these four unassuming gents can make a heck of a noise, but it's always controlled and delivered as an integral part of the absurdly infectious pop tunes. Next up, "Confession" packs all this together with regret-laced vocals, reverb drenched shimmers of guitar and deftly delivered and dizzily complicated rhythms. Recent EP lead track "Denver" is propelled in by a clamour of keyboards before a stomping, pop anthem kicks off. It works through chorus after chorus of stirringly energetic yelping before a choppy, helicopter-blade bass brings in the closing assault. Saving something of their best for last "Fighting Man" is a wistful closer. Altogether gentler, the vocals take a more central role and showcases James McGarragle's talents in reaching for the emotive high notes. The drummer slips back behind his kit for a frenzied close with military beats and bugle-call guitars which befit the title of the track. I can see exactly why people are tipping Queen Jane for bigger things on the strength of tonight.
Decked out in oversized football strips provided by hyperactive drummer and surrogate frontman Niall McCamley, Edinburgh's much vaunted The Spook School bound on stage and rip directly into their urgent, layered punk pop. It's scrappy, gloriously unkempt and delights in its sharp edges, stupidly catchy hooks and sudden off-kilter interludes - in fact I'm pretty sure I just heard them sing "Would you ever trust a band who think Matt Damon's really cool?" to which the correct answer was an emphatic and unanimous "No!". The rhythm section is solid and pounds relentlessly away while duel guitars skitter and scratch, before emitting swathes of feedback and eardrum bursting noise. There's just a hint of The Only Ones in the jagged but soaring guitar melodies and chugging rhythms. A ukelele is broken out for a brief and strangely woozy sea shanty, then an acoustic guitar arrives for the intelligent, clever pop of "Devil Of Mine'. Benefiting from multiple vocalists, The Spook School create a sort of twee-with-bared-teeth call-and-response dynamic which is infectious and probably as much fun to play as it is to watch. During a discussion of their attire, the band explained that one shirt was a Barcelona strip, another a rare Team Canada jersey - but Niall sported a white shirt with "I am footballer" crudely scribed on in permanent marker. With razor sharp wit an audience member asked "Is that not Rangers new top?" to a riotous reception. They close things triumphantly with their recent single "History" in all its urgent, tangled and discordant glory with its perfectly choreographed 'lalala' ending and guitar-hurling exit. It's been a good night for The Spook School and to celebrate Niall is off into the audience, taps aff and wanting to swap shirts or to exchange CDs for sweaty hugs. Somehow he's like the older kid who led the young 'uns astray. But if this is what it leads to, long may it continue.
Opening with a foot-stomping Spanish-influenced number, Michael Cassidy might seem a little out of place at the head of a noisy bill like tonight's, but his cosmopolitan and wide-angle take on the singer songwriter gig lifts him head and shoulders above similar acts. His strength lies in the sheer range of approaches to his material, which veers from scuzzy delta blues to more formal ballads. These switches of style are effortless - Cassidy's guitar playing creating a sparse but atmospheric web on which his heartfelt vocal gently rests. Another of Cassidy's strengths is his inter-song engagement with the spirited audience. He's not afraid to engage, to rib us a little and to draw people into his songs. The audience, annoyingly young and fresh-faced and hyped up by three noisy acts remain surprisingly quiet and respectful, and when they do break into a fit of giggles, Cassidy is on it straight away with wit and charm. It makes for a celebratory atmosphere which fits the sense of occasion perfectly. His closing tune "Fifteen Years" is plaintive, lyrical and strangely upbeat given the unrequited ache at its core - and it garners a rapturous reaction from the audience too, who are calling for another tune the second he takes his guitar off. Initially, I questioned the wisdom of putting the 'acoustic singer-songwriter' guy on last, but having seen Michael Cassidy's way with an audience, it made a good deal more sense.
So it's out into the night for the wander home, with a little light still evident in the western sky. It's nights like this that reaffirm my faith in music and remind me that however dull and uniform things can seem sometimes, there's always a crop of new and interesting bands about to appear from left-field to surprise me and confound my expectations. It'll be a sad day when I'm too old and jaded to appreciate that. Long may Neil of Scottish Fiction keep flagging these artists for attention too. I know from personal experience it can be a thankless and sometimes frustrating game - but tonight is testament to exactly why it's important.
Posted in London on Saturday 18th June 2011 at 6:51am
---
Ever since Homegame, I've struggled to find a purpose for some things. Work in particular has suffered - the pointlessness and the lack of progress suddenly foregrounded, and my part in the whole process left exposed by a bunch of colleagues who are downright suspicious of my political motives. So I found this morning's trip approaching at alarming speed, with little or no planning. I'd booked some tickets to London because it had been a while since I'd wandered around up there. The original plan had been to give the Oyster Card some exercise and flit about the place, but I was anxious, irritable and distracted and decided that instead, some wandering away from the crowds might be necessary.
And so, after a pleasantly distracting journey to Paddington I found myself on a bus heading for the City. It was quiet, still just before 9:00am and the streets were only just beginning to fill with the bleary eyed tourists in the West End. As the bus filled and emptied I wondered about where to head. A coffee shop on New Bridge Street, remembered from almost a decade ago beckoned. I hopped off at an almost abandoned Ludgate Circus and made my way to the shop. A pleasant enough time was had thinking, writing and drinking coffee while I also planned my next move. The plan was that I didn't have one. I'd looked at all sorts of means of getting east, into the contested, slightly disconcerting areas which reflected my mood. Not finding a direct enough means, I set out walking east. I picnicked in Trinity Gardens, watching the groups of tourists following their professionally patient guides, occasionally straying off-piste to get their photograph taken leaping around inappropriately in a memorial to the war dead. I hid my disgust along with my empty Tesco bag and headed further east, over The Minories and into Cable Street. It had been a while since I'd been this way, and whilst little changed in some senses, I could feel an edge to the stares of the Asian men running car repair businesses as I headed by St. George in the East and pressed on. Huge drops of rain were falling now, and only the shadow footprint of the huge concrete housing blocks was providing any sort of shelter now.
At Shadwell I headed underground, using the spacious new entrance hall to the East London Line. Below it was cool and still, the tight platforms close to the tunnel mouth. I didn't have to wait long for a northbound train, and decided to head for Canonbury and thence to Stratford. It was interesting to see how the new link at Dalston Junction was now just assumed as part of the network - like it had always been there. Londoners adapt to their transport network quickly it seems. At Stratford, the chaos of the busy station contrasted oddly with the stillness of the building site. The hulk of Westfield almost finished, and the Olympic Park a little too far away to be heard. An entrance from the underpass has opened up to the new shopping centre but isn't yet used - soon it will be the busiest way in or out of the station no doubt. How long before this line, linking Shepherd's Bush and Stratford becomes sponsored? The Westfield Line has a certain privatised ring to it. Against my usual instinct I exited the station into the morass of people milling in the forecourt. People pressed flyers into my hand - clubs, jeans for sale, god - all the usual stuff. I struggled over to the bus station and negotiated a knot of PCSOs who seemed to be setting up an unofficial roadblock, to reach my stop.
My plan from here had firmed up in my mind, but the practicalities were still a little unresolved. A bus to Barking would avoid all sorts of doubling back and complications, and would get me lined up to do the GOBLIN route, cruelly curtailed by failed trains on the last attempt. The bus seethed with people, arcing between Stratford and Barking via East Ham, with seemingly endless streets of victorian terraces in between. It was good to see this zone - and it fitted an observation I'd made earlier about the Tube Map. On the map, Harry Beck compressed geography to fit - so areas with lots of stations are expanded to show clarity, while long empty stretches are condensed into mere inches of blankness. I figured we do the same with out mental maps of cities. The journey I was taking now was just such a blank zone - but by doing this bus journey I was expanding it into it's real proportions. My thoughts were disturbed by arrival in Barking town centre. A mess of traffic islands and confusion, which we negotiated until the station appeared. As I stepped off the bus, thick blobs of summer rain began to fall. I dashed downstairs onto a waiting Gospel Oak train, settling into it's pleasantly air-conditioned cocoon.
A swift run over the rooftops brought me to hot and humid Gospel Oak. I changed here for a hop to Willesden Junction, then a slow trundle north to Harrow and Wealdstone. It's an oft repeated journey which gets me back into Central London via a route I love. I pass much of railway interest, and always seem to note new things. This time, I wandered in Harrow a little, finding a plaque to commemorate where Pete Townsend first smashed his guitar when The Who played the railway hotel in 1964. The unofficial rock'n'roll tour continued later when, hopping off the bus at Edgware Road to walk to Paddington, I discovered "The Joe Strummer Underpass". It's these trivial but surprising finds which make these trips so interesting. I walked back to Paddington via a detour into the privatised space around the Grand Union Canal basin. I'd been reading Anna Minton's "Ground Control" and it was all making an eerie, worrying kind of sense. I defiantly took some pictures of a curious tubular bridge before wandering back to the station in a tremendous summer shower. As everyone rushed for cover or fumbled with brollies, I enjoyed the cool shock of rain on my back. It had been a strange day of tiny discoveries.
Posted in Railways on Friday 18th June 2010 at 10:40pm
---
After weeks of wondering if this ambitious trip would make it off the block, I finally found myself on Wolverhampton station with the monitor listing the 07:29 to Inverness. Notwithstanding all the problems with Network Rail's train planning, froth over changes of traction, and my own work tribulations, I was reliably informed that the train was on it's way. With commuters stunned out of their everyday complacency by a platform change, there were just a few of us - clearly tour participants - lingering on platform 1 as 37608 and 37610 thundered around the corner on a rake of eight coaches. Swiftly boarded, found my home for the next four days and settled in for the long ride north. There was a real sense of excitement onboard - something which was really great to feel involved in, given the rather muted and cynical reactions which seemed to have seeped from real life into this most unreal of hobbies lately. No-one seemed to mind the lack of a Class 20 given a winning pair of noisy and capable Type 3's on the front, and once the excellent food started arriving from the Kitchen Car, all other gripes and groans seemed forgotten as our seating bays entered into a discussion of the route ahead.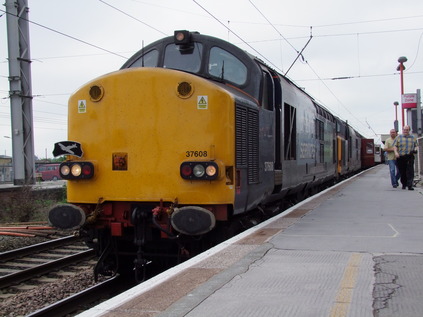 An early arrival at Warrington allowed the first real chance to get a look at - and a picture of - the locos. By now, news had reached us that the plan was to run the leading loco around at Carlisle, as double-heading wasn't permitted over the Tay Bridge. Whether both locos would be returned to the front at Aberdeen remained to be seen. The day was really warming up now, and it was good to just relax and let the buzz of rumours and wonderings wash over me. I skimmed a few work emails and noted that the world was running smoothly without me - both a blessing and a curse in these times of self-justification in the public sector. In any case, it was wildly different from the days when I seemed to be at the beck and call of any emergency which flashed through the department. Counted my blessings, drank coffee and ate far too much as we sped through the familiar and much loved Cumbria scenery towards Carlisle and our next break.
With the locos reconfigured we set off, again heading into the wonderful scenery which blesses the northern reaches of the West Coast Mainline. Felt a pang of regret when we passed Carstairs that I wasn't turning west and heading for Glasgow - but the thought of the coming days of travel soon dispelled this. Instead, mulled over my plans for an Ayrshire tour with AC Electrics which I decided I must share with
Spitfire
people soon! Through the busy yards at Mossend and Coatbridge which kept the spotters very busy for a while, before heading back into more rural scenery around Stirling. With the sun still high, the journey took on a new character here as we made slow, lazy progress along the Alloa branch towards Dunfermline. We lost a lot of time here, and slotting into the busy service north of Edinburgh saw us get back onto the mainline an hour late. This meant the break at Aberdeen was lost, but we were on time and in our booked path - which on this line with long sections and few slots was a blessing. Instead, we managed a few minutes on the freezing platform at Dyce, watching planes take off from nearby Aberdeen airport. One enterprising passenger also made a dash to the local fish and chip shop in the short time available!
The last leg of the journey ran smoothly, and I enjoyed the chance to take in a line I see very rarely. The approach to Inverness along the coast was, as ever stunning - though this way into the City lacks some of the drama of arriving via the Highland Mainline. The evening sun was still in the sky as we drew into the station, and wearily but happily trudged off to the various hotels and guest houses which must have seen an excellent trade from the tour. Made the familiar and quick walk over to the river, and to the Columba Hotel, home for the next few days and still as comfortable and calm as ever. Almost embarassed to present my dishevelled and travel-weary self to the perfectly turned out receptionist. Settled into my cool, quiet room and prepared for a lazy start tomorrow. An epic journey today, but a great start to the trip.