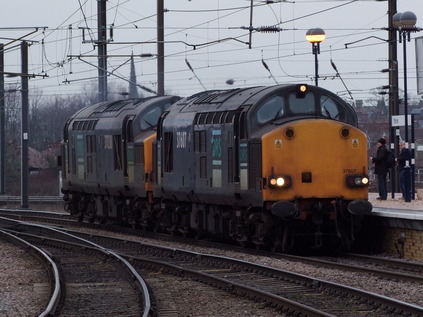 Posted in Railways on Saturday 27th February 2010 at 10:18pm
---
Remarkably, today's trip was the first railtour of the year as such. It's easy to postulate that the recession is biting, and that the tour operators are needing to be a little more careful in what they run - but given the poor weather and widespread possessions across the network at the start of the year, it's perhaps not quite that simple. Certainly, today's tour seemed to be balanced just right. An easy day out in York on offer for the 'normal' punter, a trip to the somewhat hard to access Locomotion extension of the National Railway Museum at Shildon for the enthusiast, and for the track bashers a trip over the recently reconnected Weardale Railway to Stanhope. It'll surprise no-one I'm sure that I opted for the latter. Another advantage of this jaunt, just to ease us in gently to the year's festivities, was a set of reasonably sensible timings. However, descending to platform level at Crewe at 06:00 to find the coffee shop still locked up was not a good start. However I soon fell in with a bunch of very familiar faces who were also awaiting refreshment - and discovered perhaps unsurprisingly that we were located in the same coach! In fact, with the market being starved of tours for quite a spell now, there were lots of familiar faces about as we finally made the coffee run and boarded for a right time departure.
The run to York was a gentle re-introduction to the madness which will fill a fair number of weekends in the coming months: a jaunt down the West Coast Main Line to Birmingham New Street, then the familiar route via Derby and the Old Road to York. Amazed to note that Freightliner are still insisting on hiding their new Class 70s from me behind rows of wagons - be it at Stoke Gifford or Lawley Street - but perhaps their relatively poor reliability to date is making them a little shy about their new acquisitions? As the sun came up in the Midlands, there was a hint of some possibly decent weather - but really it was good just to be out and about in daylight! Munched the ever excellent breakfast from the Kitchen Car as we whizzed past Kingsbury, taking in the solemn sight of a row of ex-Healey Mills 56's awaiting the cutters' torch. After a fine performance from 37038 and 37607, we arrived in York on time - with surprisingly few leaving the train here for the delights of the city, and a healthy number boarding for the mini-tour north to Stanhope.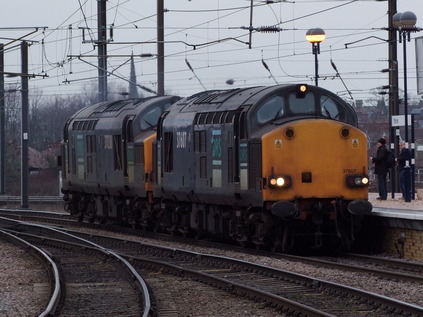 The next stage of the journey took us along the East Coast Main Line to Darlington. Not a particularly inspiring stretch of line in some ways, but over recent journey's I've grown to enjoy the trip a little more. It certainly made for some fast running, and with a low winter sun finally shining it was good to be racing north with the promise of new track. It was also great to note that West Coast Railway Co. had produced a pretty solid rake of Mk I stock for the trip. In particular, the lights and PA were working well, and the heating - although a little slow to get going - was just about right too. After an absolutely riotous thrash under the impressive roof of Darlington's fine station buildings we curved onto the Bishop Auckland branch and made more sedate progress along the line towards Weardale. A brief halt at Shildon to let Locomotion passengers disembark, before pressing on to Bishop Auckland and taking the recently reconnected stretch of line between Network Rail and the Weardale Railway's property. Although the Weardale line is fairly long, trains only usually operate between Stanhope and Wolsingham - making it all but impossible to access without road transport. So this trip was particularly welcome, both in traversing the currently unused stretch of line to Wolsingham as well as a rare chance to visit the preserved railway. The Weardale has had a difficult time with recent ownership changes, but as it's smartly turned out staff passed through the train with literature and one of their number gave a commentary on the line over the PA, it was easy to see the dedication which had kept it running through turbulent times. A slow, but pleasingly noisy journey up the branch, passing the depot at Wolsingham which is currently being redeveloped for future freight use of the line - and was also home to a lonely looking 56022! Crossed and re-crossed the River Wear, which here in the hills was fairly fast-flowing which made for some stunning views with a little snow still on the hill tops. Finally arrived at Stanhope a little later than planned due to hold ups down at Bishop Auckland. This meant only a few minutes here - which wasn't unexpected but was a little disappointing. Particularly as the railway had gone to the effort of producing their Class 73 and Pacer unit in apparently ex-works condition for the occasion. However, we dutifully retraced our steps on time down the branch with 47826 now leading to avoid missing a path on Network Rail metals. Definitely a railway which needs another visit - especially if the opportunity to push further to Eastgate is available!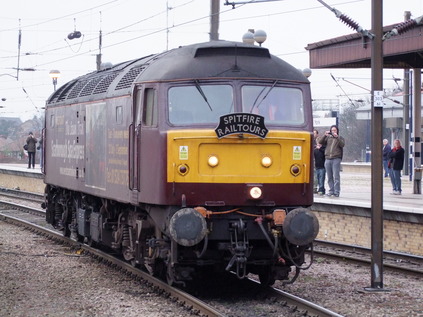 With a longer break in York, stepped out and directed a party to The Maltings before heading for the beer shop. Intended to pop in myself, but with time pressing and the sounds of our locos manoeuvring in the station, decided to slip back to get some shots of the running round. Soon back on board for another thunderous start from the pair of 37s. Our route home was largely a retracing of the earlier run north, aside from a deviation into Bescot. A pleasantly sociable and relaxing trip back with some of York Ales' finest, plenty of industry gossip and silliness! This reminded me exactly why I've enjoyed these trips so much over the last year or so. Plenty of talk also of forthcoming trips and some exciting new plans.
Back into Crewe a few minutes down, and at a respectable hour by recent standards. Another excellent Spitfire trip, and it was really pleasing to see WCRC ironing-out the stock problems which have unfairly been reflected on the operator in the past. Trudged off to my hotel for the night, pondering the best way to sort out a trip to Scotland this summer...

Posted in SHOFT on Sunday 27th February 2005 at 11:55pm
---
Thinking back, my long love affair with The Wedding Present began before the internet, before I'd settled into a regular job and before I'd lost most of my hair. I must also confess that they date back to a time before I had really experienced the miserable and painful situations that sometimes feature in David Gedge's lyrics. Strangely, they went 'on hold' in 1997 just as my troubles in the romantic arena began, although a Cinerama gig did once feature as part of a fin-de-siecle reconcilliation!

Strange then to be setting off to see them tonight. Our Rail Replacement Bus to Bristol sped through a chilly but sunny evening, and my mind was on other things through much of the journey. I stopped for a quick pint before wandering to the Bierkeller - a venue I hadn't set foot in for maybe twelve years - my strongest memories of the place being Nirvana, messy and punky on their Nevermind tour - and some sixth form girls from my old school running away from the stage in horror at the noise when Hole began playing as support on a Mudhoney tour!

Not much had changed, the same sticky carpet, tiny bar, inconveniently pillared auditorium and low stage. Bumped into a dedicated Irish fan who had followed the band on the early Irish dates of the tour and was now dashing around the UK by National Express coach to catch more of the tour. Support act Persil correctly divined that the audience didn't care what they did - nothing personal, but when you're about to meet old friends, its difficult to concentrate on making new ones. On the dot of nine o'clock, the band ambled on individually to the strains of 'On Ramp'. A particularly uplifting cheer went up for Mr Gedge himself, and soon enough it could have been 1990 again as the thunderous ending of 'Interstate 5' gave way to the shimmering opening notes of 'Crawl'.

But of course, it isn't. There is a whole new record of emotional, edgy music to hear live for the first time. Perhaps the most consistent and strongest since 'Seamonsters' in my opinion. The new songs are mixed with a little of everything from the past - including a frantic 'Once More' and a much appreciated 'Kennedy' (not a favourite of mine). A technical hitch gives a chance for the good-natured banter between stage and audience. The odd Cinerama song is thrown in too as a reminder that David hasn't really been away - 'Health and Efficiency' in particular is quite stunning. 'Careless' provokes a comment from DLG that people may not be familar 'with that part' of his career. In fairness, its mainly people of my age, their gleaming pates bobbing in the spotlights. David notes that he barely needs to tell us the band don't do encores because he suspects we may have seen them before.

By 22:40 I'm wandering through the building site of a bus station wondering if I can get the last bus home and not have to wait for the 00:40 Rail Replacement Service. In the midst of turbulent times, in the freezing cold and slightly menacing surroundings of St. James Barton, I am very very glad I came.

Posted in Updates on Friday 27th February 2004 at 10:14pm
---
Started the week with a couple of appeals, which went well - and I felt more confident and capable than for a very long time. After that, things turned strangely lacklustre and I found myself feeling bitter and irritable. Not sure why, but it all seems to be related to my feelings about Weston nowadays, and some frustrations about how slowly work moves.

Things picked up towards the end of the week, as a major deadline approached. I was pretty much in charge of things, which meant a couple of very early starts and late finishes. Not usually a problem, but I finally succumbed to a cold on Wednesday after watching everyone else sneezing their way through winter. Struggled on, with a head feeling like it was full of clouds and a throat feeling like I'd swallowed nails.

Caught Belle and Sebastian on BBC Radio 2 last evening, which was a pleasant surprise. Tonight, I've pretty much just vegetated - feeling a little better but very tired. I think, with the help of Abe from #lemmings I managed to get this page a bit more palatable for Internet Explorer users too.

I have a week off. I want to get out and about if I can, but funds as ever are a worry. Trying to work out some interesting but reasonably priced travels...

Posted in Updates on Wednesday 27th February 2002 at 12:00am
---
First day of pseudo-enforced annual leave. Its good to not be at work, especially since the atmosphere gets more fraught by the day. Trip to Bristol was productive and entertaining. Must find way to quell laptop's absurdly loud startup beep before attempting library work again. Later went for a very fine meal at the long neglected Bombay Spice, via a range of local hostelries - being the first official celebration of my recent appointment. Predictably good food and wine. Lots of fun playing at being grown up. Absolutely exhausted however. A good day.