Posted in Film on Friday 14th July 2017 at 10:07pm
---
There is something rather special about one of Andrew Kötting's sometimes improbably odd film projects making it to completion, let alone a cinematic release. Getting to see one during its debut tour of British cinemas felt even more of a scoop - and I'd looked forward to this for some time. Coming at the end of a really quite troublesome and wearying week, and directly before I headed off on a summer holiday, it took on a further significance - it was, after all, a film about a journey. So we settled into the comfortable seats of Bristol's Watershed, realising that we made up a solid two-thirds of the audience. It was, almost, a private screening tonight.
Edith Walks has something in common with the majority of Andrew Kötting's previous long-form films - in that its sense of pilgrimage is almost all that holds its fragile elements together. This trek, just over 100 miles in total, attempts to create an as-the-crow-flies connection between Waltham Abbey - the last resting place of King Harold - and St. Leonards on Sea where his likeness is captured in a statue. In the sculpture, Edith Swan-Neck his handfast wife lifts the King's head tenderly from the battlefield at Hastings, recording both the moment he is discovered and that at which he is confirmed to be dead. At that moment, Harold slips from history into mythology - the story is written into every school history book, but the man slips wholly out of sight. The history goes that after Edith's discovery of the King on the field of defeat, he was segmented and parts sent to religious houses throughout the land. Finally his heart was taken to Waltham Abbey and buried. This walk, with six companions making up a clattering, chattering tribe to accompany Kötting and Claudia Barton as 'Edith', attempts to link Edith back to Harold - a reunification after 950 long years of separation - King and Queen reconnected, and man and myth made good.
The six companions are an interesting bunch in their own right - along with 'Edith', musician Jem Finer hauls a complex recording device that creates and receives sound as he walks - often the sounds provided by David Aylward, a percussionist who improvises his art marking time along the route. Pinhole photographer Anonymous Bosch captures events as they occur, while Iain Sinclair provides the closely-read mythological underpinnings for the story, sometimes bouncing his ideas against Alan Moore, the Seer of Northampton, who links deeper into the odd English Gothic. In Moore's telling, Harold never dies but becomes wholly subsumed into the myth - becoming Hereward the Wake, our first freedom fighter. Along the way, Barton sings - her remarkable torch songs providing a haunting voice for Edith which is entirely lost from the official account. As the companions progress along the Lea Valley, under the Thames at Greenwich and into Kent, their interactions with modern-day England form the narrative course of the movie. No-one quite knows what to make of them, and fewer still seem to fully understand their purpose. Such are the films that Andrew Kötting makes - miniature, absurd epics that mess endlessly with chronology, mythology and psychology in order to spin out a fable. If he has a message for the viewer it seems to be that you should believe nothing which you see, and even less of what you hear. Kötting's occasional background appearances, foolscap firmly pull onto his reassuringly solid, square head as he regards the antics of his companions are reassuring. There's someone else seeing this - it's not a dream after all.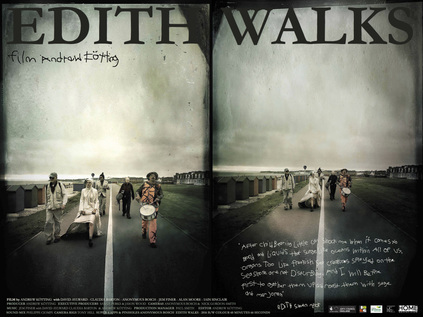 Kötting's role in these films has always been a little unclear to me. Is he playing The Fool as a character - there to provide a foil to the incredibly erudite discussions that Iain Sinclair and Alan Moore share with 'Edith'? Or perhaps he's just there to orchestrate things - to deal with the unwelcome Police interest in Greenwich, or to corral the impossible troupe as it makes steady southbound progress? What he certainly seems to function as is a catalyst - it will be Kötting who decides to film a bow scraping at a bicycle spoke belonging to a bemused bypasser, or who instigates a conversation with Sinclair which delves into new theories and possibilities of the Harold/Hereward myth. The camera rolls, and there he is again in the background, grinning in encouragement. The architect of a particularly English sort of chaos. As Iain Sinclair has observed elsewhere, walking with others provokes story-telling and changes the dynamic of conversation. There's an almost Chaucerian element to the tales shared by the six as they progress south towards the provisional site of the battlefield, historical events represented by found footage of a 1966 school re-enactment of the battle.
The audience response to Andrew Kötting's films is often as varied, confounding and challenging as the work itself - and while I left the cinema amused and enlightened with a head full of reference points to review and research, my wife - a far more engaged cinema fan with a solid grounding in classic movies over the years - was genuinely enraged. She couldn't see a purpose beyond self-aggrandisement - but what sense was that if no-one was watching? We discussed the film and our various reactions for much of the journey home, and while her view softened somewhat she remained confused and irritated by Edith Walks and it's lack of narrative and deliberately obtuse and sometimes amateurish cinematography. For my part, I'm probably just as confused in many ways - but the playful oddness, the eccentric rewiring of history by way of a walk and the unwinding of a new mythology along the way absolutely appealed to me. Mark Kermode suggested in his own review of Edith Walks that as long as Andrew Kötting exists, all will be well for British filmmaking. It's a tough mantle to assume, and one I suspect Kötting might utterly refuse to bear - but I tend to agree that while he continues to act as documentarian and catalyst to these odd, location-specific pieces, there is much to be optimistic about after all.