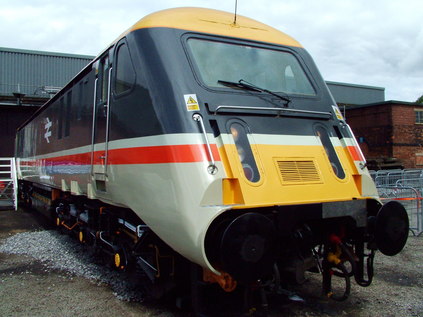 Posted in Railways on Saturday 14th July 2007 at 11:41pm
---
Despite a miserable and damp morning it felt good to be going somewhere today. After news of yet another tour cancellation next week, and more work-related strangeness I needed something to work out - and happily today ran pretty smoothly. I'd tried to plan a few hours at the Barrow Hill Diesel Gala when I saw it announced earlier in the year, but no Virgin Value tickets seemed to be around at the time. A half-considered idea of staying in the area didn't materialise either. Checked again for tickets last week and found a reasonably priced fare, so recruited a local colleague and set about organising a trip. Out on the 0633 as far as Bristol, where it was only a brief wander up the platform to board 1S42. This combination has started a lot of successful trips and it proved reliable today too providing a relaxing run with an on-time arrival in Birmingham New Street. Time to get breakfast and to head for the already waiting 0930 to Chesterfield. Again, a swift and punctual trip which ran smoothly. A bit of a surprise passing Burton-on-Trent however, where we cruised past what appeared to be a Freightliner working, only to find Fastline's 56303 at the head of the train!
Arrived in surprisingly bright conditions at Chesterfield and joined the queue for the free bus. Something of a party atmosphere on the ride via Staveley to the Roundhouse. Also saw the tail-end of 57303's train disappearing along the 'Old Road' as we crested a hill on our journey. Disembarked and paid our way into the site. Immediately found unique 89001 repainted into former Intercity Executive livery, looking much the way I remember it best. Attempted a picture, which was a little tricky given it's location.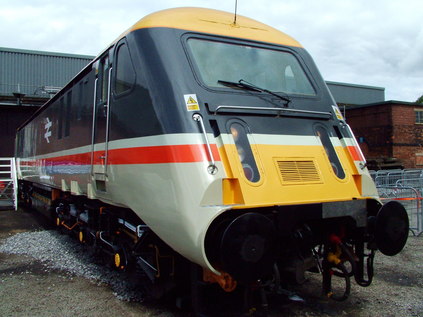 This year's event was themed around the 50th anniversary of the Class 20 locomotive's arrival on the scene. Many examples of the class in various states of repair and in some very unusual liveries were on show, and the regular shuttle trains were topped and tailed by pairs of the runners among the collection. A couple of tours out to Hope Cement Works were also running, but our all too brief visit occurred between these, so we didn't get to see them.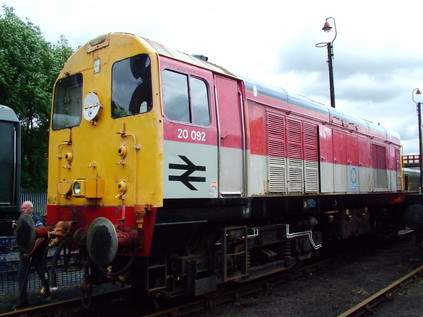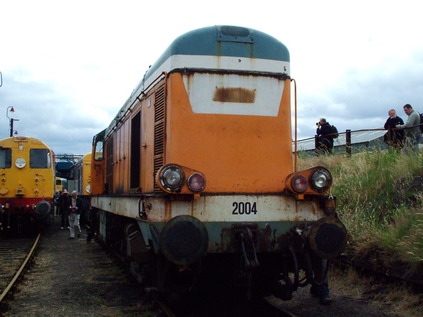 Strolled around the exhibits in surprising sunshine, managing to see almost everything on display. A few notable departures in the last twelve months, but some high-profile new visitors showed the importance of this facility to both the preservationists and the working mainline railway. A surprise was 47832, a recent visitor to the South West, which appeared to be undergoing some fairly heavy work. A resplendent 55022 looked in fine shape and hopefully will remain so for it's tour engagements later in the summer. We were also surprised to find DRS's 37667 in the shed, in apparently ex-works condition.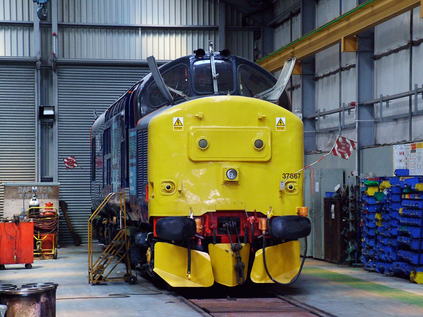 Followed the tour of the yard and sheds with a look around the numerous stalls, which proved expensive for some of us who couldn't resist purchases! All too soon it was time to head for the bus back to Chesterfield. Unfortunately the cheap tickets meant we'd had to opt to travel back sooner than I'd hoped, but we managed to see pretty much everything we'd hoped to during the visit.
After a brief food stop and a chance to bask in the unexpected sunshine at Chesterfield, boarded a surprisingly quiet Voyager and upgraded to First Class for the run back to Bristol. Another really fine journey, and so good to be back on the rails again! Pondered the fate of these cross-country services under new ownership, but figured not much would change beyond the livery and the uniforms. Another on-time arrival at Bristol and onto a rather packed local stopper, where some further old friends were encountered which meant a fairly entertaining ride home. Directly to the pub to celebrate a cracking day out with my cousin, who would I'm sure want me to point out he was in no way involved with the trip himself! One to look forward to for next year I think...