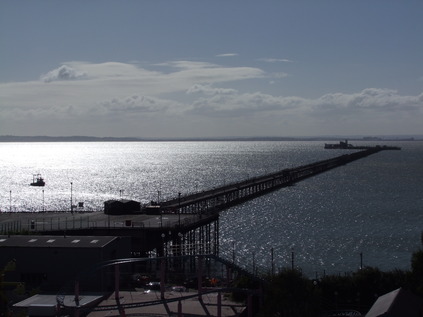 Posted in Railways on Saturday 25th September 2010 at 9:58pm
---
It feels like I'm rarely at home on weekends these days...certainly, this summer has seen me disappearing off on numerous Friday afternoons, and not reappearing until sometime on Sunday with huge mileages under my ever expanding belt. This has all been at a cost - a financial one of course, but to some extent a personal one too. I've sort of lost touch with my local area - not entirely a bad thing given how frustrating it can be - and I've neglected friendships closer to home perhaps? In any case, today it was back to the usual pattern. Up early and out on the first train from Highbridge. My first thought was for how dark it was. Doing early starts on railtours meant I'd lost touch with how late the sun is rising as winter approaches. Made the switch onto the first London train at Weston, and settled in to listen to the week's podcasts and doze my way east into the rising sun. The buffet was inexplicably closed for much of the journey, so deferred breakfast until later. The sky was amazing as the day shaped up into a clear, cold one as I sped along. Sometimes, in the rush to do more exotic trips, these simpler pleasures are forgotten.
The pressure was off today too. I'd decided to re-enact a journey I'd taken many years back and to visit Southend using both routes to the seaside town. I calculated I'd done this sometime in 1998 or 1999, but couldn't remember for sure. My only hazy recollection was of a strange outdoor 'escalator to nowhere' near Southend Victoria station. I've visited since, the last time most memorably when on Pathfinder's overnight Buffer Puffer 7.0 when a quick turnaround and and 04:20 departure meant this wasn't an ideal photostop. The rapidly developing H1N1 virus I was about to suffer from probably made it a less than ideal time to call on the place too!
Firstly though, I had to negotiate London. With the Circle Line out, I resorted to the buses once more. However, the No.15 had disappeared - despite it's presence on the TfL website, the route has been divided up into two, far less useful parts. After a pointless walk around Paddington looking for a non-existent bus stop, I settled on a 23 which I'd abandon in The City. Enjoyed the unexpected spin through the West End, a trip which oddly I'd been talking about only yesterday in fact. The day had stayed cold and bright, and it was a pleasure to watch Oxford Street and Trafalgar Square waking up slowly. After a spin along The Strand, and up Ludgate Hill, I hopped off at the Bank. I decided to do the next bit instinctively on foot. My wanderings in the City have been sparse lately, but my feet seemed to remember the way unprompted, along King William Street and then a little diversion into Eastcheap and Rood Lane to reach Fenchurch Street. Rather wonderful to be tramping around the City again, and I thoroughly enjoyed walking to the station. Remarkably, despite dallying over my transfer, I arrived in good time to get the breakfast I'd missed, and catch the train I'd planned to take. So, onto the 10:00 to Southend Central, and a quiet and bright spin along the long stretches of viaduct, curving tightly through Limehouse and heading out of the city. It's hard to be pessimistic about the East End in weather like this, so I settled back to enjoy progress as we passed from urban sprawl to Essex countryside strangely suddenly, somewhere around Upminster.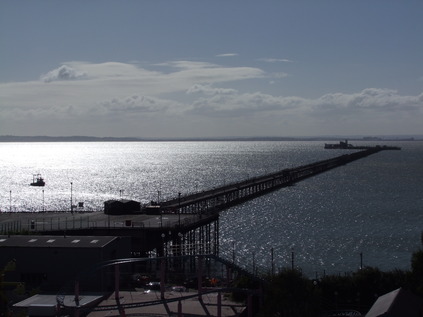 Arrival at Southend Central sort of crept up on me, as I'd settled into watching the views and listening to the locals. Once off the train we were shepherded swiftly out of the station by a security guard, through an entrance on the Down side which I genuinely don't recall from previous visits. My first instinct was to head for the sea, and I noticed that the sun had started to warm things a little too. There were still crowds walking along the High Street to the seafront although it was in disarray, with some fairly heavy-duty roadworks in evidence. These must have blighted the tail end of the season too, to be this far advanced. Marvelling at this bad planning, I stepped out onto the deck around the lift down to beach level, and enjoyed a remarkable view over the Thames Estuary. Took some photographs before heading back into town for a much needed coffee. As I walked and during my time in the coffee shop, I noted that Essex was at war - with Essex itself no less. Everywhere I went there seemed to be conflict - couples disagreed loudly - about coffee, cars, where to stow pushchairs, the size of coffee cups - anything in fact. The keening esturine voices, raised in dismay, began to grate as they sliced through the chatter and background noise. The rudeness was remarkable, cold and strangely cruel. I can't say I liked this place or these people greatly. There were exceptions of course, but there seemed to be a strange local pride in assuming a blockheaded indifference to others. At the risk of hate mail here, I'll of course note that everywhere has it's strange characters - but these people were everywhere it seemed. I slunk away to Victoria Station with a brief, and I hope reassuring grin to the barista who had prepared my coffee - not local, and looking quietly terrified of the customers.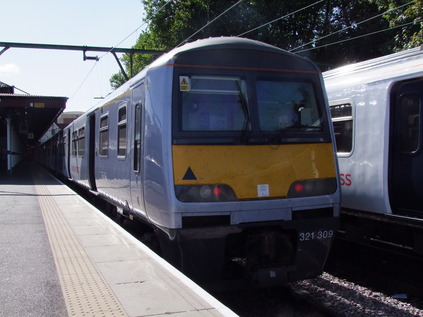 Finding Victoria wasn't so easy...I headed up to the Shopping Centre I knew surrounded it - and found it grown obscenely large in the last decade. After trying to work my way around the megalith and discovering odd and colourfully un-British buildings in the process, I gave in and walked through the centre finally detecting the torturous route to the station via a bridge over a dual carriageway. At the end of it, I took a staircase down, and realised that I was arriving at the foot of the very 'escalator to nowhere' which I remembered from my first visit! Resisted the urge to take a picture of it, now connected to the new centre and with a fine rain-shelter over it. Instead, headed into the station to find my seat on the train back to Liverpool Street, completing the circle.
The journey back was uneventful, but seemed much quicker than my run this way years back, which coloured my view of the Great Eastern lines for some time to come. In fact it all went pretty quickly, in part due to how much I've grown to enjoy a run into Liverpool Street these days. Once arrived though, I had to figure out what to do with the rest of my day. Over yet another coffee, but in the company of a far less aggressive bunch of fellow drinkers, I hatched a plan. I would head back out to Stratford and finally tackle the Jubilee Line Extension! This bit of the Tube network had now been open for around a decade, and for a number of reasons I hadn't done it - partly because it always seemed to be closed for engineering works, and also because it sort of fell into the three or four year gap where I travelled much less. I'd figured out that I could avoid escalators pretty easily - in fact it was the first deep-level line to be designed as fully accessible. So there really was no excuse for neglecting the newest bit of Tube railway we had. One I'd indeed watched the development of, but strangely had never used. Things started badly, with the train held in the platform for ages at Stratford, and the back carriage filling rapidly with people making a dash for an apparently "soon to depart" train. We were soon off, but were held at almost every station by the Controller. The new signalling system was in use today, and it wasn't coping well. Too many westbound trains meant sluggish running and attempts to reverse trains to rebalance capacity along the route. As we waited once again, this time to enter Waterloo, the driver who'd kept us informed all the way said "I can see the lights of the next train in the platform not more than half a train in front. I've been a train driver for a long time, and I've never seen anything like this!". I was unconcerned about time, so I sat back and let the line pass by slowly. Ironically we then sped up, and the driver was forced to apologise again - this time for the very short station dwell times, with platform-edge doors snapping shut after only six seconds!
With the line only running to West Hampsted today, decided to bail at Finchley Road where I knew I had a number of travel options. I elected to travel on a No.113 to Baker Street, then wander over in the pleasant evening sunshine to pick up a 205 to Paddington. Even this wasn't easy, as the bus stop was closed for works. Finally got on board a busy bus, stopped a domestic between a couple who weren't sure if the driver had stopped for a wheelchair used, and generally people-watched my way west into the sunset. London had been in pieces today, everything seemed impermanent, half-finished, dug up - from the Olympic Stadium to Marylebone Bus Stop people seemed to be remaking the place. I'm not sure I approve of all of it - but it's hard to go unscathed by a visit to London. Had a quiet, reflective trip home reading and listening to music while I watched the sun sink into a golden western sky.