Posted in Railways on Saturday 13th May 2006 at 9:05pm
---
The Merchants Hotel on a Friday night is a strange place to be. Tucked away up on the top floor, beside a supposedly 'Private' exit I was disturbed by a constant traffic of people coming and going, shouting at each other, and from the scenes of carnage and blood-soaked tissue in the bathrooms this morning, beating the living daylights out of each other. It's sad because the room I had here back in 2004 was perfect, and the staff are always so friendly - notably there was no-one to be seen in the hotel this morning! Down to Piccadilly for breakfast, and to watch the station waking up. Some confusion about a delayed Bournemouth service which left minutes before my Brighton train - meaning the train was relatively quiet for the first part of the journey. Stuck to my plans however and upgraded to First Class through to Brighton.
This train was an odd choice I suppose, and apart from the fun of a long journey gained me only a couple of bits of new track, all of which were situated around the link between the Great Western Mainline, West Coast Mainline and the Southern. Set off in uncertain weather, passing Longsight in the gloom. Things because damp and misty south of Macclesfield and I soon dozed off with no company in my carriage and no view! Awoke around Stafford, where the sky was brightening a little. Through Birmingham where the train got a little busier, and out onto the former Great Western line passing Tyesley depot, and heading southwards to Banbury and Oxford. Ground to a halt north of Aynho Junction and made very slow progress from here until we took the curve at Didcot and sped towards Reading. Realised that this was probably the nearest to home I'd been all week!
At Acton, we climbed away from the mainline towards the link with the West London Line. This was, pretty much, the reason I'd come all the way down from Manchester! We crept slowly and torturously around the curve, with the familiar sight of the scrapyard and container crane at Willesden very close by. Another tight curve away from the WCML and we were creeping southwards, towards Kensington Olympia. A tiny bit of track I've been trying to get to for nearly twelve years! Once out of Clapham Junction we appeared to get stuck on the slow lines, and made very slow progress for quite a while. Things didn't improve until we'd left Gatwick Airport when we had a reasonably clear run into Brighton.
I love arriving at Brighton Station, which always seems to have changed very little in atmosphere from Patrick Hamilton's accounts in his novels. Found some coffee and some lunch, called home, and realised that my toothache was getting more annoying. Next step was a Southern service to Watford Junction which retraced my steps to an extent, but instead of joining the line to Reading, continued north on the WCML. Another tiny bit of new track, and a long ride on a rather comfortable Class 377 - the Standard Class seat was equally as comfortable as First in the Voyager I'd spent all morning on! The train ran exceptionally well, with only a slight delay - again caused by signalling around the complex junctions at Willesden. Despite being an all-stops service to Gatwick we made fairly good time, and I was soon standing on the platform of a deserted Watford Junction station. There is something bleak about the suburban stops on the West Coast Mainline which I can't quite fathom. They always seem deserted and empty, despite having by all accounts a good service. Managed to spot an opportunity for an earlier service to Bletchley and was soon progressing northwards once again on a rather battered Silverlink 321. Off at Bletchley, with some time to explore the station. Very little to see, and definitely nowhere to buy painkillers for the toothache! Found the Bedford platform, tucked away at the edge of the station near the carriage sidings and watched a rather battered 150 arrive, despite an announcement that it was going out of service, the driver told us to get on. He then wandered back telling us to get off so he could take the unit into the depot for "a quick repair". A small group of kids had gathered, and were shouting abuse at a group of disabled passengers and a quiet old chap on a bike, and now it was raining. I didn't come away with a positive impression of Bletchley, and the seven or eight minutes we waited for the unit to return seemed very long indeed.
Once off, we made fair progress along the Marston Vale line. This quiet backwater could perhaps form the centre of a strategic east-west route someday. For now it makes a slow journey eastwards, passing the massive Amazon distribution centre at Ridgmont. At the end of the journey the line ploughs through what must have been the centre of the LBC brickworks at Stewartby before turning sharply north to curve into Bedford Midland station. Finally found expensive pain relief here and after a short wait, joined a wedged Meridian for Nottingham. Found a seat after Leicester and dozed a bit as far as my destination. At this point I was all for going to bed early, but after a wash and brush up, wandered back out into the rain and walked to The Olde Trip to Jerusalem for a pint or two. A pleasant atmosphere, watching locals playing the ring game. Wandered what is reputedly Britain's most dangerous city for a while, which was incredibly busy on a Saturday evening. Walked up to Weekday Cross, former junction of the Great Central Railway which still has its tunnel mouth intact in the middle of the busy city, then back to my hotel - possibly the nicest all week, with a view over the whole city.

Posted in Railways on Friday 12th May 2006 at 11:28pm
---
In the event we rolled into Edinburgh just after 01:00, and once I'd seen that 90040 was waiting to lead us forward to Euston, I must have fallen asleep. I awoke somewhere around Weaver Junction with a splitting headache. Spent the next couple of hours trying to doze fitfully, and looking out for anything of interest stabled at Rubgy. As we sped southwards the grey misty weather gave way to glorious sunshine. We rolled into Euston a little early, and I decided to walk off my headache with a ramble along the Euston Road to Kings Cross, rather than using the Underground. Arrived and secured coffee before deciding to dash for the 08:00 train rather than waiting for the 08:30 as planned. This would make the connection in Peterborough even less stressful, and allow me time to shake off the remnants of the headache before heading onwards.
In the event the extra time at Peterborough wasn't needed. A late incoming service, some platform swapping shenanigans, and an even later departure meant I would have comforably made the connection. Still, pleasant enough to bask in the sunshine and recover from a somewhat restless night on the Sleeper. Also found myself feeling slightly miserable at the prospect that I wouldn't be back in Scotland this week. But there was track to be travelled on, and soon enough we were east along new track for me, across the flat and rather empty landscape towards Sleaford. Some further slow running, but as I'd been tipped off that the connection was running equally tardily, didn't waste time worrying. A quick change of platform at Sleaford - still a miserable and derserted place in my view - and I was standing for the duration on a packed Central service for Skegness. Now I'd expected weekend services to be busy, but this was crazy. In the end I saw very little of Skegness at all. On arrival, people had already formed an orderly queue for our train which had about half an hour prior to its departure. Consequently, abandoned plans to wander about Skegness a little, and wedged myself into the queue to ensure I at least got a seat on the way back. Once on the train, tried my best to look fierce and to ensure my not inconsiderable bulk made the seat next to me less than attractive. Had a fairly stress-free journey to Nottingham via the recently remodelled Allington Curve at Grantham.
Escaped into fresh air at Nottingham where a sudden but brief rainstorm broke the heavy weather. This second visit to Nottingham of the week was a little briefer and ended with a scrum onto a Central 170 headed for Liverpool Lime Street. Managed to get trapped between a group of older folk and a bunch of younger people enjoying very explicit and graphic conversation! The two groups agitated eachother without realising it the entire way to Sheffield - and presumably for the remainder of the journey. Of all the trains I've been on this week, this was the one I most wanted to be off quickly! These two car services are in desperate need of strengthening by Central.
A leisurely change onto a Northern Trains stopper along the Hope Valley. Bounced and wriggled our way out of the station and across the lines to Dore, then enjoyed a noisy trundle through breathtaking scenery, with a little bit of new track at the end into the bargain. Arrived at a busy Piccadilly somewhere in the midst of it's evening rush hour, and didn't hang around long. Checked in at the Merchants Hotel, familiar from my first rover of 2004 and still as cheap and cheerful as ever. An early Friday evening in Manchester is busy, but not too threatening. After a pint in the 'Shakespeare', walked over to Victoria and the environs, and enjoyed further beer at the 'Hare and Hounds'. Had a long walk back to the hotel in pleasant evening sunshine. A shorter, slightly frustrating day - as much about getting into the right position as anything.

Posted in Railways on Thursday 11th May 2006 at 11:05pm
---
Another early start following a fairly good night of sleep, but I awoke with a nagging toothache. These trips wouldn't be the same without their petty injuries and aches and pains which I'm sure are borne of the strange lifestyle I lead when on leave from work. I reckon a few weeks of living on the rails and I'd soon be rid of them. However, pressing business was at hand. First, a walk to Queen Street station with bags which seemed to be becoming more cumbersome by the day. Then to drink coffee and attempt to find provisions for what promised to be a long day.
In the end I need not have worried. Since acquiring four 170/3s from Hull Trains, ScotRail have dedicated them to the Glasgow/Edinburgh to Inverness corridor. So I had the pleasure of a ride along this very scenic line with a good buffet and a comfortable seat. All went well until the slow freight we'd been following decided to grind to a halt. We began to get progressively later until the freight was looped at Dalwhinnie and we were able to pass. Despite efforts to catch up, the last few miles of the route over Culloden Moor are not suitable for heroics, and we arrived seconds after the Wick train had left. It seems that despite ScotRail offering a service of only three trains in each direction per day with on average a five hour gap in service, Network Rail are still not convinced of the sense in holding a connection. Even when the likelihood of anything else being delayed on the line is at best, near impossible! The fairly rude and uncommunicative guard wasn't helpful either and I think I may have displayed my vexation to some extent. So on arriving at Inverness a casual enquiry as to when the Wick train left to a member of platform staff was met with a very firm and rather too hasty "you're to report to the DSM - I can't help I'm afraid" - the staff having clearly been told not to wind up the angry passenger any more!
In fairness, I cannot fault the helpfulness of the DSM and staff at Inverness. Road transport was quickly provided for the four of us left stranded, and when one particularly uncommunicative Thurso native explained he had a bike, a trailer was summoned to accompany the eight-seater. The road journey to Thurso and Wick was, in fairness, much quicker than the train. Over the years a number of road bridges have spanned the Firths of Moray, Cromarty and Dornoch while the railway has been left to wander its way around these natural obstacles. Once the coastal settlements of Golspie, Brora, and Helmsdale have been visited, the railway takes a swing inland into particularly inhospitable terrain before reaching the strange deserted outpost at Georgemas Junction, while the road clings to a more direct route. The run up the occasionally exhilarating and very twisty A9 was again an entertaining view I'd not normally get of the area, and despite being frustrated at losing mileage - knowing I'd be coming back by rail made life a lot easier and I was soon enjoying the journey northwards.
Not needing to call at any of the smaller outposts en route meant we got to Thurso long before the train. Our driver dropped a couple of passengers at the station where one intended to walk to Scrabster and catch the train back later - an interesting gent, who'd seen a fair bit of Scotland by rail using special tickets and rovers himself. We escorted another passenger to his hotel which gave me a chance to see the coastline of this northern extremity - certainly the furthest north I'm ever likely to travel on the mainland! I was the only passenger for the run back over the scrubby and desolate moorland to Wick, still arriving an hour before the train was due from Inverness!
I used the time available to explore the small town. Once over the Town Bridge, the whole place appeared to be constructed of dark sandstone or grey blocks and has an austere and gloomy visage. In fairness the slate grey sky and penetrating cold wind didn't improve the atmosphere. Not to say it wasn't a pleasant little place, but it had the perhaps expected appearance of rather isolated spot - I wasn't sure, maybe I was imagining the sense of remoteness as I'm prone to heaping all kinds of importance on place and topography. All of the major chains were here - a Somerfield, a Woolworths, a Wetherspoons pub, but it was interesting to note that local businesses former a far higher than average percentage of the high street stores than further south. Stepped into the Alexander Bain, a fairly good example of a Wetherspoons' house and had a pleasant meal and a pint. Decided to stock up on provisions for the rest of the day, and to head for the station. Arrived to find the curious little place deserted, except for the buffet trolley stewardess who was in the messroom eating her lunch. 158709 quietly ticked over, fresh from its exertions on the run from Inverness. Found myself a seat and settled in for the afternoon.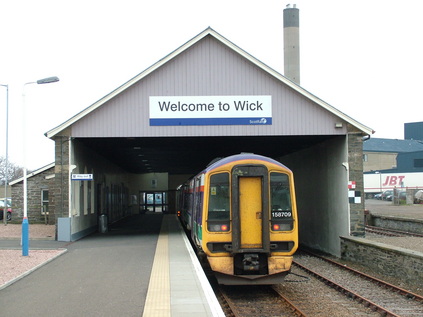 The journey back was by turns stunning and mind-numbingly, unsettlingly empty. Sudden stunning views across the North Sea or into vast Highland valleys were tempered with long stretches of utterly empty desolation. Wick is the end of the line only nominally, as the Georgemas branch to Thurso is worked in a strange reversing manouvre which took us to Georgemas Junction station twice. The old days of splitting portions of the train here and sending them off with different locos doesn't seem so uneconomical in this light. It was a relief to my southerner senses to return to civilisation a little around the settlements of Tain and Dingwall. Soon enough, in a hazy sunset we arrived at Inverness where 67009 stood ready with the Sleeper to Euston. The station was busy with incoming services, and there was a comforting buzz about the place after the cold, empty north. Found a quiet spot in the Seated Sleeper and enjoyed a couple of pints of Deuchars IPA whilst I waited eagerly to see what route we would take and where the train would combine with the Fort William and Aberdeen portions. A day of mixed fortunes and lasting impressions.

Posted in Railways on Wednesday 10th May 2006 at 11:05pm
---
Woke to the sound of annonucements at Paragon Station. Trains were moving, so it was time to get up, miss breakfast once again, and head for my first train of the day. My hope had been that this would be one of the new First Transpennine Class 185 units, but I'd not done anything sensible like checking the diagrams which I'm sure are out there on the web. Instead, climbed aboard a pair of the externally tired but always clean and comfortable 158s. Today was about travelling along lots of tiny bits of track I'd never done before, describing an arc down into the East Midlands and back northwards to Glasgow. The first leg took me along the Humber estuary in blazing sunshine and to Huddersfield via some previously uncharted track between Selby and Micklefield.
After the hectic commuter run into Leeds, things at Huddersfield things were calm and peaceful. So much so that I spent a little longer wandering about and buying coffee than I really had time to, and had to dash for the Sheffield service. This was operated by one of West Yorkshire PTE's Class 144s - just like the 143 units we have here in West Country but with nicer seats and in some cases, an extra carriage! We bounced and screeched our way out of the station, under the tunnels and turned sharply to the south at Springwood Junction. The line is a winding, generally single track meandering through hills and valleys - often on high viaducts above attractive little Yorkshire towns. We made slow progress, but soon enough emerged into the comparitive metropolis of Barnsley. Back on the main line now to Sheffield, arriving bang on time and earning myself a late breakfast!
The next train, one of Central's tired fleet of Class 153s limped into the station already sporting a fault. We left only a little late, after some makeshift repairs were undertaken by a fitter, but didn't make good time. I was fairly confident of the connection working out given the way services operate in and out of Worksop station, but the delay gave me a slightly worrying few minutes once we'd arrived. So, a shorter than expected wait for the Robin Hood Line service via Mansfield to Nottingham. I'd long promised to travel this line, which has changed quite a bit over the years - firstly being extended to Worksop and now having the NET tram lines running alongside part of the route. Again, slow progress along the line with lots of stops. Some interesting station buildings still exist beside the essentially 'shelter and footbridge' style modern halts.
Found the 1300 Cardiff service waiting at Nottingham on arrival, so quickly grabbed refreshments and boarded. A short run along a familar route from here, just as far as Tamworth where I could pick up the West Coast Main Line once again and head north. All ran smoothly enough, and I soon found myself at the windswept Tamworth station. This spot always seems remote and forsaken, with very little stopping on the low-level platforms at all. Chatted to a Glaswegian gentleman making the same connection as me - we we're both dismayed to see the stopping service to Crewe shown as late and getting later, due to points failure and a troublesome Liverpool-bound Pendolino getting in the way. Reassured my fellow traveller with some alternative services at Crewe, and despite leaving about 31 down, we were treated to the sight of the taillights of the intended connection disappearing from platform 6 at Crewe just as we arrived on 2. Over the bridge to wait for the also delayed 1556 Voyager. Then back over the bridge to wait some more. Counselled fellow travellers on the wisdom of heading for the Quiet Coach to get a seat - which was later validated by the Train Manager remarking "Coo - there's loads of room down here - they're standing in the aisles up the front!".
Once on board and underway, it was a trouble-free and relaxing blast along the WCML. Every effort was made to make up time, and we experienced some very fast running through the early evening's brilliant sunshine towards the border. They even re-routed us to speed things up, allowing us to take the mainline at Law Junction instead of travelling via Wishaw which this service is booked for to maintain driver knowledge of the diversionary route. Secretly unhappy at the loss of a possible unexpected bonus bit of track. Still, it meant an earlier arrival in Glasgow, only an hour later than originally booked despite all the delays.
Booked into the hotel, which was just seconds from the station, and headed straight out to the 13th Note. A couple of welcome and refreshing pints, and a chance to reacquaint myself with this old haunt. Half a mind to see the band downstairs (The Great Money Trick) who sounded really interesting on the flyer. Instead, headed out to find food and an early night due to an unearthly starting time to tomorrow's proceedings. Walked back to my hotel along Argyle Street towards the characteristic shining orange sunset. I ramble on about how much I love Glasgow all the time, but I can't help but wish some of the doubters could see it on a night like this.