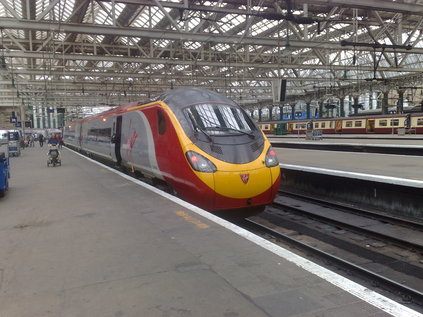 Posted in Railways on Saturday 30th August 2008 at 10:04pm
---
Woke early feeling passable but not great. Literally seconds between leaving my room and finding myself on the platform at Crewe station, clasping much needed coffee and wondering how today would pan out. The plans for this week had changed such a lot over the past few months, and this most recent change was really making the best of a bad lot. In my still fairly fragile state and given the impending end of my time off, would I make the best of my trip?
First though, it was a pleasant early morning dash up the West Coast to Glasgow. I'm not sure if it was the strong painkillers causing undue paranoia, but another passenger boarded at Crewe and selected a seat practically opposite me in an otherwise empty carriage. Everytime I looked up he was looking back at me. I couldn't settle and buried my head in my laptop. As a portly fellow, I'm fairly used to being an object of curiosity and even ridicule, but this guy was just lazily, rather boringly staring. Not sorry when he got off at Carlisle. Eyes not quick enough to sight much of the mass of locomotives on Kingmoor depot, so concentrated on the scenery and the building thrill as I approached the Clyde which has never quite gone away however often I visit. After what seemed like an interminably long wait in Eglinton Street tunnel we finally crawled into platform 2 in surprisingly bright weather given the damp conditions all the way from Crewe.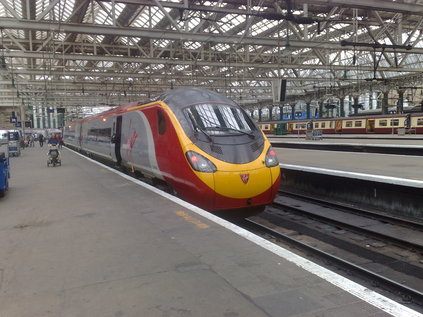 Given the need to wait to check into accommodation and ditch my bag, decided on a quick walk over to Queen Street and a trip to Alloa. Passing the station last week, the Branch Line Society side of my personality noted that the station at Alloa was on a little spur, and that technically I'd not visited the station. So, onto a fairly quiet 170478 and soon climbing up the bank and into the northern suburbs for the journey to Stirling and Alloa. Spent the unit's layover shopping despite still having little appetite. If nothing else, Alloa station is superbly handy for an apparently vast Asda store. Spotted the crew of the unit doing much the same as I at this convenient lunch stop. The train was more heavily loaded on the return, and we were soon away again, via Stirling and into Queen Street with some time to settle down for a coffee in a much loved old haunt before heading for the hotel.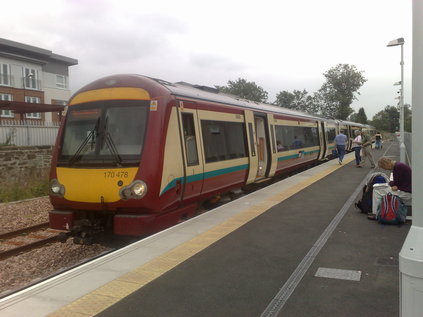 I'd had some vague thoughts about how to spend the afternoon - many of them carried over from the visit in February during which I didn't get to explore much of my personal vision of the city. I spent some time playing with the bus timetables, but eventually figured that I had my walking boots on, mercifully dry weather and for a change, no need to be on a train heading anywhere. So I set out, firstly via backstreets to George Square, then via George Street and some minor diversions to Townhead. Here the empty void of the former High Street goods yard stretched along Duke Street, and I pushed on east into Dennistoun in the shadow of the vast Drygate development, currently propped up by what appeared to be a metal exoskeleton. I wondered how I'd know when I got where I was going? There aren't really any resources readily available for mythologising underground watercourses but the derelict bulk of the vast Great Eastern Hotel was looming and I knew what I was looking for was nearby.
Suddenly, a change in the air - a slightly pungent hit of decay, possibly sewage? I glanced nervously over a low wall to my right and once my eyes had adjusted to the mass of foliage, I spotted the water running beneath me. I had finally found the last vestige of the Molendinar Burn, trickling purposefully by the hotel on its journey under Glasgow. Thrilled and re-energised by finding what I was looking for, I struck out north onto John Knox Street pausing to turn and take pictures of the hotel. It was far too spontaneous to get out the camera - and probably not entirely wise for reasons of personal security, so I made do with the fairly good camera on my 'phone. Strangely though, the flat silver light of a Glasgow sky seemed to leak into the pictures. I continued walking beside Drygate, noting that the ominous blocks had no fancy names - but were simply Drygate I, II and III.
At the top of the hill I dived into the open gate of The Necropolis. It was years since I'd walked in here, and it was pleasantly cool and quiet after the endless traffic of Duke Street. Walked a short way to the end of the Bridge of Sighs, pausing for a few pictures before heading over the bridge and into the Cathedral Burial Yard. Here among ancient mossy tombs I spent a little longer gathering my racing thoughts. Again it could have been the painkillers, but I felt oddly exhilarated to be back here wandering these streets. Outside, beside the museum, a bunch of kilted wedding guests had popped out for a crafty fag and were now being bullied into posing for photographs by a group of Spanish tourists. Slunk by, hoping I wasn't mistaken for more local colour. Press on down High Street, heading for Glasgow Cross.
Somewhere here in Trongate my energy failed me, I was in a cold sweat, dizzy and felt desperately hungry despite having no appetite. I summoned up the energy and courage to step into The 13th Note and nursed a pint whilst reading about local bands. A show caught my eye happening on Great Western Road, but I felt old, uncultured and still a bit sick, so I dismissed it and headed back to the hotel via a bookshop. My eastern perambulation complete for now.
Somewhere though, curiosity got the better of me once again and I found myself striking out in the evening, attempting to get a bus but giving up and starting the long walk to The Captains Rest. Along Sauciehall Street, mostly closed for the evening but still busy. Somewhere nearby fire engines rushed to an unseen event. I climbed the hill, then descended to negotiate the mess of crossings which lead over the Motorway and onto Woodlands Road. Many of the tiny cafes and businesses are now larger concerns or residential conversions but a couple of pubs and cafes survive, no doubt on the university trade. Turned north at the next junction, and found myself just where I hoped to be. However, drenched in sweat and feeling queasy, I just couldn't do it. Much as the bands sounded great, I felt old and irrelevant. I also realised that I'd probably need to leave early. I agonised a bit before deciding that perhaps tonight just wasn't the night before slinking away to catch a welcome bus back to Union Street.
Any concern I'd waste my day here was unfounded - and despite these 'lost weekends' surfacing when there's little going on, I felt like I'd recaptured the city how it's always felt to me. Tired out from walking, I headed for a welcome bed.