Posted in SHOFT on Tuesday 29th March 2011 at 7:03am
---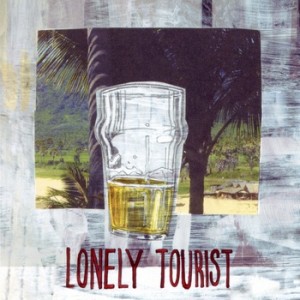 Regular readers of this blog - should such creatures exist - will remember that I stumbled across Lonely Tourist as a support act at a recent Bristol show. Despite his assurance that we could get the album free online, I paid real cash to the man himself for a CD that night. It was as much a show of allegiance as a purchase - accosting the poor chap seconds after he left the stage and gruffly demanding one of his CDs. He was of course more than happy to oblige me, and perhaps more encouragingly the steady stream of people which followed.
And it's perhaps fitting I purchased this record on the sticky floor of The Cooler rather than slumped in front of the computer here in relative comfort, as much of this record focuses on the trials and tribulations of a gigging musician trying to quietly carve a niche in a bloated market. From the outset, Lonely Tourist squarely marks his lyrical territory on "Patron Saint Procrastinate" - a stirring, uplifting melody which carries a defeated but defiant vocal detailing just how little he's done that day, but how much is planned for tomorrow. We've all been there - and this very blog is nothing if not testament to the very same patron saint. As swells of organ join mid-song, Lonely Tourist's half-spoken vocals soar and the song becomes an anthem in celebration of procrastination. It's hard not to sing along, proud of our own non-achievements.
This is followed swiftly by "Watch For The Sharks", which leans more towards the live Lonely Tourist sound - a deftly strummed guitar weaving around a lyric which describes the on-the-road experiences of a musician trying to make it against the odds. This recurring theme doesn't get tired because we're all secretly voyeuristic about what happens when the musician leaves the stage - perhaps exactly why the whole 'X Factor' phenomenon is so inexplicably popular. Lonely Tourist's take on musicianship is wry, amusing and perhaps a little downtrodden, reminding me somewhat of James Yorkston's reflections in his recent book "It's Lovely To Be Here". The realisation captured in the refrain "I'm up in four hours time..." familiar to anyone who has ever tried to combine a day job with a musical career.
Title track "Sir, I Am A Good Man" takes a new turn though, a cowboy lament which is more wild west than than West Country - a keening steel guitar creating a dark mood as Lonely Tourist relates episodes from the life of "...a man things just happen to". Its an expansive, moody piece which shows a breadth of songwriting craft by taking things away from the dark, damp club and out into the dry unforgiving desert. It's not long before we're back on more familiar territory however, with the regret-tinged "Beatclub Chancer" where a stray glockenspiel tempers the forlorn lyrics. This track forms a relatively upbeat companion piece to the following "Too Old For Clubbing", ushered in by a sweep of feedback which echoes away behind a delicately picked guitar and some of Lonely Tourist's most understated and sensitively delivered vocals on the record. Later, "Delighted" returns to Lonely Tourist's preoccupation with the business of making music, and uses a sprightly melody to ably articulate the difficulty in dealing with others' success - summing up with the observation that "bitterness gets you nowhere/that's where it got me". It's a tale familiar to anyone who has supped quietly at the bar after the soundcheck and before the support band, and perhaps it's a little self-concious - but there is a heavy and for some I suspect indigestible dose of reality here.
It would be wrong to dismiss Lonely Tourist as a one-trick pony, writing introspectively about the musician's art - but it's unsurprisingly a preoccupation at this point in a career which can only progress. This record is clever, funny and eminently listenable. It reflects highs and lows - and some of the lows are fairly gloomy, but the sense of humour which Lonely Tourist injects into even his most grim self-deprecation lifts things - you're always with him, never against him. I urge you to buy this music, and seek out a gig when he's in your town. To have a talent like this practically on my doorstep is something of a revelation.
"Sir, I Am A Good Man" can be downloaded from Lonely Tourist's Bandcamp. You don't have to pay, but you certainly should.

Lonely Tourist - Patron Saint Procrastinate