Posted in SHOFT on Friday 25th March 2011 at 11:03pm
---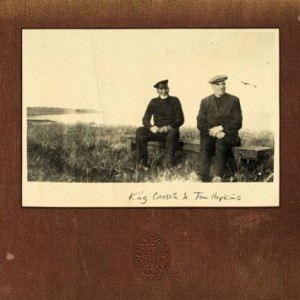 I was in a desperate hurry, and didn't really have time to stop - but I couldn't resist swiftly transferring the newly arrived CD to my iPod before heading out. I'll confess a brief wince regarding King Creosote's professed dislike of "stolen, compressed tunes" but I'd been waiting for this for a long time - and I couldn't chance not taking the first opportunity to hear it. So, it's out into the warm and misty spring evening with a vague hint of wood smoke - but despite the tinkle of tea cups and cafe chatter I can hear, I'm a long way from the East Neuk haven immortalised in "First Watch", tramping through a post-industrial Somerset backwater in terminal decay. The smoke is probably the hotel burning down again. That this record has the ability to transport the listener is simply beyond doubt.
What is immediately striking about "Diamond Mine" is the sympathy and space which Jon Hopkins affords these songs. His touch is deft, considered and builds gently - assembling sounds off-camera which sweep through the compositions, sometimes leaving little more than an echo. The tracks don't so much end, as melt into each other - with a continuous summery haze of warm noise, or the crack of twigs underfoot. As much a journey as a record, Hopkins works to enhance the simple instrumentation rather than complicate things, using occasional dashes of harmonium or banjo - nothing which would be out of place on any King Creosote record perhaps, but arranged to create a particular mood - a sense maybe of rural East Fife which betrays this record's origins, and it's slow, seven year progress towards release.
It's a strange shock to hear a Bits of Strange song appearing brazenly in public, in the form of a wistful take on "Bats In The Attic" - still an uneasy catalogue of the signs of aging, but here sounding resigned and full of quiet regret rather than defiant. It cements the notion though, that those elusive songs are equally deserving of a wider audience and deserve a life on record - though perhaps to capture them would be to halt their evolution? In any case, this version is beautifully done with a sparse piano marking the melody while a distant crackle of static weaves in and out, King Creosote duetting with Lisa Lindley-Jones as gentle percussion punctuates the mix. Soon, "Bubble" arrives with an appropriate analogue popping and crackling, as King Creosote's forlorn falsetto spins a beautiful and gentle lament over the sparse electronics and muted piano. The lyrics are personal, often bittersweet, and always deeply affecting - King Creosote at his finest. Once again Lisa Lindley-Jones' vocals add a fine counterpoint, keeping the song from descending too deeply into melancholy as Hopkins wash of electronica ebbs and flows like the tide - the sounds of the Firth of Forth never seeming far from these pieces.
Things take an almost orchestral turn on "Your Own Spell", setting out with a spacious, piano backing before being joined by a shimmer of unashamedly Caledonian fiddle which eventually builds against a backdrop of apparently blustering winds, before twisting around its own echoes and forming a crescendo of strings - the pained implications in the line "arriving late in church/your dress is soaked" illustrating a classic King Creosote trick by elevating the tiniest of everyday observations to a pivotal event. The sense of a snatched photograph or hastily scribbled postcard, rather than an over-executed set-piece portrait. The record closes, far too soon, with "Your Young Voice" - a simple repeated, heartbreaking refrain of "It's your young voice that's keeping me holding on/to my dull life...". King Creosote's voice soaring above a gently plucked guitar, before the piano takes the song to it's quiet, near-broken ending amidst the crackle of burning logs or maybe the creaking of a boat - or perhaps with sinister implications, both?
Retracing my steps later, the night is still warm and smoky and I'm still listening to "Diamond Mine" - wondering at its understated, genuine beauty - and pondering how on earth I'm going to write anything sensible about it while avoiding hyperbole? This music is calm on the surface, with strong emotional undercurrents. It's also apparently capable of travel in both time and space. And with the laws of physics left as broken as my vow not to wax excessively lyrical, I commend "Diamond Mine" to you. You won't regret it.

King Creosote & Jon Hopkins - Bats In The Attic