Posted in Railways on Saturday 3rd March 2012 at 10:29pm
---
There is an almost universal rule in planning trips around this early part of the year, which says at some point I'll end up in Cambridge. This is partly because it makes for a pleasantly long, circular journey when done right - using track I neglect at other times of the year. It's also because doing so means a bit of time in London, which is a rare pleasure amid other trips - though promises to be fairly commonplace in the coming few weeks. On the last couple of visits though, Cambridge has offered new things - the guided busway and the new Class 379s last time, and this time a chance to see the completed new platform in use after a rather quick and efficient build.
The day began with one of the textbook beginnings I've adopted in recent times - the early train to Bristol, catching up on news and social networking from the last few days, then breakfast at Bristol cursing Starbucks for the truculence around opening times. I was pleased to see that the phantom seat-stealer wasn't around today as I don't think I could have stomached a scramble for my booked pew this morning, so it was onto 1M21 to Birmingham, watching the sun slowly rise and listening to music. A cracking start to the day in fact, after a tricky few days at work. Had a bit longer than usual at Birmingham so I grabbed a coffee and watched the station coming to life. I never tire of busy stations, and there is something special about being relaxed and quiet while the crowds buzz around. Down to the platform for the 09:22 which was a little late arriving and performed a very swift turn-around, causing lots of silly seat reservation related frustration. Found a comfortable spot and settled in, noting that someone on the platform had already had a heavy day, as a drunk sprawled alongside the train with a couple of Network Rail staff trying to stop him wandering away until we'd left. Finally off, taking the familiar route through Nuneaton and Leicester before heading onto the rural section via Melton Mowbray. It had been a little while since I'd done this, and it was interesting to spot the changes as we headed south and east.
After noting a load of locos lined up at Peterborough and the customary one stabled at March, I settled in for the last bit of the journey. The unit was getting busy with daytrippers for Cambridge, and I was restless to stretch my legs. We soon arrived on the new island platform after a slow, lurching switch over to the left of the alignment. Cambridge has always had a curious one-platform with a middle crossover arrangement, with a couple of bays at each end for good measure, and this solution using a bit of the stabling yard had been talked about for years before finally getting built. Noted a few passengers looking bewildered and asking for Platform 8 though! I'd decided not to head into the busy city this time noting that the busway was still a building site at this end, and contented myself with a spot of lunch on the windy platform, awaiting the train to Kings Cross which was booked, apparently into Platform 0. Resisted temptation to board a shiny 379 for Liverpool Street once or twice.
In the event, the train didn't make it into Platform 0, instead bumbling over to No.3 on arrival. It was a pleasant journey down, made more amusing by how much my presence in First Class seemed to annoy the couple who arrived seconds before departure and glared at me for being present. They were visibly upset when the ticket check failed to see me thrown out of the train too. The run down the southern end of the East Coast Main Line isn't one I do often, and for that reason it's always an interesting one - certainly in comparison to the northern sections which I see more of! At Kings Cross, I wandered into the walkway through the new ticket hall. The sweep of the building was visible, and the large open space was pretty impressive. With the main trainshed roof cleaned and the concourse opened out, there is a light airy feel to the whole station, and this new section promised to change the station into a nicer spot to hang around. I do miss the cafe in the corner where I ended up eating an obscenely big breakfast after the sleeper one morning though! Outside the station I found myself wandering into the area behind the station which was buried behind hoardings. The 'small print' on these reminded you that you should use this private area responsibly, and the moment a down-on-his-luck type stumbled into view, a couple of skinny security goons in ill-fitting blue caps scurried out of nowhere to escort him back to the road. After making a couple of 'phonecalls, I quickly headed back to civilisation and made for refuge on a bus.
Finding myself heading down Farringdon Road, I decided to hop off south of the river and have a look at Blackfriars Station, now spanning the Thames, covering the full length of the bridge - the first London station to do so. The Thames Path was busy, a jazz band pelting out tunes under Blackfriars Bridge, and a stream of people enjoying what had become an unseasonably warm, sunny afternoon. I descended the stairs onto the shingle shoreline, littered with shells and debris. There were a surprising number of folks strolling along the waters edge, the ferries and pleasure boats sending waves against the stones. Took some pictures of the city under the piers of the bridge, before heading back to the path and struggling against the crowd to Tate Modern, then over the busy Millennium Bridge to St.Pauls. Instinctively hopped on a bus again - a No.26 which took me through the city and onwards towards Shoreditch and eventually to South Hackney. I bailed just before it turned East for the Wick, electing to wander over to London Fields station for a run back into Liverpool Street. It was now very warm and sunny, and I was enjoying just being out and about in London for the first time in a while.
From Liverpool Street, it was time to start heading back - albeit a little early. In the event this was a good thing, as after picking up the 205 bus on Houndsditch due to the Crossrail works and getting delayed heavily in the diversion along Beech Street to Old Street, the route was curtailed to terminate at Marylebone. Weighed up my options, bailing at Great Portland Street for the short tube trip to Paddington and a pleasant coffee before heading home on the usual train. Today was a varied and rather busy one - and probably not quite what I'd had in mind when I set out. All the best ones end up like that somehow!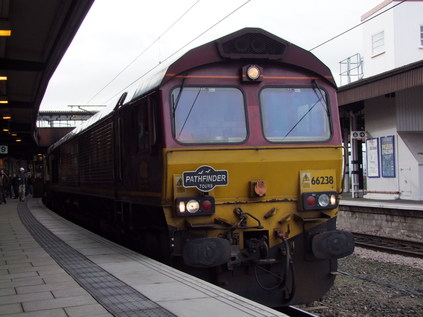 Posted in Railways on Saturday 25th February 2012 at 10:11pm
---
It's almost unprecedented to have managed three railtours by February, especially with one of the major promoters currently not actively promoting any trips, and it's even more surprising that all of them have involved significant sections of new track. So, having dallied in South Wales and West London, this trip too my track bashing northwards to a bit of line which many of us thought was lost. Last year in October there was an unenviable choice available - a one-off dispensation for Pathfinder to go to Gwaun-cae-Gurwen, or the unprecedented UK Railtours trip to Seal Sands. On grounds of economics alone in not wanting dining class, I settled for South Wales on that occasion. However, with the rare track market split and another option for the haulage types too, something had to give - and sadly it was the G-C-G trip. Lots of recriminations and arguments later though, that trip is rescheduled and today Pathfinder were heading for Seal Sands.
Having scoured cheap options on the route, I'd ended up in Sheffield for the night - no bad thing, and given the need for a decent sleep I didn't really see much of the city. A shame because it was a beautiful day - but a rather fraught trip up on an overstuffed voyager had sapped my will for society. It was however nice not to have to set out too early, and with blue skies and a cool sunny morning I wandered down to the station for a leisurely breakfast. The tour rolled in on time with required shed 66238 on the front. There was talk of 004 or 030 later - either fine by me. Noted the tour was quiet - obviously lots of people had covered the line with UKR, and the addition of the short bit of the Jarrow branch which could be traversed was a draw only for those of us who'd missed last time too perhaps? In any case, settled in and after a brief stop at York we pressed on for Tyne Yard.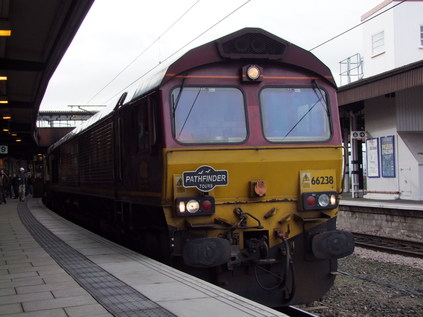 Here an unexpected bonus was achieved. We used the usual Transfer Line into the depot area where 66030 was attached to the rear. However, booked to leave via the 'U' Line we then reversed through the carriage washer and into the exchange sidings, before heading forward again to exit the depot. Cue much debate about which lines were still left in the now almost deserted depot, and which we'd used. All part of the fun on these trips. Skirting Newcastle and Gateshead, we were soon sharing tracks with the Tyne and Wear Metro, peeling off from the main line at Pelaw Junction and using the left hand track of a former two-track alignment, the Metro now taking the right hand line and fanning out into passing loops at stations. We stopped just short of the bridge which carries the line over the roundabout at the entrance to the Tyne Road Tunnel - mainly because there is no walking route over this bridge for the crew to change ends. While it felt like we didn't head far towards Jarrow, practically that was the limit, and most were happy I think.
Retracing our steps into County Durham, we took the Stillington Line, covering the fairly tricky to get, and required by me, third side of the Norton triangle, before curving away from the mainline at Billingham Junction. After Belasis Lane, the track narrowed to a single, fairly creak line through a blasted industrial landscape. Huge tracts of open land, abandoned buildings, and a view across the Tees to Middlesbrough, with splendid views of the Transporter Bridge and the curious Anish Kapoor designed "Temenos" - a huge butterfly net sculpture and one of potentially five along the Tees. This generated a bit of discussion among the locals on board too! Curving sharply north onto what was once the inexplicable Greatham Creek branch to nowhere, we reached the end of the line at Seal Sands Branch Junction.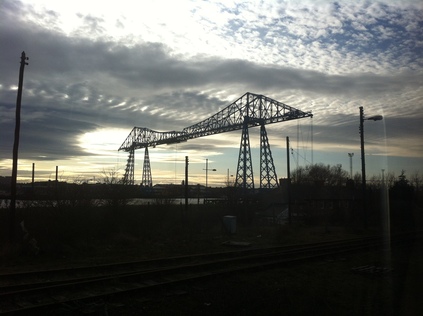 There had been much debate about what would happen next. The UKR trip had managed to take the branch and get to 2m 22ch - but it took three hours for the return trip, and necessitated manual working of the automatic crossings due to concerns about the infrastructure. This area hasn't seen regular use for nearly a decade, and there was understandable paranoia about safe methods of work and condition of track. However, early Peter Watts had shared the DBS view that the route was available, could potentially be required for revenue traffic, and should be traversable beyond Rohm Haas Crossing at 1m 42ch which was the advised reversal point. We crept around the rusty curve gingerly, but at the first crossing had only a short wait before proceeding. Slowly we crept on and on. At Rohm Haas we stopped for what seemed like ages - but then, carefully, we pressed on over the crossing. There was much excitement now. Occupying a vestibule with a couple of BLS faces we calculated distances and checked mile markers on crossings. Finally we stopped just short of the run-round loop and the crew headed back. We had at least equalled UKR's run, if not exceeded it by a chain or two. The bet on which tour to back last October hadn't gone quite as badly as it seemed.
The return run was equally careful, but with the sun dipping over Middlesbrough and the sense of achievement on board it didn't seem to take long. We dropped our tail loco at Eaglescliffe in the dusk, and unfortunately with no heat from the generated, shivered our way back south in the clear, cold evening. Today had been a huge success from a passenger perspective, if not the fullest train I'd travelled on. Again, with all the interesting stuff achieved in daylight, despite being late February, there were lots of happy punters.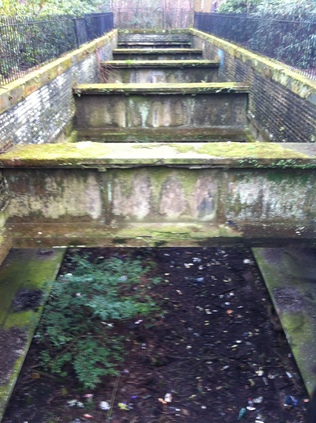 Posted in Railways on Thursday 16th February 2012 at 4:15pm
---
After yesterday's tourism, I decided that today I'd do something similarly adventurous but on the firmer turf of Glasgow. I'd thought of a couple of things I wanted to do whilst up here, alongside the usual round of music, relaxing and watching the city go by in which I usually indulge. One of these was to link together my wanderings with something I'd be reading about for years - the closed Botanic Gardens station. Setting out lazily late, I took a bus along Great Western Road and disembarked after Byres Road. A quick skip across the carriageway and into a side entrance to the gardens, and I was suddenly plunged into a quiet, green world. The sky was still pretty clear, but with swift-moving grey clouds which occasionally threatened a touch of rain.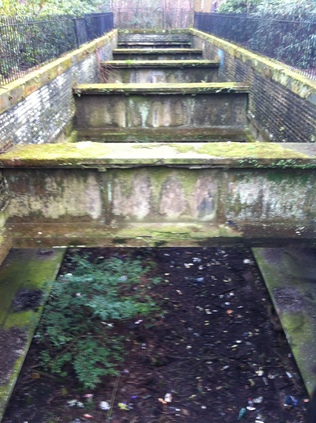 Stumbling around in the rose garden, I was ashamed to have to use the GPS on my 'phone to locate the station remains. Strangely enough, I must have passed by them many times before - either on the road outside or on my very occasional trips into the park over the years. In a dense thicket of trees, not far from the perimeter fence along Great Western Road are two rectangles of railings, with the station platforms still visible down below. A modest plaque confirms the station's fate. It had been mere feet away all along, but I always assumed it would take climbing gear or trespass to see it like this.
After a break for refreshment I set off on foot towards Kelvinbridge. The slog uphill around Hillhead took it's toll on my foot and my breath, and I paused a the top only to find myself surrounded by students. The aim here was where the Kelvin winds under the main road, and the remains of the railway can be seen clearly. I soon found my way to Otago Lane, with the strangely rural appearance oft the river, despite it's urban setting, still visible. It was a little wet here in these dilapidated but charming streets and I lingered a little longer than I meant to. The line of the railway along the river was clear, and as it disappeared under the road, I dashed expectantly to the other side. A high wall made it difficult to see, but sure enough there was the mouth of the tunnel which would, eventually lead to Botanic Gardens.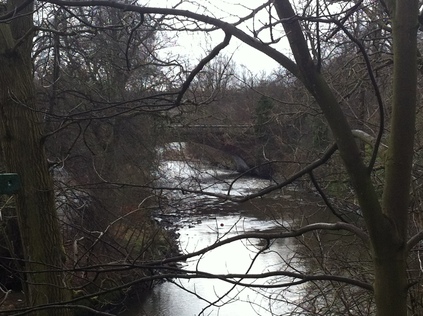 Heading back into the city, I contemplated that despite being a tourist, I was uncovering little bits of the city every time I visited. The secrets and things I'd only read about in books and articles were here to see. While I'm often ridiculed for my love affair with Glasgow, I don't think I'd want it any other way.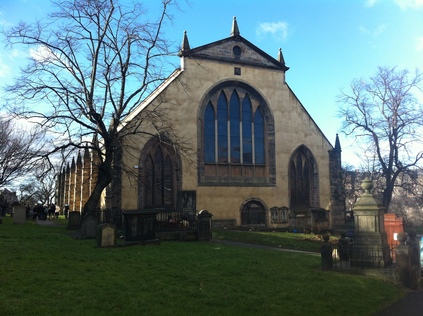 Posted in Railways on Wednesday 15th February 2012 at 11:30pm
---
I don't usually write much about my wanderings in Scotland. Mostly because these are my holidays - properly relaxing breaks away from home, and away from the usual high-speed dashing around the rail network even. When I'm up here, it's a case of being somewhere unreachable, immersed in place and music - two of my favourite things. In a sense, as once hinted at by a former friend, what happens in Scotland stays in Scotland. Not that anything particularly lascivious or damning does happen - just that it's nice, just for a while, not to be analysing it. But today was a bit different, today I undertook a trip I'd been thinking about for some time and became, for a little while at least, a tourist.
The plan was simple enough - with an extra day or so up here by virtue of my travel arrangements, I could afford to spend most of a day through in Edinburgh. Setting off directly after the morning peak I had time for a leisurely start to the day, and also to lounge around a bit with coffee when I arrived. I'd thought about heading to Avalanche Records first off, but after wandering down to the Grassmarket to find them closed and due to open a bit later, I decided to do something rather unusual - something in fact, I don't often do until I'm fairly comfortable with a city. I took a ride on the tour bus! I don't do this on first arriving because I feel a need to grasp the geography before I fully appreciate it. Also, one of the key things for me is knowing how to get back to some of the spots - something you can never quite assess without a bit of prior knowledge. It also provided a means of getting a painfully dodgy foot back up some hills later!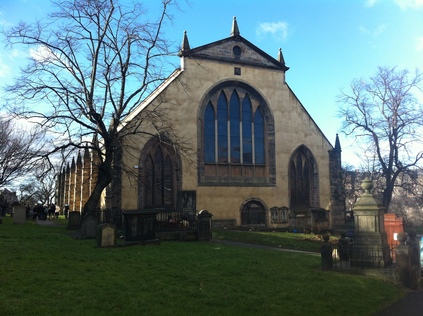 After doing a full circuit of Holyrood, the New Town and sites in between, I found myself back at Grassmarket and skirting the drama which was being filmed and which was causing all sorts of traffic trouble, I walked around the corner to Greyfriars Kirkyard. About now, the sun came out and I found myself sweating up the slope into the surprisingly bright, open churchyard. The tombs were of a typically Scottish style, with only some of the more distant corners being inhabited by a small number of pretty mangy looking drunks. Skirting the edge I found the locked entrance to the Dissenter's Prison, and nearby the Black Mausoleum. Having read the spooky tales and claims made for these, it was hard to square them with this quiet bright spot - an oasis of calm in the bustle of Edinburgh.
Walking back, I called in at Avalanche and listened-in to a strange conversation about the 'youth of today' which could have come from the Daily Mail, before hopping back on the bus to Waverley. The clear blue skies over Arthur's Seat and the view of the city as we climbed Calton Hill were rather wonderful. I thought about heading for Leith, or maybe out to Stocksbridge - but that can wait for another visit. The important thing was that I made my peace with Edinburgh in some ways today.
Whilst my heart remains in Glasgow, I am rather looking forward to coming back soon.