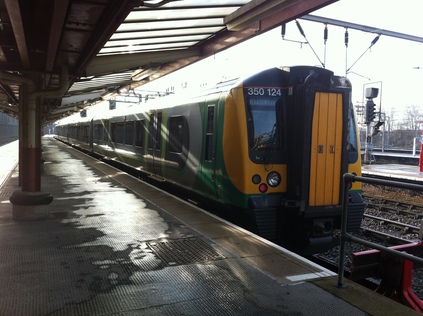 Posted in Railways on Saturday 28th January 2012 at 10:31pm
---
After a surprisingly but mercifully busy start to the year, these next few weeks are a bit of a hiatus. That's not to say there isn't plenty happening - but for a couple of weeks at least I'm back on service trains, making my own entertainment so to speak. I don't mind this at all, and the opportunities to revisit areas and see them changing subtly or just to people-watch and drink coffee all around the UK are never unwelcome. However, lately I've not had much time to plan these trips - so beyond saying "I think I'll do another West Midlands Day Ranger" I'd not thought in detail about today until this morning at about 5am! I'd used one of these tickets recently and found it to be very flexible, to cover a huge area and to be very good value indeed. Today though I was on my own - no bad thing in some ways after a difficult week, and had perhaps a little more freedom to wander as I wanted. The journey up to the Midlands passed sleepily and uneventfully as I'd hoped. I needed a lazy element to the day, as the week had been a bit fraught and stressful. The warm train sped through a frosty, pale sunrise before depositing me at Birmingham on time. Booked my rover ticket, grabbed breakfast and headed for the 09:01 to Crewe. Again this was a pleasant journey through the wintry morning scenery, with a few surprising locomotives moving around at Crewe just to keep things interesting from a railway perspective! It was clear though, that all was not well here - lots of delays, with some trains inexplicably showing twelve hours late, as a result of a fatality near Atherstone in the Trent Valley. I'd planned on the 10:33 Euston slow train, which would give me another long run - but this was now expected to terminate at Stafford. Given that it was leaving from the relatively unusual Platform 2 at Crewe meant I did it anyway. In the event, after a short delay at Stafford we were allowed to continue - one of the first stopping services to do so, though we omitted the call at Atherstone passing at speed on the Fast lines. At Rugby I alighted and explored the remodelled station a little. It is much improved in some ways - having extra platforms, a more pleasant subway and a sense of space around the rather quiet concourse. However, it has lost it's buffet with a small concession near the ticket office doubling up now, and inexplicably just closed for lunch when I arrived. Didn't hang around long here, not like the old days of hot tea clutched in cold hands watching passing freight trains. The next Birmingham local service was rather packed so I hopped only as far as Coventry before switching to a Pendolino service for the last few miles.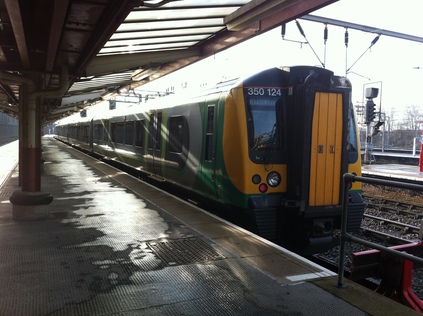 Out of new street and over to Moor Street for the rest of my travels today. The Chiltern Lines have figured large in recent times, not least because I'd neglected them for a while. Also, the arrival of the new Class 172s on London Midland local services has sparked a little interest in the area. Moor Street too, continues to be a welcoming and impressive terminus. There is space, a sense of being a 'real' station in it's historic buildings, and it feels practical and usable too. An excellent refurbishment job overall, and who would have thought when the Snow Hill tunnel was reopened in the early 90s that this station would return to it's former glory quite like this? Grabbed the first service heading north to Snow Hill, which took me as far as Kidderminster. I'd considered a run further on to Worcester or even Great Malvern, but options coming back weren't great. A quick change here for a service back as far as Tyseley. I hadn't been here since the Centenary Open Day in 2008, and I found a rather sleepy, cold station inhabited only by a couple of intrepid trainspotters. Noted a few more of the new units on the extensive depot beside the line, before heading back into Moor Street for much needed hot coffee.
For my final spin of the day, I decided on a run down to Leamington Spa, rather like the last time I used a rover ticket in the Midlands. I like the original features of the Great Western station, and it would be nice to do this in daylight this time. Hopped on a waiting Chiltern service and had a quick run down to Leamington, changing platforms before an equally speedy run back into Birmingham while watching an impressive sunset in the west. A quick, twilight walk back to New Street and a chance to relax with coffee and enjoy watching the busy station life before catching the usual 1V65 back towards home. Noted some problems at Reading delaying services out of Paddington, but the generous layover of my chosen service at Bristol meant that it arrived late but departed bang on time. The trip home was in good company too, with railway acquaintances and former colleagues on the train. So it had been the kind of day I set out to enjoy - lots of winter sunshine, coffee, people-watching and escapism - and when I added it up, surprisingly around 500 miles of travel.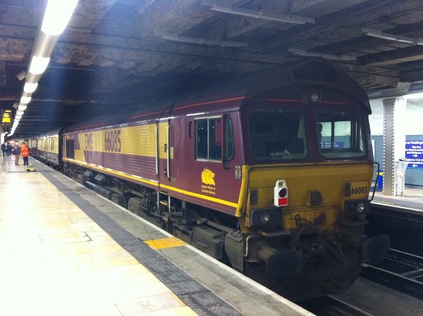 Posted in Railways on Saturday 21st January 2012 at 7:49pm
---
Less than a month into the year and I'm writing about my second railtour - this is far from the usual course which January takes. However, years back when I had a lot less ink in the atlas I used to see start the year by how many weeks I could keep up the practice of covering a new bit of track. For a while now, that's just not been possible given all the easy bits are covered, but this year would have been a pretty good one in those stakes by all accounts. I found myself in Watford once again this morning, with an early start ahead of me. Staying in Central London had proved pretty costly when I set things up for this tour in October, with a Travelodge sale being announced after the fact, but I had a comfortable Premier Inn bolthole in familiar surroundings. The only drawback was the long, dark DC lines slog into town first thing, but with headphones on I was soon coasting into Euston and heading for the bus across to Paddington where the tour started. Plenty of time to breakfast, watch the day start and witness an assembly of rather odd looking cranks descending on the Upper Crust concession the second it opened. It's times like this that appearing relatively 'normal' in the rail enthusiast world is a welcome choice. Instead settled down to coffee and wandered over to the stock which had arrived early.
I don't travel often with UK Railtours, but the increasing number of 'Forgotten Tracks' trips which they operate, and the recognition that not all First Class passengers want dining has opened a few more of their trips to my interest lately. This one was a winner from the outset, reflected in it being fully booked very quickly and a re-run programmed for next week - almost unheard of in these austere times! With a couple of winning locos - one which had reputedly never worked a passenger service before - and a realistic itinerary all reasonably comfortably achievable in the short winter daylight, this was going to be a good one. So, out of Paddington on time for the short run into Southall Yard where we reversed for the first of many times today. The branch to Brentford Goods curved behind the sheds and workshops of the preservation group, with a couple of the Class 08 shunters which had been involved in the production of The Railway Children at Waterloo International spotted on site. Then we pulled alongside the Grand Union Canal, passing under Windmill Bridge where three tiers of brickwork see the railway, canal and road stacked together in an impressive engineering feat. The lines began to fan into a range of sidings before the end of the branch in the West London Waste terminal.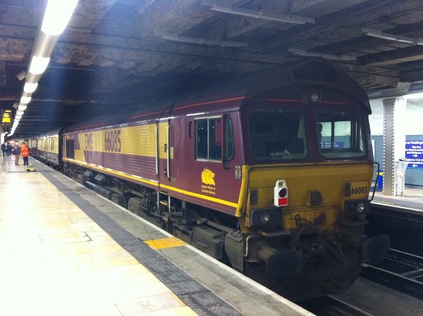 A swiftly accomplished reversal took us back to Southall, and a brief run along the main line to West Drayton, where we took the line at the far north of the station which would once have served Uxbridge trains. The line curved tightly to the south, with little trace of the former junction, passing under the mainline and heading towards the perimeter of Heathrow Airport. Progress was slow, with points being clipped ahead of us as we passed - but the operation was pretty efficient, with a single Network Rail operative managing the whole process on both of the branches so far. We were soon cutting along at a faster pace as we entered the curious section of line which passes through the M4/M25 interchange. The huge four-level stack junction was constructed with the two lowest level sliproads running along the fringes of the single line at ground level. This gives the weird sensation of having high speed traffic zipping past both sides of the train in the wrong directions! However, it's a tribute to the ingenuity of the engineers and planners that this freight branch was stitched into the complex road works rather than being closed or diverted from it's historic route. We slowly made our way to the terminus, this route being protected due to the Elf Oil depot. With the loco practically touching the gates to the facility, we turned and headed back towards the mainline.
We now made a circuit of north west London via the mass of lines which tangle around Willesden. This has always fascinated me, and no amount of coverage on numerous railtours and diversions has every quite led to a complete understanding of how it works. However, with Quail maps out and some eagle eyed companions, we plotted out course which took the lesser used connection from Acton Canal Wharf down to Willesden No.7 Junction. After a tiny burst of speed on the West Coast Mainline we crossed under the fasts and came to a rest near Wembley Depot. The tour was almost in two parts, with this marking a crew change and the start of the second half so to speak. Once underway again we headed north. It was now a remarkably bright afternoon, with the few tiny showers we'd had earlier soon dispelled. Thundering past the hotel I'd left about eight hours earlier at Watford, we made our way out into the Buckinghamshire countryside. Once through Milton Keynes Central we slowed, coming to a stop a little shy of the platforms at Wolverton. This is where things got complicated! The layout here is essentially the remains of a flying junction which connects the works to the mainline. However, the road allowing entry from the Down Slow has long gone - its alignment still apparent on waste land, before disappearing under new flats and a large Tesco. The connection to the up lines rises between the slewed pairs of tracks, but is connected only from the north - essentially the 'wrong' end. Thus we now reversed into the 'Incline' siding, before turning north again, and taking the steep grade which dips into a brick culvert and passes under the lines. Emerging to the west of the mainline, we passed the point where the lost 'down' connection would have trailed in and proceeded along a straight beside a road and much new development. Some warehousing here had been recently built - or perhaps rebuilt - in the style of the original and once vast carriage sheds. We finally entered open waste ground as the extended headshunt of Haversham Bank curved back in towards the mainline - of which is was once a much straighter and more direct part! The connection to the works trailed in from the left, still a vast site despite it's much reduced output and rather uncertain future. Parts of it lie derelict and are, it seems home to an unofficial BR museum of sorts!
So with today's rarest of track covered and the record set right after the cancellations which followed the unceremonious scrapping of the Wolverton Works Open Day a couple of years back, we headed back south via the reverse of the complicated manoeuvres we'd taken to access the works. For me the final part of the tour was less novel, having covered the flyover at Bletchley previously - but as the daylight was holding it was good to be seeing where we were heading this time. At Denbigh Hall Junction South we peeled away and climbed behind Bletchley station, curving west over the unloved but impressive concrete viaduct which stands as a folly to BR management - opened to keep the Oxford-Cambridge 'Varsity Line' traffic from crossing the WCML on the flat, it soon foundered - the 'modern' hump yard at Swanbourne sensibly knocked on the head as those at Tinsley and elsewhere were proving less useful than expected. Then the passenger trains ceased too, and now the line proceeds only to a run-around at Swanbourne where interested neighbours poked their heads out of windows and waved at us. The line doesn't end, but from here through to Claydon it is unused - and having frustratingly visited both ends, there is hope that the now funded East-West Rail project may join up the gap and provide Oxford-Milton Keynes services, with ambitions to restore the final but more complex link to Cambridge too.
Reversing once more we headed back over the viaduct with the sun beginning to set, then down the eastern arm which descends to join the line to Bletchley. At Fenny Stratford we reversed again, curving back to meet the mainline near the now almost abandoned Bletchley Depot, still kept remarkably tidy I noticed. Finally we had the fun of a fast run into Euston arriving a surprising ten minutes early - with the odd novelty of a railtour finishing before 6pm. However, it had been an incredibly successful day - mostly on time, all of the interesting stuff done in daylight and exactly as planned and described. I don't do many of Mr Farrow's trips - because they start in London most often, and have few non-dining options primarily - but the reawakened 'Forgotten Tracks' programme has provided some gems in recent times. Long may they continue to provide fantastic days out like this one.

Posted in Railways on Saturday 14th January 2012 at 5:44pm
---
The last couple of years have seen fairly late starts to the railtour season, which has meant lots of opportunities to plan my own visits around the country. This is both a blessing and a curse - zipping around at possibly the quietest time of the year is always pleasant enough, but finding the time and the imagination to try to plan lots of new things to do is sometimes near impossible. However this year things have conspired to place a number of pretty fantastic trips in a short space of time. Indeed there are more I could have done if I'd not had other plans in February, but having a couple of track bashing type excursions right from the outset has to be a good thing.
This had already turned into an unexpected and luxurious long weekend. A brief but enjoyable trip to Bristol yesterday, and a near-to-home start today made for a fairly easygoing itinerary. It didn't feel that easy heading out for the 05:48 this morning in fairness, as the winter finally landed with a wonderfully fresh, frosty morning. We sat waiting for the ECS of the London HST at Weston too, which set the train back just enough minutes to be worrying late. I had a +12 into the Swansea train which reverses at Bristol Parkway, but hoped to grab some breakfast and coffee on the way, knowing that Parkway was pretty much shut up this early. Thought about flagging it for my reserve train - 1M21 at 07:00, but thought it might not be wise and dashed for the 06:46. Into Parkway on time, but predictably not much open. Settled in for the short wait for the stock to arrive from Eastleigh, heralded by the rumble of 66002 tackling Filton Bank. The seating issues reared their head early, and it became clear that the whole mess was bigger than my ticket, despite my almost being bumped down to Standard being possible the most drastic outcome. Soon settled into the warm and steamed-up, but the soapy window trick soon fixed that, and I settled in for breakfast and a wonderful sunrise as we headed north through Gloucestershire.
The rest of the merry band joined at Birmingham New Street, having set out far too early and got bored and cold waiting at International. Good to see lots of familiar faces anticipating a sociable day of interesting track. Out via Leamington and Banbury before our first bit of unusual track at Oxford where we briefly waited in the loop from which the Cowley branch peels away. Lots of speculation about future access to this, before we headed around the West Curve at Didcot, and took the line through the gates of the power station. This was huge track - particularly given the difficulty of doing anything on private lines nowadays. The downside of doing the Coal Line rather than the more common Ash Line was the MGR speed limit, actually imposed on all trains - 0.5 mph! It took significantly longer than timed to make it around the loop, and on the warm stock, things became a little drowsy. There was a little concern now that perhaps we wouldn't manage the loops on the Great Western given our lateness - with a counter view that actually we'd get looped everywhere because we were out of course now.
In the event, after a quick reversal in the sidings at Appleford, we set off to cover almost all of the booked loops at Steventon, Challow, Hullavington and the most interesting for me, the Down Goods at Bristol Parkway, between the platforms and Stoke Gifford Yard. Once through the Severn Tunnel and into Wales, we headed further west tackling the loop at Alexandra Dock Junction before traversing the rare crossover to the Valley Lines platform 7 at Cardiff Central. I was into long unvisited territory here, with the Valleys being an early target after I restarted my travels. The lines to Barry had seen a further visit when Vale of Glamorgan trains started - but that too was years ago. Noted the massive redevelopment in the area, and it's gradual gentrification too. Soon we were clear of the conurbation and onto the coast as the sun began to dip - always a consequence of winter tours - with a stunning sunset over the sea and the Somerset coast beyond. I remembered the tangle of lines around Aberthaw which had confused me on my original journey, as the mainline cuts in sharply from the coast near the curious Boys Village at St.Athan. Instead we followed the line into the Reception Sidings before proceeding into the Power Station site. Somehow more impressive than Didcot, the fading light gave it an even more sinister aspect as we slowly made our way onto the Oil Line, meaning at least we kept up a reasonable pace. During the traversal of the loop we learned just how touch-and-go this whole trip had been, given the parent company's reluctance to let a passenger train into the site. Thankfully persistence and contacts had paid off, and we were soon back into the Reception Sidings and heading towards Cardiff. We'd lost a little of the time we made up though, and missed the loop at Cogan Junction - but this might well have been because of it's condition - certainly the opposite loop was very rusty indeed.
Back through Cardiff and Newport, taking the Bishton Flyover to maintain the relief lines, though this was ascertained mostly by instinct and inquiry, as it was now very dark indeed. Sadly we were around 35 late now - just late enough to make my preferred move at Cheltenham a little less robust. So, no quiet run home on 1V65 for me tonight, instead bidding folks goodbye and bailing at Bristol Parkway, via a curious dash through the train due to being stopped short on the platform. A comfortable connection into a slightly late 1V63, a decent coffee at last in Temple Meads, and then home an hour earlier than planned. Despite not touching dry land all day, and as is becoming worryingly common, not having a single photograph of the trip, a very good day out. Almost everything planned was covered, and once the seating situation had been resolved it became a very sociable occasion. Lets hope that next week's rare track excursion is just as successful...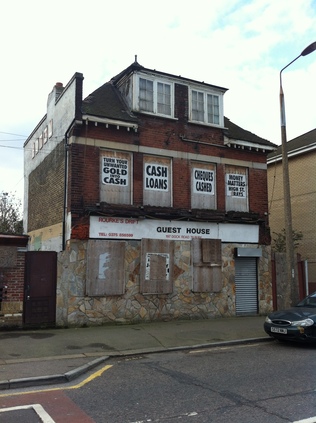 Posted in Railways on Saturday 7th January 2012 at 10:01pm
---
The year has started uneasily, and I found myself looking forward almost desperately to this trip - a chance to escape and not have to consider some of the really pretty irritating things which have been going on just lately. My injured foot ached, and wearing brand new boots probably wasn't a smart move either, but as I dragged my sorry self to the station I knew that it was imperative I got moving. Today was a bit of a random gluing together of several imperatives - some visits I'd not realised I was going to make, some revisitations of old territory and some familiar and comfortable trips to soothe the soul. I started out as early as possible, making the switch to the London train at Weston. Oddly, some late running on the first Down service meant the stock hadn't arrived, so had the novelty of watching the ECS terminate before boarding, getting breakfast and dozing and reading my way to sunrise. This happened somewhere around Didcot, a golden and clear morning. This is one of the best reasons to leave so early.
The first target was Liverpool Street. With C2C services running out of the station due to work at Fenchurch Street, this meant the novelty of the Woodgrange Park section, and the flyover at Barking. Nothing new, but it had been a while. My objective was Tilbury Town. I'd been reading about Tilbury and wanted to square my image with the reality. After a slow journey, padded with excess delay minutes to mop up any issues on the diversion, we sped up over the flat empty marshes at Purfleet before pulling into the rather grim station at Tilbury Town. To the south, the dock wall blocked any view at all, and to the north the boarded up facade of Dock Road. A range of deleted and closed businesses, shutters down. The Post Office closed - unclear if it was forever - it's former pub status proclaimed by the "Toby Stout" tiling above the doors. A pawnbroker nearby had lost two of the balls from the traditional emblem, just a single pendulum hanging outside the shop - one of the few still open. Pressing into the side streets soon indicated that this short parade was Tilbury. There was nothing behind the facade. So, I moved east toward the junction with Calcutta Road and a Metropolitan Water Trough celebrating the founding of Tilbury Town in 1912. One hundred years later, there was little left. Across the street was Rourke's Drift - a boarded up guest house of terrifying aspect, beside a yard also belonging to the mysterious Rourke. Uncomfortable with the empty streets and the attention of the Dock Police car which was now tailing me as I pointed my 'phone camera at things, I returned to the station and to the relative comfort of London, much earlier than planned.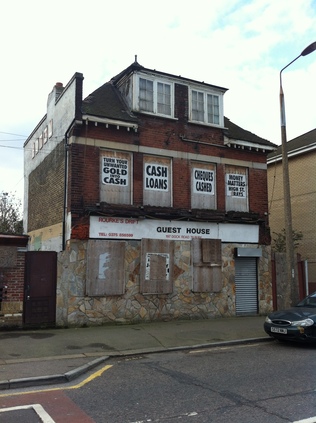 With some time on my hands, I made a slow circuit to Marylebone, using one of the new S-Stock underground trains. These subsurface only units are proving troublesome and deliveries have been halted, but the ones in operation on the Metropolitan Line seem pretty reasonable to me. Air-conditioned, and open plan so that passengers can pass along the train through wide gangways like the Class 378s on the overground, they feel safe, light, open and spacious. The short hop to Baker Street was an enjoyable enough ride. Wandered to Marylebone via Dorset Square, hoping to sit and read away some of my spare time, but the private garden was locked. Noted a plaque unveiled to celebrate the first MCC match being played on Dorset Fields, before heading into the station and finding a spot to watch activity while I waited. It was a fairly quiet time, the midst of the afternoon lull in the rather beautiful old station. I don't use this place enough I decided, and I noted I'd still not tried the new 'mainline' locomotive-hauled services on weekdays. Today's traction was a Class 168. It was comfortable, not too crowded and had Wi-Fi and power sockets. It takes a few minutes longer by this route than using Virgin from Euston, but the route is a pleasure to travel - rolling Chiltern countryside and graceful old Great Western stations are the order of the day. Even Banbury's 1960's concrete cavern has a certain charm, if only in the period typography around the station. The sun set over the M40 as we sped north west, a relaxing and calm trip despite a precocious child demanding attention a few seats away. Headphones on and tuned into the countryside and the rails rather than the passengers, the time sped by. This trip cost the princely sum of £5 by advance ticket. I'd promote this more, but I want it to stay a secret.
Leaving the splendid GWR terminus at Birmingham Moor Street, I walked the few feet into the centre and found a chaotic Saturday still winding down. No room to sit and contemplate coffee, so wandered back to New Street via a strange encounter with a rather well-to-do, middle class Irish woman. She stopped me, very specifically and asked if I had any change because she was recently homeless. I looked at her and wondered - who knew if mental health issues, domestic abuse or some sort of relationship breakdown had put her onto the street? Given that no-one else appeared to be stopping for her I delved into my pocket and grabbed a fistful of copper and silver. "It's just pence" I said, "but you're welcome to it". She looked a little scornfully at me and said "it doesn't matter". Trying to read this situation, I played for time with a rather silly "are you sure?". Was she upset because it wasn't enough, or was this some sort of test to see if I'd stop? If so, had I passed by stopping - or had I proved that people give indiscriminately to those why don't need it. She flapped her hands at me, irritated "go, no it's fine". I left, feeling confused and foolish.
I mulled over this encounter with coffee as I waited for the familiar 1V65 home. It made little sense, and I'd been very tempted to go back to find her to demand some sort of explanation. I had no right of course, and it was very unlikely she'd be there. I even checked my pockets and bag, imagining it had been some sort of distraction technique. I put it out of my mind, boarding the refreshingly quiet train and heading home in the dark, head buried in a book. It had been just the distracting, diverting day I needed.