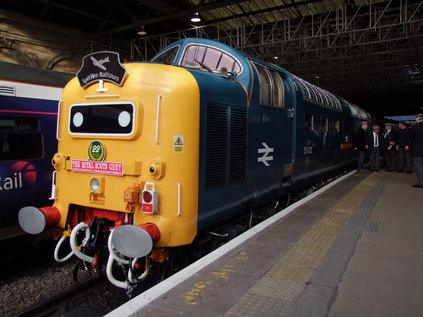 Posted in Railways on Saturday 5th March 2011 at 11:27pm
---
So far it had been a very civilised weekend. It started a day early, with an early Friday morning dash to Crewe in order to meet the positioning move. There was a little frustration as a lack of reserved seating and some fairly anti-social railtour passengers meant that things got a little fractious. However, it was soon sorted, and I was able to enjoy the run down the West Coast Main Line into Euston. The weather was fine, and I broke my walk to the hotel to enjoy coffee in an old haunt near Kings Cross. The walk to my digs for the weekend took me to the heart of Clerkenwell and the edge of Bloomsbury - and it was both good to be back and frightening to grasp the pace of change here on the edge of the City. I retraced my steps early this morning - the tour didn't in fact leave until 08:18 - a very civilised hour for such things - but there is something special about wandering around London on a chilly but bright spring morning which I've missed. Lots more coffee too, before assembling with the usual crowd inside a chaotic Kings Cross. The renewal work here has made the place confusing and difficult to use - but it still functions, and soon after having managed breakfast and coffee, 57601 hummed into view with the stock. A piper - a genuine Royal Scots Grey I'm told - struck up, and things were underway. This was going to be a little bit special...
The premise was a simple but emotionally charged one: its fifty years since Deltics were introduced, and thirty since they were retired from service on the East Coast Main Line with HSTs taking on their duties. This still seems to cause some chagrin among the older enthusiasts - but there's always a question for me about whether the HST would even exist without the Deltic - a proving ground for the concept of sustained high speed diesel running. In any case, 55022 had been spruced up for her 50th - a fresh coat of paint, bringing her into the livery she was sporting on her last runs on special trains. The job had been done beautifully, with grills and pipework picked out in silver, and the engine sparkling. Things began as they were due to continue - a fast departure and some thunderous running north. Then the sun appeared too, even the weather seeming to sense the occasion!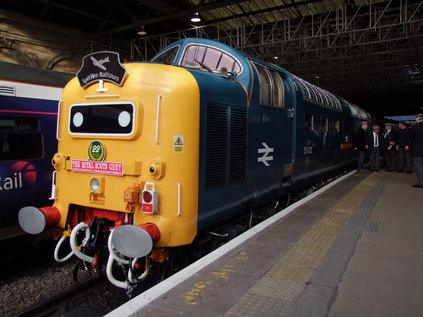 So, 55022 did exactly what she was designed for - she sped along the traditional route (changed of course only at Selby and Penmanshiel) managing what are reported to be some quite considerable speeds. There were no diversions up curious branches or routings via less-trodden byways today. Delayed slightly at Grantham we passed
Pathfinder
's Norwich-bound charter with a pair of Class 20's and a 37. Normally I'd have been torn, but not today. Underway again we soon made up time and arrived in Edinburgh on the button. Another piper greeted us, along with some former regimental colleagues of Royal Scots Grey, who collected funds and chatted with the crowds happily.
With the stock off to Craigentinny for a run around, grabbed some lunch and wandered around the always busy and interesting Waverley station. Chatted to folks from the tour a little and met a fellow blogger. Before long the stock was heading back into platform 19, and we were ready for departure southwards. If anything, the return run was even more impressive than the outward. Long periods of sustained very high speed running, despite a switch to the slow lines south of Peterborough. We were consistently early, and it seems who ever was playing trains in East Coast control today was a Deltic fan, as we were allowed to depart swiftly. Thus we ended up keeping pace with the 'real railway' admirably, and it was tempting to imagine what would have happened if perhaps the Deltic's hadn't been taken out of service thirty years ago?
Arrival back at the Cross was an impressive fifteen minutes early, on admittedly the usually slack railtour timings. The sense of occasion in the crowds milling around the engine was palpable. Even the notoriously impassive and enthusiast-unfriendly staff were sneaking out their 'phones for a picture of the gleaming workhorse which had just marked a bittersweet anniversary. As for 55022, well she'd done what she used to do every day - and made it look like it was still an every day occurrence.
A very special day on the railway - which reminds me why I got involved in the first place.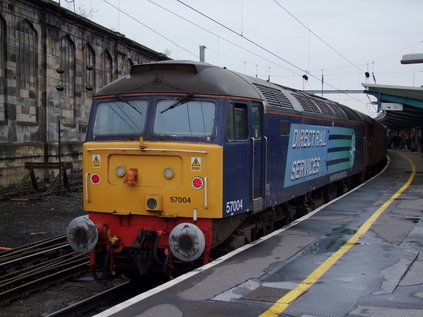 Posted in Railways on Saturday 19th February 2011 at 10:26pm
---
Coming hot on the heels of my trip to Glasgow, I was almost entirely unprepared for this weekend's jaunt. This was the first Spitfire trip of the year as their Scottish trips had unfortunately been cancelled. I was so unprepared that I found myself rearranging things yesterday to get to Bristol in time for the journey north, however I'd usefully ended up booking a meeting not far from Temple Meads, and in the end had a fairly smooth journey up. Just like the last of these multi-traction tours it meant a very early start from Birmingham. Joined the train at a surprisingly busy New Street to find the usual contingent already on board. Set off via the Whitacre Junction to Kingsbury Junction diversion, with 57004 and 57601 leading the train. Noted as we sped north that it really wasn't getting much lighter - especially in our coach where the batteries were damaged to the point that we only had light and heat when the train reached a reasonable speed. Things soon warmed up indoors, but as we passed Chesterfield, the rain which had been whipping by the train turned very swiftly into fairly sizeable snowflakes. Arrival at Sheffield was under a surprising carpet of white, as we had a brief break to reverse and I made a dash for better coffee on the concourse!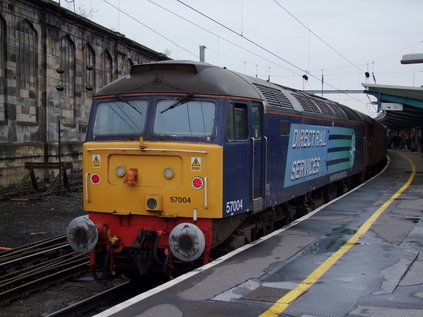 From here, the tour took the tried and tested route via Hare Park and Crofton to reach the Leeds suburbs, avoiding the station by way of the Whitehall curve. With 20309 and 37409 now leading, we made steady progress towards Skipton passing a succession of electric units. We'd once again discussed the dullness of the Settle and Carlisle route in railtour terms, however it was a little more interesting to see it with snow capping the peaks. As predicted, the usual scrum for a droplight to record the crossing of Ribblehead Viaduct ensued. Stayed in my seat and dozed and chatted my way happily north towards Carlisle.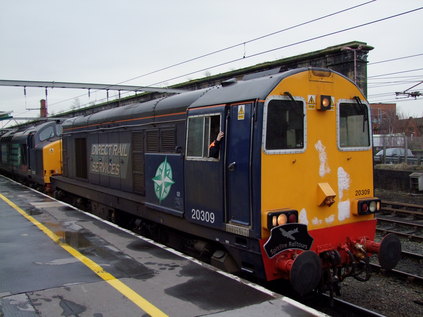 A brief break here to get food and to stock up at the local shop which sells a good range of local beer. Back to the station for a pleasant chat with some veterans of last year's Highlander trip. Headed over to the platform to see which locos had been turned out for our return, and was greeted with the rather surprising sight of two Class 66's topping 57601 which was sticking around to provide ETH. 66417 and 66418 were to lead the service through the Tyne Valley to Newcastle - a pair of engines which practically no-one would be able to claim. A fairly swift run, and this time a sensible chance to get out and photograph where possible before we once again reversed with 37667 and 37409 leading us back to the Midlands via a similar route. Amazed to find a third railtour in a row producing an on-time arrival, and spent some time chatting to staff before the tour was despatched for the short run back to it's origin at Birmingham International.
Today wasn't about breaking new ground - although I did get a good few engines in the book. No, this was more about meeting up with old pals, drinking too much and enjoying being back into the swing of railtours once again. There are some really exciting events coming up, and I hope to be along for a fair number of them.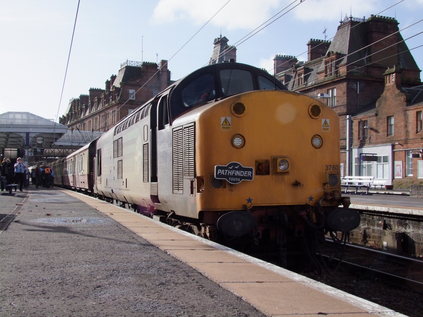 Posted in Railways on Saturday 12th February 2011 at 11:26pm
---
I've made a few early starts from Glasgow Central over the years, and just like always there was only one place open for coffee this morning. After a walk along a surprisingly dry Argyle Street to the station, I joined the snake of people straggling back from Cafe Ritazza in the hope of an early caffeine fix, with one eye on the clock. It always amazes me when Pathfinder run these bi-annual Scottish tours that so many of the usual faces make the trip north. For me of course, it's never been an issue - just another excuse to be in Glasgow. After last night's gig at The Captain's Rest though, I was feeling perhaps just a little more sluggish than usual - and this kept me in the queue for as long as it took, before dashing over to platform 10 where 37601 and 37607 were rumbling away on our short train.
As ever on these trips, the main attraction was the track. After the visit back in 2007 for the McBuffer Puffer and one or two trips since, there is very little track I needed in the Glasgow area. This tour however focused on points south and west of the city, including some very unusual bits of the once complex network of colliery related lines in Ayrshire and Galloway. After a swift reversal alongside Shields Depot, we reversed via the Burma Road and headed for Kilmarnock where we picked up additional passengers. After a brief break, we proceeded south through the station and left the mainline to head west to Riccarton. The vegetation on this and other branches was pretty overgrown and clearly made of pretty solid stuff as it thwacked it's way along the coaching stock. We pressed on to the Network Rail limit on the line, before reversing and heading back to Kilmarnock for a few passengers who's plans had altered after the confirmed timings for this trip came back much earlier than planned. With everyone on board, we headed off once more, taking the curve towards Barassie.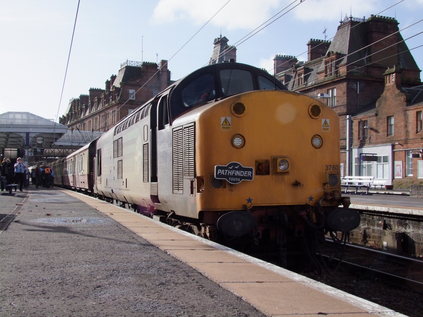 As we headed for the coast, I was surprised to see the sun coming out. As it goes, my customary February trips to Scotland have often had decent weather - but as we passed through Falkland Yard on one of the reception lines I was struck that today promised to be pretty special. After a brief wait for time we headed through Ayr and took the branch towards Mauchline. I've wanted to cover this track for some time, and was foiled recently when another tour covered it. However today we only made our way along around half of it's length to Annbank, where we headed south onto the twisting line to Killoch Washery. A swift reversal here took us back through Ayr and into Falkland Down Goods Loop where we again reversed. Retracing our steps through Ayr we headed a little further south before again heading east onto the long curving branch to Waterside. Here, a small preservation group own a stretch of the formerly extensive network, and we were greeted by their industrial loco shuttling back and forth alongside our train on their short section of track.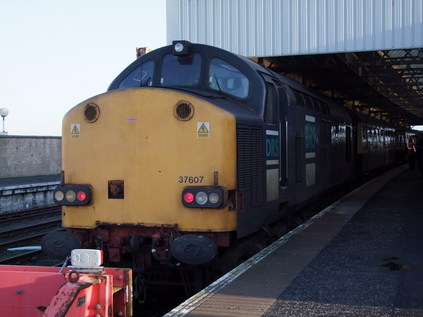 Back to Ayr for a slightly longer break in the now surprisingly strong sunshine. Took the opportunity to get some pictures and to get a decent coffee, whilst the normal punters marvelled at the odd train in the platform. Soon off again, as far as Girvan where we waited to pass another service. Another break here, and the chance to watch a little local football as Girvan took on Ashfield beside the line! One brave passenger dashed down to purchase a programme, to claim the field for their attempt to visit all of them! Off again, for a long but absolutely stunning trip to the extremity of the network at Stranraer. With remarkable views both out to sea and across the lowlands, I was spoiled for choice, and the gradients truly tested the locomotives. As we arrived, the sun was just beginning to sink and a golden glow fell across the bay. Wandered around chatting and getting some pictures of the train and the station, before boarding again for the final leg of the trip. This took us north again into the Glasgow suburbs, and using the connections around Shields Junction, we surfaced on the Cathcart Circle, following it anti-clockwise, then taking the line to Newton and on to the Hamilton Circle. Crossing the mainline at Motherwell, we headed north to Whifflet, using the connection at Langloan Junction to regain the mainline and head back into Central Station, arriving pretty much bang on time.
A quick shot of the loco on the blocks took me back to 2007 and the first of these now regular tours. A lot had changed since then - not least my take on the city. It was good to be back, and great to be on the rails around one of my favourite places once again. The weather had helped in making a very special trip even better, and as I plodded back to my digs, I couldn't imagine how I'd rather have spent a day in Glasgow.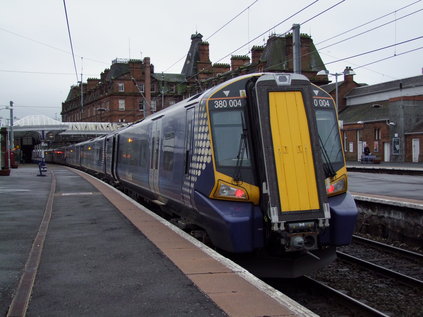 Posted in Railways on Friday 11th February 2011 at 6:50pm
---
My customary February trip to Glasgow has been a long time coming this year. In the past, its not always been the most successful of events. My attempts to initiate others into the ways of the city haven't always gone down too well. So this time, like last October's trip I decided to stick to the winning formula. Just me, a proper relaxing break and lots of music and wandering. I've got into a pattern on these trips too of spending the mornings zipping around the place at high speed, then relaxing in the afternoon before heading out in the evening. With this in mind, I set out to catch the 09:00 to Ayr - primarily because this was worked by new Class 380 sets. There is an earlier diagram, and I was tempted to cover that and head for Wemyss Bay too - but the thought of struggling through the peak crowds wasn't conducive to the relaxed holiday mood so I settled for this one. Arrived at Central Station and after grabbing breakfast, was disappointed to note that a Class 334 was in Platform 11. It soon appeared that this wasn't the Ayr train however, and a pair of shiny new 380s in ScotRail's new Saltire liverly slipped quietly into the platform in front of the 334. Transfered into the newly arrived train - the comfortable and spacious interior of the Desiro family was recognisable straight away, and I was soon speeding out through Paisley and towards the coast.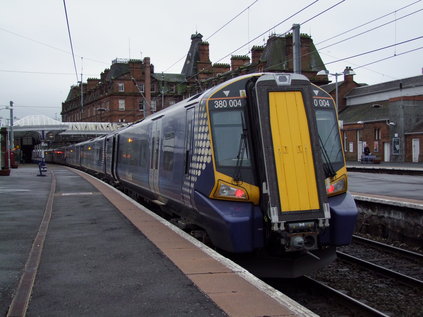 After a quick turn around at Ayr with time for photos and coffee, I headed back to Glasgow on the same set. The day was a little dull and murky overhead, and I thought about a break now. However I pressed on with the plan to get the 11:28 from Queen Street Low Level all the way through to Edinburgh Waverley. This took in the reopened Airdrie-Bathgate line in the opposite direction to
last November's railtour
and stopped at some of the new stations. Noted that a few, including the resited Drumgelloch were still not complete as we passed by, but that Caldercruix would open on Sunday. The route felt much slower than other options to Edinburgh, but ran smoothly and quickly enough to ensure this will be a huge asset for travellers in the central belt and who live west of Glasgow once the full service is in place.
Took advantage of a break in Edinburgh to get some lunch and to wander over to the newly relocated Avalanche Records in the Grassmarket. An impressive, tidy new store with ever enthusiastic staff. Picked up a couple of things I certainly couldn't afford, including a pre-release copy of the much anticipated new Zoey Van Goey album. Grabbed some lunch before heading back to Glasgow on the quicker E&G route. The rain appeared to have settled in for the day now, but it was good just to be here and not to have anywhere in particular to rush to. In fact I felt pretty relaxed for the first time in months.