Posted in Railways on Saturday 16th July 2011 at 11:07pm
---
It had been a fairly chaotic morning at work, and though I felt a little guilty about doing so, I was glad to be sloping off early. The plan was to get up to Paddington during the afternoon and to hang around ready for tonight's tour. I was perhaps a bit uneasy - overnight tours aren't a favourite, and the last time I'd done something similar I succumbed to Swine Flu somewhere along the way. Of course I knew that was unlikely, but there's something uncomfortable about the sort of half-awake state in which you end up traversing the network. Did some shopping at Paddington in preparation for both this trip and tomorrow's jaunt, and spent some time relaxing and drinking coffee in the hope of staying awake. Finally, around an hour before departure in fact, the stock rounded the end of the station and thundered into Platform 1. Didn't realise until later that in fact a friend and my boss had been feet away on Platform 2 whilst I wandered about chatting and getting pictures. It's a small world indeed...
Once on board the short rake and underway, I noted the presence of a good few BLS colleagues on the train. Things started perfectly, with a slow crawl out to Kensal Green where we began to climb, imperceptibly at first, then definitely taking the flyover line, passing high over the mainline and down onto the reception lines for Old Oak Common. This elusive stretch of track completed, we pressed on to Reading and Basingstoke, before taking the line towards Southampton via a stop in Wallers Ash Loop, and loading of fish and chips in Eastleigh! It was a strange sensation passing through these stations at near enough the close of service, but there were some last desperate hangers-on, people heading home or perhaps out for the evening. By the time we reached Brockenhurst, all was quiet as we took the very rarely used connection to the Lymington Branch platform, before curving towards the coast. A few minutes later we arrived at a very wet Lymington Pier beside a massive Wightlink ferry. The first loco-hauled passenger train to arrive here for some years, and despite the hour we were attracting a fair bit of photographic interest too. After a short break we retraced our steps towards the Great Western, and I started to doze - waking at Twyford briefly and then again at Henley-on-Thames. Again, one of the first non-DMU services to do so in a very long time I'm sure. Had a bit of a wander to wake myself up, but it was cold and damp outdoors so returned to the coach. It looked like some sort of refugee camp, bodies sprawled everywhere, dribbling and snoring. I ruminated on the public's view of our hobby, and what they'd make of this. Not pretty.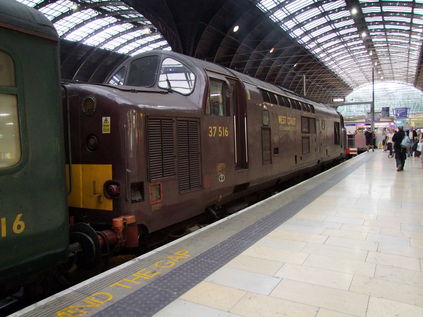 I woke with a jolt at Maidenhead next. The driver was a little heavy with the brakes, and the leaky window frame had let rain in which had pooled around my elbow. It was pretty grim outdoors, but we pressed on with our itinerary, apparently visiting Bourne End - as far as a train of our length can get on the Marlow branch where a reversal is needed to get to the terminus. I don't remember Bourne End at all this time - and my memory of last time is pretty chaotic in fairness! From here we made a slow, lazy circuit of North London, via Acton Wells and Willesden to reach Euston at just after 04:20. It was dark, quiet and rather strange in the empty station. A few dozing revellers or early starters littered the concourse and the waiting rooms, but none of the coffee shops was open. I paced around, trying to get life back into my aching legs. I also wondered why I did this stuff regularly, but then I remember the racket we'd made as we'd climbed towards the flyover at Old Oak. An interesting and strange night all-in-all...
With a little over an hour before the next trip began, I decided to freshen up and search for refreshment. The idea of a 24-hour McDonalds didn't appeal, so I wandered back to the platform where the longer rake of stock had arrived with a fresh pair of 37s in charge. I found the buffet open and grabbed a coffee which I drank whilst chatting and wandering up and down the platform to stay warm and awake. Invited into the brake, I found a nice, comfortable compartment seat and chatted with some DRS and Spitfire folks until departure. Almost exactly on time, we stormed out of Euston and into a slightly murky looking London morning. Found myself alone in my compartment and allowed myself a snooze as we sped northwards on the West Coast Main Line. Things were just waking up, as we passed a procession of London-bound units. The weather varied wildly from sudden, forceful summer showers, to bursts of fantastic sunshine. This was the life - exactly why I enjoy these excursions. Picking up along the way, we finally crept around Birmingham and onto the Shrewsbury line at Wolverhampton. Here, we lost our two DRS locos and gained two of the ETRMS-fitted Network Rail Class 97s for the onward journey. Noted our train was too long for the platform, frustrating photographers hoping for shots of the 37s before their detachment. A reversal took us onto the Cambrian line, newly resignalled with the innovative system, and with some speed restrictions relaxed and loops restored. At times on this run, the sun showed itself in earnest too. I forgot how tired I was and enjoyed the views.
After some pictures in Aberystwyth, the tiredness began to overcome me. Decided on a late breakfast and found the place I'd visited on a miserable January morning a year or more back. Found my way to the breezy seafront and slumped on a bench, watching the clouds scud over the Irish Sea. As I pondered I felt a weight on my shoulder, and before I could even muster surprise, found a seagull stealing my sandwich from my hand. Discarded the pecked remains and concentrated on the coffee instead. If I hadn't been so sleepy, I'd probably have been really angry... Wandered around the warm, humid town wondering if a thunderstorm was coming, but finding solace in an air-conditioned coffee shop where I passed some time jotting some notes and watching the world go by. Back to the station for a pleasant chat with an elderly gent who'd travelled up with his son on the charter. Talked about the Midlands and how they'd changed, and a bit about Education and Planning. A clear-minded and sharp gent who was a pleasure to talk too, and who's ability to keep up with the world around him made me forget his advancing years. We seemed to wait an age for the stock to move out of the station to set back into the platform. The inflexibility of the one platform layout of this once much larger station is clear - but eventually we were back on board and off along the coast. I was joined by a couple of cohorts for the trip back, not least the inimitable Geordie, who chatted amicably until Welshpool where he fell into a 26-pint induced slumber which saw him through until Camden Junction! A lazy, relaxing and pleasant trip back watching Britain slowly slip into darkness for the second time from the train window. Even an impromptu hayfever induced nosebleed couldn't detract from my enjoyment of this storming run back to London.
As I checked into my horribly expensive and rather basic room for the evening, I pondered the trip and how things had worked out. If Spitfire continue to offer these innovative and interesting itineraries, along with a friendly approach to tours they're going to be around for a long time. But now, I just wanted to sleep for a while...I think I'd earned it.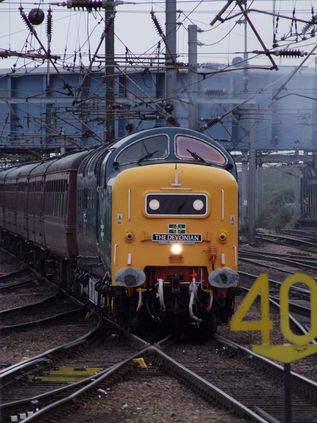 Posted in Railways on Saturday 9th July 2011 at 10:43pm
---
Despite a relaxing week, and the novelty of being out and about much further from home than recently, I had a pretty poor night's sleep. So, as I stumbled across a surprisingly bright Doncaster town centre, my main aim was coffee. Predictably, none of the outlets at the station were open, so I settled for some rough vending machine effort and wandered directly to the platform. Bumped straight into the Chesterfield contingent and compared notes on the day ahead as a freight passed through the station attracting the interest of the assembling hordes. Then, as 47804 fired up to pull the stock out of the sidings all cameras focused on the other end of the train where 55022 positively gleamed in the morning sunshine. It was going to be an interesting trip!
It was also a fairly straightforward one in some ways - taking the CrossCountry route I'd travelled up on yesterday, via Sheffield and Derby, making frequent pick-ups which meant this tour had sold out entirely. At Derby we took on supplies as there was no kitchen car - huge breakfast rolls, which were incredibly good value for money and better than any of the on-train catering I've even experiences. Thus filled, we continued south via Birmingham and the Lickey. As the route flattened out south of Bristol, so the Deltic picked up the pace. We stormed through my home station, and tore along the straight line down to Taunton. Not unexpectedly we slowed a little as we crested Whiteball, but reports were that all was not well. We slowed to a crawl and entered the loop at Tiverton Junction with all kinds of rumours flying...that we'd failed, we'd caught fire, and that the Deltic had set lineside fires at both ends of the tunnel.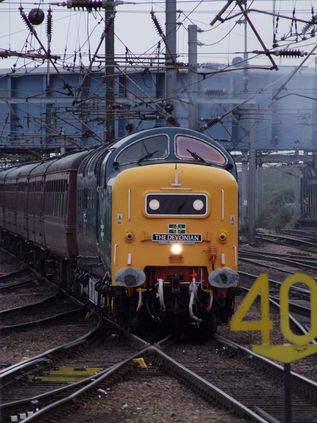 It turned out that there had been a small exhaust fire of the kind not uncommon on Deltics. Despite being able to blow it out, 47804 ran around for insurance, and attached to the front of the train, hauling us for the remainder of the route into Paignton. It wasn't quite how we'd planned to arrive, but early indications were that the Deltic would be fine on the return run. It also demonstrated how quickly information which is frankly rubbish can speed around the internet at times, particularly among the less thoughtful end of the hobby who just like a bit of drama. Arriving late, we made a swift dash over to the Paignton & Dartmouth Steam Railway platform next to the mainline station in order to pick-up our chartered service here, hauled by their resident but rarely used Class 25. A fine run down through Goodrington, with some remarkable scenery and some surprising feats of engineering too in Greenway Viaduct and the causeway alongside the River Dart. Reversal at Kingswear was undertaken incredibly quickly in order to get back onto schedule, and I found a quieter coach on the return to try for some pictures along the route. Thinking back to my last visit for the Diesel Gala in 1996, I was struck how little had changed here - which at least in this case, was for the better.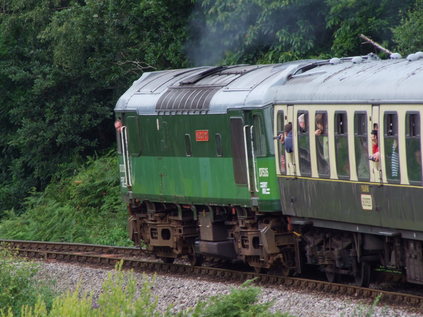 Once back in Paignton, time for food and decent coffee before a wander up to the top of town. My frequent visits on Bank Holidays last year meant that I had no pressing wish to see the sights and was happy to wander and lounge around watching the world go by, as the rest of the tour dashed from pub to pub. With the sun now back in earnest, took some shots of the stock arriving from the crossing before settling in for the run back. The Deltic was fired up, both engines running - but with 47804 tucked inside as stipulated prior to the tour by Network Rail. Once onto the mainline, we made excellent time - arriving early and having to wait at Dawlish Warren before pressing on north. The stretch between Exeter and Bristol was possibly the best run I've had with 55022 - fantastic weather, fine company and a very fast loco made for a great afternoon, and I was loathe to get off at Bristol.
Some last shots and a chat as the train waited time, before storming north into the setting sun. Made my way towards the train home, pondering the next trip - and indeed the next chance to sample the Deltic. This trip had all of the ingredients a railtour needs - interesting traction, a bit of drama and some very fine running. It reminds you why you turn out in Doncaster at 5:00am!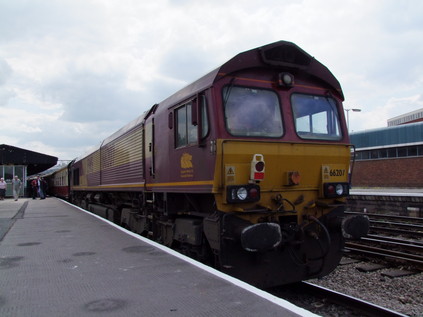 Posted in Railways on Saturday 2nd July 2011 at 11:53pm
---
It's been something of a low key month for a number of reasons, but getting to the station for the 08:16 just felt plain wrong! For years now, it's always been about squeezing every last bit of value out of the day's travel - and escaping if not physically as far as possible, at least to a point where I can disappear into the background a bit. In fact, even the 08:16 was really too early - given the UK Railtours operated trip wouldn't arrive in Bristol until about 11:00, having operated as a day trip to Bath or Bristol from Stevenage. So, as the day trippers left their seats for a wander around town, and the stewards whipped away the tablecloths to signify the end of the dining service, we settled into the still-warm seats for a spin around the freight lines of Gloucestershire.
Firstly, it was pleasant to be seated with a veteran of a recent trip to similar lines in Cornwall, one of a number of BLS colleagues onboard. The first leg of the trip was a rarely straightforward dash to Gloucester for a brief stop and reversal. As we slowed for Gloucester Yard Junction, the token for the Sharpness Branch was handed over, and we were off again retracing our steps to Berkeley Road Junction. This was the only section of new track for me today, so covering it first was partly frustrating but also rather reassuring! We curved onto the branch, foliage closing in around us until the site of the loading pad for nuclear flasks from the now decommissioned Berkeley Power Station. It had been suggested we'd get little further than this, so it was a huge bonus to continue a good deal further into the village, as far as the point where the lines to the former Severn Rail bridge left the dock branch. As we sat in the sun awaiting our reversal, the entire population of Sharpness seemed to be out to see us, cameras in hand.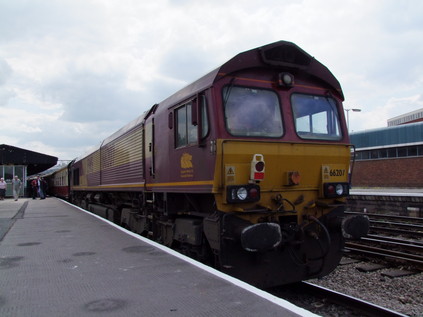 Rather tiresomely, we now had to retrace our steps all the way to Gloucester, reversing this time on the goods lines rather than taking the curve into the station. Token returned, we once again headed south covering the same stretch of track as far as Yate South Junction, where we took the former Midland route towards Westerleigh. En route, we passed the site of the flyover which once brought the Great Western line link alongside us, and it's noting details like this which makes travelling with likeminded souls a rewarding experience. Again we progressed well along the branch, drawing right to the end of the usable line mere feet from the busy M4. The oil depot was busy, but South Gloucestershire's waste transfer station sat idle, the expensive crane rusting quietly.
We then reversed back to Yate to take the longer branch to Tytherington. This is the third time I've travelled this branch, and not much changes at the quarry. Indeed we lost a little time here, which is equally something of a tradition. However, sticking to the itinerary, we headed back to Temple Meads via Hallen and Avonmouth. Once back, we evacuated the train to allow the trippers access to their dining seats for the way home. Grabbed a coffee and stood in the sun watching the train depart and chatting. All-in-all a very sociable, successful and rather relaxing day out staying fairly local. However, it'll be good to get some miles under the belt next week...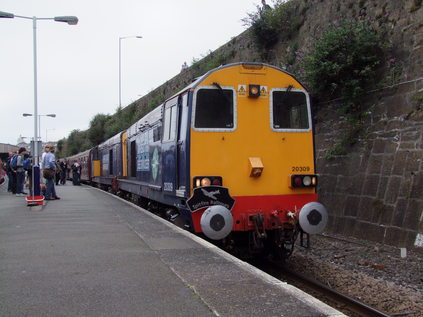 Posted in Railways on Saturday 25th June 2011 at 10:45pm
---
It seems like a while since I was heading for a railtour, and this week kicked off a series of three, all of which mostly focus on what I consider to be fairly local haunts. Today though was an annual event - Spitfire Railtours' dash to Penzance for Mazey Day. This year a total of three trains ran once again, with Pathfinder running from Tame Bridge with Class 31's, whilst Spitfire covered the West Midlands with Class 37's. However, making good the unfortunate omission from last year, I elected to travel on the Class 20 hauled train from Gloucester. The day started with a run up to Bristol on the early train. With a fair few locals heading for the various trips, it was a bit of a carnival atmosphere on board despite the early hour. At Temple Meads, breakfasted and had good coffee while checking the timings - reports from all trains were positive, with ours arriving first as planned. It was with some relief and a fair amount of excitement that 20308 and 20309 were greeted as they chugged noisily into the platform.
Once on board, we made a swift dash over the levels to Taunton where the remainder of the local crew boarded. With bucks fizz served as per tradition and the early haze and mist giving way to bright sunshine, we sped south west. Meanwhile, a series of Facebook messages from the previous evening which I'd all but dismissed were proved to be right - and another friend confirmed she was speeding ahead on a service train in front of us. It was going to be a typical Mazey Day in the pub it seemed!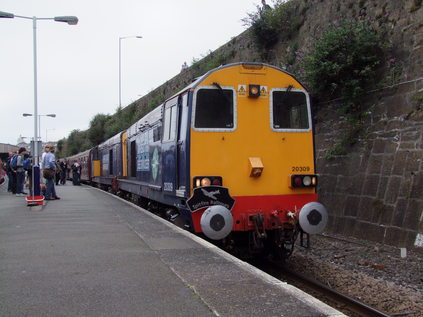 On arrival, I left my enthusiast friends and we headed off to pick up our additional traveller and head for the pub. Via the Longboat first, then a series of others we followed the crowds and made a circuit towards the harbour. Tomorrow a world record attempt was being held for the most people in one place dressed as pirates, and one among our number had designs on a place in this record. So, we visited a strange pirate gear shop housed in a boat. Food and more beer followed before heading back to the station. Noted our stock was already in the platform, having not in fact left. Wandered over to chat with a friend from Spitfire and noted there was trouble - thankfully not for us, but for the Pathfinder trip. It seems that an incident at Long Rock had left the train impounded whilst checks were made on the stock and of course the staff. Plans were being made by Network Rail and Pathfinder for a possible cancellation. Watched the strange situation unfold for a little while, mildly amused that some of the very people who seem to unfairly lash out at Spitfire from behind their keyboards were now trying to negotiate some sort of joint effort.
We left Penzance on time, with Pathfinder following about 45 minutes late. A brief stop outside Long Rock as a cable popped off our coach, then a storming run north. The damp misty start had now turned into a glorious evening sunset. Content, full of beer and having had a great day I dozed my way back to Taunton. Another fantastic Mazey Day trip, and more trains to look forward to in the coming couple of weeks. Summer has perhaps finally arrived.