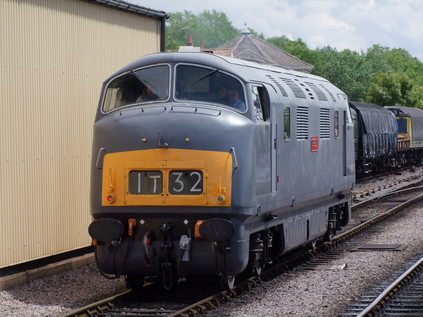 Posted in Railways on Saturday 11th June 2011 at 9:50pm
---
My relationship with the West Somerset Railway is a troubled one. Despite it being my local preservation group, and a fairly successful one at that - I've not got along with the way it's run lately. My obvious beef is that Diesel doesn't get a look in very often on the WSR, and when it does it plays second fiddle. This is despite a fairly ambitious group based at Williton who do a fine job, only to see their charges rusting unused for a great deal of the time. Add to this the slavish drive for authenticity which seems to effectively bar anything in Rail Blue and certainly most things English Electric in origin, and I suppose we're just not going to agree. So, today was the first time I've been to the West Somerset in it's own right for nearly six years. In the interim I've attended a couple of beer festivals and the odd family event with my nephews, but in terms of spending my hard earned cash on the railway, it's been a long while. The occasion was their "Mixed Traffic Weekend". It's a mealy-mouthed attempt to hide the diesel gala from the turn-up-and-go punters who want steam. I'm not sure why they do this because at several points today I was asked by clearly disgruntled normals "What does Mixed Traffic mean then?". Notably the Severn Valley and South Devon railways throw a steam diagram into their timetable for normals, which is mostly understood and tolerated by the cranks - so this policy feels a bit strange on the WSR's part.
Another attraction of this weekend's event was the special shuttle service operated by First Great Western. I've covered the track a couple of times before - not least the first time it was used after reopening, but the idea of an easy way to access the gala was appealing. Instead of keeping it simple, I decided to head to Bristol where the first shuttle of the day started. A non-stop run to Taunton, followed by a slow crossing of all of the mainlines before curving onto the branch at Norton Fitzwarren. Arrived at a busy Bishops Lydeard with 59103 and 59001 at the head of a train on the opposite platform, ready to depart with a curious ensemble of horns and bells attached to the front!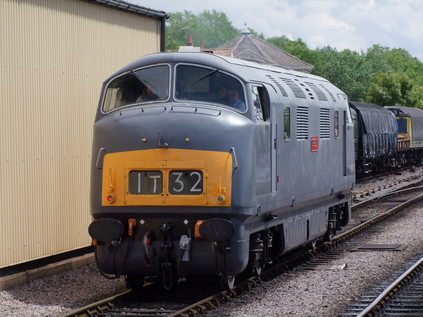 Shrewd organisation meant that you had to be here practically every day of the weekend to cover all the locomotives, especially the 59s. However, it was the line's own hydraulics which seemed to be drawing the crowds - with a few rather uncalled for exchanges from people who felt the modern engines should be here. Frustrating really, as it seems it's novelties like this which draw in the breadth of enthusiasts, and these events would simply not run just on specific niche groups turning out. Having said that, after a double-back to Lydeard using D1661 - a renumbered and repainted shade of the former 'North Star', we had a run with D832 which was running in all-over grey primer.
After a bite to eat in Minehead, and with the rain mostly holding off, we managed a couple of quick switchbacks via Blue Anchor - rather like at the 2005 gala in fact. This meant a couple of journeys behind Hymek D7017, before picking up 59001 and 59103 for the long trek back to Bishops Lydeard. Along the way we passed the Western, having failed on an earlier run being pulled into Williton. However, despite this setback things seemed to be running to time - and as we arrived to catch the last shuttle back to Taunton, D7523 was dropping on to the stock to make the run back in lieu of the Western.
Given it was a pleasant night, and because I wanted to ponder a little, I decided to do the final shuttle all the way back to Bristol again non-stop. Time for a coffee in the late evening sun before catching a train back home, retracing my steps. When this turned up at Temple Meads, I noted it was the curious and mysterious hybrid unit 153399 - made up of half of the fire-damaged 150221 and a stray Class 153, and so number to avoid it being sent where these single-car units aren't allowed to go. It had been a pleasant day of decent engines, good beer and fairly fine weather. Sometimes you don't have to travel miles to find these things...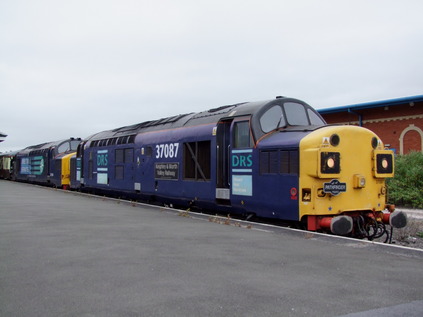 Posted in Railways on Saturday 28th May 2011 at 10:38pm
---
I could have spent a little extra time in bed this morning, but old habits die hard and I found myself heading for the 05:48. This, at least, allowed time for breakfast and coffee before picking up today's tour at Bristol Temple Meads. It's rare I manage to do a tour from here at a reasonable hour, and despite the dubious wisdom of not squeezing out every possible mile given the fairly hefty cost, it felt like a nice, relaxing morning - which after the rather messy and difficult week I'd had, was ideal. A few minutes before time, the tell-tale rumble of an unreconstructed Class 37 could be heard, and the tour rounded the corner into platform 6. Boarded and found myself near some familiar faces. Unfortunately ones who won't tolerate open windows which meant I'd likely have a sleepy and quiet day. In any case, concentrated on the journey ahead - pausing to have a few minutes at a drop-light through Highbridge and Bridgwater where a few familiar faces were in evidence. From here, it was a fairly straightforward dash down through Exeter and over the South Devon Banks to Plymouth for a brief leg-stretch before doing the unusual connection from platform 8 southbound, back onto the mainline.
The first object of today's jaunt was Goonbarrow Junction - the complex of china clay sidings just off the Newquay branch. Given that this wasn't a BLS tour and Pathfinder's history of 'paperwork' issues, most of us expected to reach the Network Rail limit and no further. As we creaked and groaned into the yard of Rocks Dries with the concrete pad white with kaolin, I was surprised to note we were continuing into the sidings. We ended up close to the buffer stops, as physically far as the train could reach. Much impressed we awaited the reversal and the run through St. Blazey yard and down to the stub of the Par Harbour branch. As we came to a halt at the road bridge, pretty much where previous tours have reached in fact, I was again rather shocked to find the driver edging forward once again. Passing the Stop Board which marked the start of Imerys territory, we progressed into the complex, coming to a stand well onto the concrete apron near the loading point. Discussed this rather unexpected outcome with my BLS-member table-mate as I spotted a 'Pearns of Par' van in the docks. The pasties had arrived!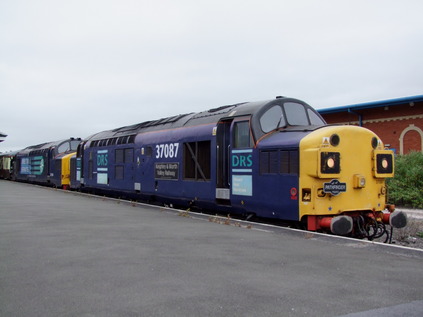 After a very long queue for a very good pasty, I settled back in for the next part of the run. A reversal back into St. Blazey, then back onto the mainline to Lostwithiel where we passed slowly through the station and came to a stand in the Up Goods Loop. Once we'd reversed and crossed over the mainline, we began the descent beside the river towards Fowey. Besides being interesting from a railway perspective, this was a stunning run through fine countryside. A boat flying the Saltire kept pace with us as we wound alongside the river through the pretty and tiny village of Golant, which a spellchecker had rendered as 'coolant' in the tour notes! Noted the crowd of drinkers at the Fisherman's Arms out to cheer us on too. Eventually we came to a halt at Carne Point, beyond which passenger trains are forbidden. Once again, we'd gone as far as possible - which was shaping up to be the order of the day. A swift reversal before we headed back to the mainline at Lostwithiel and gathered pace back towards the Royal Albert Bridge and civilisation.
Another brief stop at Plymouth in drizzle and gloom followed, before we set off as far as Lipson Junction where we curved to the right, passing the back of Laira Depot and heading back towards the city. As the tidy but clearly no longer used Turnchapel branch descended to meet us, we realised that once again we were pressing on to the very end of the network. As the former site of Plymouth Friar, the Southern Railway terminus here, opened out, we halted at the buffer stops just short of an impressively proportioned road overbridge. The city centre was a couple of hundred yards beyond - much more convenient that an arrival at distant North Road station! No time to rue the passing of the station though, as we headed back towards Great Western metals and Mount Gould Junction. Here we took the right hand fork onto the 'Speedway Line'. Installed when Laira became a diesel depot, this line divides the main depot from the sidings, and links back to the mainline at Laira Junction. Once back on the mainline we started from a near stand to assault Hemerdon Bank. A noisy, smoky and very satisfying climb indeed.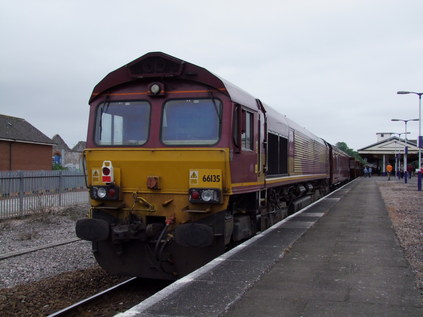 Once back in the Exeter suburbs we slowed near the rather bleak St. Thomas station to reverse again, this time reversing onto the Alphington Road siding, formerly the line to Heathfield and Newton Abbot avoiding the sea wall section. Dense foliage permitted very little view of our surroundings, but I understand we reached the edge of the scrapyard which this tiny stub now serves, and almost got as far as the large Sainsbury's now built near the trackbed. With the 37s now leading for the ride home, we stopped briefly to set down at Exeter St. Davids before passing through Riverside Yard on the Down Goods line. I readied myself to disembark at Taunton, happy that the day had been a huge success and an enjoyable trip.
A quick - but painfully expensive - ticket purchase at Taunton, then on to a waiting hired-in London Midland Class 153. A bunch of locals were complaining that the train hadn't left yet - despite it not being time for another 15 minutes or so - and the otherwise very well refurbished unit had obviously taken a battering down here, being strewn with litter and torn seat covers. I missed my comfortable Mark I FO as I trundled home.
Posted in Railways on Saturday 21st May 2011 at 9:08pm
---
I've noticed over the years that sometimes my travels seem to cluster together visits to certain areas. It's sometimes a deliberate thing, like when I decided that the blank space in my atlas around Merseyside needed attention a few years back - but equally often it seems to be an accident of timing. Thus, I found myself visiting the East Midlands again today just a few days after my last foray here, and only weeks after a very comprehensive covering of the rarer spots on a BLS trip. Oddly, I've only really sped through the area for a long time, having thought I'd exhausted it's possibilities long ago and turned to more exciting pastures. However, with the recent reopening of the Ecclesbourne Valley Railway from Duffield I've started to look at the area with renewed interest.
Firstly, it's good to see some fairly comprehensive re-openings in the heritage sector this year after a couple of quiet recession-hit years where preserved railways sat back and hoped that the horribly-named 'staycation' would keep the cash flowing through difficult times. Then rather suddenly after years of promises and lots of effort, Peak Rail make the connection at Matlock within weeks of this line finally reopening over it's full length. This puts the EVR's eight and a half mile line up there alongside the medium-sized outfits in the UK and makes it accessible to a much wider range of punters. Indeed the absolutely crush-loaded Class 153 which did the honours between Derby and Duffield this morning carried a fair few passengers destined for the EVR. With fine weather and still something of a buzz following the opening weekend a couple of weeks back, the railway seemed to be enjoying quite a boom. Booked tickets and then wandered into Duffield to explore a little before the first departure north at 11:10. This was formed of a five-car set of first generation DMU cars. A motley mixture of types and liveries, but all in excellent internal and external condition. Found a seat near the front with a fairly good view out of the driver's window up the dead straight, gently sloping branch.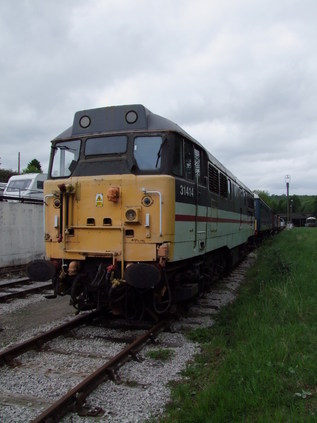 Noted particularly that the railway was tidy - not much in the way of discarded scrap stock lying around like many of these places. The trackbed was clear, and the staff I met were incredibly proud of the place and very friendly indeed. I'm not sure if it was due to the fact the railway was still busy after reopening, or the - well, lets say 'advancing' age of the customers, but there was an incredible amount of moaning about seats. People seemed determined to claim huge amounts of space and when one old chap was denied a seat at the front, he promptly stood blocking everyone's view. I'm used to this sort of thing from steam types, but it was a mild annoyance on what was otherwise and interesting trip up the valley. On arriving at Wirksworth, quickly switched over to a shuttle up the incline to Ravenstor. This short, but incredibly steep run was operated by No.3 a small industrial steam locomotive, and a DMU car. The EVR were running additional services to cope with demand, and we managed to squeeze into one of these for the run up and back. Back at Wirksworth the station was busy with people hoping to board the 12:10 steam service back down the branch. Elected instead to have a wander into the busy little town and a pint in the Red Lion Hotel.
Returned to the station, braving the very busy but rather good buffet which was stationed in some very well turned out former-Gatwick Express stock stabled near the platform. Found a seat on the 14:20 back down the branch, despite more silliness from the old-enough-to-know-better bunch about who should be sitting where. A rather sleepy run back down to Duffield in the warm afternoon, with a long week and an early start catching up on me. When we arrived back, quite a crowd was evident at the small station shop and on the platform enjoying the sun. Over the bridge to the mainline station, where a further small crowd was waiting. Mercifully a pristine EMT Class 158 rolled in for the brief journey back to Derby.
It's great to see the EVR open for its full length and that plenty of people are keen to visit. With planned passing loops already well underway, there's no reason why a more intensive special event service couldn't run soon - with some very interesting galas possible. Despite the minor irritation of lots of disgruntled pensioners, today was a fine day out on a railway which is very clearly a labour of love for a small group.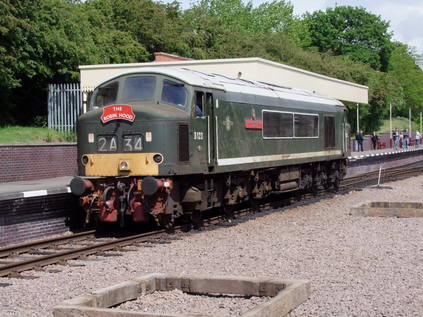 Posted in Railways on Saturday 14th May 2011 at 11:03pm
---
I'd had a pretty tough week - not in any specific sense, but recovering from Homegame had proved every bit as hard as people had suggested it might. A long, frustrating journey back from Anstruther on Monday had sapped my patience with the modern railway too - where apparently a complaint and refund is preferred over actually using resources to get people home on time at no extra cost. But, like always when I feel hemmed in, up against things, or just generally glum I turn back to the rails for comfort - or indeed just distraction. Today promised plenty of that, as the Great Central Railway and the GCR(N) were hosting a joint diesel gala. These railways, once part of the same wonderfully engineered mainline are geographically separate only by yards. However the project to rejoin them via a bridge over a canal and the Midland Mainline in Loughborough has been a long one. However, as it takes gentle steps nearer to becoming a reality, seeing the railways working together like this is encouraging. The journey up to Leicestershire felt like a breeze after the slog back from Scotland earlier in the week. First train out, time for refreshments at Temple Meads where I continue to revel in the presence of Starbucks. Indeed I was served by my favourite barista this morning, which always brightens my day. Then onto the 07:00 for the sleepy trip into Birmingham. A little slow running around the Lickey Bank though, as a charter train hauled itself up, which was later seen to have 47580 at the helm, veteran of a recent trip to West Wales. A bit of confusion at New Street because I was more concerned with coffee than trains at this point, but eventually onto the 08:52 to Leicester. One final quick change via a cross-platform hop onto a Meridian and we arrived in Loughborough, with the weather still looking pretty fine despite dire warnings.
The short walk to Loughborough Central however saw the clouds close in, and as we queued - for what seemed like a long time - the rain began to pelt down in something of a summer storm. The delays seemed to be down to issuing hand-written paper tickets. Not perhaps the best plan for what promised to be a very well attended gala. Eventually onto the platform in time for one of the shuttle services to Rothley Brook, with a motley collection of shunters and a Type 1 in charge. The train left very late indeed, and with the timetable already seemingly going out of the window, we had to re-evaluate what we could realistically do today. My colleagues' priority was covering both lines - while I needed only the short branch into the Heritage Centre on the GCR(N). However, as it looked like the times left us unable to sample the visited Class 56's, I was content just to get a couple of decent long trips with the extensive roster of locos around. After dodging back to Loughborough, D123 did the honours on a full length trip over the line to Leicester North.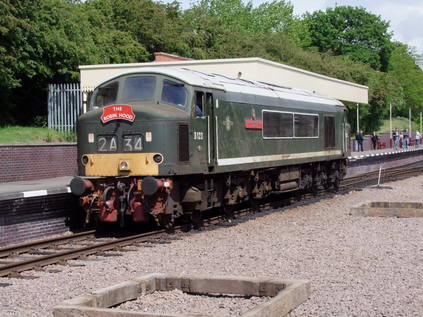 There was just time for a fill-in move using D1705 out to Quorn and with the disconcertingly yellow 37198 and more traditionally coloured 37275 top and tailing the return. Things seemed to be roughly getting back to time after what appeared to be a failure on the Class 20 hauled service earlier. No time to hang around though, as we needed to get the 13:00 bus to East Leake in order to sample the other section of line. Considering the very small gap separating the two railways, the bus journey was quite long - taking us over the border into Nottinghamshire along the way. East Leake station is still a fairly rudimentary affair, but a shelter is under construction. The GCR(N) is an interesting line given it's fairly unique method of joint operation with Network Rail to service the British Gypsum factory. It's a credit to the operators how they use the line to best advantage despite not having any huge tourist visitors centre or much in the way of ancillary activities besides the trains. What we got was simple - interesting engines and a long run down to Loughborough, stopping just short of the chord which connects to the mainline south of the station. This also afforded an interesting view into Brush Works, where engine testbed 56009 (latterly unofficially dubbed 56201) could be seen. Back to East Leake for a change of traction, before heading north towards Ruddington, and the reverse into the Heritage Centre site. This is a bit of a confusing muddle of stock and buildings, but a station is taking shape in the centre of the chaos. Watched further changes of engine, with veteran of Brighton services 31454 taking charge.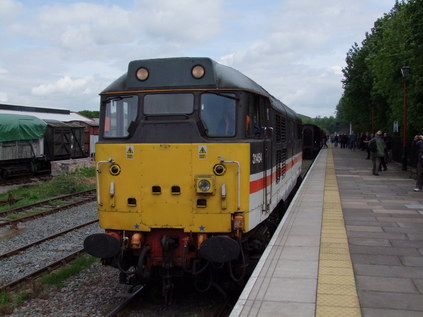 A good noisy chug back to Loughborough followed, where we reversed again to head back to East Leake. This was where we had to leave things in order to catch the bus. Not before getting the opportunity to watch splendid looking large-logo 47292 being attached from the loading pad close to the trackside. Back to Loughborough in now pretty steady sunshine for the trip back home, via a refreshment break at Derby where 66101 surprised us by passing on the goods lines. It had been a busy and interesting day, and despite the frustration with the queueing at Loughborough and the slight perturbation which limited what we could do earlier in the day, things had gone pretty well. The bus links worked particularly effectively, and the operation on the GCR(N) was faultless despite some complicated loco manoeuvres. I'm not sure we got best value for the slightly steep rover price of £28, but I think the only realistic way it could have been better used would be to have got digs in the area and gone for the better value weekend ticket. So these two ambitious railways pulled off a first step in their journey towards bridging the gap. I look forward to more of the same in future.