Posted in Railways on Saturday 21st May 2011 at 9:08pm
---
I've noticed over the years that sometimes my travels seem to cluster together visits to certain areas. It's sometimes a deliberate thing, like when I decided that the blank space in my atlas around Merseyside needed attention a few years back - but equally often it seems to be an accident of timing. Thus, I found myself visiting the East Midlands again today just a few days after my last foray here, and only weeks after a very comprehensive covering of the rarer spots on a BLS trip. Oddly, I've only really sped through the area for a long time, having thought I'd exhausted it's possibilities long ago and turned to more exciting pastures. However, with the recent reopening of the Ecclesbourne Valley Railway from Duffield I've started to look at the area with renewed interest.
Firstly, it's good to see some fairly comprehensive re-openings in the heritage sector this year after a couple of quiet recession-hit years where preserved railways sat back and hoped that the horribly-named 'staycation' would keep the cash flowing through difficult times. Then rather suddenly after years of promises and lots of effort, Peak Rail make the connection at Matlock within weeks of this line finally reopening over it's full length. This puts the EVR's eight and a half mile line up there alongside the medium-sized outfits in the UK and makes it accessible to a much wider range of punters. Indeed the absolutely crush-loaded Class 153 which did the honours between Derby and Duffield this morning carried a fair few passengers destined for the EVR. With fine weather and still something of a buzz following the opening weekend a couple of weeks back, the railway seemed to be enjoying quite a boom. Booked tickets and then wandered into Duffield to explore a little before the first departure north at 11:10. This was formed of a five-car set of first generation DMU cars. A motley mixture of types and liveries, but all in excellent internal and external condition. Found a seat near the front with a fairly good view out of the driver's window up the dead straight, gently sloping branch.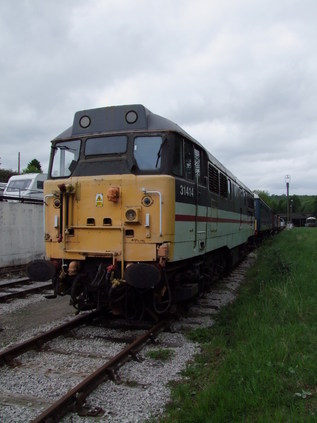 Noted particularly that the railway was tidy - not much in the way of discarded scrap stock lying around like many of these places. The trackbed was clear, and the staff I met were incredibly proud of the place and very friendly indeed. I'm not sure if it was due to the fact the railway was still busy after reopening, or the - well, lets say 'advancing' age of the customers, but there was an incredible amount of moaning about seats. People seemed determined to claim huge amounts of space and when one old chap was denied a seat at the front, he promptly stood blocking everyone's view. I'm used to this sort of thing from steam types, but it was a mild annoyance on what was otherwise and interesting trip up the valley. On arriving at Wirksworth, quickly switched over to a shuttle up the incline to Ravenstor. This short, but incredibly steep run was operated by No.3 a small industrial steam locomotive, and a DMU car. The EVR were running additional services to cope with demand, and we managed to squeeze into one of these for the run up and back. Back at Wirksworth the station was busy with people hoping to board the 12:10 steam service back down the branch. Elected instead to have a wander into the busy little town and a pint in the Red Lion Hotel.
Returned to the station, braving the very busy but rather good buffet which was stationed in some very well turned out former-Gatwick Express stock stabled near the platform. Found a seat on the 14:20 back down the branch, despite more silliness from the old-enough-to-know-better bunch about who should be sitting where. A rather sleepy run back down to Duffield in the warm afternoon, with a long week and an early start catching up on me. When we arrived back, quite a crowd was evident at the small station shop and on the platform enjoying the sun. Over the bridge to the mainline station, where a further small crowd was waiting. Mercifully a pristine EMT Class 158 rolled in for the brief journey back to Derby.
It's great to see the EVR open for its full length and that plenty of people are keen to visit. With planned passing loops already well underway, there's no reason why a more intensive special event service couldn't run soon - with some very interesting galas possible. Despite the minor irritation of lots of disgruntled pensioners, today was a fine day out on a railway which is very clearly a labour of love for a small group.