Posted in Railways on Saturday 12th May 2012 at 11:05pm
---
Considering how much I gripe about the line from Bristol to Southampton, I've found myself using it a fair amount again lately. It's mostly the huge potential for overcrowding on the service which means using it for my leisurely meanderings isn't always much fun - but also that interminably long, dull section between Warminster and Salisbury which is always a drag. I recall one of my earliest trips after returning to the rails went this way using a Replacement Bus service - and even that godforsaken mode of travel seemed preferable to this bit of the run. Considering how I love rail travel and promote it, I amuse myself by how outspoken I am about some dull lines - not least this and the truly dull Settle and Carlisle run which despite its scenery, is a long, slow drag. So it was strange to find myself willingly subjecting to this run a second time in a week!
But there was a purpose. In the absence of other goals, and with a freebie First Great Western ticket in hand, I decided to do a multi-modal skip across the South Coast, ending up in Brighton and getting the once much favoured 1V96 back. This meant an early start and a run up to Bristol for breakfast. Once again, despite having a while to wait around the station's Starbucks failed to open even at its much later advertised time. Settled for an alternative and boarded the 07:22 - about the only train on the Portsmouth Harbour route which doesn't get rammed here or at Bath. I managed to snooze for much of the less interesting bit of the run, waking in time to alight at Fareham. The weather had turned out to be really fantastic, and as I made the slow transit to the station bus stop under the subway, I enjoyed the sunshine. The aim here was the Eclipse service which uses a dedicated busway towards Gosport. This is significant because it occupies the former railway alignment into the town, and thus as soon as it opened my curiosity got the better of me. Tracing the route by map, there was a fair amount of evidence of its former status too. The bus when it arrived, was very impressive. Leather seats and a bright, clean interior. Destination displays and free onboard wi-fi completed the sense of a modern services. I found a seat and settled in for the run to journey's end at Gosport Ferry. Once off the main road we turned onto the busway. A two-lane carriageway which cut directly through the tangle of streets. No guideway like in Cambridge, and the route is shared with cyclists - and at least one errant or perhaps just truculent motorist too. However, speeds are reasonable and the stops were showing signs of reasonable use - even on a sleepy, warm Saturday morning. Suddenly just under the Tichborne Way bridge we slowed and took a sharp curve via the 'Tichborne Link' back to the conventional streets at Fareham Road. The way onward hinted at Phase 2 to be completed soon. Having tried this out, I think I'll come back too - because once back on the road network the advantages became starkly clear. The long-wheelbase buses struggling around parked cars, over traffic calming bumps and through endless traffic lights showing the huge advantages of the busway for this journey. However, the trip into town meant passing the strange naval forts and signs for the curiously named 'Explosion Museum'. Occasionally the route came tantalisingly close to the former rail route too as we wound through the suburbs. While a busway is definitely not my preferred option for these things, I have to say this works pretty well.
The centre of Gosport looked busy and prosperous despite some evidence of run down looking areas on the way into town, however today I stayed on to the rather 1970s vintage bus station and made the short walk to the Ferry terminal, buying a ticket from the man in a tiny booth with his old-fashioned dispenser. The ferry service is frequent and fairly keenly priced - and for these reasons appears well used. Queueing on the covered gangway, the ferry was expertly guided alongside and the gates opened allowing swift disembarking and boarding at opposite ends of the vessel. Given the sunshine, everyone dashed upstairs onto the open deck, but I found a window below in the curved bow and settled in for the short ten minute trip across to Portsmouth Harbour. It was quite an experience - as water travel always is these days - and one I'm glad I'd opted for. Arrival at the Harbour means only a short walk up to the station platforms too. I had some time here though, so I had a little lunch, watched the world go by and enjoyed the sunshine.
The next leg took me on one of Southern's very well used West Coastway services to Brighton. These get far too busy for my liking, and soon the train was fairly full. I also suffered the indignity of being asked to turn my music down on this leg of the trip - something I don't think has ever happened to me before. I felt rather sullen and pathetically wronged after this. Looking back I can chuckle - but at the time I felt surprisingly silly and down about it. I surprise myself with my oddness at times. Arriving at Brighton meant decanting a lot of people via the narrow Platform 1 and 2 island, then squashing around to the ticket gates. The Great Escape festival was on in town this weekend, using a range of local venues - and thus the station was incredibly busy. To speed things up, staff opened the gates and let us tumble through. I aimed straight for the exit, and some recommendations for shops I'd been offered - including the excellent Resident Music tucked away in The Laines. It was years since I'd wandered in Brighton, and it still had the slightly strange but very pleasant edge which I'd immediately liked on my early trips here. After browsing the friendly, and somewhat enlightened environs of Resident for a while, I decided on coffee and a chance to reflect. With Brighton delighting in lots of artisan type places, the large Starbucks I found was reasonably quiet and importantly nice and cool in the growing heat of the day.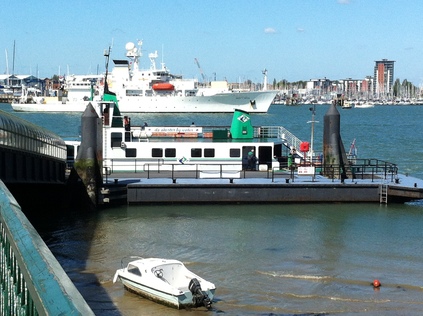 Having some time now, I decided to head for the Volks Electric Railway. I'd never made it to this tourist favourite before, and it was a fair walk - but not an unpleasant one milling among the festival crowds. On getting there, the queue for the tiny single-car trains was huge and I calculated I couldn't easily wait in the queue and safely make it back to my mainline train so after watching a departure, I resolved to revisit at a less touristy, sunny time and do the line. The walk back to the station was a hot, long and irritating slog through huge crowds. Once at the station I improvised a meal while listening to a band playing in a venue next door. No idea who it was, but they were pretty good. Finally over to Platform 2 to beat the crowds and wait for the First Great Western unit to be opened up. Some amusing scenes as a Southern unit occupied the end of the platform ahead of my train, and people debated the idea of front train, first train and 'First' train as written on the side of the unit. Did some impromptu directing, before getting a seat on the unit.
It was strange to be back on 1V96. I'd used this train once or twice to visit friends here many years back, and also when I returned to the rails and it was Class 31 hauled on Fridays. I recalled particularly the last ever 31 hauled diagram in December 2004, and realised with some horror just how long ago that was, and that it was probably the last time I'd spent more than a few minutes in Brighton! The run back was pleasant and lazy - with me feeling ultra paranoid about music volume. The train didn't get hugely busy, even at Southampton - a fact I filed away for future use. The guard was fine with my odd combination of tickets too, and I settled in for the long winding route back to Bath Spa. Changing here meant a short wait for 1C27 from Paddington, a frequently used train home which I could have picked up at Bristol as I often do. It was nice though to relax for the last leg. Amazingly my multi-modal run had gone very smoothly, and the bus and boat rides had impressed me hugely. It's days like these which restore faith in public transport along with being entertaining trips in their own right.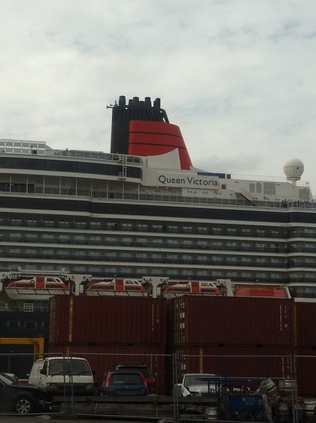 Posted in Railways on Saturday 5th May 2012 at 11:20pm
---
I'm playing catch-up with these entries after a very strange and directionless few weeks where I've managed to think about doing lots and actually achieve very little. In the middle of this period came the welcome opportunity to get away and travel - always something I value, as much for the chance to observe the world at large as anything else. But this trip had a purpose too, which was this curious tour to points south. Completely illogically of course, I started out yesterday by heading in the opposite direction - north to Crewe. Class 20s aren't my favourite traction by any means, but they're unusual enough to warrant a bit of a trip to get some mileage with them - especially as you have to wonder just how long they can carry on hauling trains like this on the mainline. A fitful night and an early start made for a rather bleary-eyed walk to the station where I met familiar faces including my travelling companion for the day. In fact, the tables we occupied became a pretty sociable little knot in the middle of a rather quiet carriage, which is always a good thing in my book.
Despite predictions of failure or non-availability the pair of 20s, one required and one not, turned up on time and shot away from Crewe in surprisingly rocket-like fashion. We sped south taking a route skirting the Midlands to join the route to Banbury and Oxford. I've used this route surprisingly often this year, having not needed to in recent times - and I'm always impressed by how quietly but surely, Chiltern Trains have delivered on their Project Evergreen promises - faster alignments, restrictions eliminated - little improvements that sum up to a better experience all round. At Aynho Junction we headed for Didcot, and the Foxhall curve onto the mainline. There had been two separate foul-ups on the Great Western this morning - one around Paddington and the other in South Wales - which meant some of the participants who were due on the train were behind schedule. Given some space due to gaps in service, we were unusually allowed to wait a while, and a rammed Gloucester-Swindon unit and a busy HST soon turned up with the missing folks. We headed off again, via Thingley Junction to the rarely used Melksham route and onto the Portsmouth line. Here, my usual ennui descended and I dozed and chatted as far as Southampton Maritime. I also realised I'd rather strangely chosen to replicate this route next week too!
Arrival in Hampshire meant we'd reached the focus of the tour - a little but significant crop of very unusual lines around the county, starting with a call at Eastleigh to let off passengers who wanted a short break. Out of the station northwards and onto the Romsey branch where we reversed at a signal, and headed back through the station non-stop with the trailing 37 in the lead now, and into Eastleigh Works. I'd been here before, but we used a different line - one that disappointingly had a fair amount of former Metropolitan Line stock stored on it - although to be honest they all did at present! This meant many people didn't get far past the gates, but the First Class end was well positioned and the usual tide of 'vestibule creamers' made their showing as we came to a halt. The original plan had been a traversal of the depot loop which hadn't been possible in the end. I was lucky enough to have done this too, so it wasn't a great loss - but it did mean we ended up with a fair number of very odd reversals here - which began to take their toll on people's sanity! So our next reversal took us back through the station with the aim of halting at Allbrook Junction. In the event, we ended up back on the Romsey branch. This is where things got a little hazy and the driver seemed to lose track. Returning to the station we were signalled onto the Down Through line, leaving a large group of bewildered patrons stranded on the platform. Coming to a shuddering halt short of Southampton Airport Parkway, we eventually headed back into the platform, collected our punters and continued towards Southampton. A very odd and slightly amusing interlude!
Underway again, rather than taking the severe curve towards Southampton Central we continued straight past Northam Traincare and onto the docks branch. This more direct route served an impressive terminus at one point, the rather grand buildings of which remained evident. Passing multi-storey storage areas for the motor industry, row after row of Minis and Landrovers were evident. Also in dock was the vast Queen Victoria, a huge and impressive sight beside the line. Pressing on and winding through the Eastern Docks, we finally came to the QEII landing stage. I'd been here before - on foot from Southampton after an edgy night in a B&B miles from town - or so it seemed. That time, I was meeting people arriving by boat to live here. Today, I was just passing through as we pressed on to the very end of the line. An excellent result, though we were urged not to get out because the fee for 'use of the station' was huge!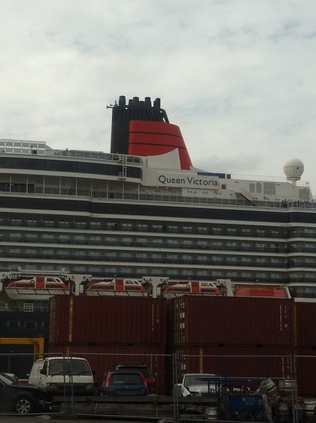 Reversing again after a very efficient change of ends, we headed back to Northam Traincare, using the Reception Line there to reverse once again and head through Southampton Central to reach the gates of Western Docks. This shorter branch led through a more industrial scene, curving away from the mainline and through piles of sand and building materials to double back towards the point we'd reached on the Eastern Dock branch. There had been a through connection at some point, but this had long since gone and we soon found our way to the end of the short branch, again reaching the furthest possible point. It had been a very successful day from a track bashing point of view - and being at the right end of the train for the branches was a very welcome change!
The return trip wasn't without incident either. Firstly we headed towards Guildford using the rather dull line via Petersfield. This was a sleepy bit of the journey with little happening, although it was interesting to watch how we made up and then lost time. We weren't seriously late though, and I was content to laze my way along the line. Getting lost in the tangle of lines around Ascot, we were due to pause at Ash Vale - ostensibly for a photo stop on an otherwise long day on the train. This stop was curtailed to keep us on time, and de-training via the front four coaches would have meant it was unlikely we'd manage even to get off in the time allowed! From here we took the route to Reading, using the connection which climbs from the Southern tracks to the Great Western mainline - something I don't recall doing before. Work on reviving the underpass which will allow trains to reach the other side of the revitalised station seemed to be progressing very well too - and I wondered if we'd have used that route if it had been available? Our first set-down was at Didcot, in lieu of Swindon on the outward run. Except we didn't stop. Taking the curve through the station at speed, once again a number of passengers looking rather stunned as the platforms zoomed by. Those poor Swindon punters who'd been inconvenienced by the early issues were once again the victims as we made a call at Oxford for them to alight and head back to Didcot.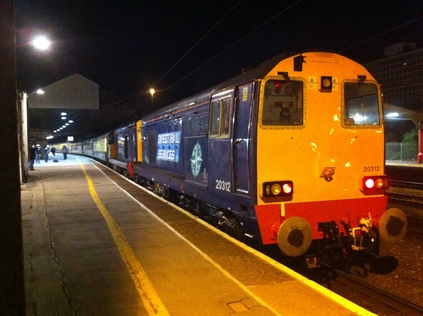 The run back to Crewe was quiet and pleasant in the summery evening, and was only marred by the activities of a couple of BLS people who I probably shouldn't name, working the train and stirring up feelings against a former colleague. If nothing else, this solidified my resolve that resigning from the News Team had been the right thing to do. Otherwise it had been a successful, sociable and interesting day. There are so few good tours operating this summer that these days are increasingly precious and important.

Posted in Railways on Sunday 22nd April 2012 at 9:48pm
---
Today was both a bit of a desperate dash and an experiment. Back from the amazing weekend in St.Andrews, and having been out to the Minehead Rally with the youngsters yesterday, I felt the need to get out on the railway. As a perk for being a season ticket holder, First Great Western had provide a pair of codes to get free tickets anywhere on their network, and the obvious choice was a run up to London. I had misgivings - it was a Sunday and I didn't know quite how loadings were, and the tickets had to be standard class. I reasoned I could always upgrade via Weekend First if the issue arose. But at what felt like an absurdly late hour I found myself waiting for the train to Bristol - I'd figured out a couple of possible connections, but ended up going for the shorter wait. Mostly because I felt a strange almost guilty feeling for travelling up so late in the day. I also realised that it was the London Marathon today, and getting to London before that began to dissemble was probably wise for any onward travel.
The trip wasn't too bad - but I appreciated afresh why I booked First Class whenever I could for this trip. On arrival I decided to head directly to Liverpool Street with one object in mind - Record Store Day. Yes, it was yesterday - but given I was inhaling dust and gravel on a rally course, I hadn't been able to take part. However, I reasoned that there might be some things still in stock, and with a list in hand for others I made for Rough Trade East via back alleys and streets, cutting through the rear of the former Truman's Brewery and finding a plaza of arty types contemplating slogans and graffiti. I paused to watch someone taking a picture - of someone else taking a picture of a "neighbourhood watch" sign. Only here I figured and pressed on. Rough Trade was still insanely busy. I witnessed a man stack Beatles box sets up to his chin and then subsequently get told "one of each per customer". He got mildly agitated and had to be ticked off. I carefully selected the items I'd been asked to find, along with my own pet purchase - the deluxe edition of James Yorkston's 2002 album "Moving Up Country". My CD of this is long since lost, and I'd resisted re-purchasing mostly out of spite to myself for letting that happen. However, even in it's shrink wrap this was a clearly lovely item - and so worth the wait. I paid, realising I now had the always traumatic burden of carrying a bag of fragile vinyl around London all day.
I was glad to get out of the melee in Rough Trade and headed back to Liverpool Street for coffee and air-conditioning. With a few hours left to kill, I figured I'd hit the rail network - and particularly Thameslink which was this weekend running across London for the first time in a couple of years as far as I could remember. From Liverpool Street I took the Metropolitan Line as far as Farringdon. Stepping through onto the Thameslink platforms I was shocked at the space now revealed by stopping up the former Moorgate route junction. The brickwork had been cleaned and revealed a bright concourse. Information screens were discreet but usefully detailed, the platform's curious snaking profile obvious looking back through the bridge portal. I didn't get to look at the upper concourse as my train arrived - but I must return at some point. Despite my reservations about the closure of the short branch to Moorgate, I was pretty impressed. I headed south next on one of the services terminating short at Elephant and Castle. This meant passing non-stop through City Thameslink which doesn't open on Sundays, and through the new platforms at Blackfriars. The work here was substantially complete too - but hoardings and scaffolding remained. I realised this was technically new track as the through platforms had swapped sides since my last pass through the station. The terminal platforms, now west of the station were also near finished. The roof couldn't be seen properly, but we stopped substantially over the new bridge, between the two entrances. I recalled poking around under the bridge just a few weeks ago. I had no intention of lingering at Elephant, having explored the area enough a while back, and revisited on the bus recently too. So, back onto the next service north to St. Pancras Thameslink platform - another station I'd never really used due to the long period of works. This was different - a vast concrete cavern with grey and silver features. I picked my way out avoiding escalators and congratulated myself with further coffee.
I'd decided on the 17:03 back to Bristol in order to connect with a sensible train home given the patchy Sunday service, which seems to perk up a little in the evening for some reason after a very sparse patch in the afternoon. The train home was full of Marathon types. I felt guilty and useless amongst these dedicated people who'd made the run today. My own achievements stopped at getting the bag of records home safely. It was a strange day out, but a pleasant one in the circumstances.

Posted in Railways on Monday 16th April 2012 at 11:04pm
---
It's been a fantastic weekend...
But it had to come to an end, and absurdly early this morning I found myself shuffling to St.Andrews Bus Station and fortuitously just making an earlier bus than planned. I'd been here before of course, visiting during last year's Homegame, and I'd not imagined then I'd be here less than a year later on another Fence related mission. Having travelled up on Friday following the customary break of journey in the Midlands, I'd spent the last couple of days at an absurdly expensive hotel and stalking the small town with it's idiosyncratic mix of rural Scottish isolation and cosmopolitan moneyed students from around the world. I'd taken a spin down to Anstruther to revisit a place I fell in love with last year, and I'm met up with some people who made me laugh a lot and feel part of something a little bigger than the solitary appreciation of music I often express. Eye o' the Dug had been bewildering, elating and rather fantastic.
But now I was joining a large band of commuters heading for Edinburgh. It was a pleasant morning to be travelling, but there was no escaping the look of Monday on their faces. The train was busy, but had few stops on its route. Soon we were passing over the always breathtaking Forth Bridge, and I marvelled at how these people could keep their noses buried in their Metros while we clattered over this rather beautiful structure and enjoyed views over the Firth of Forth. The bridge has taken on greater significance to me now it's the gateway to Fife and all that brings. At Waverley I joined the tide of people washing onto the concourse, but broke away and found a welcome breakfast. I had time here to write, get coffee and to somehow extract my wrist from the festival wristband - finally accomplished with the aid of a long, Cafe Nero spoon found in my usual haunt. I was trying to adjust to being back - and to somehow splice together my fairly pointless work existence with the sense of significance this weekend had provided. It wasn't going to be easy to do this again...
Having worked out the diagrams based on my journey up, reckoned on a struggle down to the suburban platforms due to the temporary steps and passageway, but a fairly quiet train when I got there. It worked out as I thought, and I found a seat in a mostly deserted carriage which only got a little busier. A double Voyager set is possible the best result on this route just now, and I settled in for my run back to the Midlands, which went remarkably smoothly. At Birmingham I had a little longer to wait - I'd left plenty of time to make a connection, and opted for a much later but usually pleasant train at 18:42. It made my day hugely longer than it needed to be, but it meant not travelling during the peak. I wandered into town, had coffee in a shop I usually only ended up in during Sunday morning trips home from a weekend away because it was much too busy on Saturdays, and lounged around trying to make sense of the weekend.
Finally, after a quiet journey to Bristol I changed onto the 20:55. On weekdays this is a unit rather than a HST, and it was moderately busy. Approaching home was strange. I realise how silly this must sounds - aren't all festivals essentially an escape from reality? Don't they all confer that sense of otherness which is hard to recover from? Well, probably yes. But transport that sense to a place like the East Neuk and add magical, fragile music which rarely gets heard elsewhere and it is somehow more significant. It was good to be home after a day I'd managed to keep fairly easily paced and relaxing. But now the hard bit began...