Posted in Railways on Saturday 16th July 2011 at 11:07pm
---
It had been a fairly chaotic morning at work, and though I felt a little guilty about doing so, I was glad to be sloping off early. The plan was to get up to Paddington during the afternoon and to hang around ready for tonight's tour. I was perhaps a bit uneasy - overnight tours aren't a favourite, and the last time I'd done something similar I succumbed to Swine Flu somewhere along the way. Of course I knew that was unlikely, but there's something uncomfortable about the sort of half-awake state in which you end up traversing the network. Did some shopping at Paddington in preparation for both this trip and tomorrow's jaunt, and spent some time relaxing and drinking coffee in the hope of staying awake. Finally, around an hour before departure in fact, the stock rounded the end of the station and thundered into Platform 1. Didn't realise until later that in fact a friend and my boss had been feet away on Platform 2 whilst I wandered about chatting and getting pictures. It's a small world indeed...
Once on board the short rake and underway, I noted the presence of a good few BLS colleagues on the train. Things started perfectly, with a slow crawl out to Kensal Green where we began to climb, imperceptibly at first, then definitely taking the flyover line, passing high over the mainline and down onto the reception lines for Old Oak Common. This elusive stretch of track completed, we pressed on to Reading and Basingstoke, before taking the line towards Southampton via a stop in Wallers Ash Loop, and loading of fish and chips in Eastleigh! It was a strange sensation passing through these stations at near enough the close of service, but there were some last desperate hangers-on, people heading home or perhaps out for the evening. By the time we reached Brockenhurst, all was quiet as we took the very rarely used connection to the Lymington Branch platform, before curving towards the coast. A few minutes later we arrived at a very wet Lymington Pier beside a massive Wightlink ferry. The first loco-hauled passenger train to arrive here for some years, and despite the hour we were attracting a fair bit of photographic interest too. After a short break we retraced our steps towards the Great Western, and I started to doze - waking at Twyford briefly and then again at Henley-on-Thames. Again, one of the first non-DMU services to do so in a very long time I'm sure. Had a bit of a wander to wake myself up, but it was cold and damp outdoors so returned to the coach. It looked like some sort of refugee camp, bodies sprawled everywhere, dribbling and snoring. I ruminated on the public's view of our hobby, and what they'd make of this. Not pretty.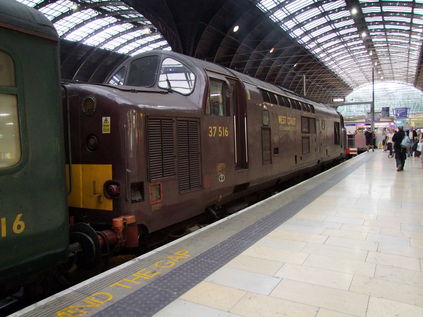 I woke with a jolt at Maidenhead next. The driver was a little heavy with the brakes, and the leaky window frame had let rain in which had pooled around my elbow. It was pretty grim outdoors, but we pressed on with our itinerary, apparently visiting Bourne End - as far as a train of our length can get on the Marlow branch where a reversal is needed to get to the terminus. I don't remember Bourne End at all this time - and my memory of last time is pretty chaotic in fairness! From here we made a slow, lazy circuit of North London, via Acton Wells and Willesden to reach Euston at just after 04:20. It was dark, quiet and rather strange in the empty station. A few dozing revellers or early starters littered the concourse and the waiting rooms, but none of the coffee shops was open. I paced around, trying to get life back into my aching legs. I also wondered why I did this stuff regularly, but then I remember the racket we'd made as we'd climbed towards the flyover at Old Oak. An interesting and strange night all-in-all...
With a little over an hour before the next trip began, I decided to freshen up and search for refreshment. The idea of a 24-hour McDonalds didn't appeal, so I wandered back to the platform where the longer rake of stock had arrived with a fresh pair of 37s in charge. I found the buffet open and grabbed a coffee which I drank whilst chatting and wandering up and down the platform to stay warm and awake. Invited into the brake, I found a nice, comfortable compartment seat and chatted with some DRS and Spitfire folks until departure. Almost exactly on time, we stormed out of Euston and into a slightly murky looking London morning. Found myself alone in my compartment and allowed myself a snooze as we sped northwards on the West Coast Main Line. Things were just waking up, as we passed a procession of London-bound units. The weather varied wildly from sudden, forceful summer showers, to bursts of fantastic sunshine. This was the life - exactly why I enjoy these excursions. Picking up along the way, we finally crept around Birmingham and onto the Shrewsbury line at Wolverhampton. Here, we lost our two DRS locos and gained two of the ETRMS-fitted Network Rail Class 97s for the onward journey. Noted our train was too long for the platform, frustrating photographers hoping for shots of the 37s before their detachment. A reversal took us onto the Cambrian line, newly resignalled with the innovative system, and with some speed restrictions relaxed and loops restored. At times on this run, the sun showed itself in earnest too. I forgot how tired I was and enjoyed the views.
After some pictures in Aberystwyth, the tiredness began to overcome me. Decided on a late breakfast and found the place I'd visited on a miserable January morning a year or more back. Found my way to the breezy seafront and slumped on a bench, watching the clouds scud over the Irish Sea. As I pondered I felt a weight on my shoulder, and before I could even muster surprise, found a seagull stealing my sandwich from my hand. Discarded the pecked remains and concentrated on the coffee instead. If I hadn't been so sleepy, I'd probably have been really angry... Wandered around the warm, humid town wondering if a thunderstorm was coming, but finding solace in an air-conditioned coffee shop where I passed some time jotting some notes and watching the world go by. Back to the station for a pleasant chat with an elderly gent who'd travelled up with his son on the charter. Talked about the Midlands and how they'd changed, and a bit about Education and Planning. A clear-minded and sharp gent who was a pleasure to talk too, and who's ability to keep up with the world around him made me forget his advancing years. We seemed to wait an age for the stock to move out of the station to set back into the platform. The inflexibility of the one platform layout of this once much larger station is clear - but eventually we were back on board and off along the coast. I was joined by a couple of cohorts for the trip back, not least the inimitable Geordie, who chatted amicably until Welshpool where he fell into a 26-pint induced slumber which saw him through until Camden Junction! A lazy, relaxing and pleasant trip back watching Britain slowly slip into darkness for the second time from the train window. Even an impromptu hayfever induced nosebleed couldn't detract from my enjoyment of this storming run back to London.
As I checked into my horribly expensive and rather basic room for the evening, I pondered the trip and how things had worked out. If Spitfire continue to offer these innovative and interesting itineraries, along with a friendly approach to tours they're going to be around for a long time. But now, I just wanted to sleep for a while...I think I'd earned it.