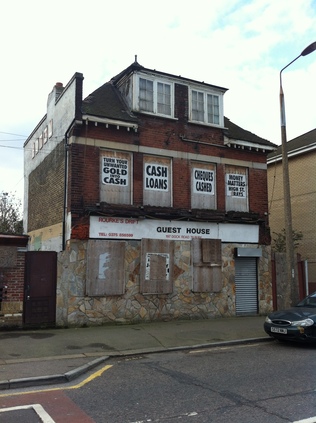 Posted in Railways on Saturday 7th January 2012 at 10:01pm
---
The year has started uneasily, and I found myself looking forward almost desperately to this trip - a chance to escape and not have to consider some of the really pretty irritating things which have been going on just lately. My injured foot ached, and wearing brand new boots probably wasn't a smart move either, but as I dragged my sorry self to the station I knew that it was imperative I got moving. Today was a bit of a random gluing together of several imperatives - some visits I'd not realised I was going to make, some revisitations of old territory and some familiar and comfortable trips to soothe the soul. I started out as early as possible, making the switch to the London train at Weston. Oddly, some late running on the first Down service meant the stock hadn't arrived, so had the novelty of watching the ECS terminate before boarding, getting breakfast and dozing and reading my way to sunrise. This happened somewhere around Didcot, a golden and clear morning. This is one of the best reasons to leave so early.
The first target was Liverpool Street. With C2C services running out of the station due to work at Fenchurch Street, this meant the novelty of the Woodgrange Park section, and the flyover at Barking. Nothing new, but it had been a while. My objective was Tilbury Town. I'd been reading about Tilbury and wanted to square my image with the reality. After a slow journey, padded with excess delay minutes to mop up any issues on the diversion, we sped up over the flat empty marshes at Purfleet before pulling into the rather grim station at Tilbury Town. To the south, the dock wall blocked any view at all, and to the north the boarded up facade of Dock Road. A range of deleted and closed businesses, shutters down. The Post Office closed - unclear if it was forever - it's former pub status proclaimed by the "Toby Stout" tiling above the doors. A pawnbroker nearby had lost two of the balls from the traditional emblem, just a single pendulum hanging outside the shop - one of the few still open. Pressing into the side streets soon indicated that this short parade was Tilbury. There was nothing behind the facade. So, I moved east toward the junction with Calcutta Road and a Metropolitan Water Trough celebrating the founding of Tilbury Town in 1912. One hundred years later, there was little left. Across the street was Rourke's Drift - a boarded up guest house of terrifying aspect, beside a yard also belonging to the mysterious Rourke. Uncomfortable with the empty streets and the attention of the Dock Police car which was now tailing me as I pointed my 'phone camera at things, I returned to the station and to the relative comfort of London, much earlier than planned.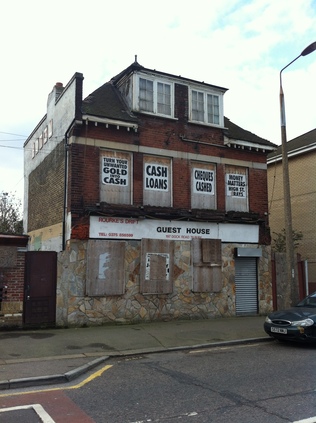 With some time on my hands, I made a slow circuit to Marylebone, using one of the new S-Stock underground trains. These subsurface only units are proving troublesome and deliveries have been halted, but the ones in operation on the Metropolitan Line seem pretty reasonable to me. Air-conditioned, and open plan so that passengers can pass along the train through wide gangways like the Class 378s on the overground, they feel safe, light, open and spacious. The short hop to Baker Street was an enjoyable enough ride. Wandered to Marylebone via Dorset Square, hoping to sit and read away some of my spare time, but the private garden was locked. Noted a plaque unveiled to celebrate the first MCC match being played on Dorset Fields, before heading into the station and finding a spot to watch activity while I waited. It was a fairly quiet time, the midst of the afternoon lull in the rather beautiful old station. I don't use this place enough I decided, and I noted I'd still not tried the new 'mainline' locomotive-hauled services on weekdays. Today's traction was a Class 168. It was comfortable, not too crowded and had Wi-Fi and power sockets. It takes a few minutes longer by this route than using Virgin from Euston, but the route is a pleasure to travel - rolling Chiltern countryside and graceful old Great Western stations are the order of the day. Even Banbury's 1960's concrete cavern has a certain charm, if only in the period typography around the station. The sun set over the M40 as we sped north west, a relaxing and calm trip despite a precocious child demanding attention a few seats away. Headphones on and tuned into the countryside and the rails rather than the passengers, the time sped by. This trip cost the princely sum of £5 by advance ticket. I'd promote this more, but I want it to stay a secret.
Leaving the splendid GWR terminus at Birmingham Moor Street, I walked the few feet into the centre and found a chaotic Saturday still winding down. No room to sit and contemplate coffee, so wandered back to New Street via a strange encounter with a rather well-to-do, middle class Irish woman. She stopped me, very specifically and asked if I had any change because she was recently homeless. I looked at her and wondered - who knew if mental health issues, domestic abuse or some sort of relationship breakdown had put her onto the street? Given that no-one else appeared to be stopping for her I delved into my pocket and grabbed a fistful of copper and silver. "It's just pence" I said, "but you're welcome to it". She looked a little scornfully at me and said "it doesn't matter". Trying to read this situation, I played for time with a rather silly "are you sure?". Was she upset because it wasn't enough, or was this some sort of test to see if I'd stop? If so, had I passed by stopping - or had I proved that people give indiscriminately to those why don't need it. She flapped her hands at me, irritated "go, no it's fine". I left, feeling confused and foolish.
I mulled over this encounter with coffee as I waited for the familiar 1V65 home. It made little sense, and I'd been very tempted to go back to find her to demand some sort of explanation. I had no right of course, and it was very unlikely she'd be there. I even checked my pockets and bag, imagining it had been some sort of distraction technique. I put it out of my mind, boarding the refreshingly quiet train and heading home in the dark, head buried in a book. It had been just the distracting, diverting day I needed.