Posted in SHOFT on Monday 9th January 2012 at 10:01am
---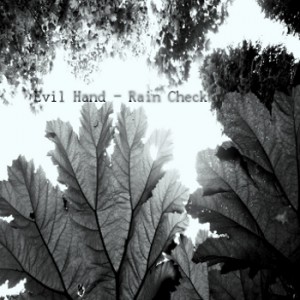 I came very late to Evil Hand's release "Huldra" last year, and regret that I didn't get a chance to write about it's strange atmospherics here until it was much too late. And here again, in these first hungover weeks of the new year when most right-thinking people are still licking the wounds of the first week back at work rather than thinking about new releases, "Rain Check" arrives. There is of course, every danger it could again go undetected too, slipping under the radar while we're all contemplating our waistlines or trying to figure out if the recycling collections will ever get back to normal. But in another sense it couldn't be better timed - the post-festive comedown is never easy, and in these straightened times even less so perhaps. So what is the perfect sound track to this time of year? What lets you wallow in just enough of the winter darkness before lifting you with it's almost absurd optimism? Perhaps Evil Hand has had a damn good go at writing that very record here. Evil Hand is of course Derek Bates - one half of Bottle of Evil who recently graced these pages with their "Inside Looking Out" EP, a record which has only grown in my estimations since first hearing. What is less clear is quite how to describe "Rain Check" - it's either a long EP or a short album. In a sense it doesn't matter because it stands alone as a collection of regret-laced noisy tunes and curious musical experiments, beginning with "A Drop of Sunshine" with distant vocals buried in doomladen guitar chords and a wash of white noise. Next, "Good For Nothing" is a wistful piece with hints of late-sixties guitar pop and traditional folk ballads, like an out-take from a lost Gene Clark album. It's gentle melody and half-whispered vocal shimmer over a backing of hollow electronics and replicated voices, with the whole thing melting beautifully together.
I confess I've never been much of a fan of the Beach Boys, though I've always respected Brian Wilson's songwriting craft above their over-sweetened bubblegum delivery. But by 1971's "Sunflower" the dark heart of the songwriter was beginning to overtake the gleeful harmonies, and "Forever" is a surprisingly gloomy faux-country oddity. Evil Hands's take preserves both the forlorn lead vocal and the gentle melody, but couples it to a tremelo-heavy, note-bendingly joyous musical backdrop. On what I regard as the record's stand-out track "Three Faces", Bates manages to accomplish what My Bloody Valentine have been fruitlessly trying to repeat since 1991 on a tiny fraction of the budget, by fusing skittering beats, washes of effect-laden guitar and a gorgeously delicate tune. As the first vocal section of the song fades into it's own noisy sheen an extended instrumental coda strikes up, building layer on layer of blissful melody and squalling feedback. It's a short, unfocused and confusing piece in some respects - but the simple fact is that it's utterly beguiling. Likewise, the jittering pop squall of "Sonograph" - a dizzying clash of guitars and tweeting electronics, with a low-slung Mary Chain like vocal embedded deep in the mix, and which builds towards a fuzzy, psyched-out ending. The record closes with a couple of more experimental pieces, culminating in the mighty "Iceberg". Clocking in at nearly seven minutes of David Lynch soundtrack style rumblings and washes of sharpened guitar sounds which dissolve into static. Then, perhaps when least expected, the track is invaded by what appears to be the entire 1970s staff of the BBC Radiophonic Workshop. Strange, analogue synthesiser drones which have teleported in from Blake's Seven or Doctor Who sit alongside echoing atmospherics. Played loud, it has a curious effect. I used to it to quell some irritating neighbours to remarkable effect. It's a curiosity rather than an essential part of the EP for sure, but it demonstrates the breadth of Bates' interest, musicianship and vision.
So, another year of my rambling about music kicks off with a release made in such an understated way that it would be easy to miss - it's to my great dismay that it took me so long to find Evil Hand's previous work, and I'd urge you not to commit the same error. This is in parts dreamy and ambient, and in others noisy and challenging - but throughout there is a thread of pop sensibility winding through these songs which I find completely irresistible. Here's to 2012. Happy new year.
Evil Hand's "Rain Check" is available as a free download from Bandcamp, where you can find 2011's "Huldra" album, again absolutely free. More of Derek Bates work can be found via Bottle of Evil.

Evil Hand - Three Faces