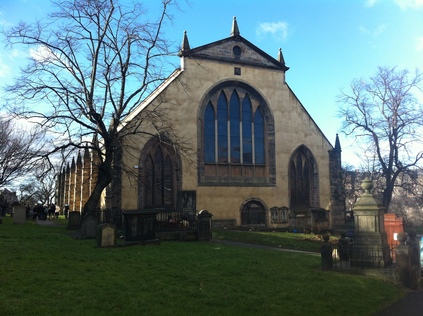 Posted in Railways on Wednesday 15th February 2012 at 11:30pm
---
I don't usually write much about my wanderings in Scotland. Mostly because these are my holidays - properly relaxing breaks away from home, and away from the usual high-speed dashing around the rail network even. When I'm up here, it's a case of being somewhere unreachable, immersed in place and music - two of my favourite things. In a sense, as once hinted at by a former friend, what happens in Scotland stays in Scotland. Not that anything particularly lascivious or damning does happen - just that it's nice, just for a while, not to be analysing it. But today was a bit different, today I undertook a trip I'd been thinking about for some time and became, for a little while at least, a tourist.
The plan was simple enough - with an extra day or so up here by virtue of my travel arrangements, I could afford to spend most of a day through in Edinburgh. Setting off directly after the morning peak I had time for a leisurely start to the day, and also to lounge around a bit with coffee when I arrived. I'd thought about heading to Avalanche Records first off, but after wandering down to the Grassmarket to find them closed and due to open a bit later, I decided to do something rather unusual - something in fact, I don't often do until I'm fairly comfortable with a city. I took a ride on the tour bus! I don't do this on first arriving because I feel a need to grasp the geography before I fully appreciate it. Also, one of the key things for me is knowing how to get back to some of the spots - something you can never quite assess without a bit of prior knowledge. It also provided a means of getting a painfully dodgy foot back up some hills later!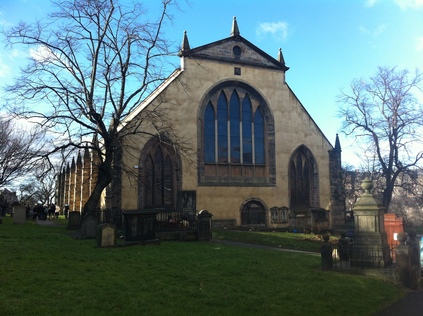 After doing a full circuit of Holyrood, the New Town and sites in between, I found myself back at Grassmarket and skirting the drama which was being filmed and which was causing all sorts of traffic trouble, I walked around the corner to Greyfriars Kirkyard. About now, the sun came out and I found myself sweating up the slope into the surprisingly bright, open churchyard. The tombs were of a typically Scottish style, with only some of the more distant corners being inhabited by a small number of pretty mangy looking drunks. Skirting the edge I found the locked entrance to the Dissenter's Prison, and nearby the Black Mausoleum. Having read the spooky tales and claims made for these, it was hard to square them with this quiet bright spot - an oasis of calm in the bustle of Edinburgh.
Walking back, I called in at Avalanche and listened-in to a strange conversation about the 'youth of today' which could have come from the Daily Mail, before hopping back on the bus to Waverley. The clear blue skies over Arthur's Seat and the view of the city as we climbed Calton Hill were rather wonderful. I thought about heading for Leith, or maybe out to Stocksbridge - but that can wait for another visit. The important thing was that I made my peace with Edinburgh in some ways today.
Whilst my heart remains in Glasgow, I am rather looking forward to coming back soon.