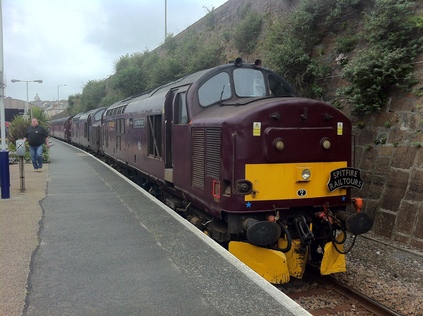 Posted in Railways on Saturday 23rd June 2012 at 10:57pm
---
This jaunt has now become something of an annual pilgrimage to the far south west, usually involving a mixed band of locals and northerners, and always involving quite a bit of real ale. It was also of special significance this time around because Spitfire have not run a tour since February, and I've not been able to make one since November 2011. The reasons are mired in commercial intrigue and unfairness, but suffice to say it's not about the will or the drive - it's to do with the economics and legalities. So, I was looking forward to this opportunity to catch up with a lot of people I now see very rarely. I was though, believe it or not, less into the idea of being royally drunk once again. After a week off work, and facing a return on Monday to what could be a rather tricky situation involving a 'transfer' to Bristol, I needed this time to count. Nevertheless, we assembled - the usual band - for the first train out to Bristol. With the Taunton stop off, this was the only sensible way to the trip - but it did allow for breakfast, newspaper purchasing and a chat with some of the local spotter folks not travelling today, before the familiar pair of West Coast Railway Company Class 37s curved into Platform 6. It was time to head south...
The journey was relatively uneventful - decent company, civilised drinks and lots of catching up. Just like the previous recent tour to Cornwall, the times left us very much ahead by Exeter, and we had an unexpected half-hour break in Plymouth which allowed for a photo stop and an opportunity to get coffee. Back on board, and over the Royal Albert Bridge - currently shrouded for repairs - and into Cornwall. The train sadly wasn't particularly full given some uncertainty about the traction - or indeed whether it would run given the loss of it's 'sister' trip from Eastleigh. But here we began to set down for the various usual options - Eden Project, Lost Gardens of Heligan, Bodmin and Wenford Railway etc. I'd even toyed with a trip to Lands End myself to avoid drunkenness, but hadn't seen this through!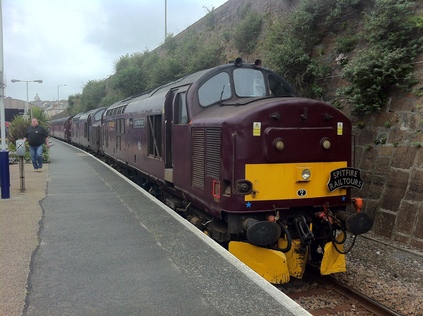 On arrival the usual pub circuit was reversed, heading along the harbourfront first, and working up the hill via the Dock, the Admiral Benbow and The Turks Head. In retrospect this didn't work well, arriving at those tiny pubs during the lunchtime and before the Mazey Day Parade meant busy, crowded and frustrating experiences. After a few pints, cut loose and wandered through the busy main street, grabbing a bit to eat and enjoying the atmosphere. The rain held off and whilst the traditional blazing sunshine wasn't around today, it was warm and dry at least. I headed back to the station for pictures and a pleasant chat with Spitfire folks while we awaited departure.
The return was the usual, sleepy affair with lots of well fed and watered passengers on board. I admit to snoozing myself, but woke for the assault on the Devon Banks and the fast run through Taunton and Exeter which saw us reclaim most of the time lost due to following a stopping train out of Cornwall. Having chased the rain north, it was gloomy at Bristol as I watched the train head north for Birgminham and headed over to catch the usual train home. It had been a relaxing end to a week of successful and varied travel - and the continuation of a tradition which we thought may have ended too.