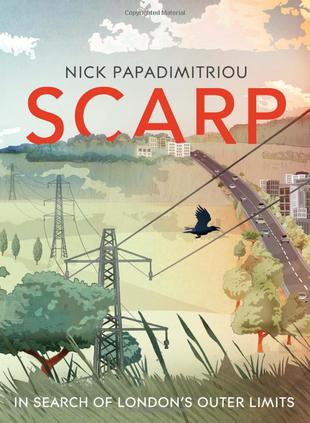 Posted in Reading on Tuesday 26th June 2012 at 6:45am
---
It's a long time since I felt the need to write about a book I'd read on here, at least as directly as this - but perhaps it's something I should do more often. The irony of reading "Scarp" in the middle of Glasgow, while the city moved quickly to take advantage of unexpected sunshine wasn't lost on me. George Square glistened in the light, pale skinned, blinking office workers emerging for their lunch break. Spending it with trouser legs and skirts rolled up, shades on while feet away, propped against a huge marble monument and just a little way from the huge metallic Olympic symbol erected for the summer, I sat devouring this curious book. In some ways, it's the book I wish I could write - part personal reverie, part hymn to the places around me. It delves deep into the landscape, and where current descriptions won't suffice creates a new map - you won't find "Scarp" identified anywhere I'm certain. But that's where this book plays its master stroke - we all invent our own maps and landscapes, but some of us do so more consciously than others. So "Scarp" is Papadimitriou's name for a mass of high-seated land which joins Chiltern Ridge to Lea Valley in a broad sweep across his beloved Middlesex. Buried in it are streams, lanes and byways which he has walked - often in dark times with all the associations they carry - to make sense of his county and his world.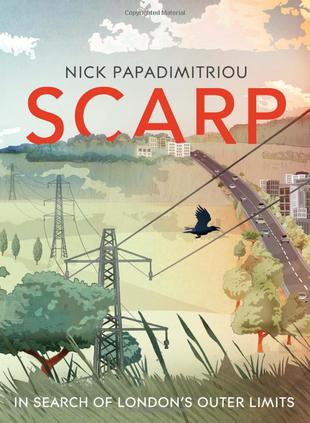 Papadimitriou describes his work as deep topography and sets himself a little apart from the Psychogeographer. I was sceptical about the need to do so at first, but now I think I accept it a little more. He takes a sort of amalgam of old Ordnance Survey atlas, decommissioned guide book prose and personal recollection, and rewalks the landscape with no preconception. He accepts its stories, often it's casualties without judgement and most importantly without recourse to human sciences or politics to justify the links he makes. The prose is sometimes edgy, fast-paced and visceral - but is equally prone to longer passages of lush descriptive work - not least when Papadimitriou strays from a well-worn personal path and finds a new vista just feet from his more routine walks. The thrill of this is palpable in his writing, and having felt this same heart-leap at a sudden turn of a corner and never quite expressed it, it gave me huge pleasure to see it described in print.
Ultimately, "Scarp" is unresolved. We never get the end of the autobiographical thread which winds through the book, explaining perhaps why the author took to the edgelands and the streambeds - nor do we get to achieve the idea of "Scarp" as a whole. But that's because Papadimitriou hasn't yet managed that either. And it's likely he never will. There is both a luxury and a a risk in writing about such a specific and rarely trodden area. The post-cultural tourists who follow in the footsteps of the more famous psychogeographers probably won't stray this far up the Piccadilly Line, and this is perhaps a bit too redolent of the pylon, sewer outfall and business park to get the semi-professional walking set interested. But "Scarp" is a life's work, a labour of intense love for the landscape and a tribute to the land which sustains us, which we walk in difficult times, which links up homes, prisons, hospitals and bus stops. This is the landscape challenged and personified, but described in the loving detail of a botanist's catalogue. It's nothing short of a remarkable piece of work in that respect.
Lost::MikeGTN
I've had a home on the web for more years than I care to remember, and a few kind souls persuade me it's worth persisting with keeping it updated. This current incarnation of the site is centred around the blog posts which began back in 1999 as 'the daylog' and continued through my travels and tribulations during the following years.
I don't get out and about nearly as much these days, but I do try to record significant events and trips for posterity. You may also have arrived here by following the trail to my former music blog Songs Heard On Fast Trains. That content is preserved here too.
Navigate Lost::MikeGTN Find articles by category
Search Lost::MikeGTN
Other Places...