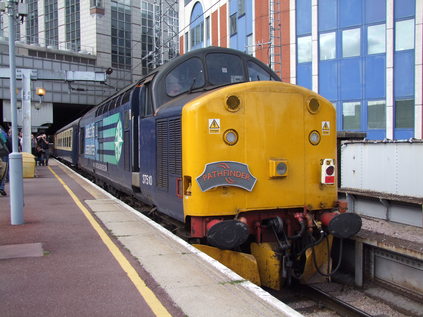 Posted in Railways on Saturday 17th September 2011 at 9:47pm
---
Today was always going to be a little odd. Finding myself ensconced in a curious little Premier Inn just outside Kenton Station, I wondered exactly how much of the booked route we'd actually manage today? Over the last week, the trip had been subject to all kinds of alterations - timings which had included the elusive East Putney section had appeared, and then been superseded by new plans which featured virtually none of the planned route. There was a sense of disarray, and that perhaps someone at Pathfinder had dropped the ball on this one? In any case, headed over rather early to the station to get the Overground as far as Watford. This allowed time to get coffee, run an errand to pick up newspapers for some Crewe-joiners who had been on board since 5am, and to drink coffee and chat on the platform. It soon became apparent though that something was up. Firstly, nothing came south trhough Watford Junction for quite a while. Next our train was announced as delayed due to "additional safety checks". Finally I got a call from the train, it seemed that pressure in a single-bore tunnel near Berkhamstead had pushed the windscreen of 37510 into the cab striking the driver. A pretty serious and sobering situation all round.
We waited, watching as 66232 sped north from Wembley to rescue the train, which was just a few minutes away from us by the time it limped into Berkhamstead. We even joked that if you had to have a failure, this was probably one of the better locations of the network in terms of depot access or alternative locos. However it took a long time to get moving, and then we went only as far as Wembley Yard. It had been planned to effect a run around here to have the locos in top and tail mode in any case, and doing so meant that the damaged end of 37510 was tucked against the stock for the rest of the day. Finally we were off, almost two hours late but assured that we would be doing almost all of the route as planned. However, the tour booklet which was quickly issued contained an amendment sheet - we wouldn't be doing quite the route which had been published at all.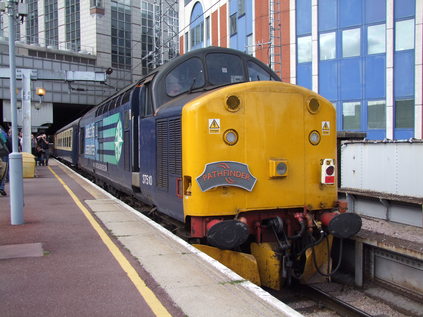 So, there followed a series disappointments - some the unfortunate consequences of late running, but many others the results of odd decisions on the train or by signallers. After a trundle around North London and a reversal at Hornsey we proceeded to Barking, and passed through East Ham depot on one of the roads beside the very much locked down EMU Depot. This was about the limit of new track in the event, as we then headed into Fenchurch Street for a break. While I recognise the Crewe contingent had been on the train for a while at this point, I was surprised that the break was of the planned length more or less. When we set off again via Gas Factory to Bow Junction, then towards Stratford, it became apparent that a means of reducing delays was to omit track here - with Orient Way Sidings once again off the list, Temple Mills Loop was also removed and we sailed through completing a circle around the Channelsea Junction area before once again joining the North London line to head for Acton Wells and the link onto the Southern. There followed a rather dull spin out to Aldershot - rare track for a loco perhaps, but given the purpose of these tours it felt like much had been sacrificed already and that this part was the less interesting section where time could have been saved. The highlight though, was a storming high speed run back into London along the South West mainline. The high point of a very odd, irritating day indeed.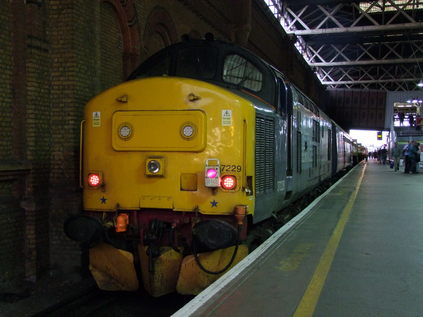 Back at London Bridge we took yet another full length break. Got some pictures and wandered around the station, much opened up by the changes to the gateline in the terminal platforms. The one consolation now was the spin around Selhurst depot to come - not new track for me, but interesting and diverting. However, just as we left it was announced that it wasn't going to happen. A defeated sounding Pathfinder employee explained that the whole visit was predicated on "someone knowing someone who was going to keep the place open" or something similarly intangible. Well, as we were still around an hour late despite the speedy run earlier and partly because of maintaining the breaks, "someone" had gone home. We reversed at East Croydon before taking the route back through to North London. The atmosphere on board was sombre - some making the best of having done new loco-hauled track, others trying hard not to blame the operator and feeling worried about the driver injured earlier - who it later transpired was fine, thankfully. But as I waited to disembark at Watford Junction a steward chirped "Had a good day?". I raised an eyebrow and he responded "Yes, but that poor driver - we did our best". I agreed to an extent, but pointed out a fair bit of the route had fallen out before the trip even turned a wheel. "Ah yes!" he exclaimed "But if you come on the next Buffer Puffer maybe we'll do Orient Way at last!".
I left the train feeling pretty angry. Would Pathfinder treat its dining customers on Easter Landcruises like this? Are rail enthusiasts expected to waive their consumer rights on the basis of the win-some-lose-some nature of tours? I think we treat it a bit like fishing - sometimes you get a bite, other times you don't - and mostly, this is part of the fun. However, when it starts to feel like trips are consistently advertised big, but deliver little it stops being fun. Thanks to that steward, and a set of circumstances which though unfortunate, were handled pretty poorly, I've lost confidence entirely in a company I've supported for years. Not a good day.