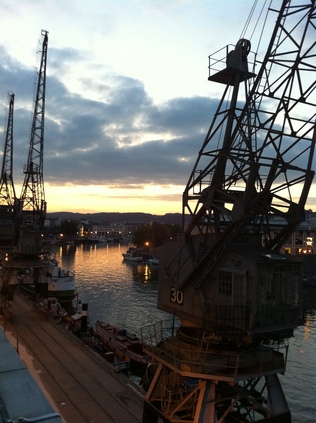 Posted in Railways on Saturday 15th October 2011 at 11:17pm
---
It feels like a while since I've done much railway related rambling. Almost a week in Glasgow necessitated a long journey of course, but I was pretty preoccupied with the trip at hand, and didn't really make the most of the long runs - especially the one heading back, which CrossCountry's lateness and a Replacement Bus connection managed to turn into a nightmare. Once again this weekend, I've not gone far - but I have entered uncharted waters, and I've even managed to cover some track I didn't know existed in the process!
The occasion is the Branch Line Society's AGM, which this year is being staged in Bristol. With it come a range of weird and wonderful events based around the lesser known and often more minority railway interests, starting yesterday morning with a tour of Brunel's Old Station. This took in the train shed, now a large event venue, before allowing exploration of the former museum area and access to the board room - which I'd once visited for a meeting many years back. It was rather sad to see the museum being catalogued for storage, but perhaps inevitable given the charge for entry and the decline in fortures of the site. We then wandered out for a good poke around the exterior, including the arch under which carriages travelled and the remains of a water trough for horses. Then we headed over to Bristol & Exeter House - now being progressively refurbished as offices for primarily new media outfits. The entrance was impressive and vast, and we ascended the stairs to the top with the insight of someone who once worked for BR here to guide us. Perhaps the most interesting location was the 'cellar' - in fact at ground level, but below the height of the ramp into the station. An impressive and imposing building which was far better executed than the B&E's wooden 'cowshed' station which stood nearby!
Today was even more interesting, with a tour of the current station. Starting in the ticket office and learning how the GW, Midland and B&E shared the facilities, we then explored the offices and refreshment rooms before descending into the goods tunnel below the station. I sense we were kept in fairly innocuous areas of the underground complex, but it was still incredibly interesting - especially the little-known air raid shelter, the hand-wound cart incline to serve a lift to the bar, and the lenghts of track set up to teach maintenance in low light wartime conditions. We then headed into the arch which usually allows access to rail replacement bus services and walked under the subway into wine cellars and other interesting vaults before climbing a steep, tightly curved staircase and emerging from a fairly discreet "Emergency Exit" door on Platform 7. An intriguing tour and I'm sure we touched on only a fraction of what is under Temple Meads station.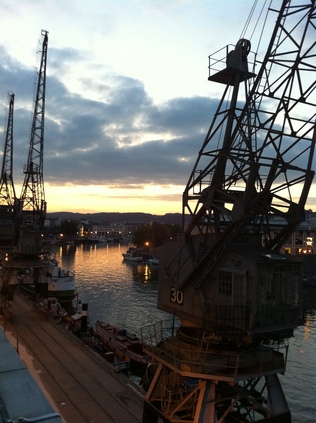 Before I headed over to the M Shed museum where the AGM was taking place, had a quick visit to Bristol Panel Signal Box, where we were allowed to chat with the staff, watch the panel being operated and ask questions. Seeing my home area being worked was fascinating, and a few long pondered questions about local signalling were answered. Really interesting, hospitable people too. A quick walk across town to the much refurbished former Industrial Museum and up to the second floor event suite, with excellent views across the City. After the business of the meeting and a short break, reconvened and had an excellent slide show on local stations by Mike Oakley, who coincidentally wrote the very "Railways In Avon" book which spurred me to visit more local railways right at the start of my interest many years ago. Watched the sun set over the city before wandering back to Temple Meads for a late train back, contemplating what was just a few feet below my feet.
The aspects of the weekend which I attended went remarkably well, and the meeting itself had plenty of interest too. Hopefully, next week will see a return to the rarer bits of the network - and not just more talk about them!

Posted in SHOFT on Tuesday 11th October 2011 at 6:10am
---
Back to reality with a bump today, as a week of musical antics and psychogeographical wanderings comes to a close. However, one of the delights of returning home is to pick through the Songs Heard On Fast Trains inbox to see what we've missed. So, here's a hastily prepared edition of "Single Tickets" to celebrate a couple of really exciting releases from bands who we've mentioned pretty often here and who have exciting developments in the pipeline...
French Wives - Numbers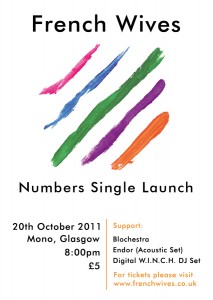 There are some bands who you just can't keep down - and who are consistently working away to get their music heard as widely as possible via endless gigs and a growing canon of self-releases or records on small independent labels.
French Wives
are just such an outfit, and this release finds them in the midst of recording their debut album with
Tony Doogan
and feeling pretty damn excited about the results. Excited enough to release some of the early fruits as a single - and "Numbers" is testament to just how exciting this record is going to be. If you've heard the bands previous EPs and singles, you'll be familiar with their brand of intelligent, multi-layered pop - but this track tantalisingly hints at further developments of their sound and unmistakably shows the benefits of bands working with producers who truly understand what they're trying to achieve.
Built around a core of insistent drums, an epic wash of strings and an absurdly catchy chorus, "Numbers" is scattered with plenty of dramatic lifts and swoops of deliciously crunchy guitar riffs courtesy of Scott Macpherson. The carefully arranged strings, led by Siobahn Anderson's violin, embellish but never drown proceedings - and perhaps the biggest benefit of the production is evident in how these wind sinuously around the track, supporting rather than dominating the proceedings as is so often the case when bands include strings in the production. Stuart Dougan's vocals soar with a confidence which has grown audibly since earlier releases, while his lyrics appear to ruminate on the apparently random nature of advantage and success in a fickle society. But if there's any justice and it's not just a "numbers game" then the hard work will pay off, and this single will achieve the recognition French Wives deserve. Whatever else it achieves, it makes the prospect of the forthcoming album on Electric Honey even more exciting. This one absolutely deserves your attention.

French Wives - Numbers
"Numbers" will be released on October 24th, and will be launched at Mono in Glasgow on October 20th with the band supported by the mighty Blochestra and an acoustic set by Endor. Tickets can be purchased online at the band's new website.
Yusuf Azak - Prizefighter EP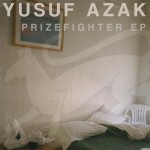 This is the first release from
Yusuf Azak
since last year's sublime debut album "Turn On The Long Wire" and in some senses it's more of the same woozy, breathless acoustic pop which earned that record a place on our end-of-year list for 2010. However, a close listen indicates a few changes in approach here too - notably things feel a little simpler and stripped-back to basics in places, with the songs rather than the unique delivery taking centre stage. Opening "Soft Vision" is the secret pop gem of the piece, with the vocals perhaps a little understated and a gorgeously dextrous acoustic guitar solo. This is coupled to an entirely singable chorus and joyous leaps in the melody as the guitar is picked, hammered and strummed to produce
Azak
's trademark complex style. However "Swim" abandons the guitar entirely, opting for a gentle piano and string accompaniment instead. This somewhat downbeat ballad explores textures and tones which have been less present in
Yusuf
's recorded work so far, and harks back to some of the more pensive moments on his first couple of self-released EPs.
"New Deal Decadence" revisits the approach taken on his debut album with a swooning, string-flecked feel. Some fantastically twangy country style guitar work adorns the middle section too, with Yusuf's voice back to it's exuberant, breathy finest as he glides around the music. Finally "Moon New Moon" is a little more lo-fi, just voice and guitar with little treatment or polish - and it displays the remarkable musical talent that sits beneath the complex layers of sound. The "Prizefighter EP" is, somewhat remarkably, a free download - and I can't recommend enough that you visit Bandcamp and download this. I hope that it's release signifies further new work from Yusuf Azak in the near future too.

Yusuf Azak - Soft Vision
The "Prizefighter EP" is available from Bandcamp now as a free download. Yusuf's debut album "Turn On The Long Wire" is stil available via Song, By Toad Records.

Posted in SHOFT on Saturday 8th October 2011 at 11:10pm
---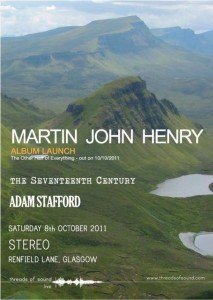 For my last night up here I'd managed to find a pretty special event. These are busy times it seems, and with the huge amount of records being released in the next few weeks, along with the sheer number of great gigs tonight I almost wondered if I'd made the right choice at first. Nursing a headache and the beginnings of a cold, having managed to get soaked struggling over to the Southside earlier, I was feeling a little lacklustre and sorry for myself to be honest. Stereo was also pretty packed when I arrived, with a curious mixture of hipsters and diners. I decided to head down to the venue space early just to have a look around and a quiet pint away from the chatter and noise. It didn't take long for me to realise that I'd made absolutely the right decision tonight after all, and I prepared for a very different kind of noise.
I've detailed elsewhere how I never quite got to see Y'all Is Fantasy Island and how that is matter of great personal regret. So I was pretty excited to see that Adam Stafford was one of Martin John Henry's chosen supports for this pretty special album launch show. Coming swiftly after the release of Adam's own record, which is packed full of surprisingly accessible if occasionally challenging songs, this evening couldn't have been timed better. Tonight though, it's just Adam stalking the spacious stage as he begins to manipulate the various gadgets and loop pedals. Slowly, surely the sounds morph into a tortured take on "Step Up Raise Hands" from his recent record "Build A Harbour Immediately". Gone is the lo-fi funk riffing, and instead we have an epic, shoegazey noise built from vocal loops and slashes of guitar. Slowed to a glacial pace, the repeating sounds are damaged and imperfect, but they build into a strange sheen of noise. Then, as Adam's voice begins to impersonate a siren, it's hard not to hear phantom sounds in the spaces and silences. Also from the record, but more immediately recognisable is "Shot Down You Summer Wannabes". The treatment this time is near symphonic - and it's clear that in Stafford's hands the loop pedal isn't just an agent of soulless repetition. In fact working with it is an organic, physical process - visible particularly as he grows in stature to deliver soaring high notes and jerks erratically around the stage to his own vocal rhythms - pausing only to suggestively rub against the mid-stage pillar. This is an intense, intricate performance which creates so much complexity and texture from so little that it's hard to believe at points that it is indeed just Stafford playing. As he leaves the stage after far too short a set, it strikes me there is something rather anachronistic about Stafford - impeccably turned out for the event, faultlessly polite, intelligent and inventive. Your everyday rock star he isn't, and that is something to be celebrated.
I'd also been curious to finally get to see The Seventeenth Century. Following a couple of EPs of often delicate and rather restrained traditional songs, they came across immediately as surprisingly animated given their formal delivery on record. Having been holed up for some time working on a debut album, there is a sense that this rare live outing in recent times has an added edge. Songs take on longer, more progressive forms and "Banks of Home" delivers a spirited, aggressive and emotional take on folk music with more than a nod to more experimental, post rock soundscapes too. "Young Francis" retains it's military air, but degenerates into a wild reeling ending, with the violin being sawed angrily until the bow sheds horsehair while the tune is anchored by some virtuoso horn playing. Having seen the band play like this, I hope that some of the energy finds its way into the album recording. The EPs have been fine, but their painstaking formality doesn't fully convey how powerful and emotionally affecting the band can be in full flight. Tonights performance, in this respect at least, was something of a revelation.
Having seen Martin John Henry's nervous but engaging performance at Homegame, I'd been looking forward to the release of his debut album "The Other Half of Everything" for a while now and wondering just how that quiet, introspective set would transform on record. Well, for starters Henry takes the stage tonight with a full band - a proper rock band in fact which managed to churn out some impressively loud and focused backdrops to his intriguing and sometimes dark lyrics. Alongside the more traditional bass, drums and guitar set-up Martin operated a small bank of electronics which add a further dimension to the sound and drive some of the songs relentlessly forward. The band slips effortlessly from opener "Breathing Space" into the pensive and dramatic "First Light" which works up to some crashing chords before ending with a weirdly funky section. The band are clearly loving every minute of this, and seem to throw every ounce of energy into the performance. Having seen De Rosa once many years back and posthumously enjoyed their records, it's impossible not to draw comparisons. If anything, the band tonight are a little tighter and sharper focused than De Rosa in a live setting, but Henry's songwriting is equally emotive and benefits hugely from this direct approach. Current single "Ribbon On A Bough" is far noisier and punchier here than on record, its singalong chorus and head-bobbingly catchy riff delighting an impressively large audience considering the competition in terms of gigs across town tonight. Finally "There's A Phantom Hiding In My Loft" closes the set, a shimmering and epic final tune which showcases some of the electronic trickery too. Martin John Henry is still the humble character who quietly captured hearts with his songs in Fife, but tonight he's earned the right to defiantly blast this new material at the world.
And so my short visit to Glasgow comes to an end - and what a way to see it to a close! With my ears still ringing, I pick my way through the Saturday night crowds, discarded fish suppers and general debauchery around Central Station and head home. It's been, as ever, a bit of a rollercoaster ride through the local music scene over the past few days - and long may these trips continue.

Posted in SHOFT on Friday 7th October 2011 at 11:10pm
---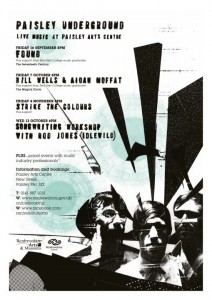 Once again, I found myself in Paisley. A year ago I explained how I'd hoped for a pleasant, golden October evening on which to explore the town. In the event, I got a dark, miserable rain-soaked night instead. However, today was different - and dodging the groups of feral kids and fire engines which seemed to howling around the Town Centre with alarming regularity, I made my way along the High Street, taking a longer route to the Arts Centre. I was struck again by the grand civic architecture of the town and the sense that there was a fierce pride somewhere here, but like so many towns across the UK there were more than a fair share of closed up shops and cafes. Given this, its especially pleasing that somewhere like the Arts Centre exists, and remarkably enough, remains in public hands still. Tonight's show was preceded, like last year's 'Paisley Underground' events by an industry panel which was well attended, and as the panel finished and the audience spilled out, Vic Galloway was besieged by folks wanting to discuss things with him in more detail. Picked my way through the crowd which he'd generated and found my seat in the auditorium as the audience filed in.
A lot of people seemed to stay in the bar for opening act The Magick Circle - which is no surprise given the typical local arts centre type crowd who had once again turned out for this event. However, they missed a treat as Laura Carswell, familiar from earlier in the week, rather nervously led this band of local young Paisley musicians through a set of accomplished folk material, which they'd made their own by way of some interesting arrangements. One of the strengths of the Paisley Underground setup is how establised, crowd-pulling acts are paired with bands emerging from Reid Kerr College. Laura's voice was certainly the highlight - on this material striking a high, purely traditional register but lacking some of the depth and range of approaches she'd shown in her solo show perhaps. Added to this was a touch of carefully understated electric lead guitar to enhance and add a little edge to the melodies, and some delicate drumming which underpinned things perfectly. This allowed the band to deliver these traditional ballads and covers with a strangely jazzy edge, veering sometimes into a sort of underplayed folk-rock which looked enormous fun to be playing, and their enthusiasm shone through the nerves into a spirited performance. The opening track was dedicated to Bert Jansch, the very recent loss of which seemed to be affecting a surprising number of younger Scottish musicians too, with many having regarded him as a presence in their earliest musical memories it seems. His style and spirit live on in The Magick Circle particularly, and their sensitive but individual take on traditional songs seems to continue the tradition admirably.
With the audience swelled by latecomers, a surprising number of which managed to miss the start of the set entirely, Bill Wells and Aidan Moffat took to the stage. With Wells ensconced behind his piano, the remainder of the band consisted of a trumpet player, a violinist and a double-bass player. With Moffat stationed behind a small collection of percussion instruments, the band swung into a surprisingly full-sounding groove, led by the remarkable piano playing from Wells. Despite Aidan recovering from a cold and having dosed himself up on remedies prior to the show, he was in fine voice - his unconventional Falkirk drawl having softened over the years since I last saw him sing live, becoming a warm and sometimes rather sentimental delivery. Much of the recent "Everthing's Getting Older" album was played and received a very warm response too, not least for "The Copper Top" which became an even more affecting rumination on age and change in this setting. Also played, and I understand from a forthcoming EP, was Bananarama's "Cruel Summer". Given a regretful and rather downbeat treatment, the bones of the song were revealed with a darker edge than perhaps expected given the tone of the original. Afterwards Moffat speculated on whether much of the audience would remember Bananarama? Looking around, I'm not sure many of them would remember Arab Strap to be honest!
Having experienced a rather staid, typically 'arts centre' type crowd here before, it was heartening to see a little banter developing between the stage and the audience tonight. As the band began a new song with a Halloween costume party theme, there was an outbreak of laughter which put Aidan completely off his stroke, exclaiming that Paisley was "easily pleased". I won't explain it here, because I don't want to ruin the moment when this song finally gets a release, but suffice to say it's a classic Aidan Moffat moment where bad life choices, illicit sex, religion and deceit collide. The new material is just as affecting and keenly observed as that on the recent album, with new stories on the old themes aplenty. By the end of the set, the audience just didn't want the band to leave - and I noted that Moffat had turned this not always comfortable auditorium's shortcomings to his advantage by narrowing the gap between audience and performer. No mean feat with these audiences, and testament to both his skills as a storyteller and Wells's remarkable talent as a composer and arranger of backdrops which give Moffat the space to develop his tiny, sometimes harrowing dramas.
It's difficult to describe just how moving and heartening tonight's performance was, and how well this music works in a live setting despite it's quiet, reflective nature. The simple instrumentation suited the setting and the material perfectly, and the intimacy of it's tone worked incredibly well here. My journey back to Glasgow was full of all the usual spectacle which a late evening here produces, and it was hard not to see some of this through the storyteller's eyes. Maybe I'm just getting older, and as the song says after all, everything is...