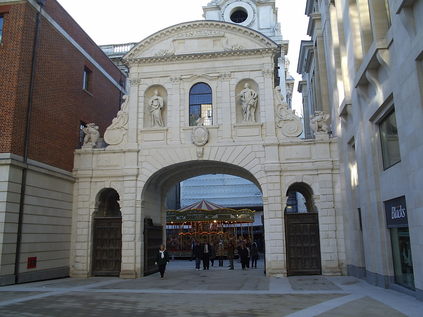 Posted in London on Saturday 13th November 2004 at 11:12pm
---
Woke early to a freezing but clear morning. Out on the 0640 with pet power car 43130 'Sulis Minerva' behind us. Sun came up somewhere along the way, and it seemed like a dry and bright day was in store. Perfect weather for the planned events!

Directly onto a delayed Circle Line and to Blackfriars for coffee. Watched the City getting ready for showtime for a while, then headed to Paternoster Square to see Temple Bar, newly restored to London after 130 years in Theobald's Park. Got some pictures before things became too busy.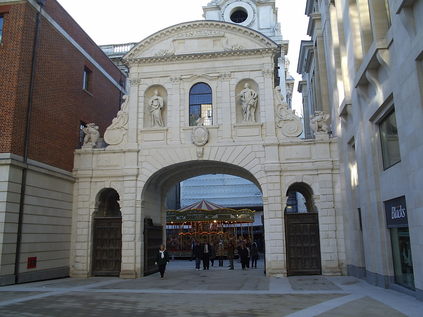 The completed development at Paternoster Square is an improvement on previous efforts in the area. The large public space also contains a pillar representing one designed by Inigo Jones for Old St. Pauls which is in fact a ventilation shaft for the New Stock Exchange underground parking.
Assumed my spot on Ludgate Hill for the Show. Very chilly. I attempted to help some Spanish tourists to understand what was happening, and they stayed to see the whole procession - even the 'Gibraltar British Anniversary' float which they accepted with some discomfort but good grace! As ever, a strange mix of military bands, financiers on rollerskates, many Mini Coopers, community project floats and pageantry of ancient significance.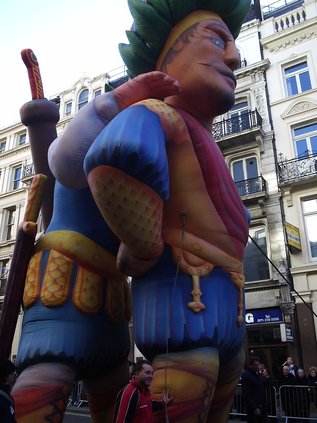 I enjoyed events a great deal - certainly more than last year when I wasn't feeling up to par, and was concious of others' disappointment for much of the time. Even a family more intent on sharing out their extensive picnic despite fingers too cold to open the packages couldn't dampen my enthusiasm. Highlights as ever were the Livery Companies and the passing of the new Lord Mayor himself on the way to swear an oath at the Royal Courts of Justice.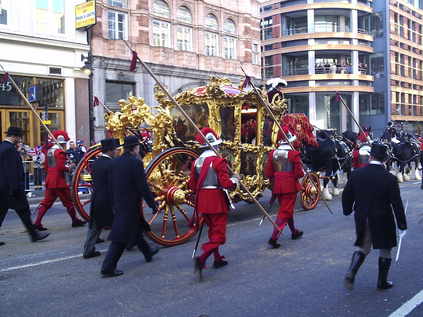 After the show had passed, had a cold and rather forlorn lunch break in Abchurch Yard before heading south to visit the George Inn - a fine old galleried inn which remains a pub today. The inn was beloved of William Kent who wrote a small pamphlet on its history. Amazing to find such a strange anachronism a step off the unrelentingly busy Borough High Street. One to visit again soon.
Back over London Bridge to briefly visit St. Stephen Walbrook and watch the tail end of the returning parade arriving at Mansion House. Then over to 1 Poultry to join a City of London walk organised by the Corporation. Very popular, with large groups setting off every few minutes. Our guide was friendly and knowledgeable, if a little overawed at such a large group. We made a quick sweep through the city via the fine Adam houses in Frederick's Place, the Guildhall, Cheapside, St. Paul's, Old Bailey and Blackfriars. Thoroughly enjoyed the walk, which touched on many things I'd discovered myself. It's always good to have things confirmed and to hear a new perspective on the City.
From Blackfriars, got more much needed hot coffee and headed onto Victoria Embankment. Soon after the Lord Mayor's car sped by, and the incredible firework display was underway. Fifteen minutes of the most impressive pyrotechnics I've seen in a long time. Huge crowds too. Decided to head north to avoid the departing audience, via Smithfield to Farringdon and thence Paddington.
Since the restaurant I'd hoped to visit was busy, searched for an alternative and found frankly very little. Settled for a small Indian place which led to perhaps the oddest culinary experience of my life! I have to say the food was fine, sensible portions of tasty food at (by London standards) reasonable prices. The bathroom however was in a flooded basement, which by all accounts had been underwater for some time. On paying I was told that the credit card machine was "out of use". Having no cash I was invited to accompany the waiter to a nearby ATM. I paid him in the street with much handshaking and apologising for the inconvenience. Very odd evening.
Steadied my nerves with a pint of Adnams Broadside in the Dickens Tavern. Noted with some dismay a bunch of American tourists who'd been in for food and beer taking pictures of the pub. I can only hope it was for a "this is where we ate" conversation and not because they thought that Charles Dickens had anything to do with a place he patently didn't. Sleepily returned to Paddington for a quiet journey home in First Class.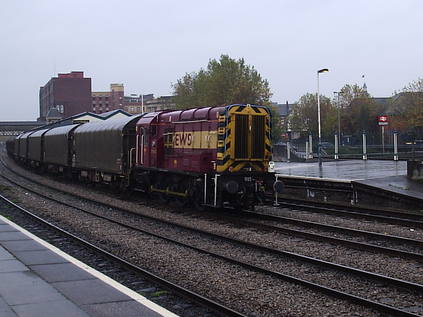 Posted in Railways on Saturday 6th November 2004 at 9:58pm
---
Up early today, since the ongoing engineering works between Cheltenham and Birmingham have made it hard to get to Gloucester at a sensible hour. Out on the 0640 to Bristol, and then to Gloucester. Time to wander into town for coffee and breakfast before returning for the first haulage of the day.

Arrived to find that the expected Class 37 top and tailed rugby special was late - things were going badly wrong in South Wales. Firstly 37422 had failed on a westbound freight. A 37 had also failed on the Rhymney service, but was later fixed despite rumours of a no-heat tractor going to the rescue. No wonder then that our incoming 0810 from Cardiff was late. Thundered in, with 37418 at the head and 67026 at the rear.

Went as far as Newport, and decided to hop off to see what was happening. Class 60s on the move at Godfrey Road, rescued 37422 passing, 67 hauled Rugby specials, and 09015 on a Llanwern-ADJ trip.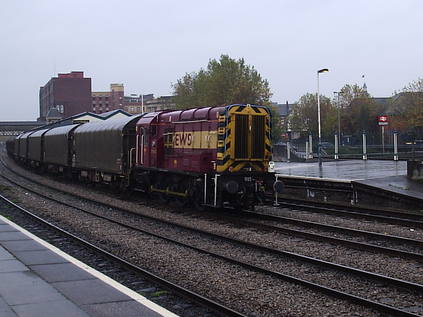 Hung around for the return of 37418/67026 to Cardiff. Up and back, on a surprisingly lightly loaded service. Went as far as Cardiff this time and spent an hour or so watching activities and comparing notes with fellow platform-enders who'd travelled quite a distance for today's events. Bizarre misunderstanding where a member of 'security' staff interpreted the 'Passengers must not cross the line' notices as referring to an imaginary parallel which he'd devised. Cries of 'Get back over the line!' being met with blank stares and general merriment.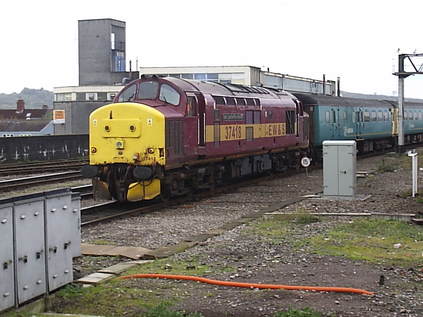 Once the match had begun and things were quieter, headed back to a damp and miserable Bristol. Went for a pint of Butcombe to pass the time. Onto the 1723 back to Cardiff, which deposited me into a massive crowd of rugby fans. A London service in particular was wedged solid on leaving. Wondered how crowded the 1900 would be? Weirdly, after witnessing the
devastation
of a football match in Cardiff, I was struck by how generally well-behaved the rugby fans were. In fact, I witnessed only a minor domestic where a female South Africa supporter took a shine to a Wales fan and closed the doors of a Pembroke Dock service to prevent her boyfriend getting on. These things happen, so I'm told!
The 1900 relief to Westbury arrived 22 late due to a missing guard. Relieved to see some other Class 31 bashers around prior to its arrival. Not disappointed - 31128 and 31454 arrived on what might well be their last Wessex performance. Faulty electrics in the leading coach meant we got to see many firework displays in perfect conditions on the journey back to Bristol. Somewhere along the way, joining cranks reported the devastating news of unfolding events on 1C92 at Ufton Nervet. Called my parents to reassure them I was nowhere near, and listened with horror as more news arrived. Early insider info from better connected people than I point to a deliberate act, which is almost too horrible for words. It was oddly comforting to be among so many railway workers and enthusiasts at such a strange time. Headed home from Bristol, in rather a subdued and reflective mood after a varied and interesting day.

Posted in Updates on Wednesday 3rd November 2004 at 7:32am
---
The older I get, the less confidence I have in democracy. I suspect that roughly 48% of the US voting public feels similarly just now. Of course, as I write all is not lost for the Kerry/Edwards campaign and all eyes are on Ohio - but in fairness it's not looking good.

Over the last couple of months of hysteria, I've heard from two separate friends with relatives in the US how their families were doggedly, almost obsessively pro-Bush. I sense that neither of these families would have materially suffered under a Democrat president, but there is some unspoken fear of the unknown at play. The Bush 'just about holding on to the reins' style of leadership seems to fit perfectly with the 'America Under Sieige' mentality he has created. Its as if he is saying "look folks, I can't hold this door shut for much longer - you guys enjoy four more years of paranoid insularity while I keep the bad guys at bay". So many Bush voters seem to have ignored the key questions yet again - who are the bad guys, where are they, and why do they care about us?

Four years ago, when the genetic strand of democratic socialism was perhaps still stronger in me, I proclaimed that the end of the world was nigh under Bush Jr. Perhaps it's really just democracy that is going to end - that twisted idea that a lucky break represents a mandate, and that a baffled, mislead public can effectively choose its leaders?