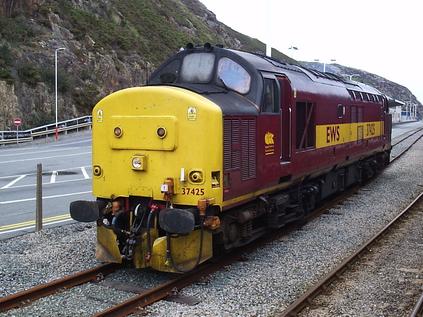 Posted in Railways on Saturday 11th September 2004 at 9:14pm
---
Up early to perform cat-feeding duties after a fitful night of sleep. Decided that I needed to go in search of some haulage today, since I'll be in London next weekend. Opted for another attempt on the Fishguard trip, with a cautious option of Rhymney if all else failed.

So, started with a ticket as far as Cardiff Central. A bit of an extended wait at Weston for the 0809 due to my bad planning. Onto an ex-CrossCountry 158747 at Bristol - myself and some fellow enthusiasts being ensconced in the declassified First Class section. Made it to Newport, where the brake wouldn't release. After some valiant efforts, the driver sent us over to get the Arriva service signalled into platform 1 and waiting to depart. Considered waiting for the 0944 Swansea HST, but wasn't convinced I'd make the Fishguard service if I stalled.

Into Cardiff in good time. Turned out our crew were going onto the Fishguard, and since it was off platform 7 it was clearly loco hauled. Quick dash to ticket office, shop and back to platform in time to see 37422 on the Rhymney, and then a surprise - our rescuer from last Saturday 37425 on the Fishguard!

Perhaps it was a little too soon to do this trip again, or maybe just a lack of sleep resulted in me dozing quite often during the outbound journey. Passed through variations of weather from fine late summer sun, to decidedly autumnal wind and rain storms. Quick, timely run - with a few of the annoying slowings and stops associated with the odd timings on this train.

Alighted to watch 37425 run around the stock at Fishguard Harbour. Got some rather better shots than last time.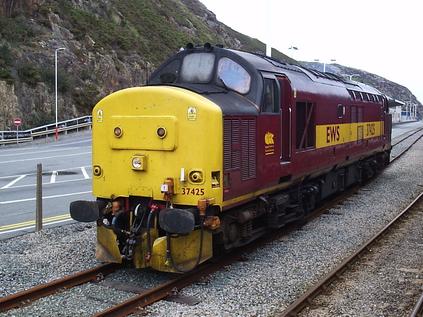 Again, an unremarkable journey back despite a false start, sudden stop and wonderfully noisy standing restart. All this drama taking place with the train half way over the level crossing! 37425 performed faultlessly throughout the journey once again. Our arrival at Bridgend, and my time to alight coincided with a truly huge rainstorm!
A couple of short hops back to Bristol, via a change at Cardiff onto 158817 and 158867. These units divided at Bristol, with our front half heading on as the 1725 to Weston, and the rear heading for Westbury. Both units wedged solid after splitting, with plenty of passengers milling about wondering what to do on the platform! Absolute chaos with people utterly failing to understand simple instructions. Quite a large rugby crowd to confuse things further. By the time we reached Weston I spotted seven people in one coach alone who were anxiously looking to head back to Bristol having caught the wrong part of the train. In fairness to Wessex, the split was announced before we arrived in Bristol, after the units divided and again before the off! How would these people cope in the South East?
Lost::MikeGTN
I've had a home on the web for more years than I care to remember, and a few kind souls persuade me it's worth persisting with keeping it updated. This current incarnation of the site is centred around the blog posts which began back in 1999 as 'the daylog' and continued through my travels and tribulations during the following years.
I don't get out and about nearly as much these days, but I do try to record significant events and trips for posterity. You may also have arrived here by following the trail to my former music blog Songs Heard On Fast Trains. That content is preserved here too.
Navigate Lost::MikeGTN Find articles by category
Search Lost::MikeGTN
Other Places...