Posted in SHOFT on Wednesday 28th September 2011 at 10:09pm
---
One of the side-effects of the computer catastrophe here has been the inability to buy music. Given that times are tight, and it's difficult to squeeze another notch on the belt, this isn't all bad - but it did delay my access to two eagerly awaited releases.
King Creosote & Jon Hopkins - Honest Words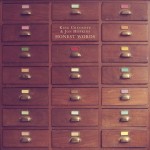 And as if to tease me for my reliance on soulless, compressed digital products,
King Creosote & Jon Hopkins
's "Honest Words" slides in against a backdrop of tape hiss. Almost immediately,
King Creosote
's voice ascends into gorgeous, clear high notes while
Hopkins
provides a dramatic backing based around a sonorous, doom-laden organ which eventually dissolves into a twinkle of shattered electronics. The lyric is intriguing as once again
Kenny Anderson
elects to demolish the 'fourth wall' and bring the listener in on the songwriting craft. Listening to him singing about the process and the pain of writing is a little voyeuristic, a distant ache in the third person. As the song ends, the cycle begins again as the backing fades leaving
Kenny
rewriting his own ending.
Supporting this King Creosote tradition of revisiting and reworking songs in new situations and contexts, the next two tracks take the rewriting process of "Honest Words" as a model. "Aurora Boring Alias" originated on the "Love + Hate = Hate" collaboration with HMS Ginafore and here is supported by a surprisingly gentle, almost absent touch of atmospherics from Jon Hopkins. Just a music box piano tinkling and the subtlest of drones shimmer in the background whilst Kenny floors me once again with one of those lyrics which grasp a mood and hold it up for inspection as he intones "a magnet at my very core pulls me northwards". With eyes turned skyward the song agains becomes self-referential with the revealingly honest claim that 'I'm aware it's me that I describe in code'. Finally a reworking of a recent reworking features in "Bats In The Attic (Unravelled)". I've never quite shaken off my love of this "Bits of Strange" song in any of it's forms, but here it becomes a gentle but powerfully phrased construction. A bit of regret, a little bitterness, some bile even. The simple melody here is reduced to a background shimmer and a quiet clanking rhythm drives the song onwards. Stripped back to this degree, King Creosote's voice is revealed even more than usual as a delight. My only sorrow is at the loss of the line about "Fife council" before song echoes away, fittingly into nothing.
The critical acclaim which "Diamond Mine" has enjoyed seems to have caught this unlikely duo completely unawares, but this brief addendum to their slight but affecting and already much loved canon continues the story. I hope there is more, because I genuinely don't think I'll ever tire of listening to them.

King Creosote & John Hopkins - Honest Words
"Honest Words" is available from Amazon, iTunes and local record stores near you.
Mogwai - Earth Division EP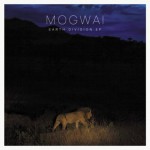 Coming surprisingly soon after the superbly titled "Hardcore Will Never Die But You Will" album earlier this year, I had something of a sense of dread about this EP. Often these rapid follow-up releases are nothing better than studio-floor salvages, and I didn't want that to happen to a band which has been part of my musical landscape for more years than I cared to remember. I need not have worried, because "Earth Division" is a work made entirely on it's own terms. "Get To France" opens, with poise and tension which would ideally grace the opening titles of a movie. An insistent piano refrain echoing with noirish portent. If this is the opening scene, then the closing credits could easily be delivered over the wistful and delicate "Hound of Winter". It's rare a
Mogwai
track features vocals in the traditional sense, but here they are just that - and allied to a surprisingly gentle folk melody complete with harmonica and accordion. The lightest wash of strings fade in and out of the track, occasionally delivering the kind of life-affirming lifts in mood which I've always associated with the band, even at their most uncompromising and impenetrable.
And that is perhaps where "Drunk and Crazy" comes in...never has a song been more appropriately named as a shuddering low fidelity rhythm stutters in behind distorted guitars and a sheen of white noise which suddenly, almost clumsily gives way to an unexpected and beautiful string quartet mid-track. A stark piano accompaniment picks out the melody which just about survives from the opening section, and eventually the two halves of the track are reunited in a jagged but epic closing section. This is uplifting, wide-screen brilliance which builds on the more varied textures of the recent album by reuniting them with Mogwai's sense of the dramatic and absurdly epic which were less in evidence on "Hardcore...". Finally, the sombre "Does This Always Happen?" strips the instrumentation back to strings and piano, with a delicate and considered weave of guitar and bass slinking in mid-track. The insistent melody, the atmospheric strings, the spacious and dignified ending signify the new Mogwai. No need for explosions or hackneyed post-rock loud/quiet cliches. This is the sound of a band confident in it's own skin. Experimental and inventive, but utterly, compellingly beautiful.

Mogwai - Does This Always Happen?
You can purchase the "Earth Division EP" from Amazon or iTunes.