Posted in SHOFT on Sunday 2nd October 2011 at 6:10pm
---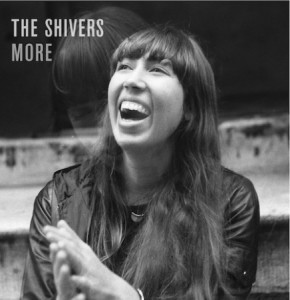 There are some record labels where it's safe to take a punt on a new release - either because they've established a reputation over the years, or because in my experience I appear to have similar enough taste to the people running the show that I'm going to at least be interested in what they're doing. One of these of course is Fence. While their release schedule is slower and steadier now than it was in the heady days of the past, everything they choose to release has a link to their frontier spirit and an utter indifference to the prevailing winds of fashion. Having said this, I was a little wary of The Shivers at first - were they just too far off the Fence map to fit? How indeed had this New York based outfit come to rest on the Fife shores? Or was it just a sense of unease about one of those band names which suggests some sort of bland, US mainstream friendly indie-rock. Well, on the early evidence it's fair to say that my suspicions are entirely unfounded.
Any band with a good backstory is going to grab my attention, and their tale is a compelling one - telling how Australian Jo Schornikow was so moved by the simple, affecting songs she heard New York native Keith Zarriello play that she upped sticks and relocated to play organ and sing in The Shivers. This becomes entirely believable as "More" begins to unfurl itself on my turntable, and Zarriello's simple but direct approach to tugging heartstrings is revealed. He does this through the medium of timeless, classic pop songs which have little regard for where in the last four decades they seem to originate. Sometimes, as the organ churns away low down in the mix he sounds like a revitalised Bob Dylan free of the decades of being a jaded spokesman for a generation. At other times he takes on the swagger of cynical Lou Reed, spinning arch lyrics and coming on like he knows it all to beat down the bile and sorrow. Put simply, the gamut of American music history underpins these songs and The Shivers major accomplishment is managing to channel it's wayward spirit into this record. If this suggests that this is a mixed bag, that wouldn't be inaccurate - but the album manages to blend styles and genres seamlessly by sheer force of personality.
An early highlight is "Irrational Love", a staccato tick of drums, and rumbling bass and organ introduces the track which jerks and stutters into a soaring chorus with Zarriello's voice stretching for the notes - and in the face of his romantic tragedies somehow recalling the defiant swagger of Springsteen at his strutting early finest. No sooner has this incongruously joyous romp of a track shuffled away and "Kisses" changes tack with its organ-drenched, tense urban blues which appears to have teleported in from the late sixties. Once again Zarriello's voice mutates from a mumble into a pained moan, and his delicate splashes of guitar augment Schornikow's organ work wonderfully. There's a special moment here where the organ mimics Zarriello's choppy vocal delivery, before launching into a wonderfully atmospheric swirling solo. By "Used To Be" the band have skipped forward a decade or two in the East Coast canon, and the track is a tight, focused synth-heavy burst of New Wave pop. Zarriello's voice drops to a compressed snarl while the playful melody jitters and scuffles around him. A ridiculous but perfectly-placed one string guitar solo leads into the incredibly catchy ending where the synths dance around the jangling guitars. In complete contrast "Two Solitudes" harks back to Schornikow's former life as a church organist, as sepulchral notes create an uncharacteristically downbeat atmosphere. Zarriello's broken, pained falsetto is delivered apparently from the next room, buried deep in the gloomy folds of organ. The Shivers manage to invoke Leonard Cohen on the folky, delicate "Silent Weapons Are For Quiet Wars". Just enough support from a clipped, formal piano and trills of military drums while Zarriello intones dense, detailed lyrics. There are hints here of the slight political edge which the band occasionally entertains - never overt, but enough to hint that it's not possible just now to be a US musician without a nod to the growing gulf in their society. However, The Shivers do their bit to bridge this with the joyous, universal pop of "Love Is In The Air" with its low-budget soul stylings and soaring broken vocal.
The sheer diversity of approaches employed by The Shivers on "More" belies the fact that this is essentially the work of a duo, and if anything the minimalism instils a discipline which keeps this a tight, focused record. It's fair to say that over the course of "More" they shamelessly plunder the finer moments of American pop's recent history, but it's done with genuine affection and reverence - and never feels contrived or affected. This is an aching, damaged-at-heart record in many ways with more than a little bitterness at its core, and there is a sense that all the sweet soundtracks and upbeat moments can't quite rescue it from it's lovesickness. However, it's also just the kind of music you'd hear on the radio every single day if there was any justice.
The Shivers UK debut album "More" is available from the Fence Records webshop, along with any of their usual stockists. The rather wonderful sounding vinyl LP is accompanied by a CD of the tracks. A UK tour is to follow in October and November 2011.
Song's Heard on Fast Trains is also pleased to announce exclusively that The Shivers will also be part of the line-up of Hooops #3 at The Louisiana, Bristol on 10th November.

The Shivers - Irrational Love