Posted in SHOFT on Wednesday 5th October 2011 at 10:10am
---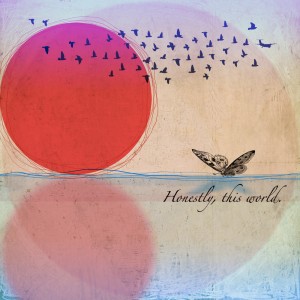 As the summer, and indeed it's slight return begin to fade into memory, the music industry is starting to wake from it's slumbers once again. Amidst the plethora of fairly high profile releases which seem to be tumbling out during October is an understated gem of a record which, were it not for the other activities of it's members and the flurry of entirely justified critical acclaim, might go criminally unheeded. This is The Moth & The Mirror. Formed from various bits of Frightened Rabbit, Admiral Fallow and Reindeer Section among others and loosely pulled together around The Boy Who Trapped The Sun before he decamped south for fame and fortune, the band centres on the vocal talents of Stacey Sievwright, alongside Gordon Skene and Louis Abbot. But this isn't a record made by a disparate bunch of musicians filling in down-time in their day jobs with a low-key project - The Moth & The Mirror look, feel and most importantly sound like a band in their own right, and "Honestly, This World" is something pretty special which sits more than comfortably alongside anything the musicians involved have done elsewhere.
Opening with "Everyone I Know", the prevailing mood of the album is set early on. Gentle melodies grapple with a robust rhythm section and swirling atmospherics. This effortlessly slide into a huge crashing guitar riff - no slow build-ups or time wasted noodling for The Moth & The Mirror - they clearly mean business. A delightful duet of boy/girl voices and lots of tinkling and dancing glockenspiels appear, and I'm beginning to wonder if the band have slipped their entire repertoire into this first track. Despite her sometimes quiet, delicate delivery Stacey Sievwright is never quite drowned about by the band even at full volume, until she barely whispers "I don't have the heart for this" before a final thunderous blast. Louis Abbot shares the vocals on "Fire", delivering a more upbeat track with slashes of noisy guitar and heart-warming, blissful harmonies as the pace and volume crank up.
The tense, acoustic opening of "Boxes" is all childlike innocence - keeping the bad things under the bed. But we all know that strategy never works, and in a strange twist they escape as Stacey's voice mutates into a Kristen Hersh like howl of desperation and madness. Alongside odd, off-kilter rhythms and squalling, discordant noise this is epic - but damaged and a little overwhelming too. Then just as unexpectedly it's back to the gentle tinkling opening. This is unnerving, unhinged brilliance. More complex rhythms and mariachi trumpets are allied to a jazzy vocal delivery on "Beautiful Creature". A song built of several parts with moods, perhaps even personalities of their own as it merges into title track "Honestly, This World". As an almost welcome relief, the band swing into the spiralling woodwind and surprisingly formal rhythms of "Hope is an Anchor" which strikes by far one of the most optimistic notes on the record. This middle section of the record displays Stacey's skill as a character actor - capable of becoming any one of myriad voices and veering from pensive child to slighted, dangerous ex-lover. It's as impressive as it is disturbing. That the band manage to produce the dramatic shifts of mood needed to support this is nothing short of miraculous.
I probably don't need to expand on my previous thoughts on "Germany" (a new Headron remix of which is below for your listening pleasure) except perhaps to remark on how, in the context of this album, it fits so perfectly. Its choppy, upbeat exuberance and ridiculously infectious nature slipping effortlessly into "Honestly, This World" alongside all the other curious stylistic shifts and surprising turns of musical phrase. Quiet different again, "Closing Doors" is an early-morning ballad of dejection and resignation, the achingly dull and commonplace turned into a love song for a lost home while the soundtrack to real life echoes and shudders in the background. It's a common enough theme perhaps, but rarely so neatly encapsulated without undue melodrama or overwrought emotion. Stripped back to some of the simplest music on the entire record, this is a reminder that we're dealing with an entire band full of talented songwriters here. Finally, "Oceans and Waves" sweeps in. A majestic closing epic full of grinding, swooping guitars and washes of quiet melody. The record closes as quietly and unassumingly as it opens, and you're left wondering if what came in-between those whispered bookends really happened?
It's easy to trot out the line that The Moth & The Mirror are something of a Scottish supergroup - I'm guilty myself - and there is always the worry that this will become their albatross. It would be the greatest shame if this record bypassed judgement on it's own terms, because the bottom line is that if you come expecting to hear some thread of one of the constituent parts, you'll miss out on the whole frankly amazing package. Having said that, there's much in the complexities of the band's lineage and their individual journeys to the present day which makes this a rich, complex and sometimes overwhelming brew. "Honestly, This World" presents the lazy blogger with a problem - it's just so unlike anything else that it evades easily tripped-off comparisons. I sense it's one of those albums which will only reveal it's full potential over time - but for now it's a dramatic, imposing and breathtaking debut.
The Moth & The Mirror's debut album is released on the always surprising and eclectic Olive Grove Records on 7th November. The single "Germany" is available now, backed with a fantastic Strike The Colours remix.

The Moth & The Mirror - Germany (Headron Remix)