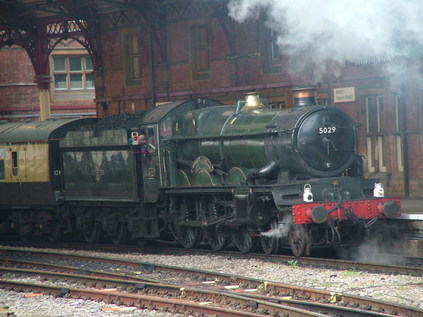 Posted in Railways on Monday 28th March 2005 at 7:47pm
---
As I managed to get out during the week, and since I'll soon be spending an extended period on the rails, I've not minded being busy elsewhere. Plan to photograph passing permenant way trains at Taunton on Friday was cut short by a water leak at the flat, and I spent most of Saturday and Sunday with family. Decided today then to take a quick spin around my local area.

Since it's usually quiet hereabouts on Bank Holidays where rail is concerned, planned my wanderings around the arrivals of 5029 'Nunney Castle' working this year's set of 'Avon Branch Explorer' tours. Sort of wish I'd booked on to the last couple of trips of the day, since one was routed via St. Phillips Marsh, and the other was a fast run down to Taunton. Arrived at Bristol on the 0832 from Weston, just in time to see 67012 haul the stock in. Soon after, Nunney Castle appeared from the mist.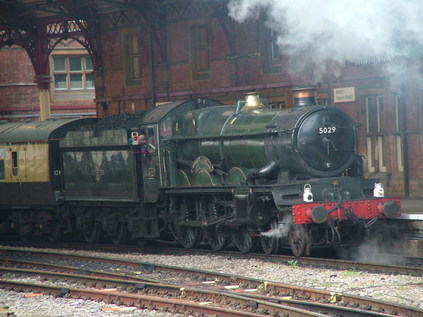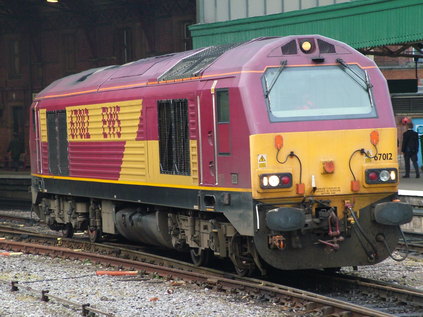 Left for Westbury on the delayed 0922. Intended to make a quick survey at Westbury before heading back to Newport, but the delay kept me there for around an hour. Very misty and eerily quiet. 66088 passed on a short engineers train, and 60048 set off from the yard leading a convoy of two class 66s and a short rake of ballast wagons. Unit back to Bristol packed solid as ever. On arriving at Temple Meads, fully intended to stay on for Newport but spotted 47829 in its unique 'British Transport Police' livery arriving in the bay near platform 5 having worked a driver training run around Filton and Avonmouth. Disembarked just before departure, and got a couple of shots despite the dull conditions.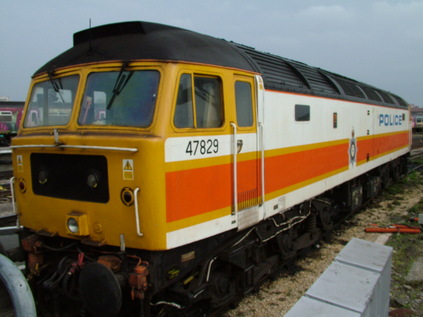 Watched another Nunney Castle departure before heading for Newport where again, not much was happening. Up to Cheltenham - with the sudden appearance of sunshine along the banks of the Severn. Refreshments, then onwards to Swindon via the Stroud Valley. Swindon was perhaps the most utterly forsaken location of the day. It's usually quite a dull spot, but today the silence was oppressive. Glad to head back to Bristol for a pleasant wait in the evening sunshine for Nunney Castle. Chatted to a few regulars, who had been on the earlier steam-hauled trips and said it had been flawless - but not, of course, as eventful as last year when we failed in Tytherington Tunnel.
Back to Weston to pick my way through the aftermath of another Bank Holiday, where a pair of exhausted looking security guards couldn't even manage the effort of asking to see my ticket.
Lost::MikeGTN
I've had a home on the web for more years than I care to remember, and a few kind souls persuade me it's worth persisting with keeping it updated. This current incarnation of the site is centred around the blog posts which began back in 1999 as 'the daylog' and continued through my travels and tribulations during the following years.
I don't get out and about nearly as much these days, but I do try to record significant events and trips for posterity. You may also have arrived here by following the trail to my former music blog Songs Heard On Fast Trains. That content is preserved here too.
Navigate Lost::MikeGTN Find articles by category
Search Lost::MikeGTN
Other Places...