Posted in Updates on Thursday 17th March 2005 at 10:58pm
---
Back from Birmingham where I've been attending Capita's Software Consultation Groups for the Admissions & Transfers product, and its web frontend. Despite some reservations, I found it a really positive process. From the presence of a company director at the meeting, I think even Capita expected some barracking regarding the tight timescales and almost impossible pace of change we've all faced this year. Happily it didn't happen, and it was a constructive if exhaustingly busy couple of days, and I think some of the directions suggested in the SCG will become useful developments, particularly in the area of managing addresses which is a perennial bugbear.

Stayed with my grandmother and uncle for a couple of days during the SCGs. A chance to visit a couple of Redditch pubs and catch up with family news. Quite fun to commute into Birmingham each morning, even if Central Trains rather half-hearted industrial action threatened to cause me a problem on the first morning.

Its been a strange and busy week - I've only really begun to recover from the strange virus which laid me low over the previous week, and Tuesday in particular was exhausting - first session for the CMS course in the morning, into the office for the first time in a week later, then a journey to Birmingham made longer by errant cattle near Flax Bourton and crowds of racegoers at Cheltenham. Its going to be good to get somewhere near back to normal over the weekend.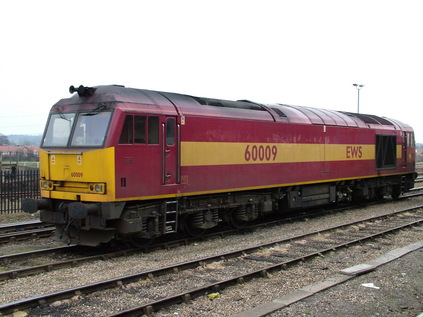 Posted in Railways on Monday 7th March 2005 at 11:25pm
---
The final day of my long weekend, and despite reports that engineering works might run over I found things running smoothly on arrival at the station. A very chilly morning, and to be honest I was feeling less than fantastic. Quite pleased to get aboard the warm, if as ever solidly wedged 0832 Voyager. Equally cold at Bristol where First Great Western staff took their time about opening the doors on the ex-Midland Mainline set.

Plan was to spend most of the day at Didcot, with a diversion to Oxford including a quick pass of Hinksey Yard. Quiet and pleasant trip up to Didcot, where rather unexpectedly a couple of 60s were lurking on my arrival. As I arrived at the end of the platform, a Freightliner working zoomed gracefully around the curve - no chance of a photograph of that one.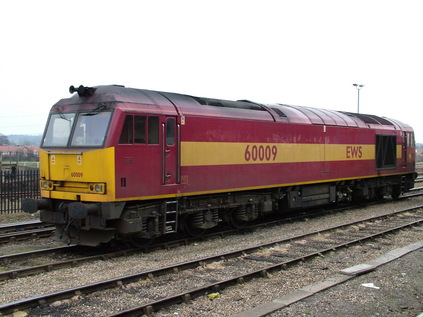 Turbo to Oxford, which was to be frank both dirty and smelly. These units are actually quite solid and useful, but they are in desperate need of internal refurbishment or at the least regular cleaning. All the action at Hinksey was behind the high fence where the stone wagons are loaded, was however lucky enough to see 59201 awaiting the road at Appleford. Busy with delayed Virgin punters at Oxford station, but not much happening. Noted a HST set working Oxford-Paddington fast services. Again, at just the wrong moment 60093 passed by on loaded coal wagons. Took a lunch break here and waited for the next stopper back to Didcot.
The sky was now quite purple-grey and snowy looking, and it was now even colder, but nevertheless found myself a spot and waited for things to happen. Yet again, missed a shot of a northbound liner whilst heading for the end of the platform. Lots more Freightliner activity, including a few moments where there seemed to be green 66s coming from everywhere - including 66604 hauling part of the High Speed Ballast Cleaning kit towards Reading. A regular supply of shunting in the yard, and several terminating and running around movements on arriving coal trains. Managed to get myself into more sensible photographic position but I was suprised to see several workings using the platform 3 line before taking the curve towards Oxford.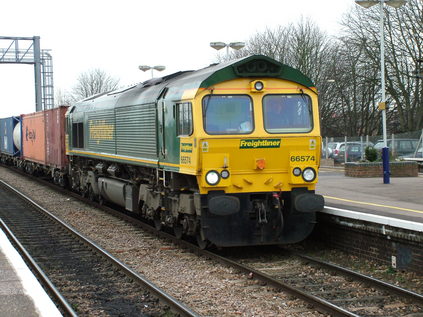 Stayed until an hour later than I'd planned, finally catching the 1512 HST back to Bristol. A very cold day - I'm not sure I've ever actually been more thoroughly frozen, but good to be out after a frustrating weekend. Arrived back on the relaid track of platform 1 at Weston tonight. Ashamed to say I can't feel the difference!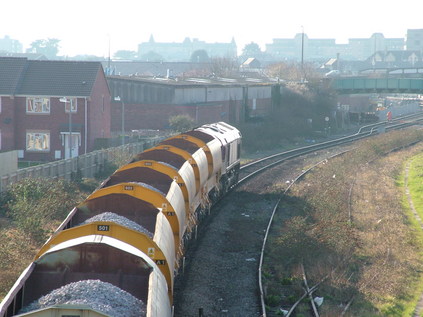 Posted in Railways on Sunday 6th March 2005 at 8:34pm
---
The past few weeks of Sunday line closures between Bristol and Taunton comes to an end today, but only after a weekend of engineering on the Weston loop line. From late on Saturday afternoon, trains stopped calling at Weston and a complicated system began of ferrying passengers to Worle or Yatton to meet trains using the mainline.

On Saturday evening, having heard that two engineers workings from Westbury had entered the loop at Uphill Junction, I went for a very rare walk into Weston. I followed the line southwards, and at the end of Ridgeway Avenue, spotted a light in the distance. Once again, and rather typically this weekend, there was no way I was going to get a photograph. I found 66028 on 6W23 ticking over at a signal just south of the Brighton Road bridge. Vegetation, a deep cutting and no light from the road meant no shot. Spotted more lights in the distance, and set out once again for the Devonshire Road bridge. Plenty of light this time, but the locomotive (60017 on 6W24) was hard by the bridge. I wandered around and when I finally felt I had a possible shot, I noticed that the locals were paying me quite a bit of interest! I decided this was not the time or place to get the camera out, and went home.

Today was a little better - a cold day but bright sunshine. Experienced the coach service to Worle in the morning, almost missing the connection due to a coach driver who 'got lost' between Weston Milton and Weston-super-Mare stations! On coming back into Weston, spotted a rake of Network Rail hoppers sitting east of the possession. Deposited belongings at home, grabbed the camera and set out for the footbridge at Langford road.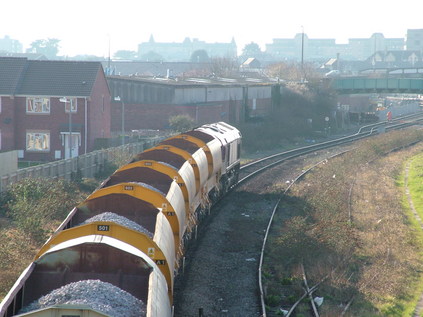 I need not have rushed, when I wandered out to see what was happening at around 20:00, 66189 was in just the same spot, still loaded with fresh ballast. At this point, the work is reportedly two to three hours behind schedule. Will I be going anywhere tomorrow morning after all?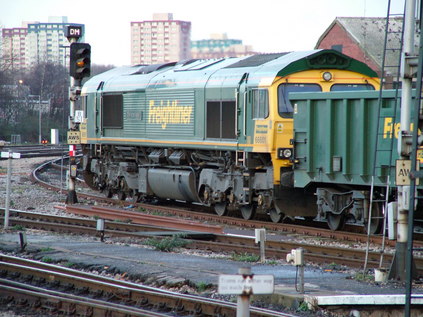 Posted in Railways on Friday 4th March 2005 at 7:46pm
---
Spent much of today trying to think of productive uses for a long weekend of leave practically forced upon me by my deteriorating patience, increasingly difficult temperament and massive amount of outstanding time off. It was too late to find cheap fares to anywhere interesting, and for much of the weekend its buses only out of Weston. So - not a great time to be off work at all.

After a couple of trips into town to complete errands which I'd meant to do all week but which a strange superstition and worry had prevented, I decided to head out in chase of 6Z43 - otherwise known as 'The Stoneliner'. I calculated that I could head it off at 'the pass' of Bristol Temple Meads based on a timing received at Cockwood Harbour! Hardly scientific.

And very nearly wrong. Just a few minutes after I found my way to the cold damp end of platform 7, I was surprised by the sight of Freightliner wagons passing between platforms 11 and 13. I fumbled with the camera and got a poor shot of 66601 disappearing into the sunset, complete with 'Stoneliner' headboards.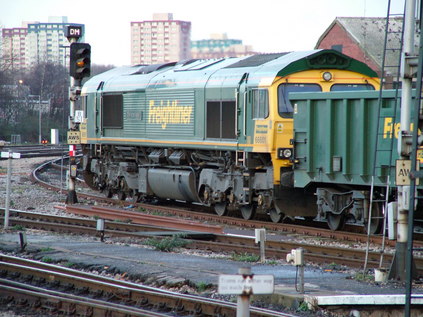 Mulled over the possibility of returning to the warmth of home on the 17:55, but decided the crowds waiting were not a good sign. Instead waited for the 18:19 HST, and whilst waiting again spectacularly failed to get a shot of 47841 passing on the 6X42 Portbury-Mossend car train.
A strange and restless day of being in the wrong place, just after the right time.