Posted in SHOFT on Wednesday 14th March 2012 at 11:03pm
---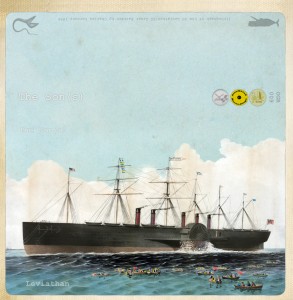 It hardly seems like a year has passed since the mysterious and much anticipated debut album from The Son(s) appeared to an expectant crowd of bloggers who seemed to have been talking about it for a very long time. In that year, having lived with the record through good times and bad, there are songs which have stood the test of longevity with ease, and most often it's those which were perhaps the more downbeat on that otherwise glossy slice of pop perfection which have aged best of all. Way back then I hinted at a touch of Americana in those more wistful, considered pieces on the record - and interestingly considering it's birth in a frozen Edinburgh winter, its hard to find a mention of "Leviathan" which doesn't make some passing hint towards America. This is I suspect, because we just don't make this kind of wide-screen, technicolour music here between our cramped, uneasily polite shores. But if last years debut was the sound of the self-assured west coast, this is the Midwest of broken and deserted places. The glamour here is faded and bitterly contemplating its grand past at the bar, and there are moments where the near-anonymous vocalist and multi-instrumentalist K.P.Son sounds worn down by life and heavily burdened by experience. In short this is another side to The Son(s) which we've perhaps only glimpsed so far. And it's nothing short of wonderful to behold.
Beginning with bright guitar chords and swooning backing vocals, "Roaring Round The House" relates a tale of battening down the hatches and hiding from the world over an incongruously optimistic musical backrdrop. As the tune shuffles gracefully into its stride, I find myself drawing comparisons with The Pernice Brothers quietly soulful finest moments. The songs here are on the whole, surprisingly brief affairs which manage to span a dizzying range of styles and instruments. Delighting in one of the finest song titles yet coined, "If I Hear You Talk Apostrophes Again..." is a wholly different beast. A relentlessly pummelling bassline and knife-sharp guitar slashes support a menacingly troubled Son, apparently out for revenge. It's all swaggering, bravado and implied threat hovering just out of the picture. After a keening guitar solo which has arrived directly from late 70s AM radio, the song closes with a malevolent chant of "When I'm king, you're first against the wall...". There is a return to the shimmering beauty of that debut album on "Cocksure Boys", where Son croons through a tale of the kind of man "who likes taking things apart/but can't put 'em back together". A plucked ukelele, dabs of brass and exotic percussion build the kind of detailed, lovingly constructed soundscape which made The Sons(s) eponymous debut an absolute must-hear on it's release.
Some kind of accommodation is achieved with "Half Lived" where the cracked Americana collides with assured, slick classic rock sounds to produce a slowly simmering anthem of frustration and dismay. Peppered with echoing guitar breaks and swathes of atmospheric keyboard, it's hard not to imagine this soundtracking a lonely night-time driving scene in the movie for which this should undoubtedly be the soundtrack. The more downbeat "Shot Out A Cannon" is a perfect showcase for the range and fractured beauty of the vocals, which climb to seemingly unscalable heights around a sparse arrangement which ebbs and flows gently from the song. Mercurial and lyrically complex, this is the longest piece on the record by virtue of an extended instrumental end section centred on flecks of simple but very effective guitar. By "There Is No-one To Thank" Son sounds redeemed, in control and with his resignation channelled into a bitterness which suits this brief, mostly acoustic finale. Gut-wrenchingly sorrowful guitar lines twine around the vocals, as finally a gentle glockenspiel seems to tap out the closing theme from "We Have All The Time In The World". This is music as last refuge in the style of Mark Eitzel, and as such it is painfully lovely - and so this all too brief EP ends with a tense ache and a sonic shrug of the shoulders as you reach for the bottle and hit play once again.
It's inspiring to hear the progression that "Leviathan" demonstrates, seeing The Son(s) comfortably growing into their unique, layered and detailed sound. But there is a darker twist to the raw material behind these songs, and a sense of disenchantment and regret which lingers around them. For us though this is no bad thing - and while it sounds somewhat uncharitable perhaps, Son's loss is our gain in the form of these six wonderfully crafted, slightly bleak compositions.

The Son(s) - There Is No-One To Thank
The "Leviathan EP" is released by Olive Grove Records on 7th May. Meanwhile you can download a free track from the EP from Soundcloud.