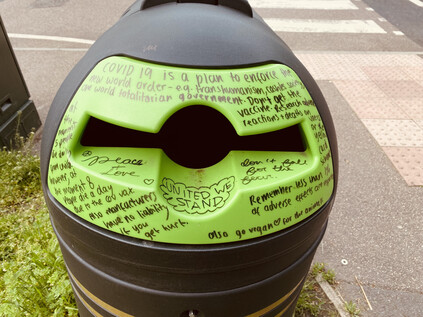 Posted in The Fragments on Sunday 16th October 2022 at 4:10pm
---
By the middle of 2021, life felt like it was returning to normal. At least, a strangely attenuated existence which we were encouraged to regard as the 'new normal'. We took the opportunity to get away to London, to stay in a nice hotel which was heavily discounted, and to indulge our respective passions for fibrecraft and urban tramping. The drive to London was exhilarating, with every service station feeling like a metropolis of masked people waking up, blinking. I had nothing planned for the walk, but something about an early morning start from Liverpool Street has always pulled me towards the edge of Epping Forest. My inclination though was to head west, crossing the Lea and climbing into the Northern Heights.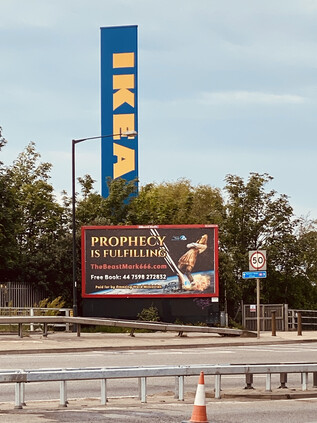 The fragment was written soon after returning from London and stops early on - as I contemplate the swing westward. My photographic record prompts the memory of being pulled into the gravity of the North Circular, crossing the valley where the abandoned Angel Road station was starting to gather a cover of foliage. An apocalyptic hoarding appeared to suggest salvation would come with rocket-powered boots, and possibly Swedish furnishings. I clearly persisted with the walk along the A406, enjoying the reversal of earlier walks, and found myself drawn to the site of Friern Barnet hospital and then on to North Finchley. On the High Road, I supped iced coffee in the now intense heat before deciding to head back to the hotel, my feet unaccustomed to distance or endurance after their long break from regular walking. I'd fallen short of my plan to walk further west, but there would be another opportunity tomorrow when I planned to retrace my steps here despite the predicted heat and head further westwards.
This fragment sounds hopeful against the odds but feels forced. I'm trying too hard to sound like myself. I've lost my walking feet and my voice somewhere in the winter, and I'm pretending. That said, I recall a fraught and strangely urgent walk which was much redeemed by the second leg when I struck out along the Folly Brook, reaching the middle-class dog walker's limit marked as 'End of Gravel' on Google Maps, before returning to civilisation via the site for the former National Institute for Medical Research and bucolic Mill Hill Village.
There are photographs from the weekend here, which included a boat trip west to the emerging Battersea Power Station development.
29th May 2021
Things have changed. As I purposefully strode around the house, readying things for our first trip away in almost a year I felt far less anxious than I have for a long, long time. When I travel alone, I've always been relatively sane - methodical and careful to check things, but essential in proportion to the undertaking. Travelling together though has always been fraught. My concerns are doubled and my anxiety increases exponentially - I put this down to our earliest days and the aching horror of transatlantic distances. But now, we're all programmed to deal with distance. I adjusted surprisingly well to the shift in many ways, although I knew many close to home who struggled desperately. I used the time to focus: to engage properly with therapy, to seek medical help for my strained nerves, and to bury myself in work that had a renewed purpose.
And now we were emerging - a road trip to London, a stay in a fancy hotel which we could only afford because of the desperation of the hospitality industry to find its feet. And for me, the chance to walk in London again. One side effect of my immersion in work was that I had very few plans in hand. It had felt foolish to research itineraries while I'd superstitiously avoided speculating about when I could ever return to London. I pondered this as we stuttered through a snarled section of the M25, before heading south along the Roding Valley. As we soared above the green channel between the suburbs, my much beloved Antihistamine Trail below, I allowed myself to tentatively begin to be optimistic. I would set out early from Liverpool Street despite the many engineering-related closures on the transport network, and I'd see where I ended up. I'd walk west - towards the terrain I'd covered on my tentative return to the city late last summer. I tried to build a narrative around 'reconnecting' or 'unwalking' the journey from home, but I think it was far simpler - I wanted to be reminded about why I'd taken up this pursuit while finding more of the curious corners which kept me returning.
I set out early, a coffee sipped in furtive gulps between lowering my face covering. The day promised overcast skies but dull, throbbing heat. As the largely empty train curved sedately north through Hackney I took a wide scan of the rooftops. It felt exhilarating to see the world from above after a near-uninterrupted year on the flat Somerset plains. I stayed on the train to the end, at Chingford - in part because I still hadn't formulated any specific idea of where to walk, and also because it was so long since I'd travelled by rail and the experience felt oddly soothing. I exited the station into the familiar environs, quiet on a weekend morning, and began walking towards Church Green. The forest shimmered above the rooftops to the north, and while the temptation to step under the cool green canopy once again was strong, the expansive skies of the Lea Valley were calling. I picked up breakfast and paused to eat in the churchyard. The traffic was getting a little busier, with a few more people walking towards the cafés and bakeries. There was a confusing feeling of normality about things - a sense that we'd all woken from a strange dream. I pushed on to the junction with Kings Head Hill, and while I was minded to descend into the broad valley which opened before me, I resisted a little longer and retraced my steps from last summer along Organ Lane. Now it was a narrow path between tumultuous blooms of cow parsley that leaned into the footway. The foliage hung low, creating the feel of an ancient hollow way - a tendency which I'd suspected on my first visit, but which had seemed fanciful in the sparse dry autumn. I emerged to cross the street at Endlebury Road to find a recycling bin covered in carefully written but utterly paranoid anti-vaccine conspiracies. The polemic was signed off with 'peace and love' but promised nothing but death and horror. I wondered whose mind was really closed - mine, as I'd queued sheeplike to receive two doses of AstraZeneca's vaccine, or their decision that humanity couldn't organize to do good in a crisis? With death on my mind, I turned south again towards Chingford Mount Cemetery. It was quiet and cool, the older graves bouncing the emerging morning sun back from their grey faces, while the newer plots with their black marble and gilded lettering gave nothing. Once again, I stuck to the path and headed down towards the valley, the sweep of stones heading north and west as far as the rumbling of buses along Old Church Road.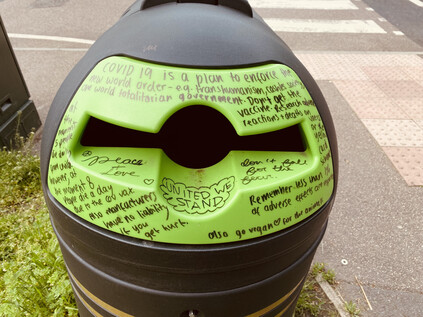 Chingford held a rather special place in my affections - not only had it been the launching point for numerous memorable forest walks but during the earliest days of our restricted, digital existence we'd all faced, the local history society had put on a range of online lectures which had given me a little hope that the places I'd tramped around with a strange sense of reverence still existed out there beyond the screen. I headed south now, through the little town centre of Chingford Mount...