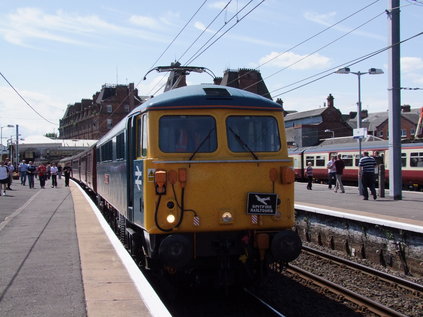 Posted in Railways on Saturday 11th July 2009 at 10:35pm
---
There have been one or two entries here recently which talk about railtours breaking new ground. This one can't claim to be that, as class 87s quietly plied their trade over the West Coast Mainline for many years. However, there was much cause for celebration this evening because the long-planned Spitfire organised trip to Glasgow finally ran as planned!
The day started making the brief dash from my hotel to a wet and murky New Street station which was just waking up. As ever, there wasn't much information on where the tour would be arriving - but as it was booked to sit for 25 minutes, I wasn't too concerned about this. Grabbed breakfast and descended to the platform offered by staff, apparently on a purely speculative basis! Their hunch was right, and I found the stock just coming to a stand - a rather mixed rake of WCRC stock in fact. Headed for the front to have a look at 87002, but was persuaded to stay undercover by the now fairly heavy rain. Instead, found my seat and settled in for what I hoped would be a high-speed, no-nonsense trip northwards.
I wasn't disappointed, and as we sped along via pick-ups at Stafford, Crewe and Warrington, the sky began to clear. With 87002 performing faultlessly and bang on time, there wasn't much to do aside from enjoying the scenery and sneak a little nap in the sunshine. It seemed that in no time at all we were arriving at Carlisle, where a fair number of passengers disembarked for the DRS open day being held at Kingmoor Depot. As we accelerated towards the border, we got a brief glimpse of the festivities and the locos on show at Kingmoor and it appeared to be a fine line-up. However, our target was Glasgow and we flashed past Carstairs very early, missing a booked timing stop which meant a brief dwell in the Up Passenger Loop at Law Junction instead. Back to running on time, we slowed for an always interesting crawl through the suburbs of Glasgow before my favourite part - crossing the Clyde and arriving at Central Station. For once, this happened under blue skies too!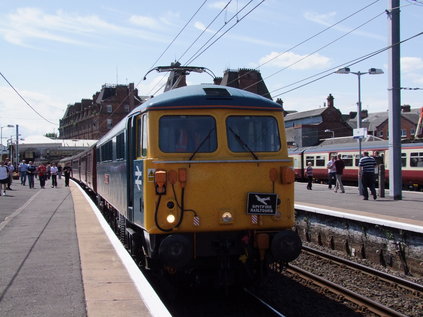 However, there wasn't much time today for sentimental wanderings around my favourite city. The bonus on today's trip was a run out to Ayr - a first for me on a loco-hauled train. Having lugged 47786 with us all the way from the Midlands, it finally got to do some work leading a storming run out to Paisley and then along the coast to Ayr, with the brooding mass of Ailsa Craig looming out of the mist. Arrived for our brief break and after some swift pictures, lounged about chatting in the sun before reboarding. For the return to Central, 87002 would lead - replicating a scene from many years ago when electric loco-hauled Ayr-Euston trains were an everyday occurrence. Unfortunately checked by catching up with a stopping service during the trip back, which meant some slow running and a little delay.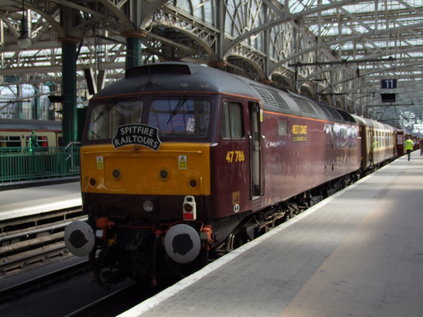 This meant no time at all to waste before today's final bit of bonus mileage. This came in the form of 47786 dragging the train around the Cathcart Circle in order to get 87002 back on the front for our homeward trek. Since last time the problems with 87002 occurred on the turning move, I decided to stay on for this. Not that I would have been any help had problems arisen of course - but my superstitious side convinced me it would be better just to be there. In any case, having done this on a Class 37 a good while back, it would be good to add another type to the list. 47786 made some impressive noise as it curved slowly through the suburban stations, surprising the lazy saturday afternoon stragglers waiting for trains into town. Back into Central in time to stock up on supplies for the homeward trip and have an all too brief walk into the city. Hard to leave after such a short visit, and only possible by promising myself another trip up here soon.
Once out of the suburbs, again using an interesting route via Mount Florida then the connection at Newton East Junction, we were soon travelling at the train's maximum speed of 95mph considering the class 47 we were dragging. Still impressive, and accelerating in particular was quite amazing. Checked briefly at Carlisle due to what appeared to be Police attendance during the pick-up of passengers who had left earlier for Kingmoor and a wander around the city, but soon on the way again and making reasonable time despite following a TransPennine Express stopping service to Preston, due in part to our delay and also to a rather dubious signalling decision. All in all though, a faultless run south, even if the fantastic weather did dissolve into a gloomy drizzle soon after re-entering England!
So, the Electric Scot trip is finally complete, a cycle of improbable tribulations is broken, and 87002 is vindicated. Having said that, I almost hope though that this becomes an annual event - after all, there's still plenty of wired track around Glasgow to explore - and 86101 must be due a spin up here?!