Posted in SHOFT on Sunday 13th February 2011 at 2:02pm
---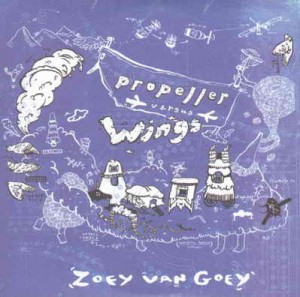 A few years back I wrote a foolishly impassioned entry on my more whimsical and less interesting personal blog about Zoey Van Goey. At that point, two clever and engaging singles into their existence, I knew I'd unearthed something worth watching. Something which seemed to combine the thrill of short, simple pop songs with the storytelling ethic of folk music - but without any of the painful sense of forced tweeness which is usually never far from such efforts. That the band have turned in a joyous, intelligent and almost impossibly varied second album isn't a surprise at all, but it's packed with them from start to finish.
Its plain to hear that Zoey Van Goey still have an embarassment of riches in the vocal department - with Kim Moore's high, clear vocals soaring over Matt Brennan's incredibly flexible voice which lends itself equally to racing, punky pop of "Robot Tyrannosaur" and the tender slide-guitar swooning album-closer "Where It Lands". Singing duties seem to be shared a little more evenly than on the first album, but they still feel most affecting when dueling or duetting - particularly on the gentle, but lyrically entangling "Extremities". The straightforward indie-pop hit on this record - if indeed that's an accurate description of any of these eleven compositions - is surely going to be "Sackville Sun". I've seen some attempts to compare this kindly or otherwise to Belle and Sebastian. I can see the links - but I can't help but feel there's more than a little gentle parody of over-studied art-school songwriters in this song. It descends into a strange Gary Numan-esque finale as Kim imagines what an "eight track of her favourite bands" might sound like, and its impossible not to feel the conspiratorial glee with which the stereotypes are demolished - by the force of unabashed fun and clever lyrics!
The sheer range of instruments and musical styles employed on 'Propeller Versus Wings' keep this record as fresh and surprising as those first two singles I fell in love with. The album opens with a perhaps entirely unexpected squall of mechanical noise as "Mountain on Fire", and works it's way through piano, accordion and all manner of percussion and string accompaniments alongside the usual tools of the modern band. By the time the curious "Another Day Another Disaster" has arrived, the band are indulging in what sounds like a French waltz with a raucous percussion section barely containing it's surfeit of energy for the song's clattering ending. The brass band onslaught of the infectiously clever Matt-led "You Told The Drunks I Knew Karate" needs to be heard to be believed. Zoey Van Goey's strength seems to lie in their ability to turn their hands to almost anything, and to make it strangely, compellingly their own. A small band with an unashamedly sizable talent for writing pop songs shouldn't really have this kind of range at their disposal - but they do. The even better realisation is that they probably have plenty more where this came from.
On "The Cake And Eating It" Kim sings "If it works, then it's probably worth repeating it". It does work, and on this remarkably infectious, clever and entertaining second album they haven't repeated themselves at all.

Zoey Van Goey - Sackville Sun
Lost::MikeGTN
I've had a home on the web for more years than I care to remember, and a few kind souls persuade me it's worth persisting with keeping it updated. This current incarnation of the site is centred around the blog posts which began back in 1999 as 'the daylog' and continued through my travels and tribulations during the following years.
I don't get out and about nearly as much these days, but I do try to record significant events and trips for posterity. You may also have arrived here by following the trail to my former music blog Songs Heard On Fast Trains. That content is preserved here too.
Navigate Lost::MikeGTN Find articles by category
Search Lost::MikeGTN
Other Places...