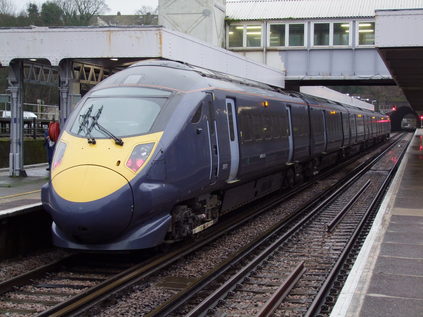 Posted in Railways on Saturday 5th February 2011 at 10:50pm
---
It's become something of a custom that before my jaunts to Scotland, I head south - if only for the personal satisfaction of having travelled almost the entire length of the country in a week or so. This week, I'd booked tickets through to Dover - a journey I'd done relatively recently, but I figured that some rambling around Kent might be an easy way to spend a Saturday before a bigger trip away. Quaggy had planned a visit to London too, and I met him at a ridiculous hour. Luckily, I'm not expected or required to be particularly communicative pre-coffee consumption.From the outset though, today promised to be rather odd. On getting our tickets checked we were told to stay on the unit to Temple Meads as the 06:24 off Weston was cancelled. So, this meant the 07:30 and time for plenty of sustenance at Temple Meads. This didn't alter the plan really, as I'd allowed a fair margin to get to St.Pancras - today wasn't about rushing around the place. On departing Bristol with no hot drinks in the buffet due to "The Catering Curse of Quaggy" all went smoothly until Thingley Junction, where we crossed over to the reversible Down Main. A frantic attempt by the driver to contact the Train Manager and an announcement that we'd be calling at the wrong side of the island platform at Chippenham. Finally back over to the Up Main at Wooton Bassett having only lost about five minutes - due to a properly signalled railway and a sparse early morning service no doubt.
Things got stranger though - approaching Reading an announcement was made that we'd be terminating due to a 'serious incident' between there and Paddington. The alternatives offered were the direct service to Waterloo, or a DMU to Guildford for a fast service in. Found a fairly quiet spot right at the front of an otherwise packed service and took the long, rather slower jaunt via Ascot and Staines into London Waterloo. On arrival, straight onto a 59 bus to St Pancras, arriving possibly in time for the 11:12 to Dover. However, a desire not to run around like a lunatic, plus the intriguing realisation that there was an engineering block near Ramsgate made me pause. Settled instead for a coffee and a chance to re-plan the morning. Some High Speed services were terminating at Minster, and a look at the departures list showed that Dover to Charing Cross units seemed to be doing the same via the PSUL curve at Minster. Decided to head for Ashford for starters and look at the possibilities.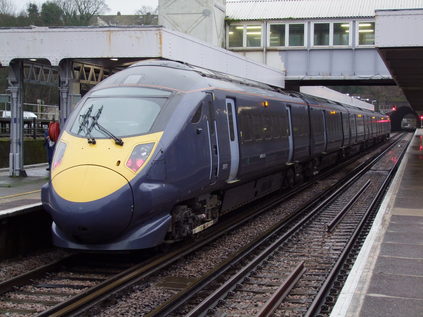 After a very swift run along HS1, arrived at a chilly and windswept Ashford International. The plan had mutated somewhat from the original trip, and now meant we'd take the next unit to Dover for a lunch break. These units were then heading to Minster and back to Charing Cross - so we'd have a roughly hourly opportunity to do the curve. Soon off, passing the yard at Ashford where 66844 was lurking along with some interesting units. Hopped off at Dover to look for food, then realised that Quaggy wasn't there. Having a Standard Class ticket from London to Dover he'd slunk off into Coach B, while my First Advance permitted me to travel up front. Called him, and it seemed he'd misunderstood the instructions and was staying on to Minster! He opted to leap at Deal for lunch, and I hung around Dover for the next service. Took a brief wander into the outskirts of town but rain threatened so I stocked up on provisions and headed back to the station for a coffee and a chance to check the services from Minster. Seemed we'd have a roughly half-hour wait, at what I recalled was a pretty exposed spot!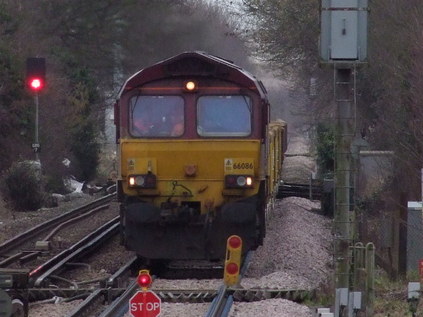 Off to Minster on the 14:02, with a rather disgruntled Quaggy rejoining at Deal. The train duly took the unusual curve into the station, where things were surprisingly busy! With Rail Replacement coaches dumping ex-Ramsgate punters here for onward trips to London, there were a fair few folks around. Services from the west were using the crossover to call wrong line, then heading around the curve towards Dover, and some London trains were terminating here too. Noted 66086 edging it's way out of the possession too, but before it managed to escape our High Speed service arrived ready to head back into the city. Another fast run, with some alarming shuddering in the tunnel sections. Might perhaps have been related to a very strong wind whipping through and causing resistance perhaps? It was certainly pretty breezy! Time for a quick wander around Kings Cross, then a spin from Euston to Harrow and back to have a look at the depots, before taking a bus back to Paddington for the customary 19:00 home.
Today hadn't gone to plan, but I'd ended up doing an elusive bit of line and having a fairly interesting time in Kent once again. The county had always been a bit of a dull spot for me, but in recent times has produced some entertaining jaunts. It's always good to have a prejudice challenged.