Posted in SHOFT on Friday 4th February 2011 at 8:02am
---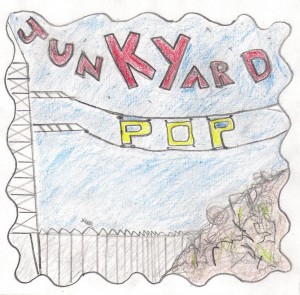 This is probably destined to be an all-too-frequent series of posts where I very publicly catch up on something I should have heard a long time back. Often, things will crop up on the various blogs and podcasts I peruse, and I'll end up thinking I should have followed that link much earlier - especially when there is such a fantastic array of free stuff out there which requires almost no effort or investment to check out. This is just such an item, with Male Pattern Band making this three track EP available for nothing. The great risk of such a strategy is I suppose that people won't value the product in a society where despite times being tight, the idea that you get what you pay for still prevails. That patently isn't always the case as this short but direct and insistent set of songs amply illustrates.
Listening to Male Pattern Band I'm not moved to draw comparisons with their contemporaries at all - there really isn't much which sounds like this right now. In fact, with the solid but melodic rhythm section and sparse guitar work I was moved more towards the clipped US post-punk anthems of Mission of Burma. There is an inevitable nod to Pavement too - in a sense bridging the gap between the 1980s and this frighteningly young band. However, a band hailing from Renfrewshire can't possibly avoid Glasgow's strong magnetic pull, and there is equally a distinct influence from the slew of sorrow-tinged lyricists which the city has produced. This is evident not least in the frequent reference to 'rain' in the three songs here!
Opening with the short but well-crafted Kinks-like pop of 'Raining' the record peaks with 'Wilt' - opening with Chris McCrory's melodic vocals and driven forward by a solid but spiky instrumental backing. The track takes a menacing turn before exploding back into melodic life with a lyric full of regret and bitterness - and lets be honest - that's what we need from music like this with it's sparse, direct and emotional connections. 'Cable and Cloth' is a gentler, more wistful and reflective affair - where a loping synthesised melody and the ubiquitous glockenspiel join the trademark guitar strums and play over a near country-and-western rhythm. Apologies readers, it's much much better than I make it sound! The true test of a record is perhaps how much it reflects the band's live performance, and I hope to get the chance to test this out soon. In the meantime, this EP is finding it's niche on those home-bound commutes after frustrating days - when things don't quite go to plan, but you know you were right all along...
You can read an interview with Male Pattern Band at Glasgow PodcArt's site.

Male Pattern Band - Wilt
Lost::MikeGTN
I've had a home on the web for more years than I care to remember, and a few kind souls persuade me it's worth persisting with keeping it updated. This current incarnation of the site is centred around the blog posts which began back in 1999 as 'the daylog' and continued through my travels and tribulations during the following years.
I don't get out and about nearly as much these days, but I do try to record significant events and trips for posterity. You may also have arrived here by following the trail to my former music blog Songs Heard On Fast Trains. That content is preserved here too.
Navigate Lost::MikeGTN Find articles by category
Search Lost::MikeGTN
Other Places...