Posted in SHOFT on Tuesday 1st February 2011 at 8:02am
---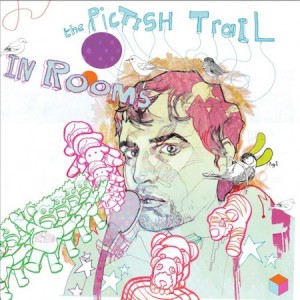 I've written about music intermittently for the past ten years or so, and during that time I've read a fair bit about it too. I've been constantly amazed how often people reviewing things, and I include myself in this, use the phrase 'indescribable'. Is it the ultimate get-out clause perhaps? To suggest that something is beyond the writers comprehension (either as a positive or negative statement) seems a bit of a weak response to challenging art. But some things are difficult to pin down and to glibly describe in a short review - and 'In Rooms' is very much one of those odd things. Born of a challenge laid down by comedienne Josie Long to The Pictish Trail, this record contains fifty songs of exactly thirty seconds duration. This could be a gimmick - it could be a disaster in fact - but what has emerged from this project is a set of fully formed miniature songs. Beautiful works in themselves, and full of the heartbreak and hilarity which Johnny Lynch specialises in - but tiny and detailed. A bit like the toy soldiers your granddad used to paint perhaps.
The album is available as a vinyl only release - a recent Fence policy which is causing me to hunt down a decent USB turntable very much as I type, but there is a concession with this release to a CD-R of the tracks. This isn't to facilitate or appease the digitally-obsessed among us at all - it is in fact to offer the listener the opportunity to hear the tracks in an order of their choice. While Pictish Trail has assembled what he feels is the best running sequence on the vinyl, each CD-R has a different run. In the spirit of this, my first instinct was to hit 'random' and listen. A strange, bewildering and sometimes frustrating experience followed. Songs appeared, the constraints of the timescale meaning that introductions were short. Then a verse and a chorus and they were gone. For some tiny nuggets like 'Sweating Battery Acid' this was just enough - the idea of the song condensed into a thudding electronic pulse made sense. In other cases like the sublime 'Not To Be' its much too quick - and the song could happily have carried on. Indeed, I understand it does when Johnny sings it live - and I wonder how many of these little gems are in fact experiments which will develop further?
However it would be a mistake to think this album is a joke or gimmick - or indeed anything less than a collection of carefully constructed songs like any other. There is wonderful music here to be savoured - ranging from the bizarre and entertaining disco romp of 'My Fizzy Bitz', through the plaintive acoustics of 'Tell Me What Is On Your Mind' to the throbbingly danceable falsetto of 'Arm In' - which has more in common with Johnny's Silver Columns project. Personal favourites include 'Wavelengths' and 'Prequels' which in their short spans manage to summarise the clever, intricate and detailed songwriting which are hallmarks of The Pictish Trail. There are of course, far too many tracks to mention - and the breadth of material means you definitely shouldn't listen to my opinion. Go and buy this soon instead!
In considering this record though, the curious world of Fence Records is also a key factor. There is something warm and encouraging about the ethic at work up in Cellardyke which makes every listener feel like part of a special family - but like all families, there are frustrations and disagreements at times. However, they're soon healed with a talk and a drink, and an invitation to visit. After all, this is nothing that won't be fixed by shelling out on a turntable! However, out of respect for the stance Fence are taking, I'm not going to include an MP3 with this review, as we all know there are clever ways to misappropriate them from media players! No, folks - this is one to discover yourself via the shop at Fence Records. The oddity and novelty of the presentation aside, this record manages to showcase the many and almost impossibly varied talents of Johnny Lynch. Don't let the strangeness put you off - it's time to embrace the Fence and learn to love The Pictish Trail all over again.
Lost::MikeGTN
I've had a home on the web for more years than I care to remember, and a few kind souls persuade me it's worth persisting with keeping it updated. This current incarnation of the site is centred around the blog posts which began back in 1999 as 'the daylog' and continued through my travels and tribulations during the following years.
I don't get out and about nearly as much these days, but I do try to record significant events and trips for posterity. You may also have arrived here by following the trail to my former music blog Songs Heard On Fast Trains. That content is preserved here too.
Navigate Lost::MikeGTN Find articles by category
Search Lost::MikeGTN
Other Places...