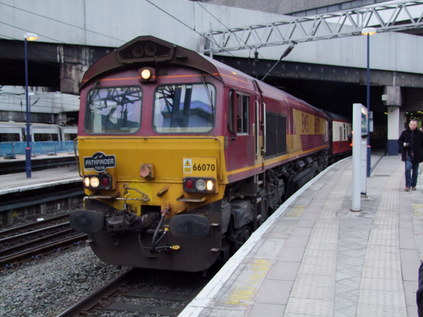 Posted in Railways on Saturday 29th January 2011 at 11:57pm
---
I felt out of practice at this railtour business as I pondered the walk over to Temple Meads for today's festivities. In 2010 I'd done more tours than ever - perhaps even more than was strictly sensible, and it had become almost an everyday occurrence to wake up at a ridiculous hour in a hotel to reach the start of some trip or other. But after the customary break which occurs between December and January, it was actually pretty good to be back - and with an interesting itinerary ahead. My spirits were further gladdened by just catching the catering stall opening in the station too - which meant much needed sustenance was available. As I reached the top of the stairs, the stock was just arriving with 66070 at the helm - a new one for me, which was a fine start to the day - and indeed the year. Found myself seated across from a familiar gent who likes his peace and quiet - so left him to it. Across in the bay of four there was a chap who would make up for the rest of us in the talking stakes - a retired solicitor with lots of interesting stories and thought, but with an incredibly booming voice. I learned to tune this out early, and concentrated on the customary sleepy run up to the Midlands.
One curious feature of this trip was the lack of photo opportunities, a short break for the purpose was booked in Sheffield, but I managed to sneak out at the extended pick-up at Birmingham New Street for a shot of the 66. At International we changed for a pair of BARS Class 31s. It was comforting to see them waiting at Stechford as we passed - so we would at last get more of these on the mainline after a long break! Impossible to get a shot of the pair at the station however, as our long train and two locos took up the entire platform. Also thwarted in getting a decent coffee upstairs too, so paid a visit to the kitchen car which was doing a fine trade. Once underway again we headed through the Birmingham suburbs, passing Bescot Yard and avoiding Wolverhampton to reach Crewe. Here we curved around the back of Basford Hall Yard in order to take the Independent Lines through the 'Muck Hole'. Still a favourite bit of line for me - and lots to see in the yards around here too. We resurfaced beside the Manchester line, which we followed as far as Sandbach where we peeled off to take the slow trundle through Middlewich. Given the increased diversionary use this line now sees, it seems odd that such a slow speed is permitted. Noted the locals had erected mock station signs in the town reading "Middlewich Needs a Station Now".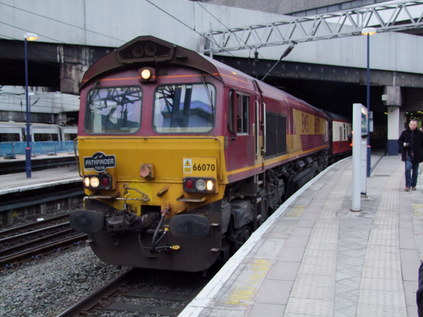 We now entered the confusing tangle of lines around South Manchester which always rather perplex me, despite having fairly frequently used them on tours. First we covered the line to Altrincham, heading east here via Northenden and the freight only link to Hazel Grove. This took us onto the Hope Valley line without getting entangled in the busy routes through Stockport, and we were once again picking up speed and staying pretty much on time. The weather up in the north was bright and cold, which made for fantastic views over Edale as we headed for Sheffield. At Dore and Totley, we came to an abrupt halt - apparently due to a TPWS application. The ensuing delay meant that our booked photo stop disappeared entirely, but we did stick pretty much to time - which meant most of the rare track would be covered in daylight - a bonus at this time of year!
Leaving Sheffield, we reversed and added celebrity locomotive 60099 at Westthorpe - covered on a previous BLS visit before heading through Sheffield on the former Great Central viaduct, passing the near obliterated remains of Sheffield Victoria station. I'd wanted to do this bit of line out to Deepcar for some time, and the views over the city were pretty spectacular in the misty sunshine. The train reached the expected limit outside the exchange sidings, after quite a long run up the valley. A very swift turn around followed, and we headed back down to Woodburn Junction where we turned north towards Tinsley. This line, parallel to the tram route to Meadowhall has also intrigued and confused me in equal measure. Trying to understand the mess of routes around this area and their development over the years is part of my earliest inclination to track bashing. We headed passed the southern curve into the yard, now out of use and very overgrown, and reversed again at Tinsley South Junction to use the northern chord. Once over the level crossing we pressed as far into the yard as possible on what appeared to be the former 'Line 2' according to Quail. The through lines which used to rejoin the 'Old Road' rusted beside us, but there was evidence of a connection into the curiously named Outokumpu steel plant.
Another reversal took us back through Sheffield and into darkness as we headed down the Erewash Valley and through Toton. A couple of final bits of interesting route though as we passed Derby on the goods line and headed right to the buffers in Chaddesden Yard to drop off 60099, before heading south again to Washwood Heath Down Siding, where we swapped the 31s for 66127 for the run home. The trek back south was sleepy and long - and I was finally forced to apply headphones to drown out the booming solicitor chap, who had a habit of not knowing where he was despite the provision of maps and a knowledgeable travelling companion. Rolling into Temple Meads pretty much exactly to time, this seemed like a pretty promising first trip of 2011, and while my stiff legs and back from eighteen hours of railtouring complained, I was pretty happy with the day's travel. It's good to back on unusual tracks.