Posted in London on Saturday 27th November 2010 at 9:11pm
---
Today wasn't a day I'd given much thought to until late last week. A chance to meet up with a friend made sense of the cheap tickets I'd got to London on the back of being a season ticket holder. However, this wasn't to be - and a fairly difficult end to the week diverted all my attention elsewhere, meaning I was going largely blind into this morning. The sudden flurry of snow yesterday afternoon had capped things wonderfully. Still, if things went wrong it wasn't an important trip. I had a vague appreciation that services were diverted via the Berks & Hants route - and on checking realised that the normal change at Weston wouldn't cut it today. The morning began early, and very very cold. I tried not to look at the temperature before venturing out because I knew it would feel worse if I was aware of it! However, it was a surprisingly dry and snowless landscape - which was of course a huge bonus. A cold wait for the mercifully well-heated first unit of the day, then a snoozy and warm trip up to Bristol.
With no pressing need to be anywhere, and no reserved train to worry about, I dawdled a bit here enjoying the cold morning in the busy station. The stock for Pathfinder's charter to Durham had just arrived - and I felt a pang of regret that I wasn't on one of these today - even if they weren't exactly the most exciting jaunts. Watched the loco run around, before the train set off on time, breakfast already being served on board. Found my own sustenance and warmed up on the 07:40 while waiting for departure.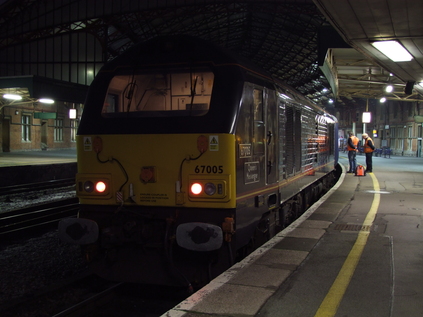 Another very pleasant journey, with the skies clearing to a dull, purple-grey haze as the sun rose. The landscape was pleasantly white, with most roads and stations fairly clear. Aside from the planned diversion everything seemed to be running as normal here in the south, while reports of activity up north were a little more concerning. Considered next week's trip to Scotland - and wondered if it would happen at all? The weather forecast was for more cold and more snow. Arrived at Paddington and headed onto the Circle Line to get over to Liverpool Street, on something of a whim. Perhaps because of the cold it was very, very quiet. I'd half expected the huge shopping crowds to be pouring into Paddington at this, for me, fairly late arrival time of around 10:00am. From Liverpool Street, I made the short hop to Bethnal Green. I had a notion that I'd never walked into the city from this direction properly, so after negotiating my way out of the station I set off along Bethnal Green Road, navigating by the hulking towers of the city which appeared closer than I'd expected. As I passed along the street - busier, but taking Saturday in it's stride - I got to thinking about the 'big society'. In particular, how could it ever work here where if the shopfronts are any indication, the entire third sector effort is set up to kick against the state rather than work with it? Endless projects to help with immigration rights, benefit rights, housing rights. Now I've no reason to assume that Tower Hamlets council is any more discriminatory than others - in fact it's probably far, far less so. So this is about access to services, language, a perception of prejudice? This industry has sprung up around a retreating, hard to access state - and I couldn't see any easy way it could shift it's position.
The walk into the city was cold but invigorating - shorter than I expected so I pressed on, a turn around Spitalfields and Brick Lane. Favourite winter haunts, and a chance to step into a couple of shops. Again, stunned by how quiet things were. Took advantage by getting a snap of the deteriorating Shoreditch station building which I'd last visited a couple of years ago. Here's an asset which could be put to community use, but instead rots just feet from one of the busy streets in the capital.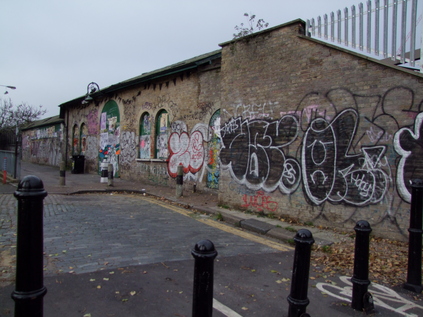 After a quick passage through Spitalfields Market I settled in for a coffee at Liverpool Street. I felt rejuvenated by the walk, but bruised by the week I'd had. Tried to write it out whilst people-watching in the warmth of the coffee shop, but it didn't seem to work. Decided to walk further, heading south through the city and over London Bridge. Busier, but still much less frustratingly crowded than expected, I realised it was a long time since I'd passed this way on foot. Lingered on the bridge, trying to spot the wharfs and steps I'd explored on previous trips. Beside me people jostled for pictures of Tower Bridge and HMS Belfast, and I was reminded that I had the privilege of getting to wander here often and didn't have to do the headlong dash around 'the sights'. I realised too that sometimes my nose-in-the-air and eyes-on-my-feet tourism comes across as haughty or elitist, but it isn't. I'd love to share some of these wanders - but of course today hadn't quite worked out as planned.
So, the last leg of my journey - a spell at London Bridge before boarding one of the South London Line trains which describes an arc through the suburbs to Victoria. Always a pleasant journey, and with the dusk beginning it's early descent it was oddly warming to watch London starting to light up. More coffee at Victoria before heading back to Paddington. The crowds had finally materialised, and the Tube was now busy and frustrating. Not sorry to get off and onto the broad and mostly empty concourse at Paddington. An earlier train home than usual, again diverted and with an extra stop at Newbury Racecourse for those who'd braved the cold to attend the meeting there. An unsatisfactory day on many levels, but far from an unpleasant one. Sometimes its good just to get out and walk...