Posted in SHOFT on Sunday 8th April 2012 at 10:04pm
---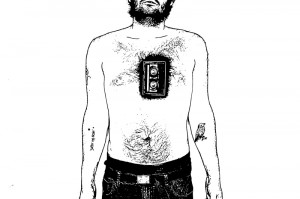 Having relentlessly complained about having little time to write here, I find myself with the unusual luxury of a long weekend and a few extra days of leisure before my journey to Fife - and in typical style I'm finding all kinds of diversionary activities to prevent needing to actually do any of the things I ought to. Having managed to spend yesterday speeding around the country largely without purpose, and today idly breaking and fixing this computer more than once, one common theme has emerged - and that's the soundtrack to my procrastination. It strikes me as I write this that I Build Collapsible Mountains have achieved the unique distinction of appearing in both of the Songs Heard On Fast Trains end of year lists to date, despite never getting an article to themselves. Whether this is down to my inefficiency, bad timing, or the peculiarly low-key approach to releasing music employed by Luke Joyce, its very clearly an oversight which needs to be corrected with the release of this new selection of songs.
This, the third collection of IBCM material, develops the simple premise which Joyce established on "A Month of Lost Memories" and last year's "The Spectator and The Act", delivering perhaps even more emotionally charged narratives via sparse instrumentation focused on his acoustic guitar playing and underplayed, sometimes almost spoken vocals. This is of course a world away from the massive, near-orchestral post rock compositions of The Gothenburg Address where Joyce's talents have previously been put to work, but there is easily as much drama and tension bound up in these simple but often battle-scarred vignettes. The title track opens proceedings, beginning with gently strummed downbeat chords which support Joyce's sometimes laconic but always enigmatic voice. As he almost whispers "this will be my last song for you" there are hints of American Music Club at their damaged, intoxicated best in the delivery. Notably briefer than the sometimes extended tracks on the two previous releases, things shift a little more uptempo if not lyrically upbeat on the appropriately swirling "Carousel". This one is for all of us who've ever been in, or perhaps more frustratingly watched from the sidelines those relationships which endlessly repeat and recycle the same barren ground. There are points in these songs which are almost too graphically, personally harrowing and there is a particularly voyeuristic element to "The Method Actor" where a refrain of "with skin pale and hope lost/you burst like nails in me" is painfully near the bone. Echo-laden percussion is drafted in to sustain the fragile tune through to its ending, as if it too might just expire without urgent assistance.
Some of the most poignant moments here are the simplest and lowest in fidelity. With just a gentle picked guitar and a raw vocal echoing in an empty room "An Exit" is briefly, quietly gorgeous - an unravelling tale of uncomfortable conclusions with "not a word spoken for days now". But there is some wonderfully complex, proficient guitar work here too, especially in the playful and explorartory end section of "Stressing for Midnight" which is a breathlessly dizzy relief in the midst of the record, with delivery not dissimilar in style to RM Hubbert. "Double Dares" is a hark back to more expansive, traditional structures and songwriting, and as such is a reminder of the brace of collections of music Joyce has already released under the IBCM moniker - both like this one quietly, almost apologetically slipping out into the world. Detailing a range of painful trade-offs typified by the line "your beauty is the punch I take", there is a perversely gleeful turn to the melody and even a tinkling of mocking glockenspiel. And then the realisation hits that this is about as backhandedly positive as "Songs From That Never Scene" becomes. But things soon return to type, and my personal highlight "Promenades" is something very special - a bass rhythm beaten out on a single string and flecks of sparkling guitar mark out a sparse, gentle and lovelorn lament, charting the minutiae of a long and convoluted relationship. Joyce starts already battered and broken and slips further from our grasp as the song unfolds. Then when all appears utterly beyond redemption, the track closes with a short burst of joyously complex, almost flamenco guitar playing.
As the album slips away with the repeated refrain of "lets go to the sea" which closes "Swan Song", it seems Luke Joyce and IBCM are at something of a crossroads. With The Gothenburg Address emerging from a couple of years on hiatus, it's possible that this dark, lyrically rich outlet for his songwriting may possibly take a back seat once again. Whilst making us choose between these two fine projects seems deeply unfair, "Songs From That Never Scene" sits as a testament to some of the most vivid, emotionally intelligent songwriting I've heard in a very long time.

I Build Collapsible Mountains - Promenades
You can buy "Songs From That Never Scene" exclusively via the I Build Collapsible Mountains Bandcamp page, and its predecessors can be found via US label Burning Buildings Recordings. Luke Joyce is currently in the midst of a number of Scottish live dates, taking in Ediburgh's Pleasance Theatre on April 11th, The Captain's Rest in Glasgow on April 12th and Dundee Doghouse on April 29th.

Posted in Railways on Saturday 7th April 2012 at 10:04pm
---
It was good to get back out on regular trains today. Whilst the last couple of weekends have seen some very interesting track covered, and given me the chance to escape for awhile, there is something about watching the world go by and being out among folks which I miss sometimes on these trips. With a longer distance foray planned for next weekend in conjunction with a Fence event, today was booked as a bit of an interlude - and in a bit of a panic to get tickets too. The Easter weekend can be a strange time to travel - though, experience dictates that the Saturday is often very quiet in comparison to other days. But the only sign that today was any different was the late opening of a number of the concessions at Bristol. Having arrived on the early train as ever, getting food was impossible and coffee was a challenge. Given that the next train was going to be a three-hour journey this was a concern. Finally got coffee and settled into the set which would form the 07:00.
The run north was uneventful and pretty quiet, with by turns misty, cloudy and then strangely sunny bouts of weather on route. There were perhaps a few extra passengers on board this morning, but they bailed at Birmingham with few getting on, and we set off for Manchester in a little burst of sunshine which lasted most of the way there. I'd got no real goals today except picking up a copy of the 2012 Combined Volume from the Ian Allan shop. This has become a bit of a tradition, and despite not really being able to spare the cash just now it was one I felt I should adhere to. Central Manchester wasn't too busy at 10am, so I wandered up Oldham Street and into the 'Northern Quarter' which led me to Victoria. I'd read - and indeed half thought about trying for the diverted services in Lancashire today, but having got here and found a service to Wigan leaving in a short while I decided it was worth a punt. Grabbed a quick bite of lunch and booked a ticket, before heading onto the 11:07. There was much confusion, with the train not appearing on the screens until very late on - but finally we left with only a few on board the leading 156, and a 142 behind which probably got a few more punters by virtue of being right by the entrance to the platforms. The limited stop meant reaching Wallgate fairly quickly, and I made quick change over the street to North Western. Much refurbished since my last visit, the station looked a lot better at concourse level - despite having a weird arrangement where one needs to display a rail ticket to a small camera to access the toilets! At platform level, there's quite a bit of work going on - in part to extend the platforms for 11 car Pendolinos, which are effectively coming into service right now - although 390156 eluded me all day today!
Over to platform 6 for the Liverpool train, with quite a few uncertain looking shoppers lurking around it. Once off, we crossed over the entire WCML and made bouncily brisk progress past Bamfurlong to Golborne Junction and the original course of the Main Line. Stopped by a red right at the signal which sits on the broken but defiantly extant Lowton Station platform, and again on the Parkside West curve, we took the booked half hour or so to finally make Huyton - the first stop, and where I planned to change platforms. Surprised to find a rather pretty little station with a subway and substantial booking office here, as I crossed to the other platform with just a few minutes to spare.
The train back was less hampered by signal checks and made surprisingly quick progress which meant it was still sitting awaiting departure for Blackpool North by the time I'd crossed back to Wallgate and then passed by on route back to Victoria! This was a sleepy, busy bit of the day and I only really regained conciousness as we arrived in the suburbs of the city. Stumbled blearily over to the concourse and decided to catch a tram back to Piccadilly for the coffee I'd been craving all day. Spend a lazy hour or so writing, people-watching and drinking coffee before a little shopping and then heading over to the arriving stock which would form 1V65. Noted that the schedule had changed somewhat for this, calling at a higher numbered platform at New Street and reversing rather than using the Camp Hill line. Sad to see this, as it has been a reliable and often rather quiet train and I wondered if this change might affect its performance? In the event this train was also pretty quiet from Manchester and I had a lazy trip south after eating a bit too much for my improvised tea! Settled down around Birmingham and had the usual pleasant run back, with the customary switch to the HST home.
I hadn't planned on seeking out PSUL track today, and indeed it wasn't new to me - but it was interesting to do some lines unusual lines for a service train. It was also good to start a week or so off work with a bit of a spin out to familiar parts. I picked my way home a little sleepily, contemplating longer journeys ahead...

Posted in SHOFT on Wednesday 4th April 2012 at 10:04pm
---
I continue to blunder through a strange period of having very little spare time to sit and think - and ultimately, therefore to write very much. But in this frustratingly busy period, I've found myself saved by a constant trickle of music in the form of singles. Whilst in previous singles columns I've looked for themes to link the releases I've chosen to consider, this time it's more about a contrast - simplicity versus complexity perhaps? Or even professional recording versus good old fashioned DIY releases. Either way, what these two releases do have in common is both a fairly unique approach to music and recording, and also the sense of a great project completed.
TishyTash - Shells EP
For most of my life, I've lived near the sea. I don't take nearly enough advantage of this, and usually end up complaining about the tourists and the traffic rather than celebrating the fact that just yards from my door is the opportunity to wander along a beach which is deserted for half of the year. This debut EP from
TishyTash
is steeped in a longing for the coast, and the frustration of being trapped inland. However
Natasha Taylor
takes her own, circuitous route to the shore. Opening with "Toddler Based Drugs", the formula for this gem of a record is made plain. An unorthodox guitar picking technique creates a shimmer of echoing, lingering notes while
Taylor
's heartfelt vocals carve out a counter melody. This isn't easy listening in some ways - exploring themes of lazily prescribed medication and living on the very edge of frustration. The gentlest hint of violin drifts in - and not just any violin, but a sixty year old vintage model dusted off for the occasion - and strangely you can hear the creaks and aches of it's age in its sometimes eerie and incongruous groans.
"Shells" tumbles in with a brighter melody which contrasts with the rumble of wind and tide which can be heard in the distance. The lyrical territory explored here seems to be obsession - collections are counted, catalogued and stored away for future reference. The vocal here is a little more raw and ungoverned, as TishyTash stretches to find notes to express the yearning for the seaside. The approach is pretty unique, sometimes almost discordant, and it takes a listen or two to fully appreciate what's going on here, but when it clicks into place this is all rather beautiful. Finally the record closes with "The Thomas Song", introduced by one of Taylor's friends ranting about the pointlessness of social networking, and railing at modern culture in general. Meanwhile, TishyTash appears to be singing a love song to a favourite duvet, which is perhaps not such a strange proposition in some ways. As that venerable violin groans into life once again, themes of ageing and passing wisdom between generations are explored.
In a world of singer-songwriters which is sometimes deadly serious and dutifully dull, TishyTash is all about the delight in creating something, sharing it with friends new and old, and most importantly in doing it all your own way. That, in itself, is worthy of your attention.

TishyTash - Toddler Based Drugs You can buy digital and physical copies of the "Shells EP" from the TishyTash Bandcamp. More information on TishyTash can be found at her website.
White Heath - In A Glasshouse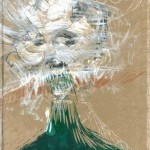 I'm painfully aware how behind the pack I am with this one, and whilst some of this is down to my usual procrastination and failure to thrive as a blogger, its also because I'm almost daunted by the scope and ambition encapsulated in this singular and somewhat epic piece of music.
White Heath
have always refused to be constrained by the modern rock band format, and have taken cues from their classical and literary influences rather than what's happening in the NME. Thus "In A Glasshouse" slips quietly into motion with delicate piano and a welcome focus on
Sean Watson
's vocals. They are perhaps a little more direct and foregrounded than on much of the material on last year's "Take No Thought For Tomorrow" album, where the grim portents and domestic melodramas were often buried under layers of wonderful noise. Lyrically this is hard to pin down, with a sense of winter chill and growing menace during the quieter opening section. Overall though, it's the stuff of dreams and nightmares - a sometimes confusing swirl of sounds and ideas which resolves into moments of genuine beauty and dazzling orchestration. Here, things begin to build gradually but implacably - with strings joining first bringing with them a few luxurious minutes of gentle harmony before urgent stabs of trombone usher in a change. Suddenly
White Heath
have mutated before our ears...
The second section of "In A Glasshouse" is pure, unabashed and unadulterated rock and roll. A stuttering, shuddering beat and sheets of razor sharp guitar underpin things, while a relentless guitar solo slinks between the beats. There are flashes of proper, old-fashioned heavy metal among squalls of punk rock noise while Watson's voice changes too, shifting from it's contemplative register to a rasping, metallic scream - sometimes within the space of a single phrase. Then for a strange, pensive moment there are just handclaps, urgent gasps of breath and sparse piano chords before the vocals arrive again to close the mammoth eight minute track in a quietly reflective, rather sombre mood. I'm not really sure what's just happened - but it feels like it could be very, very significant.

White Heath - In A Glasshouse
"In A Glasshouse" is part of a curious and intriguing multimedia project with Edinburgh-based artist Emily Hair. You can discover more - and download the track - at the website. I confess I explored the rather fine artworks and scraps of wonderful music without really finding out what was happening, but it is certainly worth your while spending a little time in this slightly dizzy and fantastically unhinged digital world.