Posted in SHOFT on Wednesday 4th April 2012 at 10:04pm
---
I continue to blunder through a strange period of having very little spare time to sit and think - and ultimately, therefore to write very much. But in this frustratingly busy period, I've found myself saved by a constant trickle of music in the form of singles. Whilst in previous singles columns I've looked for themes to link the releases I've chosen to consider, this time it's more about a contrast - simplicity versus complexity perhaps? Or even professional recording versus good old fashioned DIY releases. Either way, what these two releases do have in common is both a fairly unique approach to music and recording, and also the sense of a great project completed.
TishyTash - Shells EP
For most of my life, I've lived near the sea. I don't take nearly enough advantage of this, and usually end up complaining about the tourists and the traffic rather than celebrating the fact that just yards from my door is the opportunity to wander along a beach which is deserted for half of the year. This debut EP from
TishyTash
is steeped in a longing for the coast, and the frustration of being trapped inland. However
Natasha Taylor
takes her own, circuitous route to the shore. Opening with "Toddler Based Drugs", the formula for this gem of a record is made plain. An unorthodox guitar picking technique creates a shimmer of echoing, lingering notes while
Taylor
's heartfelt vocals carve out a counter melody. This isn't easy listening in some ways - exploring themes of lazily prescribed medication and living on the very edge of frustration. The gentlest hint of violin drifts in - and not just any violin, but a sixty year old vintage model dusted off for the occasion - and strangely you can hear the creaks and aches of it's age in its sometimes eerie and incongruous groans.
"Shells" tumbles in with a brighter melody which contrasts with the rumble of wind and tide which can be heard in the distance. The lyrical territory explored here seems to be obsession - collections are counted, catalogued and stored away for future reference. The vocal here is a little more raw and ungoverned, as TishyTash stretches to find notes to express the yearning for the seaside. The approach is pretty unique, sometimes almost discordant, and it takes a listen or two to fully appreciate what's going on here, but when it clicks into place this is all rather beautiful. Finally the record closes with "The Thomas Song", introduced by one of Taylor's friends ranting about the pointlessness of social networking, and railing at modern culture in general. Meanwhile, TishyTash appears to be singing a love song to a favourite duvet, which is perhaps not such a strange proposition in some ways. As that venerable violin groans into life once again, themes of ageing and passing wisdom between generations are explored.
In a world of singer-songwriters which is sometimes deadly serious and dutifully dull, TishyTash is all about the delight in creating something, sharing it with friends new and old, and most importantly in doing it all your own way. That, in itself, is worthy of your attention.

TishyTash - Toddler Based Drugs You can buy digital and physical copies of the "Shells EP" from the TishyTash Bandcamp. More information on TishyTash can be found at her website.
White Heath - In A Glasshouse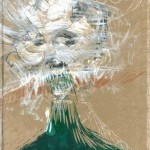 I'm painfully aware how behind the pack I am with this one, and whilst some of this is down to my usual procrastination and failure to thrive as a blogger, its also because I'm almost daunted by the scope and ambition encapsulated in this singular and somewhat epic piece of music.
White Heath
have always refused to be constrained by the modern rock band format, and have taken cues from their classical and literary influences rather than what's happening in the NME. Thus "In A Glasshouse" slips quietly into motion with delicate piano and a welcome focus on
Sean Watson
's vocals. They are perhaps a little more direct and foregrounded than on much of the material on last year's "Take No Thought For Tomorrow" album, where the grim portents and domestic melodramas were often buried under layers of wonderful noise. Lyrically this is hard to pin down, with a sense of winter chill and growing menace during the quieter opening section. Overall though, it's the stuff of dreams and nightmares - a sometimes confusing swirl of sounds and ideas which resolves into moments of genuine beauty and dazzling orchestration. Here, things begin to build gradually but implacably - with strings joining first bringing with them a few luxurious minutes of gentle harmony before urgent stabs of trombone usher in a change. Suddenly
White Heath
have mutated before our ears...
The second section of "In A Glasshouse" is pure, unabashed and unadulterated rock and roll. A stuttering, shuddering beat and sheets of razor sharp guitar underpin things, while a relentless guitar solo slinks between the beats. There are flashes of proper, old-fashioned heavy metal among squalls of punk rock noise while Watson's voice changes too, shifting from it's contemplative register to a rasping, metallic scream - sometimes within the space of a single phrase. Then for a strange, pensive moment there are just handclaps, urgent gasps of breath and sparse piano chords before the vocals arrive again to close the mammoth eight minute track in a quietly reflective, rather sombre mood. I'm not really sure what's just happened - but it feels like it could be very, very significant.

White Heath - In A Glasshouse
"In A Glasshouse" is part of a curious and intriguing multimedia project with Edinburgh-based artist Emily Hair. You can discover more - and download the track - at the website. I confess I explored the rather fine artworks and scraps of wonderful music without really finding out what was happening, but it is certainly worth your while spending a little time in this slightly dizzy and fantastically unhinged digital world.